As a company specializing in lumber and processed wood, can you give us an overview of how you connect upstream and downstream when it comes to the wood industry?
In the 1990s, there was a lot of demand for this kind of wood or timber materials. It was a period where you could see houses that were double the current number, which was more than 1.5 million units. The Japanese timber market was still in the process of prospering, so importing timbers was something that we had to do. We were importing timber more than procuring them here in Japan. At that time, we had to import a humongous amount of lumber. Mitsui, Mitsubishi and similar kinds of trading companies were the centers for importing timber. Thereafter, when the bubble burst in Japan in 1997 or 1998, we saw the reorganization of financial institutions in Japan, including trading companies. New housing builds decreased, from more than 1.5 million to 1.2 million, and it eventually dropped to one million.
The first approach we employed was in line with our desire to procure lumber by ourselves, not through trading companies. When we saw the drop in the demand, we did not want to approach just the assessor's sector. In other words, we did not want just to manufacture. So we expanded the sales to end-user (housing companies) directly and be very quick in helping companies. Also, the other business was the landscape, which was initially promoting greenery around Japan. In the beginning, we were involved in projects for parks and providing greeneries in other areas. In the 1990s, there was a lot of business in the golfing sector, which was exceptionally lucrative at that time. However, after the bubble burst in the 90s, we decided to shift to not only distributing these materials but also starting a green maintenance business.
Can you give us your take on how the construction industry can be more sustainable? How can wood-based products help us achieve carbon-neutral targets?
The easiest response to that is using wood in urban area buildings, which is both the easiest and the most difficult. It is very difficult to use wood for urbanization in Japan, compared to overseas markets like Europe where it has already progressed for large construction projects. Japan is still behind in using wood in large complexes, and it has very strict guidelines for preventing fire. Nevertheless, wood is starting to be used, and we are now able to use more wood materials for the exterior (wall & fence after being chemically treated) and interior.
There is huge doubt about how well wooden materials, architecture and structures would be able to withstand seismic occurrences. How would you answer that criticism? How safe do you believe wooden materials to be as an integrated trader of building and wooden materials?
Japan's standards and guidelines for wood construction are very stringent, especially after 2000. For these materials not to burn easily, also not to collapse easily. New methods covered the weakness of wood. I searched for the term used by Mr. Nagashima. It is not wrong, but it is not right either. Many wooden houses were destroyed by the Great Hanshin-Awaji earthquake in 1995 because the majority of those houses were built in the 1960s when Japan was going through high economic growth. I hate to say it, but back then, the quality was not that good. In the 2000s, there was a change in Japanese law to emphasize the strength of wooden houses, while also guaranteeing quality for at least 10 years against the end user. There have been so many changes, making me believe that there will not be many wooden houses that will collapse as easily as they did in 1995.
I think the recent wooden housings are not in much trouble, especially with all the present innovative technologies last two decades. Also, in the last three or four years, they have started to use them in tall or high-rise buildings. Even with the challenges, there have been new technologies and methods that have emerged. I believe that using wood is much better than steel and concrete in achieving carbon neutrality.
Toyosu Park surrounded by Toyosu Ichiba is owned by the local government, and our company is undertaking the management of the park. The two-story building we constructed using wood at the end of the park is a restaurant. Probably one of the big wooden construction in urban areas, also wooden building is good looking in green park. We were able to realize the use of wood in the urban space.
---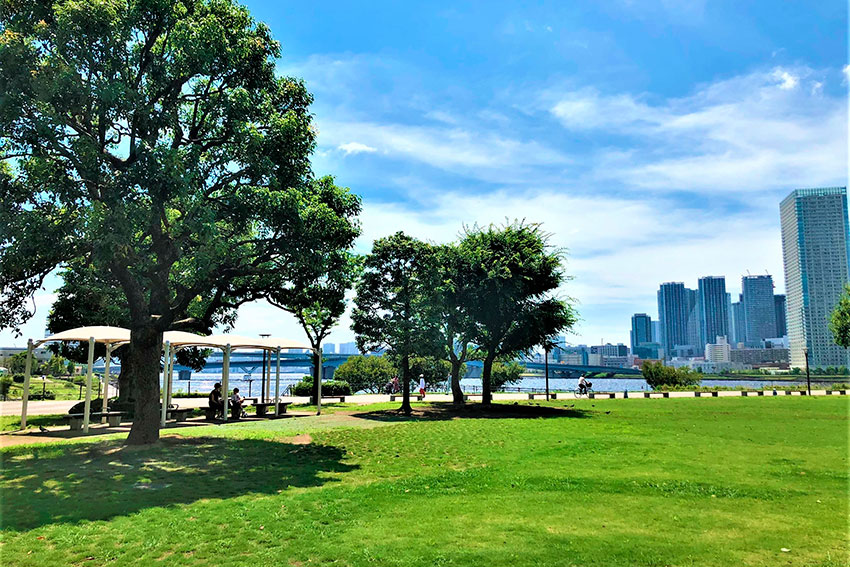 TOYOSU GURURI PARK
---
Can you tell us a little bit more about the engineered wood products that you are supplying, such as cross-laminated timber (CLT)? How is this better for the environment as you fully utilize all the tree resources that you have?
We owned a glue-lam factory named Okhotsk Wood Pia (OWP) at Hokkaido. Originally started for making Post & Beam using domestic species. Also making CLT from 2015 as a new material for wooden construction. Only OWP can supply both Glue-lam & CLT in Hokkaido, so good advantage for marketing, especially for non-residential wooden buildings.
Usually, after harvesting timber, 70 or 80% of the tree is used for lumber or plywood, while the remaining portion is used for paper. Also there is a wasting part that cannot be used for normal industrial usages, like a branch, stump, bark, and top tree. There is no waste, 100% is used.
In terms of sales destinations for your midterm strategy, is there a certain target market that you are looking for further expansion and growth for your business?
Since Japan is experiencing a decrease in population, we need to be able to create a new market or a new area where this kind of domestic lumber can be utilized, which we call the non-residential housing sector. It could be industrial, commercial or warehouses. We need to find and expand a non-residential housing market where our wood materials can be used. Our initiative is to enhance the value of domestic lumber in Japan. One of the issues that have often been discussed in Japan is that many forests are not replanted after being harvested. The reason for that is the low value. Currently, I think that the price of wood has started to see an increase in wood shock. Still, we have to work on this and improve its value and quality for them to be more likely to replant when they cut the wood.
You launched Timberscape in 2019, a company that engages in large-scale wooden projects and landscaping. Can you tell us the reason behind launching that company as your subsidiary? Can you give us an insight into the potential of wood as an engineered product, and how can it compete with more conventional materials such as brick and mortar?
Because the construction of non-residential housing materials is very special, normal companies cannot use them for building or construction. Therefore, we set up Timberscape intended for special construction. The non-residential housing market in Japan is still relatively small, so a lot of things are new.
After undertaking the management of Toyosu-Park, our staff has to be there every day, 7 days a week. Also maintenance work too.
Thus, we made this dedicated company to cater to that.
In 2009, you acquired Alaska Pacific Trading Company, which engages in procuring timber for the Japanese market. Beyond Japan and the US, which other countries or regions are you looking to grow your business internationally?
We launched Butsurin in New York, America in 1988, which was later moved to Seattle in 1994. Alaska Pacific Trading already existed and was established in 1982. Then in 2009, we merged these companies. We have quite a long history in the US. At first, the characteristic of our company here is hardwood. We currently deal with both hardwood and softwood. We think of the US as a source of logs & lumber. They have more hardwood than any other country in the world. As long as we continue to work with wood, we cannot get out of America which is number one in hardwood. We initially set up these companies to procure wood for Japan. However, we are also exporting hardwood to China.
Moving forward, we are targeting Europe for procurement and China for sales. Japan handles lumbers from all over the world. We have been procuring wood from the US, Europe and China, so we have a vast network. We imported logs and lumber from China until 1997 and processed/imported them after that Our current focus is the Chinese market. During this period, we have established a huge network from our previous work, which we are utilizing to gradually increase our sales or distribution.
Looking at the future, have you ever considered using your bases in North America in the EU as sales destinations?
We want to, but it is probably going to be very difficult. Until 50 years ago, Japanese wood was exported to Europe. We also used to export plywood to the United States 30 years ago. Taking that into consideration, we may have a chance or opportunity. It would still likely be very hard to do so.
Are you currently looking for partners that can help you with procurement?
Of course, we are looking for new sources. Also new customers too for sales of Japanese wood products with advanced value. Sometimes foreign firms have contacted me and asked me to sell their products. Always welcome, but unless I get to see the company and speak with them in person, I will never pursue business with them.
Imagine we come back to interview you again on the last day of your presidency. Is there a goal or an objective that you would like to achieve during your time as president?
I am not ambitious about our revenue or profit. More than that, I would be delighted if all our employees in this company from the younger to the older generation understand the culture of logs & lumber in terms of its interesting and fun characteristics.