With the miniaturization trend taking place, Moore's law dictates that the number of transistors on an integrated circuit will double every two years. Seven years ago, we saw a node size of seven nanometers. Only two years ago, IBM revealed the first two-nanometer chip, and Intel is set to go into production for a 1.8-nanometer chip by 2024. You talked about the limitation when it comes to miniaturization as well as the concept of More than Moore, which is going beyond miniaturization. Can you explain Socionext's concept of going More than Moore? What does it mean, and what are the technologies that will be used here?
With the technological progress in process nodes, we will see more generations beyond two or one and a half. Some generations would continue. However, more importantly, the SoC, semiconductor, and system vendors cannot just count on the technological progress of miniaturization. More system side or More than Moore technology is required parallelly as well as the process development. From that viewpoint, Socionext has the capability for the entire design, from the system and software to the hardware and package. The system approach is required to satisfy the PPA (Power, Performance and Area) requirements in the More than Moore era. The customer needs an SoC partner who deeply understands their concerns, SoC architecture and the system. Demands for the Solution SoC, which require the entire design will increase following the More than Moore era, even though some generations would continue after three and two.
Your company was founded in 2015 and initially focused on the ASSP and ASIC-based business model, which is the traditional semiconductor supply chain type of business. However, in 2018, you pioneered the new Solution SoC model. What triggered that transition? What are the key differences between the old business model and the new one?
Before I came in 2018, our focal business area was the consumer electronics and domestic market, rather than overseas and non-Japanese companies. In terms of process nodes, we have been a follower rather than a leader. At that time, we were still developing and applying the 16nm and 12nm node. We will face limitations in the growth of our business if we live in the old arena.
Then, I thought about two factors or reasons. One is the resources we have. Our engineers have experience with ASSP developments for TV and advanced telecommunication chips. They understand the system and software well, more than just implementing the physical design as a traditional ASIC vendor would do. Our engineering resources are rich and experienced with the architecture, and they can develop and engage the entire design.
The second reason is the market trend. As we are entering the More than Moore era, the entire design is required. Why the most advanced node is needed, is because the system needs more computer power, which means that the SoC becomes a part of the large computer system through virtualization and networking. At the same time, SoC should be designed based on the computer architecture basis, so-called software-defined SoC. This market is expanding, and the traditional ASIC vendor is not appropriate to be a partner with companies who want their own SoC. The traditional ASIC receives data, specifications and design data from the customer and then implements the physical design. Our business model is different because it is a collaborative design approach, which is required, especially in the era of More than Moore.
Have you established certain policies or partnerships to make sure that you can meet that lead time while maintaining the quality, cost and delivery?
First of all, I would like you to understand the difference between our SoC products from the MCU or controller and other automobile parts. There are SoCs using 40-nanometer or 65-nanometer, so-called legacy fab products. We are focusing on the most advanced parts. Last year, we taped out the SoC applying five nanometers for HPC (High Performance Computing). Our main fields are seven and five, and we are still producing 16 or 12 and the old product 28, but the demand and supply situation for this advanced fabrication is slightly different from 40, 28 and 22. It is reported that there is a tight supply of automobile-related semiconductors, which is more or less referring to legacy fab products. For the past couple of years, we have been facing short supply and difficulty or limitations to secure the capacity, including other technology nodes seven and five. In the longer term, advanced technology nodes could be less difficult. At least I can say that the situation could be slightly different from the legacy fab.
This fiscal year, our product sales almost doubled compared to two years ago. In order to secure supply for our important customers, including car OEMs and hyperscalers, we have to build a more collaborative and closer relationship with fabs and OSAT companies. To do that, we have been trying our best to establish a closer relationship with these companies for the first couple of years. We not only have to secure the volume, but we also have to try to expand our businesses that require more state-of-the-art technology. Besides just supplying and purchasing the products, we would like to collaborate to develop new products and technology. I am asking these companies' leaders or management to understand that we would like to be more innovative. Since our customers are innovative, we want to take part and contribute to global innovation. To that end, we have been trying to build a more collaborative and closer relationship with them.
The automotive industry is one of your key clientele now, with EVs as the next-generation cars. We are not just seeing the change in the drivetrain but also in electronics, where the CASE area has been adopted. By 2030, 50% of a car's value is said to be in semiconductor electrical components. You supply a series of solutions for LiDAR, TV or other applications. Could you give our readers an insight into how you are helping this next generation of cars?
There are two technologies that are very key for us. Firstly, the experience in technology, (experience in) designs that require applying the most advanced technology nodes five and three. Unlike in the past, the automobile industry now requires the most advanced technology node as the HPC or Hyperscaler cloud.
The automobile industry had been following the old technology but now they are competing with advanced technology. We handle the most advanced technologies because we have experience in developing HPC and cloud-related chips. Adding to that, we have experience with automobile-related chips, so we have automobile quality. Combining these technologies gives us a competitive edge in this market. Not only the HPC and zone computing, but we also have an advantage in developing radar- and LiDAR-related SoC. These areas are non-standard products with no ASSP, so these are the most suitable market areas for the Solution SoC business model. Our customers from tier-one or other emerging companies want to focus on their unique and innovative application algorithms. To equip it for the car, they have to design SoC chips. We have the design capability to combine the CPU system and their application system. The Solution SoC capability is required for such innovative companies. We have a track record of experience to develop LiDAR and radar SoC.
Companies used to buy chips off the shelf and integrated them into their products. Today, however, there are technology companies that design their own chips, like Amazon for its warehouses and Apple for iPhones. Similarly, more than 50% of tier-one suppliers in the automobile industry will be involved in SoC architecture. When it comes to this collaboration between technology from companies like you and a completely independent industry like automotive, what would be the key points to ensure a very close strategic collaboration?
In terms of the volume, ASSP market is larger than the custom market, bespoke markets. In some areas, even innovative companies want to use ASSP off the shelf. The reason for the growing demand for custom SoC is technological evolution and new services applications such as LiDAR and radar. They are new technologies. ASSP and general-purpose products have not yet caught up because of too much innovation. Some companies are not satisfied with ASSP technological limitations. By using the ASSP product, they cannot differentiate their products and services. They thought they would have to develop their own SoC. Some companies have concerns over lock-in, if they were to use software development infrastructures supplied by ASSP vendors. ASSP is appropriate in some areas, depending on the customers' choice. Steadily, the market room or space for Solution SoC is growing. It is sometimes called bespoke rather than custom.
---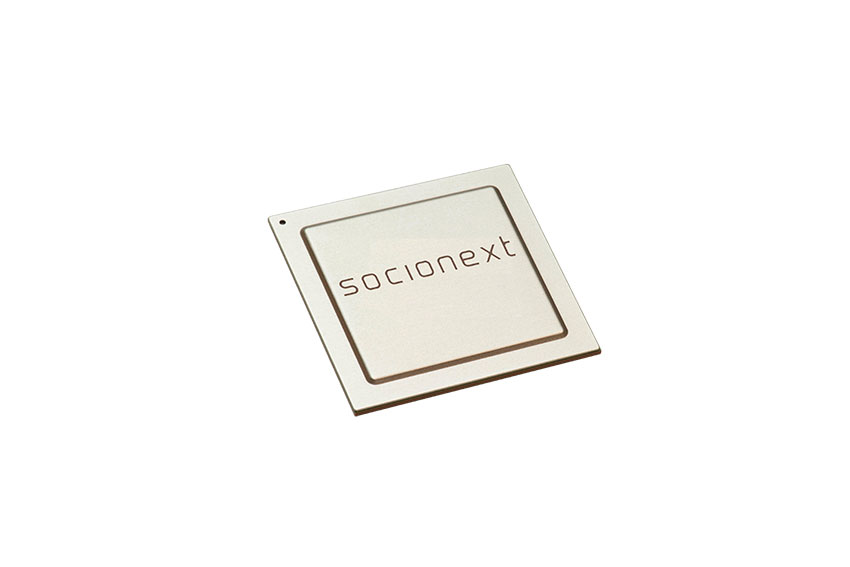 ---
How do your AI-based solutions help in increasing efficiency and lessen the environmental burden of data centers?
In order to save energy, we need to achieve a more efficient computing power suitable for AI, such as generative AI. With various new types of SSD, switches and interconnections, not one individual technology is a trigger of transformation for cloud technology. Instead of individual AI, there is a complicated interdependency or mutual relationship of convoluted technologies to create an efficient system as a whole.
Hyperscalers and cloud players require more diverse SoCs, more than simple AI chips and GPUs. We are seeing more diverse requirements for new SoCs, which gives us new opportunities.
The automotive industry in Japan is very well-established with a hierarchical structure with the keiretsu model, and we could almost say the same for the German one as well. It is closely tied to tier one, two and three suppliers. With the next generation of vehicles, we are going to see a complete disruption. There are going to be much fewer parts needed to build these cars. Basically, we could have the skateboard model, where there is a battery pack with four wheels and companies like Apple or Sony will build a car on top of that. What is your take on this new model for the automotive industry?
In the past, the semiconductor supplier was at the end of the bottom-up food chain of the semiconductor ecosystem. Now, OEM is leading even with the definition or specification of the SoC. The OEM defines and decides the specifications based on the much more integrated architecture it developed. The OEM leadership, coverage and investment have become much more important compared to before. That is what I see. I hope to do business with Japanese companies.
If we talk about development in semiconductors, as you mentioned, it is driven by consumer electronics initially, many years ago. These products like radios or computers, they are not expected to last 15-20 years. When we talk about a car, it is. How do you ensure that reliability in the development stage, when you are at the early stages of development, that in the long run these chips can last 15-20 years?
Of course, security and reliability are very important. However, it is not necessary to apply the old technology to secure the quality. There is a new type of architectural structure planning and construction in the system and in the software side where safety is highly prioritized. By balancing out the safety of everything, the system is maintained.
Your company has more than 10,000 IP patents and very sophisticated technology that may not be well-known overseas as in Japan. Socionext has been recently listed on the Tokyo Stock Exchange to appeal to foreign investors, which is going to be key for the future. What kind of message would you like to send to those potential investors with regard to the unique qualities and selling points of your company?
We enlisted our company in the Tokyo Stock Exchange Prime Market, but 70% of our business and investment are overseas. The 70% is in terms of NRE (Non-Recurring Engineering) revenue. Although we have our headquarters in Japan, we are a global company. Since I became the president, I have been pursuing this global strategy for our company.
Where specifically do you foresee the most potential growth for your business in the years to come?
Just I can say which area. Automobiles (both "HPC & zone computing" and "LiDAR & radar"), data center & network, and smart devices. Globally, there are not so many companies that require bespoke or high-end SoCs. The reason does not matter. As a matter of fact, the US has the most innovative companies with wide and growing markets. Next to the US may be China and Europe. I am just looking at it by sector. Inevitably, the US is the center of our market.
The Chips Act puts USD 52 billion in incentives, and Intel is building new fabs in Ohio and Arizona. What expectations do you have?
Our business model is Solution SoC. Our policy is multi-fab. We actually use US- located fabs, and we have experience in developing with Samsung, we have business relationships with GlobalFoundries. If we have the appropriate opportunities, we are going to use the US-located fabrication. At this moment, more than 70% of our fabrication relies on TSMC. Because we are applying the most advanced technology nodes, sometimes TSMC is the only choice and customers want TSMC for their fabrication. Our business model is Solution SoC and our policy is multi-fab.
Imagine we come back in 10 years. What would you like to tell us? What are your dreams, and how do you visualize Socionext in the next 10 years?
Socionext is a bespoke company with the capability to design from the system, software to the package. We would like to be the best partner for global companies that want their own SoC and differentiate their services and products. Through that, I would like to continue with global innovation. We are located in Japan, but we would like to be fully incorporated into the worldwide ecosystem. Since I became the CEO, I have kept that objective the same.