Our company was established in 1958. Since we are a paint manufacturer, we do not produce chemicals or pigments. Our technologies only include mixing and color matching. With regard to magnesium substrates, we are providing magnesium spray paint for Tesla, which is only for the vehicle interior. We also have the number one share as a paint supplier to camera manufacturers like Canon and Nikon. One of our strengths is providing technical support for other paints that use coating films. Our global technical team is made up of 154 people who give technical support on-site. The three types of paint we have are solvent-based, water-based and UV-curing paints. We can supply paint for the automotive field to three regions: Asia, Europe and North America. Musashi Paint ranks first globally in laser etching paints.
We are the main supplier for Philip Morris International for their e-cigarette products. We also deal with some fishing tools as well as some items that contain plastic and metal substrates. We have a great variety of tools, including fishing rods, tennis rackets, and even coatings for eyewear. Aside from our four factories in China, we also have factories in Indonesia, Thailand, Malaysia, Hungary, South Korea India and USA. The side keys or the buttons on the side of the phone are challenging because we have to ensure that the adhesive used is very good. With our unique technology, we can make that happen and provide the desired adhesive.
Japanese manufacturers' problem is not so much with innovation but with communicating the needs of foreign markets and their strengths when they expand and operate overseas. How have you been able to bridge that communication gap?
I think it is worth mentioning that we have a very global and versatile population within our company. We have about 1,000 employees all over the world, and 800 of them are not Japanese. Due to the majority of them being overseas, we are thinking about ways to maximize our power by taking advantage of the diverse working force we have in our company. Moreover, the boom of the internet is enabling us to overcome all the barriers across languages, geographical separation and time zones.
Over the past 20 years, Japanese companies across industries have seen stiff price competition from regional makers such as China, South Korean, or Taiwan. Nevertheless, Japanese firms still maintain a very large market share when it comes to certain highly technological fields, often B2B sectors, like paints or coating materials. How does a company like yours remain competitive despite this huge price competition from neighboring manufacturers?
Japanese manufacturers are very much focused on the domestic market, so the parties they deal with are just within Japan. That situation keeps a good portion of the trade and the B2B sector in Japan because they continue to deal with their Japanese counterparts and make good use of their established long-term relationships in spite of the surrounding competitors.
In order to stand out and remain competitive despite this huge price competition from neighboring manufacturers, we must rely on our cutting edge technology. If we were to try and sell Japanese products to overseas markets the way we normally do and at the same price as in Japan, it will not work.
Even with the stiff price competition, our cutting-edge technology allows us to have the upper hand. In addition, we are differentiating ourselves by providing our services to the very end to ensure that the surfaces where our paints are applied look immaculate and well-maintained. That is where we deliver our value because we are going one step further than our peers who just supply their paints as they are. Bringing everything to a nice finish perfectly fits Japan's national character of having a high attentive to detail.
You recently began a collaboration with a company called HardoLass in Japan, which specializes in advanced glass coating technologies. How was this partnership formed, and what are your expectations for glass substrates as a material for your products?
Although we are exceptional in keeping great texture and delivering the color mix that we want, one of the things that triggered our partnership with HardoLass is our goal to add more functionality to our coatings. We also excel at manufacturing coatings with a thickness of 10 to 20 microns. Some functionalities we are considering are anti-virus coatings or water-repellant coatings. We are always seeking good partners to work with to apply different kinds of coating on glass surfaces like smartphones, screens or around the screen. That is the reason we have been looking for a company specializing in glass, like HardoLass. Due to environmental and pollution-related concerns, people are trying to avoid using fluorine compounds. HardoLass uses silicone material, enabling us to use fluoride-free coatings moving forward.
Since HardoLass is a company that is quite new, it does not have all the basic infrastructure like factories as we do. As a Japanese manufacturer, our strength is having an extensive infrastructure, even outside Japan. We can make use of our factories there for our production.
It really is a mutual beneficial arrangement. Japanese manufacturers that want to sell their products outside Japan will have to start from scrap and build a factory, which requires a substantial investment right from the start. To that end, we can make good use of our advantage because we are experts in mixing different paint colors, and we already have a production line. By supporting them in mass production, they will not have to put in an immense investment from the beginning. Instead, as a start-up company, they can focus on other investments and marketing efforts they want to make. We can support them with our expertise as much as they mutually add to our ability.
What are the next markets or applications would you like to get into?
Our next step is to provide clean energy through wind farms and 100% bio-based paints.
We are also working on a new project - an insulation paint that helps reduce and save energy by approximately 20% annually. You will find reflective and different types of paint, but GAINA paint, which is our partner company's product, is ceramic-based insulation coating. It works well in summer and winter, and it can be used for the exterior and interior walls. During winter, it helps to maintain the temperature of a room and reduces the energy that goes outside. This is a very high-end technology used for rockets in Japan, specifically by The Japan Aerospace Exploration Agency (JAXA). This technology has been applied to the paint for consumer use. We are also doing this project outside Japan and we are looking to enter and contribute to new fields that have difficulties with energy and heat management.
It is already in the Japanese market. In India, we are expanding our factory for production while trying to check the market. There are a few companies that want to save energy that are showing interest. Initially, we thought about decorative uses, or warehouse buildings, but one company in India came up with a different approach. This company uses a lot of energy for their gas ovens, so they want to reduce the cost and save energy. GAINA paint will work as a thermal insulation that helps in the escape of heat and allow them to operate for longer hours. It is multifunctional since it is not only for buildings but can also be used on various projects.


The automotive industry, an industry that is undergoing tremendous changes, is one of the key sectors for your business. The most notable effect of the shift from combustion engines to EVs is the complete change of materials used inside a car. How are these evolutions impacting your company? What are some of the solutions that you are providing to automotive makers?
We think that it is certainly a huge opportunity for us as it is becoming somewhat like home appliances. The transformation we are seeing in vehicles is opening an enormous chance for us to show our strengths in this field.
Could you tell us a little more about your approach to sustainable development?
Conventionally, paints are supposed to be manufactured from crude oil or fossil fuels. However, we are trying to transition over to 100% bio-based paints. With bio-based raw materials, we start from scratch. For example, green algae has a photochemical reaction as a plant. It absorbs the energy from light and utilizes it to convert carbon dioxide into the oil we need in order to manufacture our paints. It has a built-in life cycle assessment, where the plant absorbs the carbon dioxide and transforms it into oil. Because our company's nature is to provide a good mix of colors with the functionalities that come with our paints and coatings, we want to capitalize on that to contribute to a sustainable environment and protect the earth.
Besides working in collaboration with TBM and HardoLass, we also work with Chitose. The conventional core of the economy is built on fossil fuels and crude oil to supply energy, but Chitose's mission is to switch to green algae. TBM and Chitose are unicorn companies. Out of the 300 employees of Chitose, 200 are Ph.D. holders. They are excellent at recombinant technology and working on DNA, which they use to produce green algae that can produce oil as the base. We are excited about our collaboration for bio-based paints.
One of the challenges with these alternative ways of manufacturing, like bio-based paints is the cost, as they are more difficult than more traditional manufacturing methods. From your point of view, how long do you think it will take manufacturers and society to accept and fully transition to these bio-based products?
Our company's target is to have 100% bio-based paint by 2030. I think there should always be someone to be the pioneer and aim to do 100%. Since we want to be the pioneer, we are joining hands to make it happen. We know that it will certainly not match the price in the market. Still, regardless of the cost, we are going to hit this target because I think once there is an innovative technology, the market will follow. The cost should not be the biggest consideration.
As you've mentioned, collaboration is a key tool for your company and is very important to your development strategy, such as working with TBM, HardoLass or Chitose. Have you had any experience collaborating in this fashion with overseas companies? Is it something that you are interested in?
We are working in collaboration with an SME company in Germany called Rühl, which manufactures special coating for injection molding.
There is an initiative in Germany's automobile industry in which they plan to make lightweight bodies for cars. The conventional way of just manufacturing the parts and assembling them later makes it difficult to reduce the total weight. Therefore, they use injection molding to form a whole big piece. A German company called KraussMaffei makes machines for injection molding for automobile usage and injects resin and paint inside. Rühl is doing the same thing in Germany, but because they do not have an entity in Japan, we are working with them by taking the parts and making them in Japan.
One of your recent releases is your thermosetting hard coating LINX, which has the advantage of being easily applied to difficult 3D objects with complex shapes. Can you tell us more about this product and how it overcomes the challenge of applying thermosetting resin to complex 3D objects?
Many other UV-curing products in the market are hard coatings. It is hard to find thermosetting products because it is difficult to apply that technology on this kind of material. Our clients were the trigger in the development of LINX, a thermal setting material, because many do not want to use UV as a specialized light source but just want to be able to harden the materials simply with heat. Since the cost is too high, I do not think it will be well-accepted by the market. We can look at it from both sides. It can be seen as a good try or a failure because it was not well received by the market. However, it is never a waste. We learned from it. There are so many new technologies available out there, so we can always go for another try moving forward.
Are you looking at any particular regions or markets as key to your international development strategy?
So far, we have introduced our products to the automobile industry, home appliances, leisure and sports. We are mainly supplying to customers or clients in Japan. Our global footprint is quite incidental because our clients have manufacturing facilities outside Japan, like China, and we only follow in their footsteps. However, I do not consider this as a real globalization of the company because I think globalization goes beyond having employees all over the world such as in India, Thailand, Hungary and China. The next step we need to take as a company to make us truly global is to have our employees in different locations, join hands with the manufacturers in that country and region and develop products together. One step we are trying to make is not treating them as only workers, but we want to stress diversity. Regardless of their gender, race or working style, we want to treat them with true equality.
Now, we have about 20 subsidiaries or entities around the world and want to hear their proposals. Suppose our people in a particular country talk to their local customers and intend to propose a certain kind of product they want to develop together; we will listen to their proposal. We aim to continue our R&D at the headquarters in Japan, putting more effort to develop cleaner energy and products such as insulation paint that can help to reduce challenges brought by global warming. We can lead the development in Japan but distribute those products globally. Also, we will keep on supplying our current clients in the home appliance, automobile, sports and other industries. It is all currently crude oil-based, but we are trying to switch to 100% bio-based paint and continue developing and providing the same quality products.
During the pandemic, the utilization of home electronics exploded when people were asked to stay at home. On the other hand, certain sectors like clothes, cosmetics and sporting goods experienced a steep decline as people's movement was more restricted. What was the impact of the Coronavirus on your business performance? What are some of the changes that it triggered in your company?
We are very thankful for some of those changes because when everyone stayed at home, we had explosive sales and requests from those industries. In these changes, we have seen how it has drastically changed how people work in Japan. The conventional Japanese working style meant physically visiting clients, even just to pass a name card to a client or greet a customer, but now people are switching to online meetings. It is the same for overseas business trips. People used to travel all the time, but now they just meet and communicate online. On the other hand, we have been suffering in the automobile industry due to logistics and global supply issues and chip shortages in semiconductors.
Before, everything was based in Japan. One thing that I experienced when I was in the production department last year was that many Japanese experts went to Indonesia for two to three months, but they needed more support. However, nobody could fly from Japan. During that time, we looked for some options. We sent someone from India to Indonesia from our subsidiary there. Our Indian company is strong, but it does not have so much experience. Real globalization is when we can send people from India and Malaysia to Indonesia to support. It is similar to Ms. Fukui's image of globalization. Next time, if someone needs support in Vietnam, someone from India or Hungary can go. Everything does not have to go through Japan.
For example, we are working with a client's counterpart in France, so we have our Hungarian account manager and a production team over there. Once they contact France to get the necessary approvals, the information rolls back to our Korean, Indian and Vietnam facilities to deliver the products. That entire loop of transactions is outside Japan.
From a technical standpoint, what are some of the key functionalities that your R&D team is currently developing, and what are these trying to achieve? What is the focus of your research?
As I mentioned, GAINA paint coating is multifunctional, and it improves the air quality of the room. During the pandemic, I thought about the possibility of this product reducing the transmission of the virus in some way. At that time, that was what I personally wanted to develop, or maybe a mosquito repellant paint. I wanted to create something that can help with the Coronavirus, but we could not do it.
Another thing would be adhesion as a function. There are many substrates, such as biomaterial or magnesium substrates, so we need to create products that the customer wants, which is a key point for us.
This is a tricky part because we can do anything. We need to zero in on an area. That is why we are not good at marketing because we are trying to pursue many things.


Can you tell us more about your Eco-Mirror 49 product, recently released in collaboration with Takubo Engineering? Will you offer it to overseas clients or is it just for the Japanese market?
We wanted to search for an alternate solution. Therefore, we want to provide a paint with a mirror effect. That is why we developed the Eco-mirror 49. As a result, we collaborated with Takubo Engineering. After getting a good test result, we entered the market with this alternate solution of for metal plating painting.
If you are doing a traditional metallic coating, it requires a dipping process, which is very bad for the environment because those materials become pollutants when you dispose of them. If you can apply and use the same product but just apply the necessary amount of materials as a spray, you can dramatically cut down the waste, and the environmental impact.
---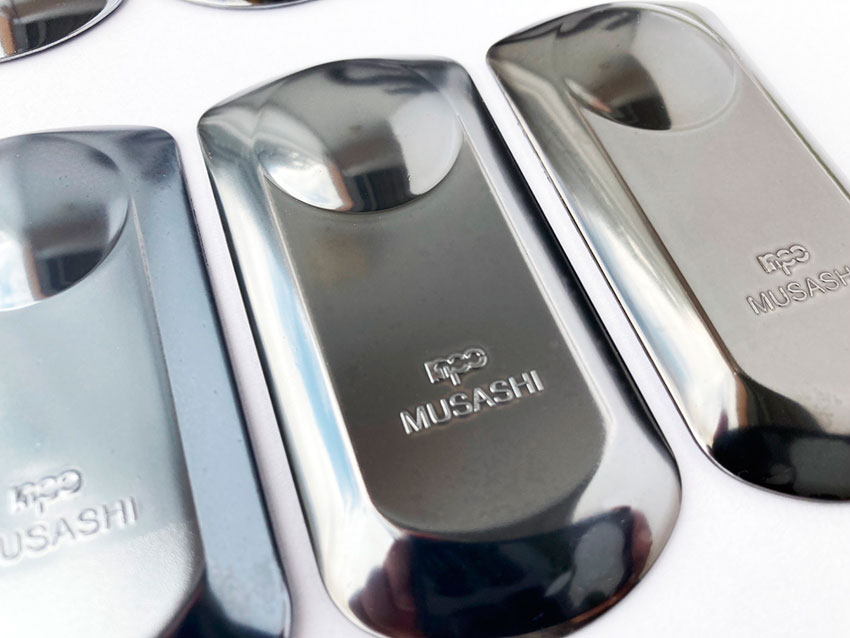 Coated Eco-mirror 49 system on ABS
---
Of course, we are looking to provide it overseas because the Japanese market is very small. It will mainly be in China, India, the US.
We succeeded because we never gave up until we reached our goal. We always try to meet the customer's requests no matter what. Our success lies in the fact that our big customers give us a huge market size. When we work with them and respond to their needs exactly as they want, we can achieve massive production and exceed our peers. Another good thing is that we are a non-public company, so we are not criticized by our shareholders, whether we are making a profit or not in our business. We are flexible to make attempts. That is why we can continue our investment in those new projects as long as our R&D team thinks that those will work out. If they have confidence, we are going to continue. Undeniably, there will be some failures, but we are allowed to continue.
Imagine we come back to have an interview with you again on the last day of your presidency. Is there a goal or an ambition that you would like to have achieved during your time as the president of Musashi Paint?
My grandfather established this company, then my father took over and expanded it globally. When I assumed the presidency, I promised myself that our employees should be able to run the company even if I passed away. Our employees not needing me for the company to thrive is my goal. I want the company to be independent and keep working well even without me.