What is your analysis of the strengths of Japan's chemical sector, and how do you account for its competitiveness, despite a smaller size and scale?
As you mentioned, we are actually a resource poor country, and we rely on importing almost 100% of our oil. However, since we don't have a lot of resources, people have grown to become very diligent workers, and they put a lot of effort into developing and producing highly functional, special, and unique products and technologies.
How do you set yourself apart from your regional competitors? What is your uniqueness that gives you that edge?
As you know, our core business is the production of dyes. Of course, we produce general purpose dyes, but we are focusing on high functionality dyes, and we are trying to meet the needs of the market. Our ultimate goal is to satisfy our customers' demands.
---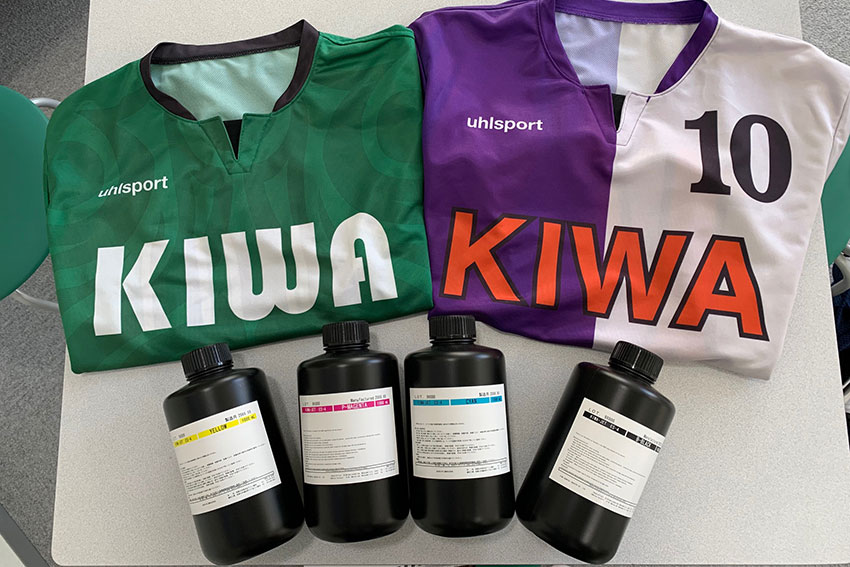 KIWALON polyester dyes
---
Could you give us an example of a functional design that you've developed which met a market need that you identified?
China is a large producer of general dyes and pigments, but their prices are really low compared to ours, so we cannot compete with them on price. The advantage we have is on quality. If the customer uses our product, then we can reduce the incident rate, so the overall cost can be reduced for the customer. That's how we compete. In other words, we think that it's more valuable to reduce the incident rate at the factory by a few percent, than choosing marginally cheaper products.
One of the biggest needs we're seeing right now from the chemical sector, but also for dyes and pigments, is to create more sustainable products, especially for products that come from petrochemical sources. Can you tell us more about some of the products you've been developing, or your initiatives to respond to that need you're seeing from the market for more sustainable products?
We are working on five different initiatives to reduce the amount of water that is necessary for the dying process. One is to reduce the amount of water used in the dyeing process, although the dyes are the normal ones. The second one is that rather than dyeing, we try to put the color directly on the plastic using a method that doesn't require water in the process.
The third one is digital printing using inkjet technology, the fourth one is toner printing and the fifth one is what we call ultracritical CO2 dyeing. That is still in development, and if we are able to develop compatible inks, we'll be able to significantly reduce wastewater.
As far as we know, a Dutch company and a Japanese company have already sold dyeing machines that use that special dye.
We are in the process of developing new type of dyes that can be used for this kind of purpose. We are collaborating with a Taiwanese company for this development.
What is the main challenge that you're tackling to develop dies that use supercritical CO2 as a solvent, as opposed to water?
We started our development approach with existing dyes, but it was slow going, so now we are trying to develop CO2 dyes with new structures.
You mentioned a collaboration with a Taiwanese firm. Can you tell us more about the role that collaboration is playing in this development process? Are you looking for other partners overseas to help you enter into this new frontier of waterless dyes?
At this moment we don't have a plan to collaborate with other companies overseas. However, we would like to proceed with this kind of collaboration if we have a chance.
Like an open innovation type model? Would that be correct?
If there is any merit for us, yes, we will proceed with that. We are also part of a government project as well, and we are collaborating with Fukui University for the development of these particular dyes. They are in the academic sector so they are not pursuing profitability, but we would like to benefit out of this joint research.
I'd like to learn a little more about the company structure itself. We know that the dyestuff is the core business, but you also have a film division as well. The film division represents most of your overseas sales activity. Can you tell us about what some of your best-selling products overseas are, and also, what synergies are you able to create between having the dyestuff division and the film division within the same company?
You may think that the dye business is our core business because we were founded as a dye maker. However, at this moment, sales are almost 50/50 between the dye business and the film business. For the dye business, we would like to focus on inkjet ink for sales in the overseas market, whilst the reflective film for number plates is what we place a focus on in the film division.
---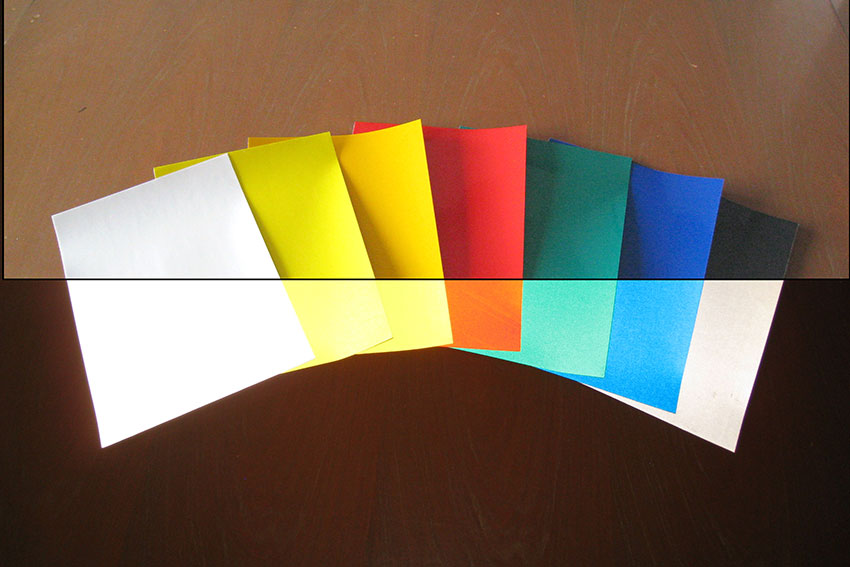 KIWALITE reflective film product
---
Your reflective film technology is unique, and products such as the KIWALITE are highly durable, high quality, and have great visibility. Can you tell us more about the KIWALITE and your functional film products?
Originally, large manufacturers used to produce this kind of reflective film. However, I think that the quality of our product is comparable to those produced by the large companies. I would say it outweighs the quality of the large companies.
From the functionality perspective as well, number plates (for vehicles) cannot be produced just from mere sheets. You need other materials like aluminum, and you also need a machine to produce the number plate, so we cannot deliver the finished product just as Kiwa Chemical, we need to work together with our clients and suppliers as well, so that we can offer perfectly finished number plates. We are able to coordinate with other suppliers for the materials, and manufacturing machine makers as well, so I think that is another strength that we have.
For your reflective film, what percentage of your sales volume is to overseas companies, and what percentage is for companies here in Japan?
In terms of volume, 70 to 80% of sales come from overseas, for the reflective film. Among the most widely exported are reflective films for number plates. On the other hand, in Japan, reflective film is not used for number plates, so the majority of sales come from overseas markets.
Our product is sold in the form of a role.
I would like to give credit for this large portion of sales to the local sales agency. They work very hard to market this product and we have a lot of market share now. We also think that it's very important to have a very good relationship with customers and partners, and it's very important to satisfy the customers, and we cannot do it just by ourselves. We need to partner and work together with other companies.
Some of our functional films are not reflective films but are used for specially designed number plates in the domestic market as well. Conventional number plates are made with paint, but we supply the coating film for premium, special designs for the Olympic games for example, which can last extended period of time
You can only buy some number plates through the Bureau of Transportation. Some designs are unique to particular prefectures, and they are provided by the Prefectural Transportation Bureau. The Olympic Games are over, and we are now trying to offer the product for the Osaka・Kansai Expo in 2025 for the next. It's sold nationwide, you can buy it anywhere across Japan.
You export to more than 30 countries, and you've just mentioned for example, China or Italy as being strongholds. Where is your next target in terms of consolidating your presence, and what will your strategy be to do so? Are you going to look for other, similar kinds of local sales partners or agencies? Will you establish your own sales office or presence? How will you develop your international business?
When it comes to our inkjet division, we have the largest share for Italy, and back in 2018 we partnered with one Italian WRC rally team and we offered our dyes and covering materials for their cars, which take part in rallies across the world.
Last week (November 2022) we had one championship event in Japan, and our team actually won it. That was a very good promotional activity for us. In South America, we don't have a lot of market share, but they do have a lot of rallies, so we would like to offer our inkjet materials to them so that we can promote our products there.
We have a great relationship with Italy for the film division, but the same goes for the dye division as well, especially for inkjet materials. However, speaking about the technology itself, especially technology for manufacturing components such as print heads, they are mostly made in Japan by companies such as Kyocera and Ricoh.
The core technology was developed in Japan, but in terms of the application of those technologies, Italy is one of the most advanced countries. They introduced that technology at an early stage, and they started producing large scale inkjet printers for textiles.
Conventionally for textile printing, a lot of makers used screen printing with a conventional machine that requires a lot of water, and that generates a lot of wastewater. However, Italy is very advanced in terms of ecological activities, so they focused on the digitization of textile printing. They introduced the Japanese inkjet technology, and they started the development of the large-scale inkjet printer.
The district called Como is famous for the production of luxury clothes, and this technology is now really widespread in that area of Italy, so although there are some companies that are using these technologies in Japan, we thought that there would be more active use of the technology in overseas markets, so that's why we started working together with Italian companies and partners.
---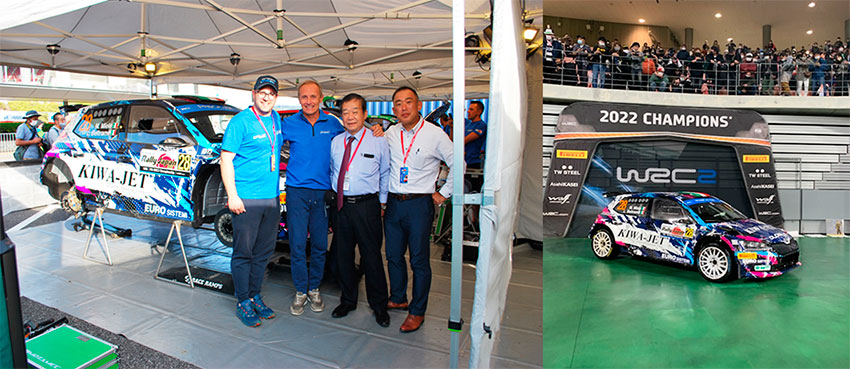 Left: Photo with Dream One Racing team Italian drivers in Japan. From left, Mr. Simone Miele, Mr. Mauro Miele(WRC2 Masters 2022 Overall Champion) , Mr. Shoji Kazushige(Kiwa), and myself (Kiwa).
Right: Photo: WRC Victory Ceremony at Toyota stadium, Japan.
---
Your company was founded in 1954, so in two years' time you're going to be celebrating your 70th anniversary. Let's say we come back to interview you again at that time. What would you like to tell us about your goals and dreams for the company in that timeframe?
We have about 160 employees, and I always hope that everybody will be happy.