Can you give us a brief introduction to your company?
The company was established in 1940, so we have been around for 83 years. Currently, we are operating in 12 countries and 19 locations. Our global employees are from 30 different countries , and none of our Japanese employees stay overseas, which may be a unique point of our company. Though about half of our business is PVC stabilizers we do not define ourselves as simply a PVC stabilizer company since the nature of business is to design suitable formulations of performance additives to best suit customers' requirement in plastic processing We believe that our core competence lies not only in chemistry but also in physics. It is the design, blend, mixture and interface of particles and ingredients in plastics in order to provide better physical properties and processability.
We originated from Japan, then moved to Singapore 43 years ago. Initially we had a really hard time, and the company went into financial problem after six years. As usual with Japanese SMEs, we thought we should be able to apply Japanese business approach to the overseas market. Of course, that did not work. I think it was due to over-investment and a lack of sales as a result of not enough understanding of the market practice and customs. We got stuck there because we could not sell adequate volume to justify the investment. We realized that we needed to find more customers besides Japanese and started selling to the regional market. Sales expansion went reasonably well and we managed to expand our operations to Australia, Malaysia and South Africa (and eventually to other areas) to meet the increasing demand.
I was in Singapore for 11 years until I was called back to Japan in 1997 when our Japanese company was again facing financial difficulty . The Asia Currency Crisis , the real estate bubble as well as the financial big ban triggered the collapse of the local industry including banks and security companies that one no one thought that that would ever happen. This created serious turbulence to the Japanese economy this was when Japanese companies started restructuring and firing people, which never happened in Japan before.
For the last 25 years, there has been a huge change in Japanese employment environment. Lifetime employment was still common 25 years ago , however this crisis made local industries start rationalizing the size of their businesses and number of employees.
Another unique point of our company may be , our Japan office doesn't function as corporate headquarters. In fact, we do not have a corporate headquarters . Strategic decisions are made by a team of people who sit in our management board which consists of 9 members with 7 different nationalities. They have their regional responsibilities as well as functional responsibilities like sales, technical, finance and so on. It is a matrix type organization where people have a dual reporting system A person reports to the company's national head and also reports to the person responsible for respective functional responsibilities Members of management board assemble regularly to share information and discuss strategic issues.
Your company is unique, not just among Japanese companies but all companies, in having a roundtable structure. Out of the 9 major management, 7 of them are foreign nationals even though it is technically a Japanese company. Why do you think Sun Ace is able to pull this off when others cannot? What are some of the challenges or benefits of this kind of structure?
I grew up in Japan. I could only speak Japanese when I moved to Singapore at 23, and it was a new world for me. At that time, I was young and energetic but the company in Singapore was sinking. My mission was to try turning it around by selling more volume of products and make it financially viable . We had only two locations back then; 150 people in Japan and 30 people in Singapore.
After my arrival at Singapore, I started working with local & regional customers and local managers while reporting back to the head office in Japan. People in head office often did not have clear understanding on what was going on in the marketplace. That experience makes me believe that it is best to leave day-to-day management decisions to the people on the floor I am also against the idea of a corporation's hierarchy in the traditional sense. That is how we started.
The second step was to move out of Singapore. Fortunately, we were able to sell the required volume for the investment made given the rising of ASEAN economy . The significant growth in the region brought us adequate cash which enabled us that enabled to acquire our competitor in Australia in 1991.
Before the acquisition of the Australian company, we made plants based on our own Japanese technologies. Although we were in the same business, manufacturing technology in Australia was entirely different from our traditional approach While we spent USD 10 million to build one plant, half a million was enough to build a plant in with their technology.
Chemically, our concern was about quality variation from reaction batch-to-batch compared to the Japanese method. However, it functions and works well at the customers' place without any problems . This was such a practical approach that made us think to mobilize this technology to the global market This acquisition brought us not only new manufacturing technology, but also a role-model manager who became one of core founding members of our group. We learned a lot from him and such a dynamic business approach enabled us to open doors in the new markets like Africa and Middle East.
Instead of the hierarchical concept, we use the roundtable kind of discussion because I know that it works better in our company's case. It is people who make decisions. That is the starting point.
With people from different backgrounds around the table, we are able to communicate more ideas. The decision-making process needs to be transparent. If the opinion is split, someone needs to make the decision and we all are well aware of that. Until we reach the final point, we should be free in exchanging opinions, which I believe makes us stronger. That is the reason why we do not have many layers of management.
The challenging point of such organization is how to maintain consistent communication among group companies. If we are not careful, we may become a mere collection of SMEsCOVID-19 revealed how hard to maintain inter-personnel and inter-company communication. Web-meetings certainly enabled exchange of essential informations/data & messages without physical travelling, but it was still hard to cultivate and deepen relationships. For smooth inter-company communication and coordination, we need a very good level of understanding.
We were able to switch our quarterly physical board meetings to monthly web meetings. We made our monthly management meetings into weekly discussions using web-meeting tools . Sometimes there are distractions with internet connection. You do not really have the luxury of reading the body language and each other's expressions. Nevertheless, since we have been working together for long enough , we are able to fill the gap from technological failures. We have been able to put the same touch and continue communicating. Still, nothing beats face-to-face communication. With the easing of travel restrictions, we are re-engaging in team-building communication.
How has COVID-19 been a challenge, especially in terms of some of the logistics disruptions that it caused, considering that your main manufacturing centers are in Southeast Asia, particularly Malaysia and Singapore. How did you manage to coordinate and keep on track during a very troubling few years?
Travel restrictions and work-from-home policy started in early March 2020. I remembered the day Prime Minister Abe announced that all schools and companies had to shut down. Two weeks later, I think the first lockdown was put into place in Malaysia, and followed by Singapore, India, South Africa and Columbia. There were a series of lockdowns, so our suppliers could not really operate. When that started, it caused great confusion. I could not really sleep for almost two weeks. After the initial few weeks of confusion , we were able to figure out what could happen next. It became just a matter of repeating or applying the preparation, collective action and recovery plan from the disruption of the supply chain.
We communicated on a daily basis through web-meeting , e-mail and telephone internally. We informed local customers openly what level of stock in hand and continued updating them the status. That was the case for every location. We all were so confused and needed to know what was going on e the lockdown situation , the government's announcement, the industry's feedback, and what our competitors and suppliers were doing. Moreover, knowing the daily details about how many cases there are per day.
We did that for a number of weeks until we were able to confirm that we had adequate stocks in our supply chain system which enabled us to keep supplying for the next two months. To be proactive, it was better for us to inform our customers about the current situation with honesty and transparency.
During the initial few weeks of global pandemic, Everyone was very concerned about what would happen. One of our employees happened to celebrate the 15th anniversary of her employment end of March, so everyone sent hera congratulatory message. I did too. She thanked me but added that she was worried about how long the bad times were going to continue. That showed how people were so concerned about the uncertainties that lied ahead. No one knew what was going to happen. Nobody could ascertain whether government aid would be extended.
The company is not just here for welfare. No one had the experience of dealing with the crisis, but we have a responsibility toward the people we are working with. They are the most important. I wondered how I could send a message that everything would be okay. I talked to the CFO to gather information " how long we can service fixed costs without any bank loans which refers to everyone's employment". When she said that it was a year and a half, I thought that was good enough. With zero sales and the existing range of bank facilities, we could last for two and a half years. With that, I was able to send the message.
Admittedly, the times are bad and uncertain, but we were not going to fire anyone due to COVID. I communicated that, which gave people a little bit of confidence. Though it was beyond our capability, it might have enhanced their outlook since they saw that the company cared during a difficult time. The municipality, nation and any organization could not really support them for the first few months and weeks. We wanted to give them safety and assurance that it will be okay,
One of your core competencies is your specialized knowledge in both chemistry and physics, which is well-demonstrated by the SCI LOP product. If we use the bread dough kneading analogy, this is the part that restores fluidity to the resin so that less torque is needed to process it and that it evenly distributes any additive throughout the resin or product. Could you tell us more about this product? What do you believe to be its key features?
Our original business is PVC stabilizers. In the early days, the role of stabilizers was more in capturing chlorine. Polyvinyl chloride is an ry affordable, strong and robust material among all the common plastics. However, it contains chlorine. When you apply heat and try to make a compound and process it, it forms hydrochloric acid (HCl) with hydrogen which triggers degradation of final articles. Without a chlorine-capturing substance, PVC degrades very quickly. The role of stabilizers is mainly how it effectively captures and neutralizes chlorine in the system.
With the progress of processing equipment such as extruders and injection molding machines, the turnaround time is becoming effective. We still need to capture chlorine, but it is not as much as previously . That's when the role of stabilizers is shifting from chemical neutralization to more of physics, rheology of compound, a polymer with other filler ingredients such as calcium carbonate, talc, mica, , wollastonite, carbon black, titanium dioxide, and these materials cannot be easily dispersed
The first concern is how we are going to ensure and enhance that particle's distribution within the polymer matrix. After evenly blending and mixing, we have to make sure of the interface between compound with the metal surface of processing equipment. Without proper lubrication adjustment, it is not going to be physically strong . This is what we learnt in the formulation of PVC stabilizers
It is becoming more related to physics rather than just chemistry. That is when we started formulating the LOP series. Although we only listed four products on our website, we have more than that.
Various ingredients can be used to make PVC pipes, like calcium carbonate, talc, silicide, or titanium dioxide. All these chemicals can also be commonly used in other polymers such as polyethylene (PE), polypropylene (PP), polystyrene (PS), ABS and other engineering plastics, . If you are able to mix these volume fillers in the various polymers, you can obtain a different level of physical strength. The automotive industry is a good example, traditional metal materials is now largely taken over by polymers with various fillers LOP series is capable of even increasing low-level fillers that can be like calcium carbonate, talc or silicide. If you rolled more into polymers, it can render much better physical strength and properties .
Cellulose nanofiber (CNF) is a very difficult material but a wonderful product. You usually see CNF in liquid form because it does not disperse alone, and you cannot mix it in the polymer matrix. It is usually about a 5% solution in water, so mobilizing CNF is very hard. It tends to aggregate as you dry it, and it cannot be dispersed properly. We have been working on how to evenly disperse CNF into polymers and we may be the first ones to extrude PVC pipes with CNF in them.
Usually, PVC pipes are rather elastic, so you will feel it as it bends. The CNF provides stiffness. You will notice that it is very firm. How can this material be used? Where do you need this kind of stiffness? PVC used in wide windows tends to bend because it does not need support, but if you are able to mix PVC into it, you will make a straight line.
Using our knowledge of formulating or incorporating fillers or other materials into polymers, we can develop new horizons in the polymer industry. Plastic becomes such a bad name worldwide, especially the single use of packaging, bottling and labeling. I think we still have a fantastic opportunity for polymers in place of metals or very conventional heavy materials such as concrete. I believe that our LOP technology should be able to assist the continuous improvement of polymers outside of PVC.
The consumption of single-use plastic is shrinking while , long-life material has a great future which presents us excellent opportunities for product portfolio expansion. . It does not stop with polymers.
LOP technology can be also applied in different areas. It works in the cosmetic application such as foundation and eyeslash extender. It also extends to ink or pigment applications As where color is all about the reflection of light rays. Good dispersion of expensive pigments well means significant cost saving
---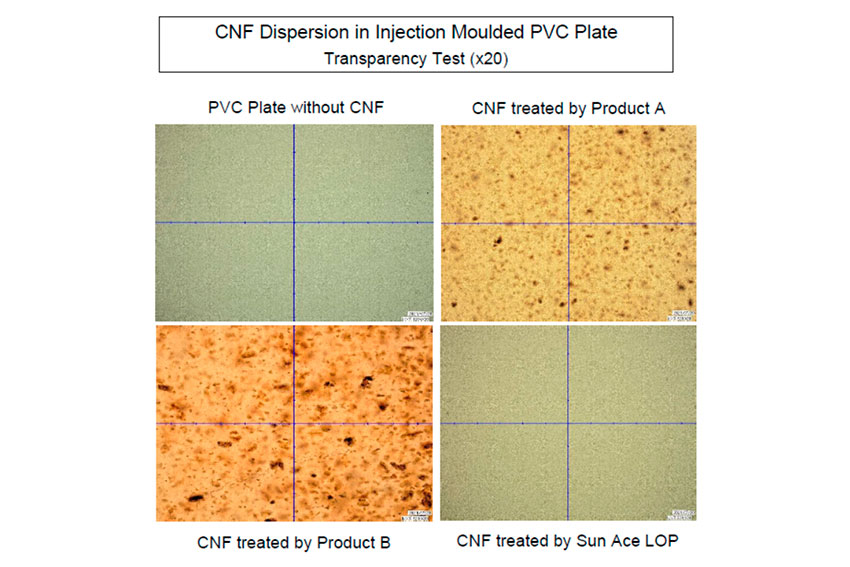 ---
Is there a particular business or application that you anticipate will be a high-volume business that you are targeting for your technology?
Polymers. We have customers who are producers of polyethylene (PE), polypropylene (PP), polystyrene (PS), ABS and other engineering plastics. That is not new because we are already selling metallic soaps to them. We offer the new addition to our product range and tell them how they work quite well.
Engineering plastics belong to the patent-related area. Our target at the moment is polycarbonate (PC) and polyacetate (POM) We are currently waiting for a few patents to be filed and will commence commercial promotion as soon as they are granted
When do you expect to get that patent?
It should be in the next few months and we will announce the new products during IPF Japan end November.
You had a patent that was proofed last year in March for a processing agent for filling the gaps in dry filters, which is a product that has many commercial and industrial applications like air conditioners, dry filters and machinery. We may be at the tail end of COVID now, but there is still a growing public consciousness about viruses in the air. You were in the process of commercializing this product.
We haven't been able to commercialize the technology yet,
When covid-19 outbroke in March/April 2020, disposal masks became extremely short in market and people started hand-making their own using cloths. However, cloth-made masks are not usually capable of capturing virus effectively and adequately. One day, our technical person received cloth-made masks from his mother living in Osaka who was concerned about her son.
That triggered him thinking how to densify cloth using another type of fibre that happened to be CNF. The challenging feature of CNF is that it can only exist in diluted water (5%) as it tends to aggregate in dry condition. Therefore, dispersion and separation of CNF in plastics or any other materials became one of our research themes during that time. He applied this technology to facial masks to fill the market shortage.
As Sun Ace doesn't have any retail business knowledge nor experience, we approached one of personal care suppliers to commercialise this technology under their brand name. Unfortunately, patent applications took much too long and the disposal masks became abandon again in market when patent was granted. Not a successful happy-end story, but we will continue exploring its applications.
---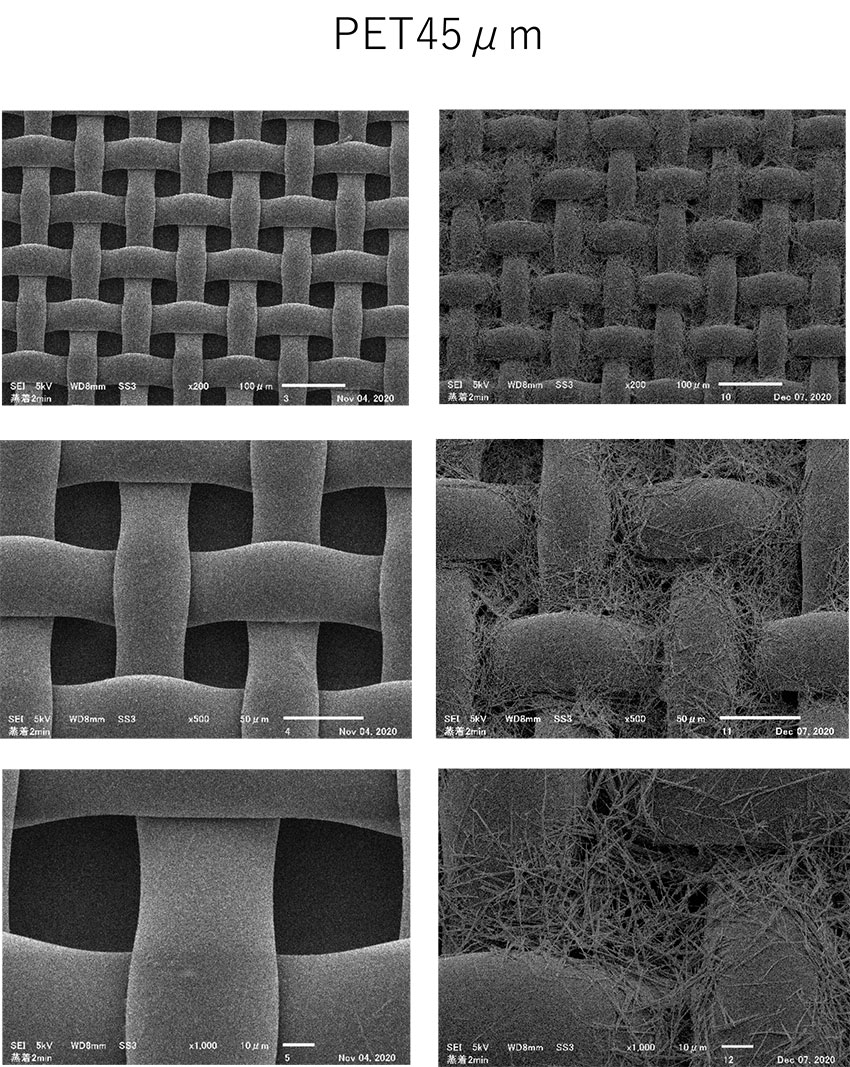 ---
What will be the next step in your international development?
We have not yet covered North America, and it is an opportunity we would like to explore, not that we have not tried. We made several attempts, including mergers & acquisitions and collaborations, but those did not really work out the way we wanted. Southeast Asia is also very rapidly growing like Indonesia and Vietnam which are presenting an extraordinary opportunity for us.
In India, we have sales offices in Delhi and, Pune. We also incorporated one local company in Gujarat that specializes in stocking and distribution which enables us to invoice local customers. In total, we have three locations in India, but we do not have a manufacturing facility there. We exported quite a lot out of Singapore and Malaysia through the Indian market due to the tariff agreement. Nonetheless we certainly need to invest manufacturing facility in India.
We are also looking at continuing to expand to the Middle East, where we have some ongoing projects, and it is the same in Africa. In Latin America, we have one plant in Brazil and two plants in Colombia, which we just made, so we have to make sure that it is going to work.
North America is a huge market, but it is very different from Southeast Asia, and even South America. What do you think went wrong in your expansion to North America? Why were you not able to connect to North America in the way you wanted to?
I think the market expectation is quite different. Obviously, these merger and acquisition opportunities can be our options
Every opportunity we were considering was either the partner was not as good as we expected or the scheme they proposed did not really suit our culture, which made us pull out. We found a company for merger and acquisition, but we have been deselected due to the asking price. We will still continue trying.
Imagine we come back in seven years for your 90th anniversary as a company. What would you like to tell us? What are your dreams for this company, and what goals would you like to have accomplished by then?
Our company Sun Ace is all about people We are trying to focus on the business domain which we defined as specialty additives and services Multicultural teamwork and partnership are the key. Through our chemical business, we are trying to connect a wide network, which we hope to perpetuate. In this divided world, the gap between the rich and the poor is becoming wider, even more so after the China-US and Ukraine situation. Prior to that event, people were talking about globalization, which eventually led to the segregation of the poor and the rich. We do not have a dynamic idea as an answer to it, but our business model of forming multi-cultural teamwork and partnership across borders may indicate some hints to this divided world . The culture of our company is treating each other with respect. Instead of thinking of our differences as a weakness, we take it as a source of strength. We try working around those differences and grow to achieve business objectives.
Happiness and well-being are the themes of our business which may lead this world to a better place to live. We are in the chemical field, in which we are trying to expand our network to achieve our ultimate goal. We will continue working in that direction.
Additional comment:
Japan has been suffering from a decline in the domestic consumption of PVCs. It is half of what it used to be in the peak time. In 1997 or 1998, the PVC domestic consumption reached 2 million, but it is less than 1 million today. The housing construction in 1990 was 1.6 million units per year. Now, it is 850,000 units, which is again less than half. We have been living in this continuous decline and the market size has shrunk to half. For the last 25 to 30 years, that is the reality we have been living in. We were forced to expand and shift our business outside our comfortable and traditional area, but at the same time, we also tried to work very hard on our existing business. Our business size did not drop. We are continuing to expand our market share for survival. We are not only looking at shifting to a new direction but also keep expanding our local market share for our stabilizers.
I quite like your compliment about the Japanese chemical industry, but unfortunately, the chemical industry as a whole has been badly performing due to the reasons you have mentioned. In the 60s and 70s, the Japanese chemical industry tried replacing imports from Europe and the United States, so there was vast infrastructure investment made here, which provided growth and a base for globalization and internationalization of the Japanese chemical industry. However, we stopped there, particularly in the 90s. After that, we did not continue reinvesting, polishing or rationalizing our business to make further progress. Perhaps it has something to do with non-economic reasons, but each company wants to keep its position and brand name and the number of its board members. They do not want to shrink. This is the real and general reason why Japan has been left behind in the chemical industry, except for few specialized firms. Unfortunately, the Japanese chemical industry is not a very good success story as far as I am concerned except for a few companies.