The Japanese chemical sector has suffered when it comes to production of base chemicals due to regional competitors being able to lower their costs. However, Japanese chemical manufacturers remain leaders in highly functional and specialized chemicals, with giants like Mitsubishi Chemical as a very good example. Furthermore, Japan can count on a variety of chusho kigyo who are able to develop niche chemical and material technologies. What do you believe are the current strengths and weaknesses of the Japanese chemical industry?
The strength of the Japanese chemical industry comes from a deep and wide industrial agglomeration structure and accumulating technologies by corresponding to clients' strict requirements for many years.
Our history can be traced back to 1913. Since establishment, we have been particular about phosphorous and continued our business. It is used as fertilizer in agriculture and for industrial purposes as well. However, it has now expanded to semiconductors in furthermore precision industries or lens making.
We have special materials for specific industries, such as for semiconductors. For precision lens manufacturing, it is the phosphorus acid salt that we provide, also we supply red phosphorus to the compound semiconductors industry. Thanks to the accumulation of our technologies that we have been providing to our customers through collaboration and meeting their demands, we are able to elevate our capability, expand our product lineup, and provide new possibilities for production.
The weakness of the Japanese market, in terms of the mass production of base chemicals, is that it's very hard to compete with the global market when it has lower production costs, and Japan is highly dependent on the import of raw materials, so there was a geopolitical risk which was prevalent throughout the covid pandemic with the disruption of logistics and supply chains, and this had a big impact on Japanese industry.
Given Japan's demographic situation as the oldest society in the world with a rapidly shrinking population, passing on a company's accumulated knowledge and history to the next generation is somewhat difficult. There's a labor crisis, and a shrinking domestic market. What are some of the challenges and opportunities this demographic shift is presenting for Rasa, and how are you adapting to them?
As you say, population decline is a grave issue facing Japanese society. One company cannot take major actions by itself. Also, this is something we all have to deal with as a country. We believe in the importance of securing a high-level labor force, as well as improvement of productivity.
We are currently focused on increasing our profitability, and also our company value, so that we can take that additional surplus and invest it in human resources to enhance our company capability. In order to increase productivity, the introduction of digitalization is key, and at the same time, diversity is important, by not being confined to a specific gender or nationality.
For two consecutive years, we expect to record the highest profit in our history. In order to continue growing sustainably, it's important for us to concentrate our resources in the profit-making divisions and also to continue investing.
On the environmental side of sustainability, we know the chemical sector is the largest industrial consumer of both oil and gas, producing more than 10% of fossil fuel emissions per year, and the Japanese government has already stated that Japan must be a carbon neutral society by the year 2050. What are some of the strategies you're employing in order to reduce your environmental burden and contribute to carbon neutral targets?
When you say that the chemical industry is divided into organic and inorganic, I want you to understand that we are on the inorganic side, and not petrochemical.
Our company was founded to procure, excavate, process and sell phosphorus from Rasa Island, and from the beginning, the concept of sustainability has been embedded in our company. At that time, the purpose of excavating was to sell it as fertilizer to the agricultural sector, and through that experience we expanded the industry that we cater to.
This history is connected to our company philosophy, which we place value on contributing in creating new value and realization of and affluent society through monozukuri. It may not be very obvious or apparent, but for some time already, in the inorganic chemical industry and the metal industry, there's been recycling going on, creating this circular economy.
We have products focusing on the recycling and reuse of materials. For example, we collect used inorganic acid and chemically modify and recycle it into etching chemicals for electronic components. We remove the metal content so it can be reused. Also, we deal with compound semiconductor materials like gallium. We work together with our customers and collect their scraps so we can recycle it and let them reuse the material. These are some of the attempts we've been conducting for some time already.
In the machinery division, we provide machinery that is focused on recycling materials. We also offer recycling plants. We are fully dedicated to contributing to the circular economy, so we can achieve carbon neutrality all together.
When we spoke to the president of Tokyo Electron, he predicted that the semiconductor market would grow to be about one trillion U.S. dollars by the year 2030, however, we've seen shipping shortages worldwide over the last two years, and as a result of this, regional leaders are pushing to expand their domestic production capacity. A good example of this is, of course, Sony and TSMC opening a fab in Kumamoto. What opportunities do these regional pushes present for your firm, and how do you plan on taking advantage of them?
Yes, there's big growth shown in the semiconductor industry. However, due to the mitigation of the centralization risk, 90% of advanced logic semiconductors are now centered in Taiwan and will disperse to the US and Japan in the future.
We manufacture locally in Japan, Taiwan and South Korea. We are proud to already have the number one global share in the field of phosphoric acid used in the semiconductor industry. Our policy is to have our production bases where there is a big market need, and that includes Japan, Taiwan and South Korea. By producing it in their locality and having factories in these places, and being readily able to provide our products locally, we are now able to generate bigger growth.
Japanese companies, when expanding both domestically and overseas, will first come and talk to us for their raw material provisions. Our company's strength is that by having multiple production bases, we are able to adjust between manufacturing locations. Accordingly, we are able to provide adequate amounts without any delay.
Our customers in Taiwan and Korea have announced that they are to open up production bases in Japan and the US. For us, we first want to centralize our production in Japan, Taiwan and South Korea then expand as needed. As for the US, we don't have a factory at the moment, however we expect it to be a big and growing market. We have to consider investing in a production facility there when the situation arises that local production is needed.
Silicon carbide and gallium nitrate are receiving increased attention in the semiconductor industry as they have excellent physical characteristics such as high heat resistance. The use of both of these materials will enable more compact and efficient electronic equipment. How is Rasa catering to the use of these new semiconductor materials?
We have both a relatively new and actually very old relationship, in a way, with compound semiconductors. Since the 1970s, we have been supplying red phosphorus, which is the material for the compound semiconductors industry. We have provided high purity gallium for gallium nitride substrate manufacturers, and high-purity red phosphorus and high-purity indium for indium phosphide substrate manufacturers. Demands are significantly increasing for both manufacturers.
Our uniqueness is that we can supply products that have been refined to 4N(99.99%) to 7N(99.99999%)purity, using our customers' scrap as raw materials. In addition, there are only two companies, including ours, that can supply high-purity red phosphorus, and we believe it is important to establish a system that can provide a stable supply to the compound semiconductor industry.
One of your products, SHU-CLEANSE, a white powder chemisorption deodorant that utilizes special inorganic metal material, has applications in textile products. How is the SHU-CLEANSE superior to some more conventional deodorant-based products, and what are some of the other practical applications?
SHU-CLEANSE being an inorganic powdered material, is highly heat resistant and can be processed at a high temperature. When woven to a fiber, deodorizing functionality recovers by being washed.
---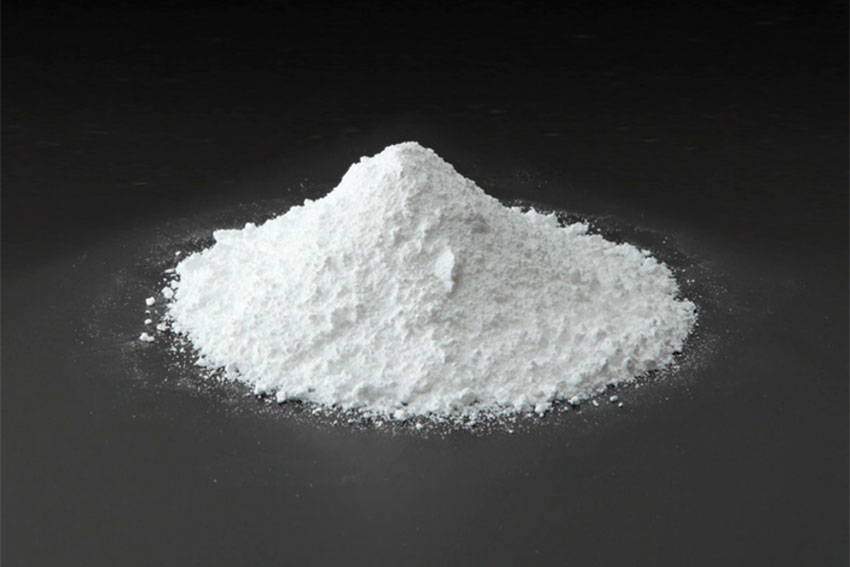 SHU-CLEANSE
---
Although it is not generally known, it's actually working behind the scenes, or 'supporting the roof', as we say in Japanese. Applications include clothing such as underwear and sportswear, and also curtains as well as car seats. Since safety and heat resistance is assured with this material, we are now trying to diversify into food preserving containers.
Speaking of food, your KoCona series promotes the use of rice husks from agricultural residues, with these husks being pulverized into several 100 micrometers, which then can be adjusted to make a powdered fuel with the same combustion as a liquid fuel. What were some of the challenges that you had to overcome when developing the KoCona series, and what benefits does this biofuel that the KoCona series is able to produce, what other benefits does it bring to more conventional biofuels?
This KoCona is an invention which creates new applications. It matches people in the agricultural field with difficulties and our machines. We realized that in the agricultural sector, only little rice husks were utilized and most of them went to waste.
Of course, some of it is burned and the ash is used to fertilize the soil. In order to make full use of these rice husks, we have developed a pulverizing machine, KoCona. This KoCona turns rice husks into a fine powder and enables them to be utilized as an energy source.
We are currently working together with local Japanese agricultural associations and municipalities. Currently, one municipality has been using and testing out our product, so we hope this environmentally friendly product will be one of our most popular machines.
Collaboration with other companies is often seen as a way into new markets, or a way to create innovative new products. Could you go into more detail about the role collaboration and co-creation play in your business model, and are you currently looking for any partners in overseas markets?
Collaboration plays a key role in our international business expansion. In Taiwan and South Korea, we were able to proceed with the efficient and speedy construction of factories through cooperation with local companies.
Looking at the future, if we were to open up a factory in the US by ourselves, we would have many difficulties. If that is the case, we consider it important to collaborate with our Korean and Taiwanese customers, or partners in the US, already there in the market.
Another unique product that we have developed is a radioactive iodine adsorbent, and it is used for filtered containment venting systems in Japanese nuclear power plants. In Japan there's been an energy mix discussion, and there is still a need for nuclear power generation, so that is one of the fields that we want to expand in overseas. We are now discussing with concerned authorities to start our business in France.
---

Radioactive iodine adsorbent material
---
Let's say we come back to interview you again in six years' time for your company's 115th anniversary. What would you like to tell us about your goals and dreams for the company in that timeframe, and what would you like to have achieved by then?
Let me briefly explain about my background. I am an engineer from the chemistry field. When I joined the company, I was assigned to the Electronic Materials Division which supplied materials for compound semiconductors. Then, I moved on to the Chemical Production Department at the factory, where phosphoric acid was produced. For this reason, I was always in the field of monozukuri.
Actually, as a manufacturer of chemicals and chemical related products, the strength of the company lies in the people, so hitozukuri, or human capability building, is the key. I mentioned about diversity, and it's important to create an environment where each and every member of our company can freely take actions on their own and be responsible and capable in meeting customer demands and developing new businesses, so I would like to continue focusing on this human development aspect in my presidency.
This year we are commemorating our 110th anniversary, and to continue the company for 150 years, what sustains us are the people, so we have to continue collaborating and developing our staff so we can have sustainable growth.