Triggered by the accelerated rise of new technologies, the implementation of environmental policies and changing consumer preferences around car-ownership, the automotive industry is currently living in a time of great transformation. These forces have given rise to four major technology-driven trends, namely, diverse mobility, autonomous driving, vehicle electrification and vehicle connectivity. Given the complexity of these trends, there is still no clear unified perspective as to how the industry will look like in 10 to 15 years. How does MAZDA envision the automotive industry 10 to 15 years from now?
Please take this as my personal opinion, not the opinion of MAZDA Motor Corporation.
I believe that forecasting the future 10 to 15 years from now is incredibly complicated. Based upon the assumption and trends that you outlined, CASE (Connected, Autonomous, Shared, Electric) technologies are expected to advance.
However, before thinking about CASE technologies, we need to think we may face rising geopolitical, infrastructural and economic risks.
Global economic security is currently threatened by conflicts and political divisions that make the business environment uncertain. On the other hand, the advance of digital technologies has made people's life more convenient, connected and comfortable.
On top of these changes in the external environment, the industry also faces environmental and social challenges, including global warming, the increased demand for vehicles in emerging markets, and the greater number of car accidents caused by senior citizens in developed countries with aging societies. Those are the social concerns that we have.
As this megatrend continues, it appears likely that new players will join the automotive industry. These entrants will introduce a variety of new products by leveraging IoT technologies, effectively multiplying the number of companies and services offered by the mobility sector as a whole.
To me, it is clear that the social value of the automobile will change, evolve and expand. Our responsibility and duty as an automotive company is to support the sustainable development of society and of earth's resources. Simply put, the sustainability of the automotive industry cannot be separated from the sustainable development of society.
With this mind, I believe that our mission is to help resolve social issues. For example, in advanced economies with an aging population, we must develop solutions that enable the safe and secure mobility of senior citizens.
Over the next 10 to 15 years, the automotive industry will continue to tackle social and environmental issues. Unique values must be created by each company in order to make a contribution to people. While the timeline for rolling out these technologies is uncertain, the industry will certainly continue to advance in that direction.
Traditionally speaking, the automotive revenue pool mainly came from one-time vehicle sales and aftermarket activity. As diverse mobility services emerge, including on-demand solutions, MaaS, and other data-driven services, additional revenue streams are expected to appear. This trend is further compounded by the increased demand for automotive and automotive-related services of developing economies. Looking at the future, what will be the new vectors for revenue growth in the automotive industry?
We cannot take a broad view on the profit structure of the automobile business, so we think of it from Mazda's perspective. We need to consider challenges for profit structure through MaaS and data businesses. The MaaS Business Preparation Office has been established to study Mazda's unique business model through interaction with outside parties. As of now, we have yet to find a new business pillar for diverse mobility-related services.
Over the past two years, the industry's profit structure was greatly impacted by the COVID-19 pandemic. Semiconductor shortages and logistic disruption impacted us, and the entire industry, greatly.
To respond, we were forced to rethink our approach to cost reduction. In the past, we never had to deeply redesign our logistics strategy and we never had to think about maintaining inventories of parts and components. However, the effects of the pandemic on the global supply-chain has challenged these assumptions. Furthermore, the price of labor and of semiconductor products has continued to increase, thereby impacting our bottom line.
Although we lived with this extraordinary environment over the past year, we proactively collected information in order to respond to this situation in the future. Before thinking about MaaS, we have to change our profit structure and review our supply- and value-chain accordingly.
We profit both from new car sales and from after-sales services. If we call the value chain from product planning to disposal by the customer, within this complex value chain, there are various opportunities to maximize profits.
Not only must we maximize profitability from the use and sales of vehicles, we need to find a way to make more profit during the period when the customer owns the car.
When it comes to the current structure, we make profits on vehicle sales, after-sales services, and on car trade-ins. I believe that reviewing that profit structure has a lot of potential. On top of that, we will consider MaaS, etc. That is my view. I think there are many possibilities, one of which is MaaS as one of the services during the period of use.
What infrastructure and political challenges must be addressed for the greater adoption of EVs?
While energy policy may vary in each country, the purpose of electrification remains the same: to achieve carbon neutrality.
At Mazda, we have decided to take a multi-solution approach and to equip all of its vehicles with electrification technology by 2030. To balance the use of resources, we believe that a variety of vehicles, namely, ICE (Internal Combustion Engine), hybrid and EVs, must be provided to customers.
Although these vehicles function according to different engineering designs and energy sources, we successfully created a common vehicle architecture and a flexible manufacturing concept.
Although we are not a large player in the automotive industry, our aim is to provide multiple solutions – ICE, hybrid, plug-in hybrid and EVs – to customers by developing and producing efficiently using the common architecture concept and flexible manufacturing.
We develop Hybrid, plug-in-hybrid and EVs, but due to our common architecture concept, the workload of their developments is not "1 + 1 + 1," rather, it's "1 + 0.4 or 0.2." That is the approach MAZDA is taking. We plan on offering multiple solutions to customers.
In comparison to traditional ICE cars, next-generation vehicles run on E-Axle and electronic motors have drastically less moving parts, creating a great change in the automotive supply-chain. How are these new demands affecting MAZDA?
Before thinking about the supply chain, we must take the mechanism for key technologies, including axles, power semiconductors, and chemical reactions in batteries, into our own hands and have the control technology to use them with maximum efficiency. We want to make control technology our greatest strength.
For batteries, we seek to better understand customer preference and utilization so that the batteries can be used in an efficient manner by the control technology. Therefore, we will procure batteries from suppliers for the time being.
For the axle, we reached an agreement to establish a joint venture company with seven partner companies to conduct the development of highly efficient production technology and to establish a production and supply framework. Given our company's global network, with plants in China, Japan and North America, we are not able to work with all these partners simultaneously. If we purchase E-Axle from an existing supplier, we can deal with the supplier on an equal footing if we have the in-house knowledge
Up to 2030, our mid-term management policy is divided into three phases: 2022 to 2024; 2025 to 2027; 2028 to 2030. Under phase one, we introduce EVs and hybrids thanks to our multi-solution scalable architecture, allowing us to maximize profit through synergies between our assets. Simultaneously, we will develop technologies towards the EV era and make those technologies our strengths.
In Phase Two, from 2025 to 2027, each country will have strengthened their own vehicle regulations, marking a transition period for Mazda. In the latter half of this phase, we will introduce new EV products based on a dedicated EV architecture.
Phase Three will be the start of the EV era. That is our belief. As such, products stemming from our EV-dedicated architecture will be necessary and we will introduce a complete line up of EV solutions.
While we believe this timeframe to be realistic, the exact timeline is incredibly difficult to predict accurately because of a variety of issues.
Again, the aim is not to promote EVs, but to be carbon neutral. France, for example, currently has a high share of nuclear power in its electricity mix. I am not sure whether nuclear power plants are fully carbon neutral or not, but at least they are not using coal or oil. By using a mixture of efficient energy sources, such as LNG and nuclear power, countries like France are in a proper position to adopt EVs and EV infrastructure at a large scale.
By 2030, MAZDA aims to reduce corporate well-to-wheel CO2 emissions to 50% compared to 2010 levels. By 2050, the company aims to be fully carbon-neutral. To achieve this goal, MAZDA must not only invest in the development of new models, such as EVs and hybrids, but it must also re-think its manufacturing processes and product lifecycle. What main environmental initiatives are you proposing to meet these ambitious targets?
Having a precise strategy for reaching carbon neutrality is currently impossible. To achieve carbon neutrality, innovative technologies and a new infrastructure model must be developed, and many of these requirements do not depend on us. We are still in an uncertain period.
Achieving carbon neutrality will require adequate regulations and energy policies in each country, together with a change in customer demand. All those things need to change.
Furthermore, geopolitical and environmental risks may delay this objective. The supply of certain raw materials, for example, is starting to become an issue. To achieve our goal, we must closely monitor those changes and articulate a flexible response.
Since 2010, MAZDA has received global acclaims from industry experts and award ceremonies thanks to its commitment to the creation of vital and dynamic car designs created under the "KODO-Soul of Motion" philosophy. What is the "KODO-Soul of Motion" philosophy? How do MAZDA's designs differ from those of other competing brands in the same market segment?
We believe a vehicle has life. As such, we put life into our cars and design our product with that objective in mind. Since we consider cars to be a living thing, we find brilliance in instantaneous motion and we seek to capture and integrate that brilliance into the car's design and form.
Kodo design has evolved and will continue to do so in the years to come, expanding beyond the simple realm of automotive design.
The expression of a lively sense of life is not just a matter of design. By stamping parts of the die fabrication, including polishing and stamping the die, the modeler shapes and polishes dies to create Kodo-designed cars. In that realm, changes sometimes occur at a two-micron level, and the design can be reproduced in digital form as well.
No matter what vehicle we make, ICE, hybrid or EV, we will continue to prioritize this design philosophy, which is a big asset for Mazda.
Did you watch the "2030 Mazda Promise'' video? I think the white car without the exhaust pipe at the end of the video may be the next roadster you are imagining. Whether it is an EV or something else, we will always continue to provide this Kodo design, which adds motion and vitality in the car.
Each automotive brand has its own niche in terms of emotional responses from consumers. If one thinks about safety, a Swedish maker comes to mind. If one thinks about exotic sports cars, Italian brands come to mind… What kind of emotional response would you like consumers to have when they think of Mazda?
We want to provide emotional excitement to the people who use our cars for their everyday life. We want them to feel that Mazda allows them to live a creative, spirited and enjoyable life through its vehicles.
Of course, each car line may provide a different emotion, but excitement remains our target. Embodying this concept is not only achieved through selling vehicles, but also through sales and services. As such, we must create a total customer experience that embodies our philosophy. Technological development, after-sales services, and the creation of a unique customer experience must all work in tandem.
Mazda has approximately 2% of the global automotive market share and we are not necessarily thinking about increasing that to 5% or 6%. Rather, we want our customers to sincerely enjoy using Mazda and to share that joy with other customers, creating communities of people who love Mazda vehicles.
Mazda cars are built around advanced-engineering concepts based on a human-centric philosophy. It is no surprise to find that technology and design are strong elements of our brand.
We are currently conducting in-depth research about the operation, judgment and recognition consumers feel when driving our vehicles. We always try to better understand what makes our customers feel comfortable, safe, and excited when driving.
One of Mazda's long-term objectives is to create a society free of traffic accidents. To that end, you recently released "Mazda Copilot," a system that assists the driver. Can you tell us more about this technology?
We are pursuing automated driving with a human-centric philosophy. Based on the idea of energizing the mind and body through cars. Simply put, our aim is to use technology to increase human capabilities to their maximum level.
When a driver suddenly loses consciousness or makes a driving mistake, our copilot system is there to protect him and to protect those around him. As the car is being driven, this system monitors the driving experience and the driving environment in order to promptly react in case of emergencies.
For example, if a driver suddenly loses consciousness, the system will take over the driving operation and will navigate the car to a safe place. Once parked somewhere safe, the system will automatically make an emergency call. Furthermore, the system alerts cars and people in the vicinity of the incident using a 'beep-beep' horn sound.
Part of this technology is now installed in the new CX-60. At MAZDA, we want people to enjoy driving, and ensuring maximum safety is an integral part of creating a better driving experience.
---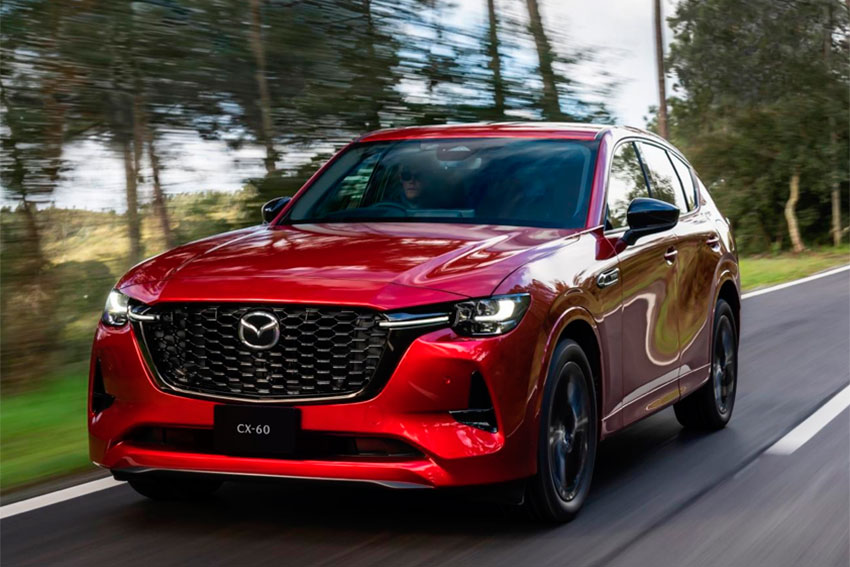 CX-60 model
---
Pmethod is the most effective one to ensure greater safety unless the infrastructure and other factors for autonomous driving are not in place. We plan to make such technologies more sophisticated towards 2030.
The ultimate goal of autonomous driving is to fully eliminate traffic accidents, which can result in injury or worse. Vehicle autonomy is not being rolled out so that people may drink coffee while driving! Of course, I will not deny the 'drinking coffee' advantage that autonomous driving provides, but that is not its main purpose.
If people can drive, we want them to do so. We want to deliver technologies that support the mobility of senior citizens and that ensures that if something unexpected happens, our cars can provide safety and peace of mind.
Again, Mazda's approach is to bring human-centered technology to people. In Japan, pedestrian and road infrastructure, including cars and bicycles, are all mixed-up and are therefore difficult to manage. For certain roads and areas, I believe that fully autonomous driving vehicles will be extremely useful.
In Japan, product delivery and shipping is often made using minivans and small vans. For logistics and delivery companies, having access to autonomous driving in order to deliver goods to small and rural areas would be extremely convenient. However, at least the timeline to 2030, we don't seek to develop fully autonomous driving cars.
Today, Mazda is present around the world, with sales activities in more than 130 countries and regions. In terms of unit sales, the company's first market is Asia-Oceania, followed by North America, Europe and Japan. Furthermore, Mazda is also present in new markets, such as Central and South America, the Middle East and Africa. What location will you prioritize for future growth?
Firstly, our share of the global automotive market is around 2% and we do not have the intention to increase it to 5% or 6%. Rather, we seek to make our customers fully satisfied with the vehicles we propose.
We have no plans to go out to new markets such as India or Brazil, at least not within the timeframe of 2030. If we were to prioritize among the markets we are entering, our most important market would be the North American one. For China, our concept is to produce and to sell in the same region, so we closely collaborate with our Chinese partners to achieve that.
How do you tailor your product offering to the infrastructure and affinities specific to each geographic region?
Our CX90 is a crossover SUV newly developed in light of features that customers in the important North American market demand. This model has three rows of seats and is equipped with a six-cylinder mild hybrid and 4-cylinder plug-in hybrid powertrains. The vehicle width is nearly two meters.
---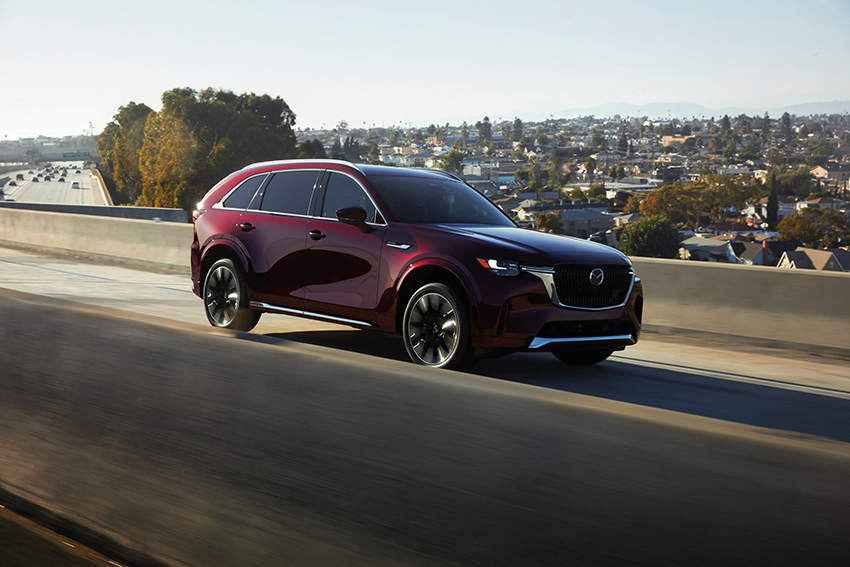 CX-90 model
---
At our Alabama plant, we started production of the CX-50, which has a width of almost two meters, as well as a long shape. If we were to market this exact product with these exact specifications to Europe it would be difficult.
Like I said earlier, our common architecture and flexible manufacturing concept allows us to tailor our products to each market. While we introduce products of the right size and PT for the North American market, which is our most important market, models with a width narrowed by more than a hundred millimeters are being introduced to Japan and Europe. While trying to figure out what we should have in common, we are developing and producing our models with an image of about 1+0.2, not 1+1.
---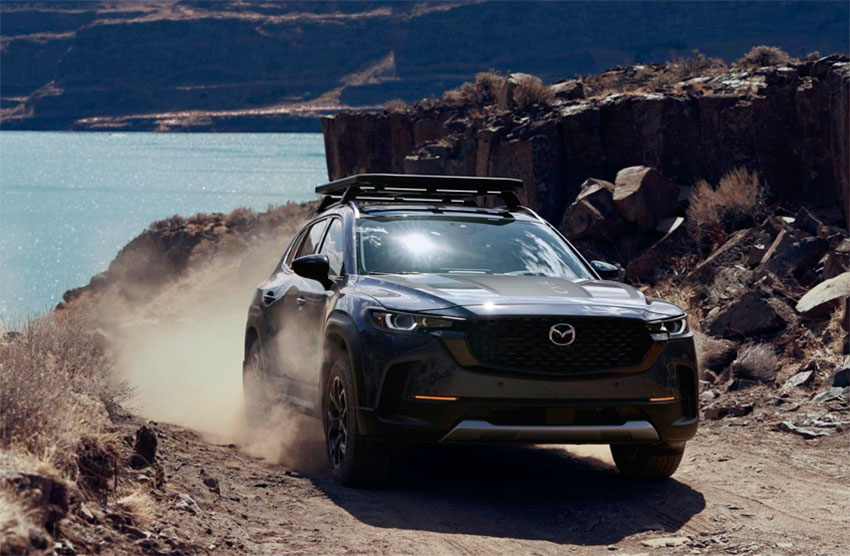 CX-50 model
---
American consumers prefer large vehicles whereas Japanese, Asian and Europeans favor smaller sizes, so we have two divisions. Our flexible approach allows us to develop similar models with different specs while not using many resources to do so.
As such, we do not release the completely best model for each country. Rather, we make adjustments to each model in an efficient manner.
Since its foundation, MAZDA has released a series of automobiles beloved by driving fans around the world. Which is your favorite MAZDA model, and why?
That is a difficult question. On holidays and weekends, I enjoy driving the MX-5 with manual transmission, of course. I avoid highways as much as possible and drive on roads near the mountains. I often choose a destination that is 300 kilometers away, and then sleep one night at the destination before going back.
---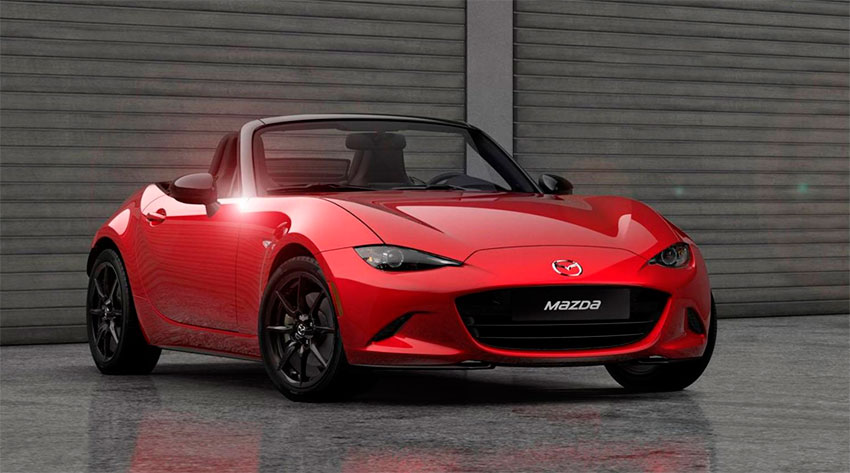 MX-5 model
---
In our modern world, we are constantly connected and followed by digital technologies, which I find to be quite stressful. Driving frees me from stressful, digitally driven work. For me, driving is a digital detox and stress relief. I'm 65 years old now, yet, I feel very energized. I think driving slows down my aging, so please consider buying that model!
The other MAZDA that holds a special place for me is the MPV minivan. I was a program manager for the second generation MPV, so I consider that this vehicle has my blood circulating in it… I feel like it's my own child!
---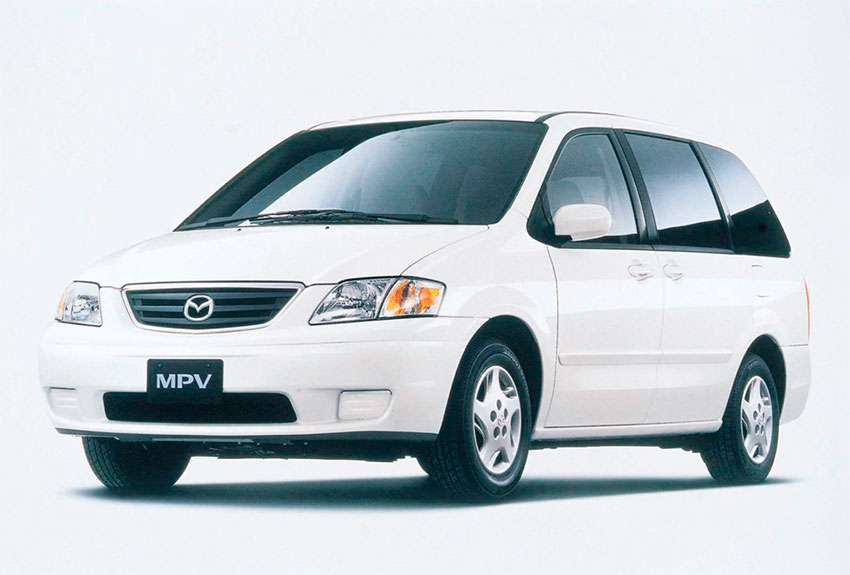 MPV model
---
Imagine that we come back to have an interview with you again on the last day of your presidency. Is there a goal that you would like to have achieved by then? And what legacy would you like to leave behind at MAZDA?
It's difficult to have any specific dreams. You might find it boring if I told you about business or products. That being said, the legacy I want to leave is about people. More specifically, I seek to foster and help develop the people who will support the next generation of Mazda
This year marks the 103rd anniversary of our foundation. Through more than a century of existence, Mazda has carried values that have passed through generations and that have evolved with time.
To explain this philosophy, we made an integrated report where we presented three sets of values. The first value is to understand people deeply. The second is to co-create with others and to cherish partnerships. The third is to promote a 'never-stop challenging' spirit. Those sets of values should be passed down to future generations.
Of course, things may get tougher in the future but through creativity and innovation, I am sure that people will overcome those tough situations. So on the last day of my presidency, I may be talking about those things.