As a research-oriented agrochemical company, what do you believe to be the competitive advantage of Japanese firms with regard to niche products?
Despite the emergence of competitors in Asian regions, Japanese firms have dominated in some fields. The production of chemicals can be easily replicated by other manufacturers because tracing the chemicals is not complicated. However, the challenge is in finding bioactive agents as well as identifying which ingredients work on plants, animals and humans. These aspects cannot be replicated without difficulty. We have to ensure that our products, particularly in the medical and agrochemical fields, are safe for both humans and the environment. Since we need to balance these three elements: finding compounds and bioactive agents, screening and toxicology, a high level of observation and imagination is required. It is said that it takes 10 years from the discovery of bioactive agents to the launching of products in the market. Many emerging companies have been up to this challenge, but rarely do we see one that has launched a successful product in the market because it requires considerable know-how and expertise. There are only few major European and American companies capable of developing products with large enough capital to be invested in R&D. Small and medium-sized enterprises do not develop products and invest in research and development as they did before. On the contrary, some mid-sized Japanese companies conduct research and use their efforts into discovering products regardless of their small sales. That endeavor has been made possible because Japanese researchers, in general, are very capable and diligent in finding bioactive agents. Also, their knowledge of toxicology allows them to ensure the safety of their products.
What challenges or opportunities does Japan's population decline poses for your company? How can your products ensure food security in the future?
Japan's aging and declining population is a social problem known worldwide, which has led to the shrinking of the agricultural market. Besides the Japanese market, we are also targeting the global market as it presents better business potential. Our R&D is geared towards potential overseas markets. To secure a safe and stable food supply in the future, we are trying to improve our efficiency in farming. We have an AI-driven image diagnosis tool that identifies disease, pests, and weeds and suggests the precise agrochemicals required to solve those problems. In addition to that, we offer web-service agricultural management tools. We are working with other cloud providers to provide services and applications that function as a vital platform to cater to the shrinking labor force in the farming industry. Our original ingredients are produced in our plants in Japan and India, but we are shifting to smart plants that utilize IoT and AI. These will be run by robotics in the future.
You are working in cooperation with DJI Japan by utilizing their aerial photography technology to detect abnormalities in different cultivated fields. Can you tell us more about that relationship? Are you looking for similar co-creation partners?
Since DJI has a strong foothold in overseas markets, we are thinking of expanding our business in collaboration with them. We are also thinking of teaming up with other agricultural machinery and tractor manufacturers. In this case, we are looking at the Japanese market. "LeiMe AI Disease, Pest & Weed Analysis" a smartphone application has been translated into English and Hindi; the latter is planned to be launched in India by the end of this year. Taking into consideration the "Make in India'' policy, we are planning to collaborate with an Indian drone manufacturer.
Among your three main business divisions: agrochemicals, pharmaceuticals and animal healthcare products, which is your main focus? What synergies have you established between these distinct yet similar business divisions?
The pharmaceutical and animal healthcare products that we develop are derived from our agrochemicals. Agrochemicals is our core business field, and the others are our secondary core businesses. We are lacking in R&D resources when compared to major pharmaceutical companies. Despite that, we are brilliant at developing medical products originating from agrochemicals. Concerning other fields besides agrochemicals, we are thinking of partnering up with external vendors as well as researchers from our parent company, ADEKA.
Along with the drastic increase in the world's population, which is expected to be 9 billion by 2050, is the need to increase food production by 60% relative to 2005 levels. Although agrochemicals play a vital role in getting rid of pesticides and maintaining crops, detractors criticize agrochemicals for their harmful impact on human health and the ecosystem. How do you balance those two contradictory elements?
With the drastic global population increase, it is imperative to increase the food supply. However, I think that the land available for cultivation is limited. A lot of criticisms were raised when the Amazon rainforest was developed because of deforestation. I believe that agrochemicals can play an important role. We are developing biorational products which can solve these issues. Above all, we value efficiency. Agrochemicals remain crucial in food supply and social challenges. The EU has stated its visions about farming, and Japan's government's strategy is to shift to the Measures for achievement of Decarbonization and Resilience with Innovation initiated by the Ministry of Agriculture, Forestry and Fisheries targeting to reduce the usage of agrochemicals by 50%. In tandem with the EU and Japan's strategy transition, our company is striving to develop safe and effective chemical products. Even with the 50% reduction in agrochemical usage, we can still potentially grow if we dominate the global market.
In February, you recently launched Orchestra 10SC in India, designed to control planthoppers and leafhoppers in rice. What gaps in the market did you see when you developed this product? What is its competitive advantage against other anti-pesticide chemicals?
Orchestra 10SC, a product that controls planthoppers, targets Japan, India and other Asian nations. Brown planthoppers originating from Southeast Asian countries are the most harmful insects in rice cultivation. We have been selling our insecticide called Applaud for many years, but insects have become resistant to these chemicals. Therefore, we needed to develop the new product launched in Japan last year and India this year. Orchestra is a very effective product that only works against brown planthoppers, and it is safe for the environment and other insects. Though other companies have developed similar products against these insects and sold other agrochemicals, I think our product has a competitive advantage, as it is very safe.
---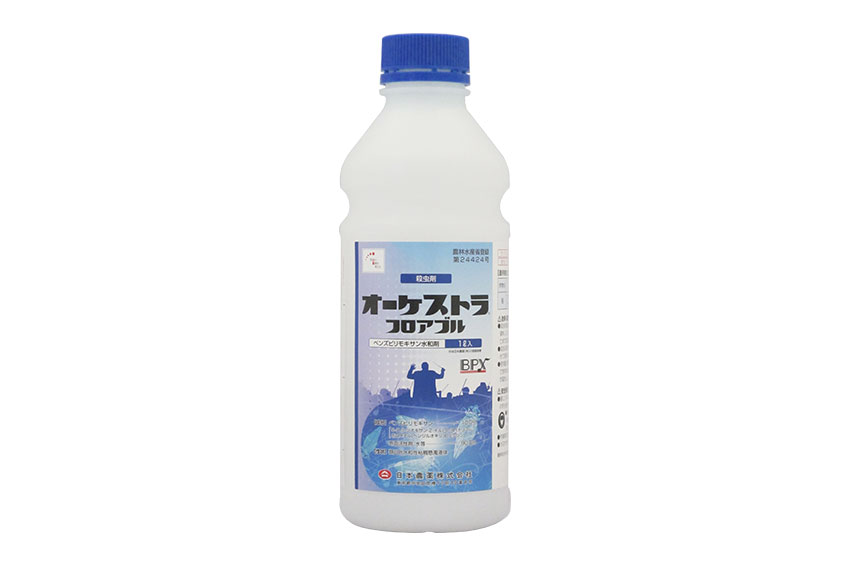 ---
Seventy percent of your products are proprietary products. Could you tell us about some of the latest developments you are working on?
Since our R&D is relatively small, it is difficult to launch a new product every year. We do try to launch a new product every three years. Our Orchestra product contains a new active ingredient, benzypyrimoxan, which was originally discovered and invented by Nihon Nohyaku. We are developing a new product that works on lepidopterous insects to be launched in 2027. Of course, there are many products in our line-up, not only insecticides.
Last April, you launched "Ensuring Growing Global 2" as your midterm strategy, which means branching out into new business areas and simultaneously developing R&D capabilities in Japan and worldwide. How is that progressing? What are the biggest obstacles to achieving your goal of ¥ 100 billion in sales?
We are progressing spectacularly with our midterm business plan, and we are one year ahead of attaining our goals. By the end of the first year, FYE March 2022, we exceeded our second-year goal. We are likely to achieve our target of ¥ 100 billion in sales in FYE March 2024. We are continuing to advance successfully, especially in the agrochemical areas. Our overseas subsidiaries, nine countries in total, are growing steadily, including major agricultural countries such as the US, Brazil and India. We also have subsidiaries in Colombia, Mexico and Vietnam, but we are trying to expand our business in surrounding countries to support our growth even more.
Is there any particular country that you are prioritizing to increase your sales?
We are looking to strengthen our presence in countries in South America like Argentina and Chile. In Asia, we are targeting Thailand, Myanmar, Indonesia and Cambodia.
What strategy will you employ? Are you interested in setting up more overseas offices in those locations, M&As or joint ventures?
I think the strategy we will employ will vary, but we would like to set our footprints in those locations. In India, we are asking our subsidiaries' R&D to collaborate with our research centers in Japan, especially in chemistry.
Given your substantial international footprint in nine countries where you have bases, how do you guarantee a consistent quality in the delivery and services of the products that you develop in Japan across so many international locations?
Quality control is the most important factor, not only for the final product but also in the creation of the active ingredients. Many of our active ingredients are produced in our Indian subsidiary, but we are trying to set up our plant in Japan as the master plant in order to transfer the correct technology. We transfer all the technologies to our overseas locations like India, and we configure the technologies and control the management to maintain the quality overseas.
Imagine we were to come back to interview you once more on your last day at Nihon Nohyaku. What would you like to tell us? What dreams or goals would you like to have achieved by that point?
I do not know how long my presidency will last, but my vision is "Growing Global" which means growing our business overseas. I want to become the top agrochemical manufacturer in Japan. Undeniably, it will be difficult to be on par with the top four multinational companies, but I could perhaps come after them.