Japan's chemical industry has suffered when it comes to the production of base chemicals due to regional competitors being able to lower their costs. However, Japanese chemical manufacturers remain leaders in highly functional and specialized chemicals such as cosmetic additives, fragrances and hair products. When it comes to the Japanese cosmetics industry, what are its strengths and weaknesses?
We are in the hair color sector, so speaking from that perspective, hair color products are chemical products, and in Japan, they are called quasi-drugs. We place a lot of focus on the safety of the product to prevent any skin rash or damage to the hair, and we should also care about the smell. The products in this category have a lot of weaknesses, and to overcoming them is important. I think you can find the strengths of Japanese firms in this particular industry. In terms of safety, it is about not damaging hair.
Damaged hair is commonplace in today's society, as products are used to strip the natural oils of the hair, or even just due to natural aging. In the United States, Head & Shoulders conducted a survey and it showed that 91% of adults do something every day which damages their hair in some shape or form, one of which is hair dyeing. How are you ensuring the health of your customer's hair when they use your products?
We have been in the hair color sector for more than 100 years, and we have accumulated research in preventing damage to hair, and we have identified some ingredients that could prevent damage to hair, and that is incorporated into the coloring agent. It is also used for the treatment and repair of hair.
Speaking about damage, the alkaline agent that is used as the first agent for hair coloring creates a lot of damage to the hair, so we are incorporating a technology to reduce the alkaline ingredients in the agent. However, there is a limitation to the prevention of damage only using hair color agents, so we launched some hair care products that could reduce, or mitigate, the damage that is associated with hair color.
From another perspective, I think this is something unique to Japanese people, but a lot of people just dye the part of their hair that has grown, so we have launched products for hair coloring for only a part of the hair that has just grown, and we incorporate some technology to be friendly to the part that you put the dying agent on. Those kinds of technologies are incorporated in some of our products.
On the other hand, some young people prefer to dye and bleach to a brighter color, and in that case, when the hair grows, then you need the bleach for the newly grown hair. However, you do not need the bleach for the already dyed part of the hair.
For the professional line, we launched some products that do not include the alkaline agent for the already-dyed part of the hair, but the right color can be put on the right part of the hair.
Your products can be divided into two major classifications: professional, where you market towards beauty salons and businesses, but you also have general, where you sell commercial products as a B2C business. Which one of these two product divisions is your current focus, and which do you personally believe has the most potential for future growth?
For B2C products, we supply them to the domestic and the international markets. For the professional products, we cater mainly to the domestic market, although some of them are sold in overseas markets. In terms of revenue, 90% comes from the B2C category, so for the professional product line we get about 10%.
The professional line is based more domestically, but going forward, do you see any potential for it in overseas markets?
We are already in the United States, South Korea and Singapore markets for the professional product lines. We are marketing some good products from the domestic market to these overseas regions. However, at this moment, we do not have a plan to expand the professional product line to any further countries because in the domestic market, we are not the leader in terms of the professional products. We still believe that we have room for expanding that share in the domestic market, so we are focusing on the growth of the domestic market share. For B2C products, on the other hand, we are already actively expanding to overseas markets, and we will continue these efforts going forward.
---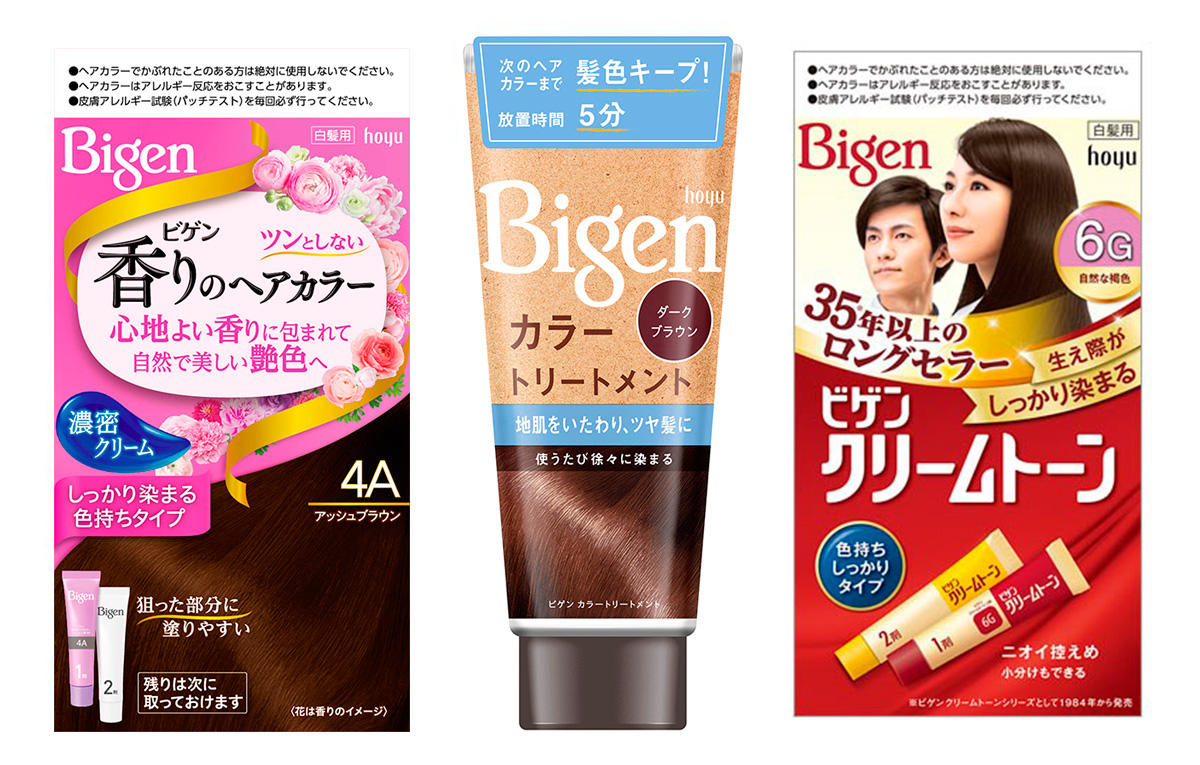 bigen brand products
---
One of your standout B2C brands is Bigen, a long standing brand trusted by those who want to cover their grey hairs. What can you attribute to the success of the Bigen brand, and how do you plan on growing it in the future?
Bigen has a long history in the domestic market, and it has grown so much to become a powerful brand. Starting from the powder type, it has evolved into the liquid type, or shampoo type, and now it has become the cream type, so over time it has gained a lot more product variations, and also, the brand awareness has been enhanced in line with that.
In the course of that process, this product kept on challenging new technology. Also, we have had TV commercials for a long time in Japan, so it has a lot of recognition, and the brand capability is strong.
Another product that you have, more on your B2B side, is Irojikake, a hair color for bleached hair. How is Irojikake superior to other conventional hair products in the B2B realm?
For the past few years, so-called bleach-on color has been booming in Japan, especially for young people. This is to bleach your hair first, and then put the color into it, but as you may know, if you bleach your hair then it will give you a lot of hair damage.
The conventional products use the cream form, and if you use cream then it is going to require a lot of time and effort to apply the cream to the hair. However, this product is a gel, so it is easier to apply to the hair, and when you do the bleaching at the salon, the hair stylist does what we call 'slicing', where you pick up some hair and apply the cream or gel to it, and when you want to bleach, then you pick up the hair little by little, which takes a lot of time. However, if you use this gel type of hair coloring, then you can pick up a lot more hair at one time because the gel easily permeates the hair, so you can save time. After you apply the agent, you have to wait for the chemical reaction to happen. However, for this product, that time has also been shortened.
Normally, if you want to bleach and put color into hair, it takes a lot of time, but you can shorten that with this particular product. Since this is in the form of a gel, it permeates well, and it helps put clearer color on the hair. Also, we reduced the alkaline ingredients, which will lead to less damage.
Today we are seeing an increasing trend of young men dying their hair. You offer some products tailored to males, but are you looking to release more for that market?
Both women and men typically go to the salon for dying their hair, so in our professional product line, we do not put a border between men and women for the hair color products, so you can use Irojikake for both men and women, and that goes for the other products as well, so we do not distinguish the products by gender at this moment.
That was only for the hair color products, but for other types of products like styling agents, we have not launched any products that are tailored for men, so that is something we would like to change going forward.
Prime Minister Kishida has stressed the severity of Japan's demographic situation recently. One problem caused from this is a smaller pool of young graduates coming through, creating a labor crisis, and another one is a shrinking domestic market. What are some of the challenges and opportunities that this demographic shift is presenting for Hoyu, and how are you adapting to them?
The demographic situation and the shrinking population are not something new to us. We have been talking about this for the last 10-20 years, so we already realized that the domestic market is going to shrink going forward. That is why we are active in going to overseas markets, and we have focused on that activity for some time. However, the Japanese market has not been shrinking as we expected. One of the reasons is the amount of people coming into the country and that is also pushing the market up.
Looking at the elderly population, a lot of aged people are healthy. They have a longer life expectancy and the retirement age is going up. Compared to the past, we still see a lot of elderly people who are healthy and still working. However, for the last few years due to COVID-19, we have seen a little bit of shrinkage in this market.
From the long-term perspective, we are sure that the Japanese market for hair is going to shrink anyway, so we would like to focus on other hair related products, like hair care products, and we have to look at overseas markets.
What role does collaboration play in your business model, and are you currently looking for any collaborative partners in overseas markets?
When it comes to partners, there are so many different types and we do business in more than 70 countries now. We have a lot of sales distributors across these regions, and these distributors are also partners, and we gather information through them. In some major countries, we have established our own company with our own capital. Those companies are doing their business in those local markets, so we also gather information through their business partners.
From a physical standpoint, what countries or regions have you identified to further expand into? When it comes to the B2C business, which region do you believe is key for your corporate growth?
At this moment, China is number one, and number two is the United States, so these are the two key countries that we will continue to put a focus on. However, as you know, China has a lot of risk, so it is important to strike a balance, but still, the market itself is attractive, so we will continue to focus on that country.
We are not a large cooperation, so when we want to go out to overseas markets, we should target a niche market, and look into products that are tailored for men. They sell well in some countries and regions, like the Middle East, India and Mexico. They have got a good market share in those regions, so we would like to continue targeting such niche markets when we go out to other countries.
What is your take on smart beauty and the personalization of beauty products, going forward?
One of these efforts is the initiative we are working on now for the professional product line, which is a color matching program. This is to find the best color that matches a particular person, so this is not a digital solution, but is one that we can provide to beauty salons by categorizing different people as different types. This is a kind of program that we would like to focus on, going forward. It might be a little difficult, but there may be some opportunity to extend this program to general consumers.
Imagine we come back to interview you again in five years' time: what would you like to have achieved by then?
We have been around for more than 100 years doing this business, so we have gone through all the milestones of history, including the economic bubble bursting, but we did not get influenced much by that, and we have continued the stable management of our business over time. Rather than trying to double our revenue, we tried to grow our percentage from 3 to 5%, for example, and we did not make any aggressive investments, but we steadily made an investment to grow this business and continue its stable management. That is the premise for continuing the business, going forward.
In the future, I think that we still have room to grow in overseas markets. We still have room to play a part there, and we believe that we can find more potential customers there, so we would like to continue giving better solutions to those markets. As for the domestic market, in addition to the hair color products, we would like to challenge other types of the hair related products.
---
Interview conducted by Karune Walker & Sasha Lauture