What is the NIKKOL GROUP's version of monozukuri? What are your firm's strengths and competitive advantages that allow you to compete in the international market?
Our monozukuri is a reflection of our company values and is seen through our products. We are a B2B niche company. Our ingredients are used by other companies to be later delivered to end-users to meet their needs. Through our monozukuri, we contribute to society by mitigating pain, creating a more comfortable life and by bringing happiness to people. Our personal care ingredients are directly absorbed through the skin, so we are very particular about the quality and safety of our products. We also have to make sure we maintain a stable supply. Our chemical manufacturing factories are very particular about implementing the 5S's (5S is in the following five elements starting with S: seiri, seiton, seisou, seiketsu and shitsuke, which in English means organizing, tidying, cleaning, cleanliness and discipline) and having a clean working environment. There are many chemical compounds produced around the world, but ours have gone through strict testing before being approved.
Can you give us an overview of the NIKKOL GROUP structure and the role of the different companies that make up the group?
NIPPON SURFACTANT INDUSTRIES is our mother factory. We have two factories located in Tochigi prefecture, and they conduct the bulk of our product manufacturing. Evaluating and testing is done through Nikoderm Research. The company evaluates the safety and efficacy of our product ingredients. The other four companies that make up the group are Bergerac Japon under the license of Chroma Durlin (France), Nikko Chemicals Shanghai and Nikko Chemicals Singapore.
When you became president in April this year, Nikko Chemicals and Cosmos Technical Center merged to create the current holding company structure. Can you tell us more about the motivation for this merger?
Up until March of this year, one of our companies called Cosmos Technical Center was doing R&D. We had another separate company named Nikko Chemicals that focused on sales. This setup went on for about 20 years. There are some advantages of having the companies independent of each other and focusing on their own profitability, but society has changed, and it now requires us to quickly make adjustments in terms of R&D. It also requires us to take into consideration environmental factors and keep up with changing laws and regulations. Many of our clients require a quick response, so we decided to combine our sales division with the R&D division to meet their demands. We are hoping to enhance the quality of our products through this synergy.
What has been the impact of Japan's demographic decline on the quality, safety, stability and speed of your business? What challenges and opportunities are there for the NIKKOL GROUP when it comes to responding to the change in Japan's population?
We have been diversifying and recruiting for quite some time to address the shortage of our labor force. We are actively recruiting foreign workers. Since they tend to stay with us longer, we will continue accepting overseas workers. There are many potential talents overseas. We are also diversifying when it comes to our manufacturing. However, there is a limit to it. We are trying to shift to automation and robotics wherever possible. We are incorporating data analysis and RPA (robotic process automation) in our operational processes.
You announced your participation in the EDDI (Emulsion Dynamics and Droplet Interfaces) project in March, a joint international academia-industry collaboration sponsored by the European Space Agency. How did you get involved in this project as the only Japanese participant, and what role do you play?
It actually does not lead to any profit at this moment. What we gain from this, is allowing the employees to realize their hopes and dreams. Our main products are surfactants, and we developed a one-of-a-kind high purity surfactant. High-purity surfactants are widely used in academic research. Because our product is well known in the academic field, the space agency in the EU has requested us to join the EDDI project. The purpose of the research is to investigate the effect and movement of surfactants in space and as part of a study to better understand the future possibilities of humans living in space. Another project we are currently working on is in collaboration with the University of Florence on cleaning historical paintings. We are developing a surfactant to remove only the dirt and dust on the surface of the paintings without damaging the paintings themselves.
What role does collaboration play in your company? Are you currently seeking new partnerships opportunities with overseas organizations or companies?
Most of our collaborations are with overseas companies. We created a joint venture, Aprinnova, with Amyris from the US. They are an industrial bioscience company. We are combining their biotechnology with our colloid technology to develop a new substance. Ten years ago, there was a product developed and sold in the market called "NIKKOL Sugar Squalane". It comes from shark liver oil and acts as a moisturizer. It can now be extracted from olive oil and rice. We developed a sugar squalane that is more sustainable. We produce it by fermenting sugar cane. Aprinnova was developed to secure a stable supply of squalane products. Sugar squalane is now preferred over olive squalane in Japan.
What is the current focus of your R&D? Is there any ongoing project that you can share with us?
---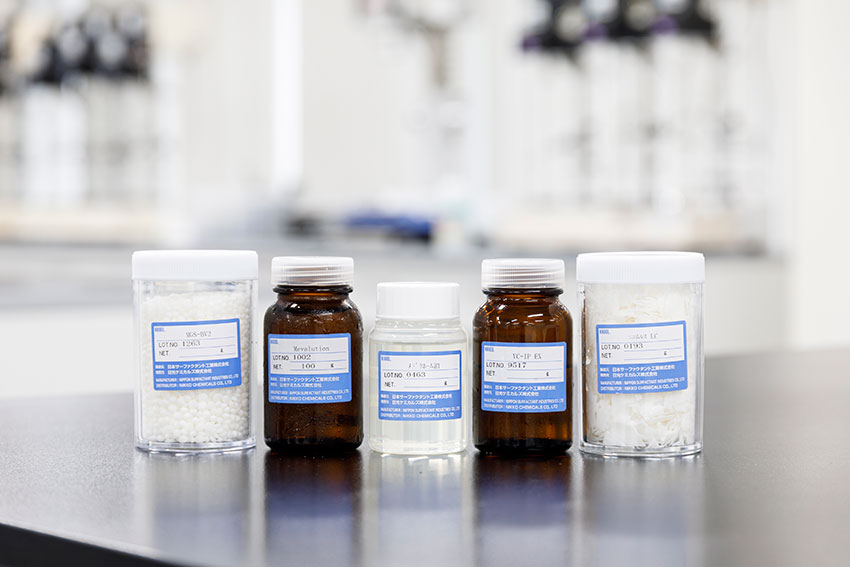 Sustainable ingredient development is our key focus. By combining biotechnology with our colloid technology, we want to develop a new and sustainable type of material. We have established a joint venture since 2016 that is focused on developing new squalane, NIKKOL SUGAR SQUALANE.
---
Are you actively pursuing joint ventures overseas?
Yes, we are interested in pursuing collaborative ventures overseas with attractive companies.
You started your presidency with a three-month lockdown in Shanghai and a war in Ukraine. As a company with a global distribution network and global sales manufacturing, how have you been mitigating and managing the logistics disruptions that affect your overseas business?
Our company has been impacted greatly because we import the majority of our ingredients. We have been conducting risk management in terms of PCP (preventive control plan). We secured a secondary supply chain that we could shift to for our main ingredients. If one country is having problems, then we can procure our ingredients from other sources. Our products are not only used in cosmetics but also in medical and pharmaceutical industries, so stable supplies are very crucial. We established a good relationship with our suppliers, and we communicate with them often to know the latest updates that might affect our production. We have diversified and stockpiled to adapt. Furthermore, we have our two main factories in Japan, but we also have our factory in Singapore which is supporting Japanese production. Our risk management was brought on by the Great East Japan earthquake. This experience allowed us to diversify our procurement and production channels. We have only two factories in Tochigi, but we have ten warehouses located strategically around Japan, which allows us to diversify, mitigating risks as necessary.
How have you mitigated the effects of COVID? Many of the ingredients suppliers for pharmaceuticals and cosmetics we talked to mentioned that it has been a silver lining in many ways, especially in terms of an increased demand for personal care products. Can you tell us about the impact covid had on your business?
A lot of Japanese cosmetic companies are our clients. On average, our sales did not drop that much. We saw a drop in sales of lipstick, blush and sunscreen, but there was an increase in demand for moisturizing milk, shampoos and conditioners. Domestically, we only saw a small drop in sales. On the other hand, the US, Europe and China recovered from COVID quite early, so there has been an increase in demand.
Can you elaborate more on your strategy to expand internationally?
We built a network in over 50 countries. We are particularly focusing on five countries in Asia: China, South Korea, Thailand, India and Indonesia. Not only that, but we came up with marketing strategies that cater to each specific country, such as conducting seminars, making local websites etc. We are considering the possibility of establishing local bases, so we can better penetrate individual markets.
Your company this year is celebrating its 76th year anniversary. If we come back in 4 years, what goals and dreams would you like to have accomplished by then for your company?
As part of our midterm plan, we have 25 targets or goals by the year 2030. When you come back in four years, I would like to have met most of those goals, and to have had significant progress in the rest.