Where do you believe the competitiveness of Japan's industry comes from today, and how do you differentiate yourself from your regional competitors?
I would say that the strength of Japan is in its development and technology capabilities. Japanese companies produce high-quality and high-performance products, as well as high-value-added final products. The essential strength of Japan's chemical industry is its high-quality engineering technology. However, we have difficulty distributing those excellent technologies globally, due to limited marketing resources, or insufficient worldwide marketing strategies. Therefore, the expansion of manufacturers from Korea, Taiwan and China is garnering more attention. For example, the material and technology for the flat-panel displays and liquid-crystal displays were first used in Japan around the year 2000, but soon after, Korea and Taiwan caught up. They had more large-scale investment than the Japanese companies did, and as a result, were able to take a large market share. This also applies to the semiconductor business. In the past, Japan was the leader of that industry, however, today Korean and US companies are at the top. Japanese companies could have held onto their leading position if they had the right strategy and if the right investment decisions were made. However, they focused too much on the quality of their products and were too conservative when it came to financial strategy. Regional competitors on the other hand, were quick to make important financial decisions.
Japan has excellent technological capabilities. However, the problem has been the distribution and communication of that technology to the global market. As you have mentioned, many companies in Japan can be overly risk-averse. How do you believe that Japanese companies can better overcome that obstacle, and be better at communicating their technologies to the world?
The Kuraray Group has a large number of colleagues abroad, and around 40% of employees including managers are non-Japanese. Therefore, we can have a greater exchange of information and opinion on a global basis. We are able to discuss and make decisions with the cooperation of our global colleagues. This is something that solely domestic-based Japanese companies cannot do.
Many Japanese chemical companies that we have met are very Japan-centric. Your company on the other hand is quite international, and you yourself have an international background, having lived in Dusseldorf for six years, and having taken care of the international side of Kuraray. When you became president of the company, what are some of the changes that you think your background allowed you to bring?
My mission was to accelerate our global operations. This was also the direction of our former president Mr. Ito. However, it was my goal to accelerate our globalization, in terms of people and in terms of business. One thing which I like to focus on is more frequent communication with our global managers. This did not happen in the past. Dr. Gutweiler who is the president of Kuraray Europe, is on the board at present, however, I would like to be more diverse and have more foreign executives. This would be one solution to a Japanese-centric mindset.
As part of your Medium-Term Management Plan "PASSION 2026", one of your main goals is to be recognized as a digitally savvy company. Why do you think Japan has a reputation for being slow to adapt and embrace digital technology? How is DX impacting your business, and how do you anticipate it will impact the chemical sector?
To answer your first question on why Japanese companies have been slow, I can say that it relates to language. Also, while the educational level of English as a global language is not low in Japan, it is not at a standard to be used practically. In the school tests, many Japanese score very high in English, however, they are hesitant to speak in English and make conversations with foreigners. This affected the exchange of information especially in terms of introducing digital technology. The structure of Japanese companies is also very much layered, which means that important decisions require many meetings and need lots of approvals. Foreign companies are quicker to make decisions and choose a direction. Even though they may fail, foreign companies review the process and are quick to try again. Japanese companies prefer not to fail. They try to be perfect. This can result in a slower decision-making process.
---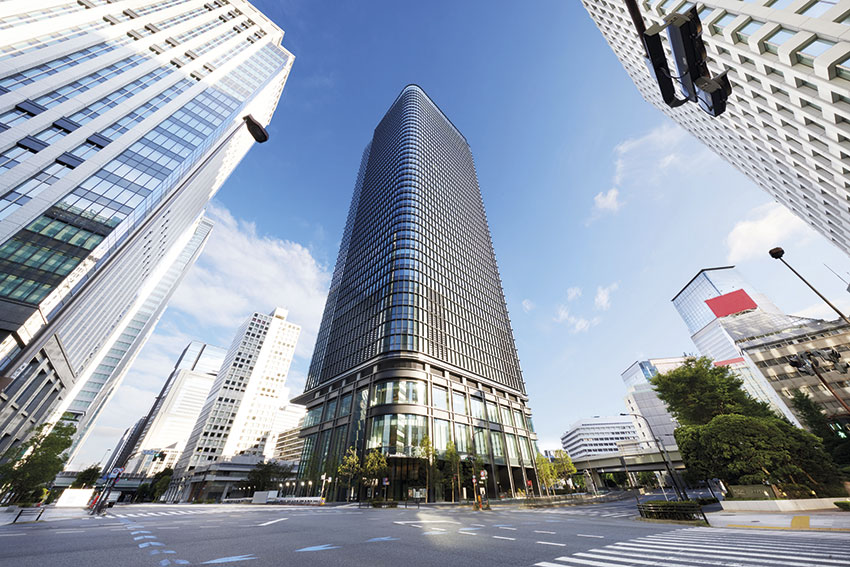 Kuraray Headquarters in Tokyo, Japan
---
How are you overcoming this cultural fixation at Kuraray? Based on the process for devising the Medium-Term Management Plan "PASSION 2026," how will you promote DX?
Because there was a lot of uncertainty due to the pandemic, we started our Medium-Term Management Plan "PASSION 2026" from 2022 after a one-year delay. "PASSION 2026", which was announced in February 2022, was born from top-down and bottom-up processes. The result is something that is truly unique, unlike any previous plan. Management set the overarching framework of the Plan by establishing the four Group-wide themes of sustainability, innovation, global operations (production and technology), and global indirect functions. We then held workshops for each theme, made up of seven or eight members chosen from around the world. An executive officer was assigned as an advisor to each workshop to facilitate discussions. As in the past, we explored business plans for each division as vertical organizations. This time, however, through the workshops we also introduced the four Group-wide themes as a horizontal element.
From these productive discussions, we developed a greater understanding of why we have been slow to adapt to digital technology. I believe the development of human resources is very important in the promotion of DX throughout the company. We are not only working to enhance English skills but also considering new training to improve the digital literacy of our employees.
The Covid period was a very good time in terms of revenue recovery for Kuraray. In 2021, your revenue jumped from ¥541.8 billion to ¥629.4 billion. What were the reasons for this sudden burst?
As we were drafting the Fiscal 2021 Management Plan, we faced numerous uncertainties about the outlook as the world searched for a way to both contain the spread of COVID-19 and maintain economic activities. Although we saw signs during this period of a tentative recovery from the pandemic, there were other unforeseen developments, such as the drop in automotive production due to critical semiconductor shortages and the disruption of global logistics networks. By responding appropriately to this series of changes in the operating environment, we achieved a substantial increase in both sales and profits in 2021, with record net sales of ¥629.4 billion, and operating income up 63% year on year to ¥72.3 billion. I consider this to be a significant achievement. In terms of profits, the double impact of high raw materials and fuel prices as well as soaring logistics costs saddled us with higher production costs. Our sales teams worked hard to negotiate sales at prices that appropriately reflected the higher costs. The fact that customers were willing to accept our cost increases proved once again that the products of the Kuraray Group are essential materials that are truly needed by society.
The Covid-19 crisis has accelerated the adoption of digital technologies, but it has had major disruptions specifically in terms of logistics. At the moment, it is slowly starting to improve, however we still see countries such as China with a zero-Covid policy, which is delaying shipments and causing backlogs around the entire logistics system. What have been some of the measures that the coronavirus pandemic has pushed you to take at Kuraray to address these logistics issues?
This logistical complexity is quite annoying, and it has been a big problem for us as well. When we were creating our budget for this year, we thought that the logistics problems would only continue until the middle of this year at the latest. The strength of our Vinyl Acetate segment lies in the value chain, which is vertically integrated from the raw materials to finished products. We start from the intermediate vinyl acetate monomer (VAM) produced at Okayama here in Japan, as well as Houston in the US. We start with these raw materials and then move to the polyvinyl alcohol (PVOH). We produce PVOH resin in Japan (Niigata), Germany and Singapore, in addition to Okayama and Houston. We then distribute to our major downstream businesses like our PVOH field and our polyvinyl butyral field (PVB). This kind of business is vertical, but it has a smaller impact than relying on raw material procurements from others. This is one of the strengths of our company. Even though some of our competitors face a shortage of raw materials, we have been able to safeguard our supply capability.
---
PVOH resin
---
When you became president, a major goal of yours was to accelerate globalization. A major tool that you have used in that regard has been mergers and acquisitions with foreign companies. One of those companies was the Australian firm Plantic Technologies Limited, which you acquired seven years ago. A major trend in the chemical sector and the plastics sector has been sustainability. The idea of an almost totally biodegradable plastic film alternative for packaging, not just for grocery stores, but for food manufacturers and retail outlets, is a fantastic idea. What motivated you to acquire Plantic Technologies Limited, and what are your expectations for biomass plastics as a credible alternative to conventional plastic packaging?
PLANTIC™ is unique and very interesting. They started from a collaborative research project between industry and academia near Melbourne in Australia. When we made the acquisition in 2015, they only sold their film material to packaging manufacturers or supermarket stores such as Coles, in Australia. The size of the business was small, but they had big ambitions for the future. I believe that PLANTIC™ will continue to have a very bright future, replacing fossil-based plastics with bio-based plastics. However, they were only producing the film and laminating it with PET, and then selling this film to their customers. That business style was limited when compared to EVAL™, which we sell to processing manufacturers all over the world, and also allows the customers to make their own processed products from the resin. Only supplying the film without variety is not as satisfactory for customers. We therefore changed our strategy to distribute the resin to the packaging processors, and we reached an agreement in 2019 with Sealed Air, one of the largest food packaging manufacturers in the United States, to supply resins to them. We have invested in the resin plant at our Houston factory, and Sealed Air has also invested into their processing plant to use resin for their packaging by themselves. We signed a marketing agent agreement with Sealed Air in the United States, Canada and Mexico, and we are expecting a bright future in this regard.
---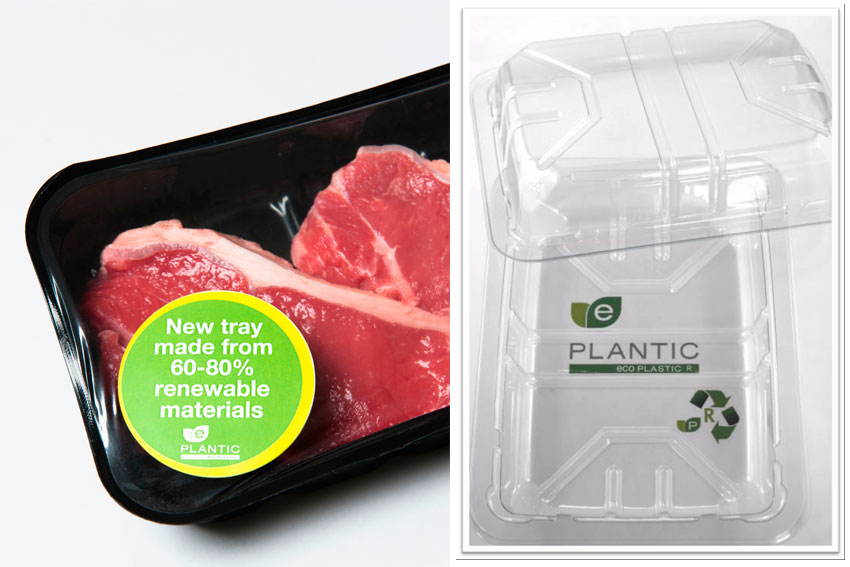 PLANTIC™(biomass-derived gas barrier material)
---
One of the big challenges often for biomass materials is the cost of replacing resins and plastics. It can be difficult to achieve economies of scale, and the cost can be much higher than conventional plastic products. In the case of PLANTIC™, is the cost component an issue, and if it is, how do you plan to solve it?
The cost is not the biggest issue in the market. It is not as low as conventional materials, but if you compare the performance barrier and the price, it is very reasonable. PLANTIC™ is a biobased gas barrier film made mainly from a specialized form of starch. Although it is derived from biomass, it has high oxygen barrier performance and is used as packaging for fresh food, such as meat and fish. By maintaining food freshness, it will lead to a reduction in food loss and thereby contribute to both the food industry and environmental conservation. We are now also looking at the European and Asian markets.
KURANODE™ is also a plant-based hard carbon material that has been used as an anode material for lithium-ion batteries. It is intended for use in smartphones, PCs and other high-end electronic devices, but also for automobiles. Can you tell us about the plans that you have for KURANODE™ especially as it pertains to your mid-term plan? What motivated you to pursue this battery technology, and diversify into battery materials?
Currently there are environmental changes occurring, and whether lithium comes from green energy sources or not in the future is an issue. However, electricity cells are made from fossil fuel substances. Electric devices such as EVs in the automotive industry, and electrical equipment that are using batteries are becoming more and more popular. It is a growth industry, therefore, we decided to target that field. KURANODE™, as well as activated carbon materials and developmental products are promising businesses for us. We are expecting big things from them, together with our core vinyl acetate business.
---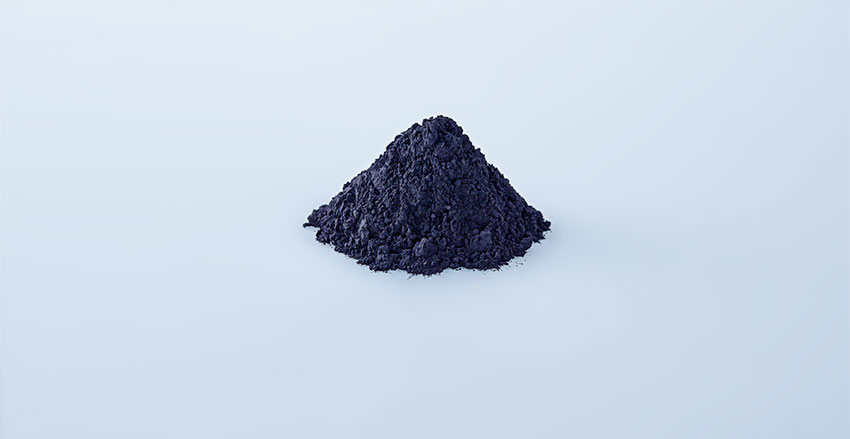 KURANODE™(hard carbon for lithium-ion battery anodes)
---
In 2018, you acquired the activated carbon company Calgon Carbon Corporation, based out of Pittsburgh. Could you tell us about your strategy to develop your activated carbon business?
Kuraray acquired the world's largest activated carbon manufacturer Calgon Carbon Corporation in 2018. Our overarching mission is to swiftly realize synergies by combining the accumulated technologies and knowledge of Kuraray's carbon material business, which has over 50 years of history, with those owned by Calgon Carbon Corporation. To accelerate this, we integrated the Carbon Materials Division and Calgon Carbon Division in 2021 and launched the Environmental Solutions Division as a centralized operation.
The main issues in the Medium-Term Management Plan "PASSION 2026" are developing solid business growth scenarios and steadily carrying them out to ensure the environmental solutions business becomes a major pillar supporting Kuraray's profits. Activated carbon is an essential material for purifying water and air. Kuraray is one of the biggest activated carbon manufacturers in the world globally marketing virgin activated carbon and reactivated carbon.* Reactivated carbon is used activated carbon that has been collected and recycled, as part of the circular economy. In addition, compared with virgin activated carbon, the GHGs emitted in the manufacturing process of reactivated carbon are 80% lower, making it environmentally friendly. We provide waste water and gas treatment systems that combine reactivated and virgin activated carbon globally to various industries, such as chemicals, food, pharmaceuticals, and electronics. We have already implemented capital investment to boost capacity for virgin activated carbon in the United States and reactivated carbon in Belgium, scheduled to begin operations at the end of fiscal 2022. We are working on many development themes to improve the global environment, namely developing new battery materials, developing biomass-related new activated carbon raw materials from a sustainable perspective, and purifying water and air through the filtration of various hazardous substances and GHG reduction-related applications. In this way, we will continue creating a better environment on a global scale.
* Reactivated carbon is activated carbon that was previously used, but subsequently reactivated. Absorption performance is restored by removing hazardous substances through high-temperature treatment of used activated carbon with diminished performance.
---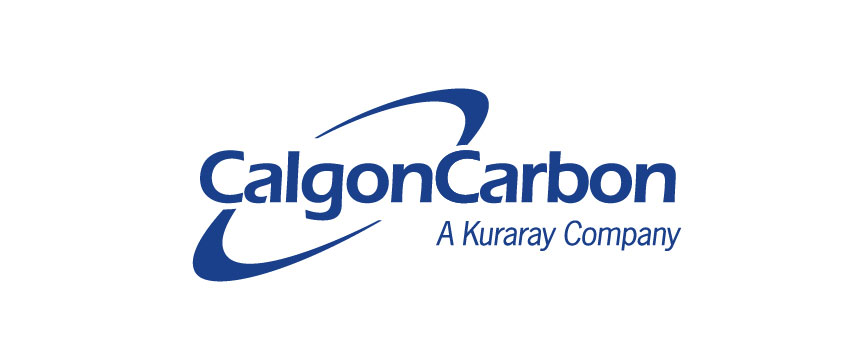 ---
A great example of this R&D innovation at Kuraray is VECSTAR™, the world's first liquid crystal polymer film, which is mostly used in circuits for PCBs, and allows for high speed transmission with low signal loss. What are some of the applications that this film allows you to unlock in the electronic field?
VECSTAR™, our liquid crystal polymer (LCP) film, was not a recent development. However, back then there were not as many applications for its use as there are today. Since then, it has been applied in electronic fields such as smartphones and the devices used in tablets. Now the demand is expanding due to its high performance. We are targeting an expansion in sales by leveraging unique material characteristics adapted to high-speed telecommunications. The world standard is still 4G, which currently uses polyimide film. It was thought that this year or next year, 4G would be upgraded to 5G. However, there has been a delay. Therefore, in the near future, when this delay is over and 4G has been fully upgraded to 5G, LCP will be the industry standard and the first choice of our major customers.
---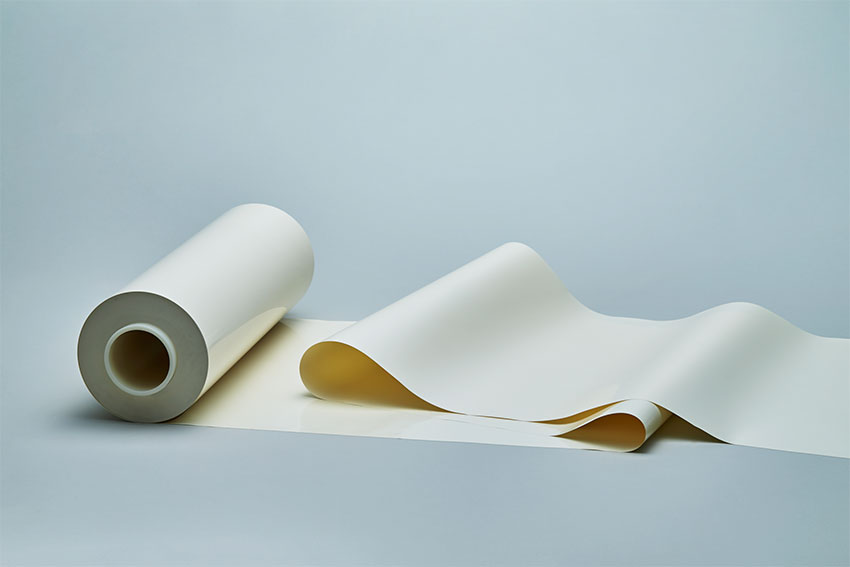 VECSTAR™(liquid crystal polymer film)
---
Can you tell us more about the importance of collaboration for Kuraray? Are you actively seeking new collaborative partnerships particularly with overseas companies?
Since the founding of Kuraray, we have focused on our own original unique technology. The name Kuraray comes from the Japanese city Kurashiki, which is where the company was founded, and synthetic rayon, the company's original business. We started our company in 1926 with the aim of commercializing synthetic rayon in Kurashiki, which was the hometown of the Ohara family and the founder of our company Magosaburo Ohara. Rayon is an imitation of silk. Our founder wanted us to be unique in replacing natural fiber with synthetic fiber, in order to make Japanese people's lives more comfortable. We succeeded in commercializing rayon in 1928. In 1950, shortly after World War II, the second president of our company Soichiro Ohara developed a technology to consistently manufacture synthetic fiber, KURALON™, from the raw material PVOH resin. The commercialization of this synthetic fiber, KURALON™, did not just benefit one company—it helped revitalize Japan's textile industry. This achievement arose out of management's unswerving conviction that "to produce high-quality products with stable profits, we needed to make a product from raw materials without relying on imports."
Throughout our history, we have been concentrating on unique technologies and niche strategies. This focus on proprietary technologies has been a major strength of Kuraray. However, if we kept such a narrow focus, then our technology and business area would be very limited. That would have been a weakness of Kuraray. We have been discussing and reviewing the past for our R&D. In the past two decades, our businesses had not produced many unique or remarkable products, which was a problem. We needed something for the future. During our review, it became apparent that while making unique products is great, collaboration and the exchange of technologies was necessary. This was included in our Medium-Term Management Plan "PASSION 2026" . To accelerate it, we established an Innovation Networking Center in January of this year. The function of this organization is to foster more collaboration across all our vertical divisions and business units as well as our R&D departments. Innovation comes from networking, both inside the company, and outside the company with our customers. That is our new approach to collaboration. We do not limit with whom we collaborate. We have a large pool of business areas, such as vinyl acetate, isoprene, fiber and textiles, functional materials, and medical products, so we do not limit the area where collaboration can occur. We welcome collaboration with customers and suppliers. We have expressed our policy on proactively promoting value co-creation with society in this way in our corporate tagline of "Possible starts here," which was formulated along with the launch of "PASSION 2026" this year. This phrase embodies our strong desire for customers to partner with the Kuraray Group to help discover solutions for their needs and co-create new value together.
---

Corporate logo with tagline
---
Is there a particular market or region that you consider key as a destination going forward for your international business?
Kuraray is not a commodities chemical company. We are a specialty chemical company. Even amid the COVID-19 pandemic, demand for our products remained steady, reaffirming that the products we handle are essential materials that society truly needs. Once a certain country or region reaches a certain level of GDP, then it will become our market. Until now, our central markets have been in the US, Europe, Japan and the other major Asian countries. Our biggest target is currently China. The next target is India, however, that will take many more years. After India, the target will be the east coast of Africa. Although we have mainly expanded in developed countries to date, we aim to expand the company's products that help improve natural and living environments into emerging markets.
Imagine that we have this interview again on the last day you are president. What objectives and ambitions would you like to have achieved during your time as president?
The presidency of a company is not like short track speed sports. It is more like a relay marathon where the runners pass the baton to the next runner. The former president passed the baton to me, and on the last day of my presidency, I want Kuraray to be in a good position when I pass the baton to my successor. There are many things that we spoke about today, and many others that we still need to tackle. For example, in regards to digitalization, we are behind. We need to speed up. We also need to be more innovative. Even though we created the innovation networking center this year, it will take some time to see the results. Kuraray is not a company that exaggerates what it is doing. We are a serious and honest company, and we do what we have to do for people and for society. I would like to be happy after my presidency, knowing that the company was in a great position for my successor as president.