"In the image sensor business, where we possess many years of experience in development and advanced technology, we aim to maintain our global leadership."
Terushi Shimizu, Representative Director, President and CEO, Sony Semiconductor Solutions Corp.
From super-high-definition smartphone cameras and autonomous vehicles, to edge computing, IoT and AI – image sensors are crucial components in the technologies becoming ever-more commonplace in our society. As such, demand for image sensors will continue to grow, with the market expected to expand by 9% (CAGR) between 2022 and 2030.
An independent subsidiary of the Sony Group since 2016, Sony Semiconductor Solutions (SSS) has a long history in the field of image sensor development and previously held a dominant position in the CCD format. The company decided to reorient its focus towards CMOS (complementary metal-oxide-semiconductor) image sensors in the mid 2000s. While the CMOS format had many performance issues, SSS recognized its fascinating development potential and aimed to cultivate "innovative imaging culture", particularly with cellphone users in mind.
Over the past two decades, SSS has been at the forefront of imaging innovation, creating numerous 'world-firsts' in the field of CMOS image sensors, and this has led to its current market share leadership. As a result of such innovation by SSS and other players, CMOS image sensors have surpassed the once-superior CCD sensor – boasting high frame rate and high image quality with improved noise performance and low power consumption.
CMOS, therefore, is increasingly the sensor of choice when it comes to the aforementioned applications, and SSS sees an ambitious future ahead. Having increased its customer base and achieved a high market share over the past few years, the company is also leveraging its core competencies in monozukuri (Japanese manufacturing craftsmanship) to expand models and services for sensing applications.
"Our core competencies in monozukuri lie in world-class advanced technology and the ability to integrate these technological capabilities through a series of processes – from design to development and manufacturing – at a high level. All these competencies are supported by our advanced manufacturing technology and quality control system," says SSS president and CEO, Terushi Shimizu.
"Our CMOS image sensor is an analog device in which the ability to integrate becomes extremely important in order to realize characteristics such as sensitivity and minimal noise. This is an area where SSS can differentiate itself from competitors. As we combine image sensors and AI for a wide variety of applications, we expect further product and customer diversification to enhance the business."
With unstoppable growth in the image sensor market, SSS has significantly ramped up capital expenditure investment, forecasting a 900-billion-yen spend between 2021 and 2023. Part of this money has funded the expansion of its Nagasaki Technology Center's Fab5 as SSS looks to expand production capacity. Moreover, the company has also decided to participate in the establishment of Japan Advanced Semiconductor Manufacturing (JASM), the majority-owned manufacturing subsidiary of TSMC. With this strategic investment in JASM, SSS aims to secure a stable supply of logic semiconductors that are later stacked with pixel chips and contribute to the enhancement of the supply chain in Japan.
---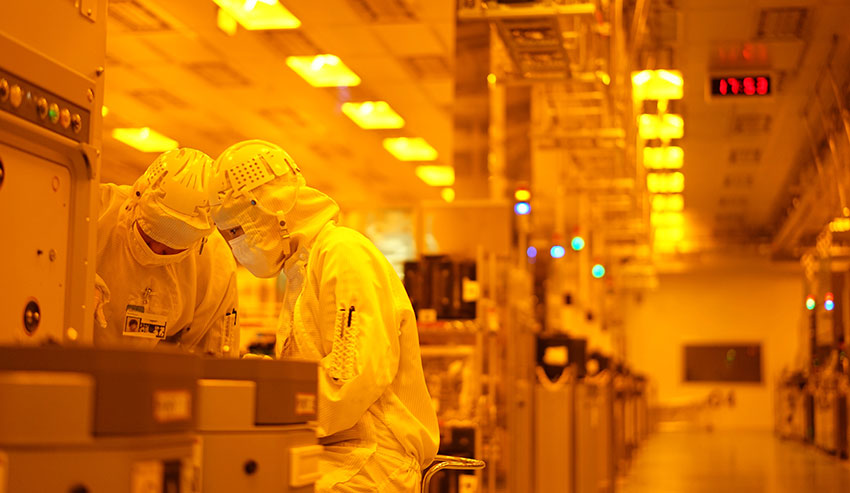 Intelligent vision sensor
Nagasaki Technology Center
---
"As global semiconductor demand will continue to grow, we expect that JASM, the new TSMC fab, will contribute to the stable supply of logic wafers not just for SSS, but also for the overall industry," explains Mr. Shimizu. "Also, from the perspective of the Japanese semiconductor industry as a whole, if the establishment of JASM stimulates the activities of partner and service companies that support its production activities, it might lead to the revitalization of the industry, which we highly welcome."
Even in the rapidly changing market environment of the semiconductor industry, SSS has always refined its technological capabilities to overcome one challenge after another. In the field of smartphones, SSS anticipates mid-to-long term technological evolution in the areas of still images and videos. In line with its unwavering commitment to provide new imaging experiences, the company is working on image sensor development that will enable smartphone cameras to offer features such as super HDR (High Dynamic Range) images and high-speed reading at 8K for video. Thanks to its continuous innovation, SSS is leading the way towards a new era of superior smartphone imaging.
In the automotive industry, the focus for the future is on advanced driver-assistance systems (ADAS) and autonomous vehicles, and SSS expects to be working with 75% of the Top 20 automotive OEMs by FY2025. Industrial applications is another focus area for SSS, while its new challenge is the solutions business, with the image sensor company among the first to tackle the issue of the ever-increasing load on the cloud due to the growing number of IoT devices.
The need for vision sensing using cameras with image sensors is growing significantly in the IoT era. With the increasingly vast amount of data being processed via cloud computing, high electric power consumption; privacy risks; latency in data transmission processing and analysis; service continuity; and security maintenance have become greater concerns. In response, SSS has launched its edge AI sensing platform AITRIOS, a one-stop environment for various solution builders, through which it will be possible to efficiently and reliably develop optimal systems in which the edge and the cloud work together.
All of these developments have been fuelled by SSS's commitment to supporting the creation of the "Sensing Society". "In every aspect and day by day, we are working on the evolution of technology and the improvement of corporate values. To that end, we must enhance our presence in society and evoke a favorable response from various stakeholders as well as the large number of partner companies. This is extremely important for talented personnel all over the world to choose our company," says Mr. Shimizu.
"We expect the 'Sensing Society' is imminent and in such a society, sensing technology will become an important foundation. Sensing is a key element in the development of IoT and DX in all fields such as mobile, automotive, industry, and VR/AR applications such as the Metaverse. Image sensors can gather a considerable amount of information which makes us believe that their potential and contribution can be particularly profound. Toward an enriched sensing society backed by safety, security and high efficiency, we will continue to pursue image sensor technology."