With the company's 50th anniversary just a couple of years away, Elionix president Minoru Shichino is excited about the plans to open new offices and a factory as part of its continued growth and prosperity.
With expertise in nanotechnological devices, using electron beam lithography, Elionix is able to offer a variety of product line-ups to cater to its clients.
"We have two divisions: firstly the measurement and analysis division, and then the nano-fabrication division," explains Mr. Shichino. "The main system we provide is in the latter of those, and that would be our ELS series with the most recent unit being the ELS-BODEN Σ, which accounts for around 60% of our total sales. It is our major product and is being used for various applications including in cutting-edge research. We have received a lot of inquiries for the system to create quantum computing devices, so we have seen a lot of interest from that field recently."
"We also have the EIS series which is our ion-based system designed for etching and processing applications. By having the ELS and EIS series together we can utilize the ELS-BODEN for patterning and then after that, the customer can use the EIS for etching and grinding," the president continues. "Actually, we are the only company worldwide that has these two types of equipment together. This is key to our strength, where we can provide the whole process, starting with patterning and going through to etching. Another service we provide for our customers is a demonstration before purchase, which we see as a big plus in reassuring them."
---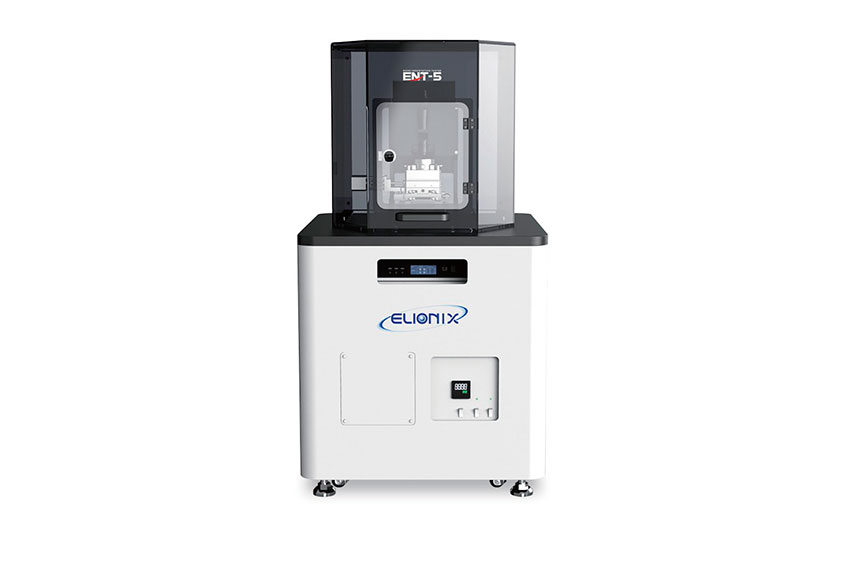 Ent-5
---
With a presence in the United States and additional partners in Korea, Taiwan, Singapore and China, the need for domestic and overseas partnerships are certainly a feature of the plans of Elionix and this is where there is a close alignment with research and academia.
"Our products are for R&D equipment, so where we would deliver to would be the university professors and government research institutions, as well as corporate labs," says Mr. Shichino. "Partnerships will result to a certain extent because we do have production equipment, but this would also be to create communication devices for mobile phones.
"What is important for us is how we develop new systems or devices and that communication with end users is vital. Constant communication and exhibitions enable us to hear the opinions of not only those end users but others that are in related fields. This is something we are always moving towards both domestically as well as globally.
"Our production capability is pretty much full currently, but we understand that if we're able to expand and deploy our products overseas our sales would grow."
And so to the future of the company, and how Mr. Shichino sees the years that lie ahead. "On the last day of my presidency, I hope to have doubled sales and doubled the number of employees at Elionix," he states. "That would really contribute to the physical strength of the company. My mission is to be able to continuously provide equipment and devices that are really taken positively by all academics across the world."