"The trust of our customers will always be our highest priority. I believe that building long-term relationships is more important than anything else."
Moriaki Abe, CEO, Hightec Systems Corporation
Since the collapse of the bubble economy in 1991, Japan has stagnated; indeed, the following decades have come to be known in the country as the 'lost 30 years'.
At Hightec Systems Corporation, however, it's been anything but three decades of stagnation. Founded in the immediate aftermath of the price bubble crash, the Yokohama-based firm has overcome Japan's tough economic climate to go from strength to strength. Today, it brings in sales of $200 million a year.
So, what is its secret?
Well, there are a few things that set Hightec Systems apart – starting with a three-pronged business model that's unique in Japan.
"We buy and sell used manufacturing equipment for semiconductors and flat-panel display (FPD) devices," Hightec Systems CEO Moriaki Abe explains. "But on top of that, we also have two other business divisions.
"One offers engineering services such as repairs, modification and maintenance of the manufacturing equipment, and the other focuses on importing and selling new advanced technology for producing microelectromechanical systems.
"Put simply: there is no other company with such a business model, and it has been a major driving force behind everything that we have achieved."
Mr. Abe himself is also integral to the Hightec Systems success story. A bold, fearless CEO, he has tirelessly traveled the length and breadth of Japan, defying the country's conservative business culture to secure new customers among semiconductor and FPD manufacturers.
---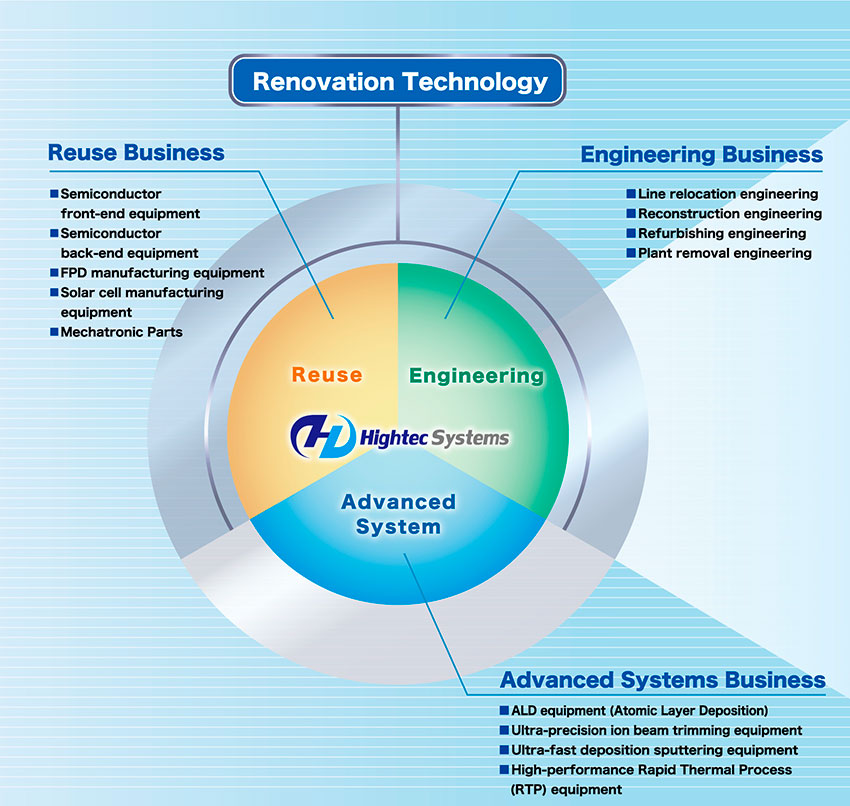 ---
"When I first started here at Hightec Systems, almost nobody knew of the company, and Japanese companies really value a track record," he says. "We had difficulty dealing with long-established companies, so I personally visited countless manufacturers in every prefecture in Japan over a period of two years. a couple of years.
"There was one occasion when I went to a major Japanese manufacturer and stood at their front gates trying to hand out fliers that let people know all about Hightec Systems.
"I stuck at it, repeating the same approach even after being rejected. And before I knew it, a major Japanese company had opened its doors. This was the first step in building the foundation of the company today."
Hightec Systems' growth – its workforce has flourished from three to 100 employees – also comes down to an organization-wide culture of listening to customers and being prepared to go the extra mile for them.
Companies always say that's what they're about, Mr. Abe says – but how many really mean it? "The trust of our customers will always be our highest priority," he declares. "I believe that building long-term relationships is more important than anything else.
Mr. Abe is a future-oriented CEO; his sights are always set on five or 10 years down the line. And for Hightec Systems, the focus of the decade ahead is clear: looking for new horizons.
Already having a lot of business in China, South Korea and Taiwan, the company is now targeting two further markets: the United States – where the Biden administration's CHIPS Act seeks to increase the country's semiconductor production – and Europe.
"The U.S.'s role in the global semiconductor sector will only become more important, and its strategic value to the company will grow," Mr. Abe says. "We are now preparing step by step for the next leap forward.
"Once we enter the U.S. market, we can use it as a foothold to expand our business further abroad to Europe. In that sense, breaking into the U.S. is a strategic move of great importance."