Fujitsu Component is a technology-driven enterprise with over 100 years of experience in design and development. Today the company is world-renowned for supporting relays, wireless modules and IoT solutions, thermal printers, and touch panels, making it an indispensable partner for clients in the electronics and automotive industries.
While pursuing advances in cutting-edge technology at its R&D Centre in Japan, Fujitsu Component's quality department also ensures the highest possible standards of output while contributing to society and sustainability as well as reducing the impact on the environment. Indeed, it is this dedication to quality – backed by an acute understanding of customers' needs – that continues to set Japanese firms apart from regional competitors, as highlighted by Fujitsu Component president Masahiro Kinoshita.
"When it comes to cost, Chinese, Korean and Taiwanese manufacturers are much cheaper than us, but quality wise, Japanese companies may be the best providers globally." Kinoshita says. "Why is that? First, we can develop products based on the customers' requests. Having frequent conversations with customers keeps their voice relevant in the design and engineering process, so in a sense, our engineering capability is one of the key factors of our competitive advantage. The second reason is that every product is undergoing miniaturization, so we have to produce very small products on a mass production basis."
He adds: "The balance between cost and quality is important, so for Japanese companies, quality is the priority, and then we look at cost. Japanese companies make better quality products to compete with. We also have strength in after-sales, so we can provide our product as the customers require."
Miniaturization is of course a major requirement for the semiconductor industry, where Fujitsu supplies niche components such as its signal relays. Here, collaboration has been key. The company strives to offer the most optimum-performing products as semiconductors and their components get increasingly smaller. "We already had an advantage in design capability, but on top of that, we have recently been collaborating with some material manufacturers to make signal relays smaller," Kinoshita notes. "In reducing the size, we reduced the weight using material that came from the collaboration with the material manufacturer. Also, some clients need smaller chipsets with high specification, and we sometimes switch our core chips to more highly functional ones and reduce the overall product size at the same time."
---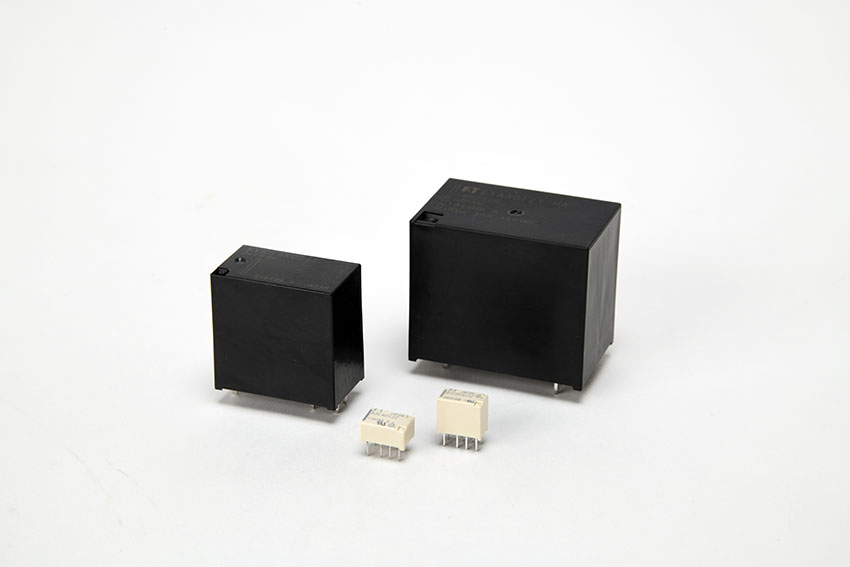 Relays for EV/PHV
---
Needless to say, when it comes to quality and performance, all automotive industry players, from parts suppliers to major car makers like Toyota and Nissan, need to be on the top of their game. Among the components Fujitsu supplies to these automotive behemoths is the FTR-K5 series of relays, which it developed in 2019. The FTR-K5 is the world's first 6.6-kilowatt power supply for EV (electric vehicle) and PHV (plug-in hybrid vehicle) onboard chargers, and with a high capacity, highly reliable board mounted relay, offers manufacturers the ability to extend the cruising range of EVs and PHVs.
Kinoshita explains: "The relay complies with the strict automotive standards concerning vibration resistance, operating temperatures, and insulation class – meeting IEC61810-1 277V enhanced insulation standards. The size of relays is a competitive arena. Other considerations are low energy consumption and resistance to high temperatures. When a product is delivered, it may have not only an onboard charger but also a charging station people can use at home."
There has been a major shift in the automotive sector with the advent of CASE (connected, autonomous, shared, electric) vehicles and it is estimated that the cost share of electronic components in the car will increase to about 35% by the year 2025, up from 16% today. It is a trend that bodes well for Fujitsu Component, which will have an ever-growing number of products supporting a range of functions in CASE vehicles. It is an area that serves as a "sweet spot" for the company, Kinoshita says.
"We have the FTR-K5 and the FTR-E1 series, which are more of a fit for EV relays and power control. Regarding CASE, this could be a gateway to opening the EV market. Our parts are also involved in cases of emergency. In connected cars, when an accident happens, the car automatically connects to an emergency center. We have already provided FTR-B3 and FTR-B4 relays for this. It is a signal relay inside of the car that is used for connectivity."
In addition to automotive, the Japanese enterprise's products have applications in various other fields, including FA (factory automation) equipment, mobile terminals and healthcare. In particular, Kinoshita highlights the company's mesh network products, which were born out of a collaboration with Wirepas, a Finnish company engaged in improving IoT connectivity solutions. "Our mesh network devices construct a scalable decentralized network and have autonomous network rerouting capacity," he states. "We have expanded our lineup since the release of the first product in 2020. They are the best for asset tracking and environmental sensor data collection in large hospitals, factories, offices and schools."
Moving forward following the company's move to become independent from parent company Fujitsu in 2019, Kinoshita aims to build even more successful partnerships like that formed with Wirepas. "We are very open to partnerships everywhere," he concludes. "We need to collaborate positively with universities or startups and all the big players to develop more advanced products, so we are open to joining forces with third parties."