"We've doubled our UV ink sales in North America and Europe since 2018, but we believe there's considerable room for expansion."
Yoshikatsu Masuda, Representative Director, T&K TOKA Corporation
A 75-year-old firm whose motto is 'technology and kindness', T&K TOKA manufactures market-leading printing inks for a wide variety of applications. "Our philosophy is: use advanced technology and sincere service to provide products that contribute to solving issues for our customers and society," says Representative Director Yoshikatsu Masuda.
With a product portfolio led by its popular UV 161 series, T&K TOKA specializes in UV inks, which are hardened and dried using ultraviolet light. "We have a comprehensive line-up of products that can respond to each area according to the type of printing substrate and the printing method," Mr. Masuda says.
T&K TOKA not only covers a range of printing needs, but is also committed to creating products that help foster a greener future. "For example, we're trying to increase the amount of biomass-derived ingredients within the ink," Mr. Masuda notes. "Currently, research and development of biomass UV inks is underway to increase the biomass component while retaining the performance and ease of use of conventional UV inks.
We're also introducing power-saving inks that reduce electricity consumption during UV irradiation."
The development of EB inks, which are dried using an electron beam, is also part of T&K TOKA's drive for more environmentally friendly products. "Flexography and gravure printing are the mainstream for food packaging," Mr. Masuda explains. "This method requires an organic solvent, so it emits VOCs – volatile organic compounds – and carbon dioxide when it's dry. VOCs will be an issue in terms of environmental protection so we're trying to replace them with EB ink.
"By providing the market with EB inks that incorporate the knowledge of UV ink design that we've accumulated over the years, including the greener technology we've discussed, we believe printing using EB curing systems will be possible on a variety of substrates, thereby contributing to the expansion of the EB market."
---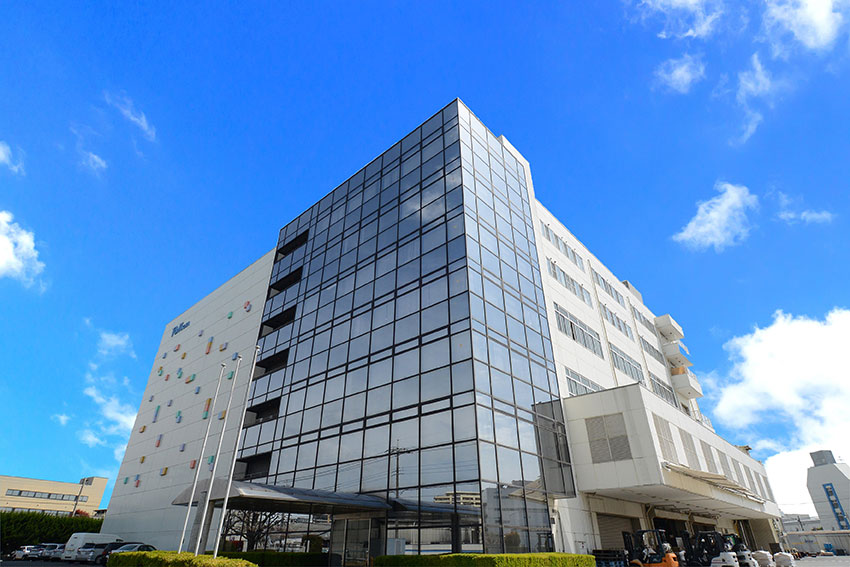 Headquarters
---
While T&K TOKA is a go-to UV ink supplier in Japan, the country's declining population has led the company to increasingly set its sights abroad. "The demographic issue is a threat to our business," Mr. Masuda concedes.
"We've doubled our UV ink sales in North America and Europe since 2018, but our market share in these regions is still low, and we believe there's considerable room for expansion. We've begun to introduce some new products for them, with a strong awareness of the needs of each region, and we're strengthening our service system while checking the response of our customers."
Already well established in North America and Europe, UV inks remain a growth product in many Asian countries, and T&K TOKA is also targeting sales expansion in Asia. "In the region, the recognition of our UV inks is extremely high; indeed, UV 161 has become synonymous with UV inks," Mr. Masuda says. "We're renewing UV 161 to increase the market share of our UV inks, which are growing faster than the market growth rate, by taking advantage of the high level of recognition."
As part of its efforts to strengthen its global presence, T&K TOKA is eager to establish international partnerships. "We have experience in working with foreign partners to develop new overseas markets and have had great success in doing so," Mr. Masuda says. "In 1988, we began a joint venture in Hangzhou, China. It has grown into one of China's leading printing ink manufacturers, with the No. 1 domestic market share of UV inks. We're seeking new partners who share our company philosophy – and we'd be very happy if this article were the beginning of a new encounter."
As T&K TOKA continues its evolution into an ever more international, eco-friendly manufacturer, the company is also preparing for an industry revolution, Mr. Masuda reveals. "I cannot disclose our strategy now, but in five years we'll have introduced a new generation of UV inks that will be completely different in design concept from what we have today," he declares.