From the earliest cathode ray tube TVs to LCD & OLED smartphones, innovations in display technology have truly been era-defining. Having retaken technology leadership in the global display industry, Japan Display Inc. (JDI) is now developing game changing GreenTech technologies that deliver better performance, lower cost, and reduced energy consumption and environmental impact.
"JDI was created via the merger of the global display technology businesses of Sony, Hitachi, and Toshiba, which brought together powerful capabilities to deliver world-class products to our customers," says the Japanese company's American Chairman and CEO, Scott Callon. "We believe the fundamental purpose of a company is social contribution. The problem with being a follower as a company is that you are not contributing anything new to the world. JDI is deeply committed to creating breakthroughs that move the world forward."
In line with this, JDI has crafted its METAGROWTH 2026 growth strategy centered on six technology sets where JDI is the Global No.1: eLEAP (NextGen OLED); HMO (High-Mobility Oxide); Rælclear (Transparent Interfaces); Metaverse (Ultra-High Resolution Displays); AutoTech; and New Tech, Products, & Businesses.
Hailed as one of the best screen technologies on the planet, the benefits of eLEAP are built into its name: environment positive; Lithography with maskless deposition; Extreme long life, low power, and high luminance; Any shape Patterning. By removing bulky metal masks from the manufacturing process, eLEAP displays deliver two times the brightness and three times the lifetime of conventional OLEDs – with lower energy consumption – across all display categories, including automobile displays, smartphones, wearables, notebooks, tablets, monitors, and TVs.
Displays are composed of frontplane and backplane technologies. While eLEAP is a breakthrough in the frontplane, JDI has also developed groundbreaking technology in the backplane: HMO (high-mobility oxide). Backplanes use thin-film transistor technologies such as amorphous silicon and oxide. Oxide is a mature, low-cost technology that is easy to produce and has low power consumption, but it is not suitable for high-performance displays because of its low mobility. JDI has reinvented oxide to create HMO, offering higher performance and lower cost while reducing power consumption by 40%.
---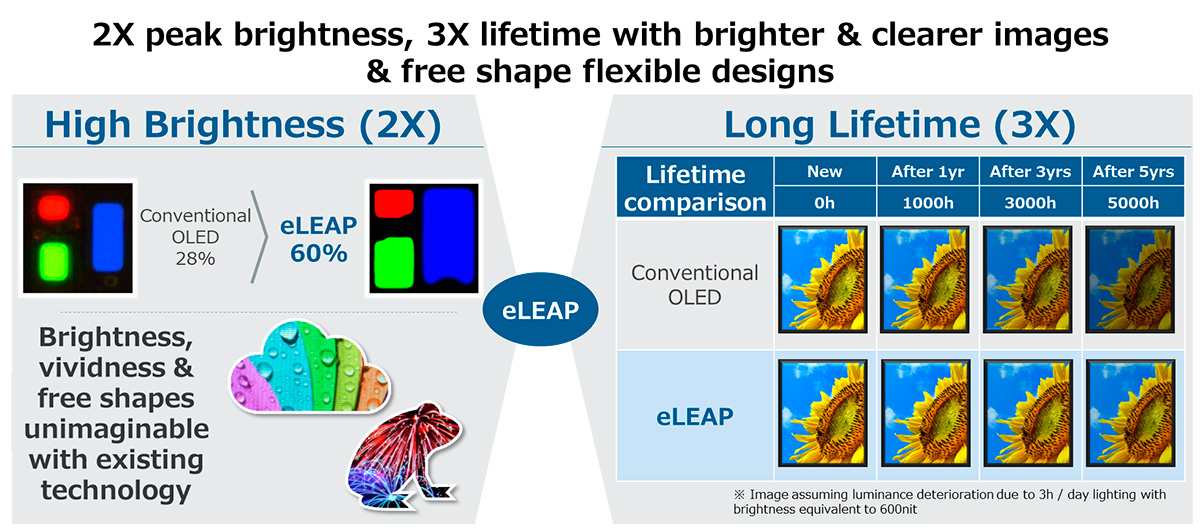 eLEAP
---
Raelclear is another JDI breakthrough. It is glass-like, being the world's first transparent interface technology to offer full two-way transparency. "Raelclear can be naturally and fully part of whatever space it is in," adds Callon. "Right now, displays are walls. They should be windows. Raelclear delivers on that vision."
In AutoTech, JDI is confident that eLEAP and its heads-up display (HUD) technology will be game changers in an era of EVs (electronic vehicles). What has stopped automotive OLED display adoption is that organic diodes burn out and lose their ability to produce light over time. However, eLEAP's 3X-longer lifetime means it can meet automotive durability requirements. JDI is also the world leader in HUDs, which are set to become a standard safety feature in EVs.
When it comes to the fifth pillar of METAGROWTH 2026, the Metaverse, JDI is No. 1 globally in ultra-high resolution VR (virtual reality) displays. As Callon explains, "Users' experienced display resolution can be calculated by dividing the resolution by the lens magnification, so if it's a 10X lens and a 1200 PPI display, the experienced image is only 120 PPI to the user. This is why there is a voracious appetite to take resolution higher in the Metaverse."
The sixth pillar of JDI's strategy is further development of breakthrough technologies such as LumiFree, JDI's revolutionary GreenTech technology that allows users to freely and flexibly tailor light realtime, reducing light pollution and energy consumption.
Given its mission to move the world forward, JDI has no intention of keeping its display and lighting innovations to itself, stresses Callon, adding that JDI is working to serve as an R&D engine for the entire industry. "We have invented the world's best display technologies, but we don't have the production capacity and the capital to build every display on the planet. Partnering is the right choice. eLEAP and HMO will allow the global display industry to leverage the capabilities of the existing ecosystem and innovate explosively on top of it."