EARTHTECHNICA was established in 2003 by integrating the crusher divisions of Kawasaki Heavy Industries and Kobe Steel, Ltd., before becoming a wholly owned subsidiary of Kawasaki Heavy Industries in 2008. With crushing, sorting, and granulation as core technology, we operate in the fields of crushing and grinding, recycling and powder processing. We have more than 50 years of experience in the field of crushers, and based on the valuable experience and know-how we have accumulated during that time, we not only provide individual machines, but also plant engineering, design, manufacturing, construction, and even operational guidance.
We are at the leading position in the crusher market in Japan. In addition, our crushing technology is highly evaluated around the world, and we have a track record of delivery to the mining, cement, and aggregate industries in more than 40 countries..
The Crusher
Stones and sand produced by crushing rocks are essential for the development of infrastructure such as roads, train tracks, and concrete buildings. EARTHTECHNICA manufactures crushers that produce "aggregate" used in concrete buildings, "crushed stone" used in road construction, and "ballast" used as cushioning material for railroad tracks. Our crushers are also used by cement companies and iron ore, gold, copper and diamond mines around the world. It can be said that our technology supports infrastructure from the ground up.
Taking the cone crusher used in the mining industry as an example, we have made numerous improvements to the machine body, such as the design of the crushing chamber and the number of revolutions. As a result, compared to 30 years ago, we have been able to reduce the energy used for crushing by 40%. Today the same amount of ore can be crushed with 60% of energy that used to be required. In this way, we have contributed to energy saving around the world, and by creating, developing, and improving products that are useful for society, we are contributing to the development of society and the earth. That is our mission.
Advantages of EARTHTECHNICA
In this competitive world it is very important to have the right features and knowledge. Since it is a niche industry, the needs of our customers are also niche, and if we cannot meet those needs, we cannot survive. Our main customers are in the mineral resource fields such as mines and aggregates, but we also have those operating in steel, cement, electricity, automotives, and the pulverization and granulation of pharmaceuticals and food.
Our superiority lies in our ability to customize products to meet our customers' needs, and our people have the "wisdom" and "ingenuity" to meet the different requirements of each customer and the "passion" to achieve it.
We are also focusing on the development of technology and new products based on the belief that without our technological innovation and improvement as the top runner in the industry, there will be no technology that will improve people's lives in this field. Speed is the most important factor in proceeding with this development, and trying things first and thinking while running are essential elements when developing innovative solutions.
Unique Products
ZI Cone crusher and p-referential crushing technology for diamond industry: More than 100 units of the ZI Cone Crusher series have been ordered and delivered since it was introduced to the market, and it has gained overwhelming trust of diamond mine operators, especially in the Southern African region. The reason the ZI Cone Crusher is successfully adapted for diamond liberation is a special crushing technology that does not crush diamonds. Diamonds are concealed in a rock called kimberlite. Accordingly, kimberlite must be crushed by crushers to liberate the diamonds. However, if the diamond is damaged during the crushing process, its market value will drop drastically.
The solution which EARTHTECHNICA is able to offer its customers to address this issue is the mild steel inserted (MSI)-type crushing chamber of the ZI Cone Crusher. Mild steel is cast into the high-manganese steel cast steel so that shallow grooves are always formed on the surface of the mantle and concave until the liners are worn out. The shallow grooves are very important for liberating diamonds without damage. This technology was originally developed to improve crushing efficiency and productivity. However, through repeated crushing tests, it was found that the MSI technology works very well to liberate diamonds without damage.
For the crushing process (especially mineral processing), EARTHTECHNICA has drawn on its extensive knowledge and years of field experience to design a crushing chamber that meets the customer's requirements. Thanks to a newly developed crushing chamber design, the throughput capacity has improved by approximately 20-25% compared to the previous model.
---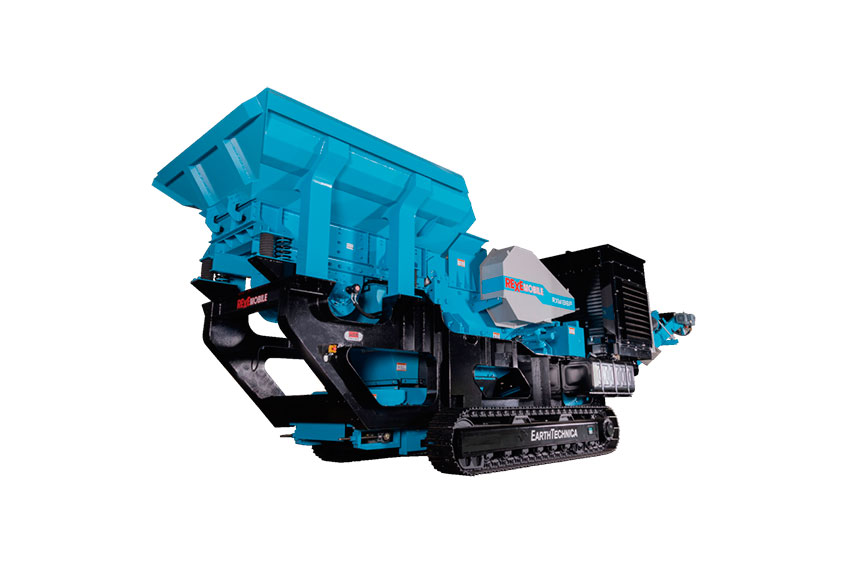 ---
PSD Monitoring System and Automatic Operation Control System: Our latest technology is the PSD Monitoring System, which monitors the size distribution of crushed products on the conveyor belt from data collected by a 3D camera. The 3D camera only sees the surface, but with top-secret know-how, it is possible to know the size distribution of the crushed product on the conveyor.
Traditionally, the machine operator visually checked the crushed product and manually increased or decreased the gap and feed rate settings. But now thanks to the PSD Monitoring System, automatically measured data is calculated and the system automatically changes the feed rate and gap settings.
In the past, the operation relied on the intuition and experience of the operator. However, with this PSD Monitoring System and the Automatic Operation Control System, the plant's production volume can be maximized and operating costs can be reduced. In addition, by visualizing and reporting the operating status of the plant, it is possible to propose appropriate maintenance plans and provide data for production planning, which are indispensable for plant operation management.
Manganese Sorting System: Blast furnaces, which are currently the mainstream in iron manufacturing, emit a large amount of carbon dioxide, so electric furnaces that melt iron scrap to make iron are considered to be one of the alternative technologies. In order to produce high-quality steel in an electric furnace, it was necessary to adjust the quality and composition of the scrap, and our customer needed to sort steel plate scrap in large quantities, at high speed, and with high accuracy according to the manganese ratio. EARTHTECHNICA conducted R&D to meet this demand, repeated tests, and completed this device. In this system, a line sensor camera captures images of the steel plates on the conveyor, and the images are processed for separation and sorting. This technology has been recognized as a world-first innovative technology, for which we have acquired a patent. In addition, we continued R&D to improve the performance of this device, and completed a system that uses AI to improve sorting accuracy.
LaVortex: LaVortex is a newly developed system that can completely and continuously process wet granulation and drying processes, which were conventionally performed in batch mode. Batch production was the mainstream in the pharmaceutical industry, but there were problems with complicated operations. LaVortex adopts a new process analysis technology (PAT), which enables advanced quality control in continuous production, achieving stable production and labor saving. Compared to conventional batch-type equipment, this product has improved disassembly and cleaning performance by reducing the number of parts and reducing weight, meaning granulated products can be easily produced.
With the batch method, one major problem is that if one produced multiple batches with defects, they would all be defective. LaVortex uses new sensing technology to detect defective products and automatically correct settings to do a new run and produce a modified version of the product. By constantly controlling the setting level, it is possible to stably produce high-quality products continuously.
AUDIS Jaw: Slag discharged by steel companies is manufactured and quality-controlled in accordance with various uses, and is widely used as a construction material. The slag generated from electric furnaces contains a lot of iron, so it cannot be crushed by a normal jaw crusher, meaning the machine will stop, and recovery work will require manpower and time. The AUDIS Jaw, developed by EARTHTECHNICA, is equipped with a specially developed hydraulic cylinder and sensor. When it detects difficult-to-crush objects, it automatically ejects and resumes normal operation, enabling stable operation and reduction of downtime.
RPF Plant: RPF (Refuse Paper & Plastic Fuel) is a solid fuel mainly made from waste plastic and waste paper. Through our system, waste plastics and waste paper that are difficult to recycle are not discarded, but are reborn as "RPF", an alternative fuel to fossil fuels such as pulverized coal and heavy oil, that contributes to conserving resources and reducing CO2 emissions.
Mobile Jaw: Our mobile jaw crusher adopts a newly designed jaw crusher for mobile use, and is driven by a diesel engine that complies with the latest exhaust gas regulations. Feeders, conveyors and jaw crushers can be compactly unitized and can be driven into a transportation trailer without disassembling the components.
EARTHTECHNICA celebrates its 20th anniversary in 2023. In order to achieve the global goal of net zero emissions and the transition to a circular economy, we will continue to develop technology and continue to release products that can contribute to society.