What is your company's core business and what are the strengths that help you stand out?
Our company supplies a wide variety of reliable, high-performance products created from unique technologies under our own development. We have been specializing in automatic control and safety protection devices for over 70 years since our company was established in 1948. Through our unique technological development, we manufacture products such as motor control and safety protection devices that are crucial for various types of industrial equipment, home appliances, and pumps, as well as pressure and flow control devices for a variety of pumps. We hold an important position in this industry as a company that provides unique technologies that no other firm can. One of them is the thermal overload protector, which reacts to abnormal overheating temperatures due to overcurrent generated when the motor faces trouble, such as overloaded operations or a locked rotor condition, by cutting the electrical circuit before anything dangerous can occur, like smoke or fire, to prevent burnout.
---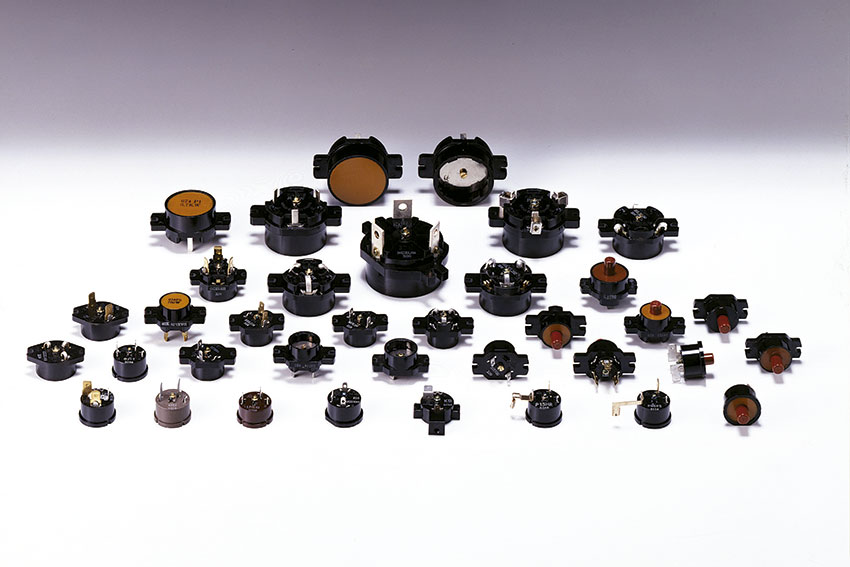 ---
Beyond the conventional electrical capacity range, we also have a motor protector that can cut directly up to 37kw motors for industrial use and submersible pumps which we are the only company in the world to supply.
The principle of operation of the thermal overload protector is simple but deep.
The main part is the special material called 'bimetal' which is made by laminating and rolling two kinds of metal plates with different coefficients of thermal expansion.
This bimetal is applied to the switching mechanism by using warping characteristics when heat is applied to it. However, the processing technology that gives the bimetal the property of reversing at any temperature is very profound, making it difficult for newcomers to enter the market.
Our company's biggest milestone was 50 years ago, when we had applied for a patent on processing technology for bimetal discs, which are the main components of thermal overload protectors. We received an objection from a major foreign company that was a leading company in the world market at the time, but as a result of the dispute, the patent office rejected it and our patent was recognized, and this attracted attention and made our name known in the industry.
We are seeing the rise of regional competitors who are able to replicate Japanese monozukuri processes at a cheaper labor cost, pushing Japanese firms out of mass industrial markets, but as you have showcased, Japan is still a leader in very niche B2B fields. How have Japanese firms been able to maintain their leadership despite the stiff price competition?
I think that the deep relationship with customers built by many Japanese companies is an element that showcases the competitive advantages of monozukuri.
 In the past, we also lost our share of the ASEAN market for a period of time to manufacturers in emerging countries who sold at low prices without being conscious of quality, but we have consistently placed the highest priority on product performance and quality. Our corporate stance has since been re-evaluated, and we have regained our market share and continue to this day.
 As the mission of a specialized manufacturers, to satisfy customers we should participate from the product design and development stage so that we can secure all the performance and quality advantages of our products, including the ability for our products to be used in harsh environments. We believe that we should always maintain the attitude of joint development.
 In some cases, we receive a prototype in the development stage from the customer, and design and develop our products so that they fit performance-wise. I believe that the attitude of thoroughly pursuing the performance and quality of our products, which can be said to be Japanese style, ultimately earns the trust of our customers.
You have factories in both Malaysia and China, and these two countries have big differences when it comes to engineering skills and equipment compared to Japan. How are you able to ensure the same standard of quality in your international operations?
First of all, the sophistication of our products is quite high and safety protection and control devices are very complex to produce. The equipment used here in Japan meets the same specification and requirements as the ones used in Malaysia and China, and basically, we ship the same equipment used here to other local production sites.
Of course, engineering is a bit more complicated because more skills are procured at different rates based on a myriad of different factors. Design is done here in Japan, and once that is completed, the engineering leader that was in charge of the design goes to the local production site in either Malaysia or China in order to monitor and check the entire production process. We have avoided language barriers through the translation of equipment manuals into the local languages. It is through all of these processes that we are able to successfully maintain the same high Japanese standards at local production sites in China and Malaysia. Customers cannot tell the difference and it is as if all of our products are produced here in Japan.
During the COVID-19 pandemic, there have been major challenges to global shipping and logistics. Human resources have been impacted by quarantine measures and with oil prices almost tripling in recent months, 77% of international ports reported delays last year. This has all been further exacerbated by China's zero COVID policy. How have these disruptions in global shipping and logistics affected your business?
Yes, we felt those problems because we do localize our production in foreign countries like Malaysia and China, and needless to say, China was the first country hit with the COVID-19 virus. Malaysia is a strange case because the entire country was locked down, while nearby countries such as Indonesia and Thailand did not lock down completely. Obviously, our clients in those nearby countries were expecting our products to be delivered on time, and that really was not possible due to repeated national lockdowns in Malaysia. We tried to keep our promises to our clients as soon as those lockdowns cleared, and we boosted our production by having the Malaysian factories operating 24 hours a day until all the backlogs were cleared. It was not just us being affected, however, with our suppliers being severely disrupted, issues were felt procuring components from our local suppliers that were needed for the final products. The only reason we were able to do this is because of the mutual trust and loyalty of our affiliate companies that have supplied us over many years.
You have talked about your protection products, but one other product division you have is your control products. Could you tell us more about how your control products are superior to more conventional ones?
---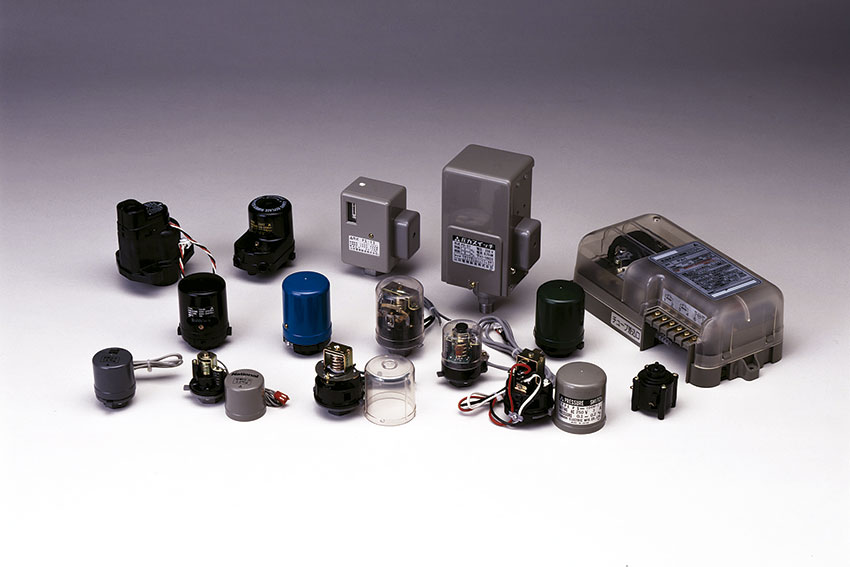 ---
Since pump manufacturers in Japan have been shifting to high-performance pumps, we have also been paying close attention to the technological trends of this industry and shifting our product range to match the trend.
One of our main products, pressure control products for home pumps for the domestic market, are shifting our lineup from pressure switches with ON/OFF control to pressure sensors that sense pressure linearly.
In addition, we have developed a combination sensing unit that integrates a pressure sensor & a flow switch, and based on the information and data sensed by them, we have succeeded in developing a controller that optimally controls and operates the pump with specifications that satisfy the requirements of the pump manufacturer.
On the other hand, in the household pump market, such as ASEAN countries, there is still no progress in pump technology compared to Japan due to differences in income levels. For the time being, simple automation technologies that were mainstream in the Japanese market in the past are expected to become mainstream in the ASEAN market.
There is a lag in the progress of pump technology between the Japanese domestic market and the ASEAN market. Therefore, since we have rich experience and knowledge in both old and new technologies, we believe that we can secure the superiority of our company as we have a factory in Malaysia.
Are you looking to add foreign companies to your list of clients in the future?
We are very open to expanding our business outside of Japan. In fact, we have been working with an Australian company called Davey Water for around 35 years now. ASEAN countries are attractive to us too, especially considering we have own factories in both Malaysia and China. We are looking optimistically to foreign locations and we consider China in particular as a location with a lot of untapped potential. Unfortunately, due to the COVID-19 pandemic, travel to these countries is not easy right now, so once this pandemic has fully cleared, we can get back on track and start introducing our excellent products to new and exciting markets. All that aside, the domestic market is still there and still has room for growth.
China feels promising because we see a lot of expansion happening in the manufacturing market. China is increasing the volume it is producing and different kinds of companies are now emerging from that. Thermal overload protectors are for the protection of motors, which is the heart of electric products, from overheating, and thus, we see the need for this product increasing in China. Local Chinese motor manufacturers are exporting their final product to America and it is from those American companies that the demand for Yamada Electric thermal overload protectors is coming from.
Could you explain to us which of your product lineups is your current focus and which do you believe has the most potential for future growth, especially in overseas markets?
The processing technology for installing temperature characteristics into the bimetal of thermal overload protectors is profound, and it is a product that consists of accumulation of many years of experience and know-how. It's hard for new entrants to get in this niche market. For these reasons, we believe that it will continue to be one of our main products in the future as well.
Also, since optimal control technology for pumps that contribute to the supply of water indispensable for all living organisms, including humans, and various industries, will be further required in the future, we believe that our pump control products such as pressure and flow switches & sensors can also be expected to grow further, especially in
Asian countries.
What role does collaboration and co-creation play in your business model, and are you currently looking for any overseas co-creation partners?
There are two aspects that I should discuss here: the production and the design. Production or monozukuri wise, it is very hard to think of any scenarios where we would need collaboration because we are very capable of producing our own products. The local production sites in both Malaysia and China pretty much have that aspect covered.
With overseas markets such as ASEAN, they have their own specifications and needs, and with that in mind, it is very hard to find the right keys to the door. You need to have some kind of local partner that can operate as a trade house and introduce the products, negotiate the price and maybe sell products to potential customers. You could say that the partnership type we are looking for is more commercial than design or production.
Throughout this interview, you have talked a lot about the ASEAN region and how you are looking to find trade partners to potentially find clients for your products. If we look at the production side, are there any regions or countries that you are targeting for the future?
Currently, our production lines in Malaysia are covering the needs of nearby countries such as Indonesia, Thailand, the Philippines, Vietnam, and Cambodia, so that production facility has the capacity to satisfy almost the entire ASEAN region. China meanwhile is serving the needs of the domestic market and China. To answer your question, right now it is very hard to think about other production sites besides what we have. In the future, who knows; the market is always evolving and changing day to day.
We know that various European countries are ahead of the trend when it comes to transitioning to carbon neutrality, and domestically here in Japan, former Prime Minister Suga announced that Japan must be carbon neutral by 2050. As a company that specializes in automated control equipment, how are you reacting to this change and what opportunities does carbon neutrality present for Yamada Electric?
Different initiatives have been taken by the company to keep up with the global trend of decarbonization. Right now, we are 5 years into our process, and the first thing we did was comply with the ISO 14000 standards. ISO 14000 sets out the criteria for an environmental management system and can be certified too. It maps out a framework that a company or organization can follow to set up an effective environmental management system. We have been very strict to follow the guidelines set by the ISO 14000 certification, such as using more LED than conventional lightbulbs or using energy-saving air conditioning and air compressors.
The whole industry is changing and we see a lot of customers now shifting to energy-saving types of pumps. It really is not just us making these changes; the entire industry must change in order to respond to the environmental demands and help clients meet their SDGs.
Is your R&D going to focus on these decarbonization goals moving forward?
Our R&D focus moving forward will be on energy-saving types of pumps and safety protection devices for these types of pumps, so to answer your question; yes.
Imagine that we come back on the very last day of your presidency and have this interview all over again: what would you like to tell us and what goals or dreams do you have for the future of Yamada Electric?
There are several keywords that come to mind, the first being sustainability and the next being connectivity. Basically, I wish to sustain the same level of commitment and achievements that the company has reached thus far, beyond my own presidency and onto my successor. Traditionally, SMEs in Japan are inherited and passed through the generations of a family, but unfortunately, I do not have a son, so in the case of my retirement, I would need to bring on board another President from outside of the family. This person would have to be ambitious and we would not only be looking for them to continue the excellent work we have done thus far, but also look forward to the future, and continue to grow the company. Right now, the company stands on two pillars - safety equipment, and automated control equipment - so ideally this new manager would be the kind of person that is capable of introducing a new pillar to our business and establishing a stronger foundation for Yamada Electric to stand on.