Aircraft shown behind is a US-2 STOL search and rescue amphibian aircraft.
The US-2 is a search and rescue amphibian aircraft, operated by Japan Maritime Self-Defense Force. With the world's best shortest takeoff and landing capability, the US-2 is ideally deployed as a firefighting aircraft.
---
The coronavirus pandemic had both positive and negative effects on businesses worldwide. On the negative side, China's zero-coronavirus policy severely disrupted logistics and supply chains for companies here in Japan. On the positive side, it's been an opportunity for companies to diversify their supply chain networks and not rely too much on a single location. ShinMaywa introduced its Long-term and Medium-term Management Plans during this period, in which you targeted new factory locations and M&As overseas. What was the impact of the coronavirus pandemic on your business? What expectations do you have in the midterm for those M&As that you completed?
Last year we launched the Long-term Management Plan "Sustainable Growth with Vision 2030" up to 2030 and Medium-term Management Plan "SG-2023". The impact of covid has been something that negatively affected us, of course. There is no segment which had a positive impact from covid, however, we have been less impacted in some fields, such as in social infrastructure with our fluid business, parking systems business, environment-related business and special purpose truck business. Those fields have been more resilient than other fields because we are providing services to social infrastructure like urban, transportation and the environment.
Going back to your question about M&As, we have been conducting them very positively and actively over the last five years. For example, we acquired two Korean companies that manufacture industrial machineries and one in Singapore which manufactures aircraft passenger boarding bridges. We like to have partnerships with companies in order to create sales synergies with them, and M&As are our main means of growth.
---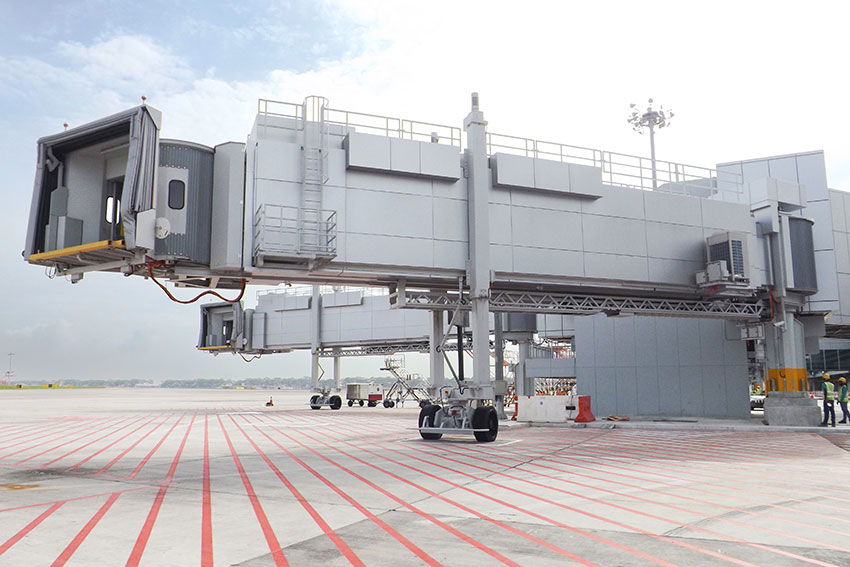 Aircraft passenger boarding bridge "PAXWAYTM" (Changi Airport)
---
We are expanding our business in Southeast Asia, centering on Thailand. We like to expand by forming partnerships. Particularly in the field of special purpose trucks, we'd like to create a partnership that will lead to an M&A if the conditions allow. M&As therefore are an important means for growth, but we also have to find partners in order to launch new businesses overseas.
What measures will you implement in the future to reach the goals set out in your long-term vision?
The ShinMaywa Group has the "Long-term vision" oriented toward the year 2030. The premise for this vision is the existence of the "Management philosophy" established in 2020.
---

Management philosophy and Long-term vision
---
As mentioned, we purchased three companies, two in Korea and one in Singapore. Of course, in order to expand our profits and sales we need to grow our business overseas, and alliances have played a very important role in that. The reason for acquiring one of the Korean companies, called TurboMAX Co., Ltd., was because they have a unique technology for high-speed axis rotation with non-contact air-foil bearings for blowers, it is used to inject air into wastewater treatment processes or at manufacturing sites like food factories, for example. If the axis in their high-speed motors reaches a certain speed of rotation, the shaft makes no contact with anything and it emits very low noise and is very efficient. This is a technology we were missing so that's why we purchased this company.
---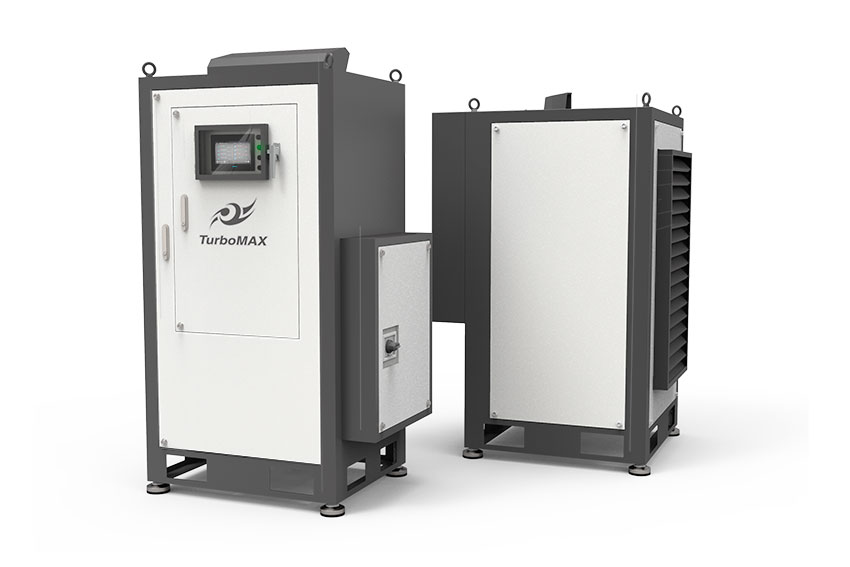 Air foil bearing turbo blowers "TurboMAX"
---
Regardless of whether the company is domestic or an overseas company, we'd like to have an alliance in order to acquire unique technology which we don't have. Southeast Asia is the source of this kind of growth, but in order to expand our sales there, we have to have a sales and distribution partner. Another thing about the monozukuri manufacturing side is that we have to expand local production to reduce production and transportation costs, so we'd like to make a plan to make that happen. Through the entire process - technology, sales and production - we like to have alliances with partners, so that we can expand our business there.
A further business opportunity going forward is the usage of ICT and databases for digital transformation. We are now recruiting people, including mid-career workers, in order to secure the talent required to fully embrace ICT. We specialize in monozukuri in different fields, but we want to add ICT and big data into the mix so that we can create new businesses.
Since the end of World War Two, Japan has built a famous reputation internationally for the ingenuity and attention to detail in its manufacturing philosophy, monozukuri. What do you see as the advantages of Japanese monozukuri today, especially as Japanese companies compete with Chinese, Korean and Taiwanese manufacturers?
We're in a different place now compared to where we were. After World War Two, businesses started to adopt the monozukuri manufacturing approach because it was the only means to survive in the market. We began our business as an aircraft manufacturer, but after World War II, aircraft manufacturing was banned in Japan. This led us to conclude that we had to create other businesses in order to survive.
That is why we have brushed up our design technologies and production techniques and so on. Of course, we still need to realize what the customers want and really expect, but what they want is currently changing. We also, therefore, need to anticipate what customers haven't noticed yet. We have to find new insights into achieving customer satisfaction even if the customers haven't noticed a need yet. This is our challenge going forward. We have to develop new systems using ICT and we have to take up the challenge to build new products. That is monozukuri for us.
Your company's founder invested in the first aircraft manufacturing company here in Japan, and today ShinMaywa continues that entrepreneurial spirit by diversifying its business portfolio according to the changing needs of society. Your 5 business divisions today are: industrial machinery systems, fluid (water treatment equipment), parking systems, aircraft, and special purpose trucks. Can you provide some examples of some technological synergies that you have established today between those 5 business divisions?
Those five segments have become independent and very strong by themselves, and they are growing vertically, so there is not much common ground among those five segments. There is no synergy between them at the moment, but we try to merge technologies from different fields to create new businesses. For example, we try to recycle the extra materials and waste generated in the process of manufacturing aircraft. We have a lot of ideas, so we would like to create synergies out of those combinations of different processes.
The automotive field is undergoing a once in a lifetime change. The switch to EVs from the conventional combustion engine is a huge change for this industry. Here in Japan, former Prime Minister Suga announced that Japan will switch all vehicles to non-combustion powertrains by 2035. If we look towards Europe, already 15% of cars are EVs, with Norway, for example, having almost entirely stopped selling combustion engines. As the automotive industry transitions to EVs and CASE technology, what opportunity is this presenting your firm with?
The shift to EVs in the automobile sector is a major trend and we are dealing with a lot of special purpose trucks, which should be shifted to EV as well. There are some dump trucks with hydraulic systems on board that should be charged using electricity, so we need to develop special purpose vehicles for EV.
---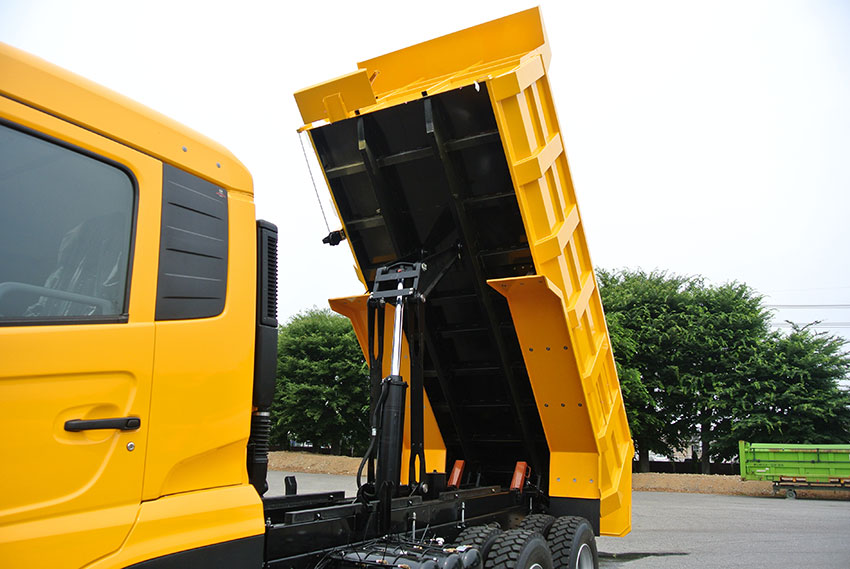 "TENTSUKI" Type Tipping Gear for dump truck
---
The key to this shift is the evolution of batteries. Batteries are heavy and society must develop lighter weight batteries because, for example, garbage trucks have a certain capacity for carrying garbage and currently we have to compromise that capacity when we use batteries, so we need to change the material used in these vehicle bodies from steel to reinforced plastic or aluminum. If the material is changed, however, then the cutting technology or the processing technology may have to be changed accordingly and we would need to develop new technology for that as well. If we completely shift to EVs, there will be more and more plants manufacturing batteries, which is a process involving many steps. Actually, one company we purchased in Korea specializes in making dryers for secondary batteries for automobiles in a vacuum, and demand for those is increasing very much.
---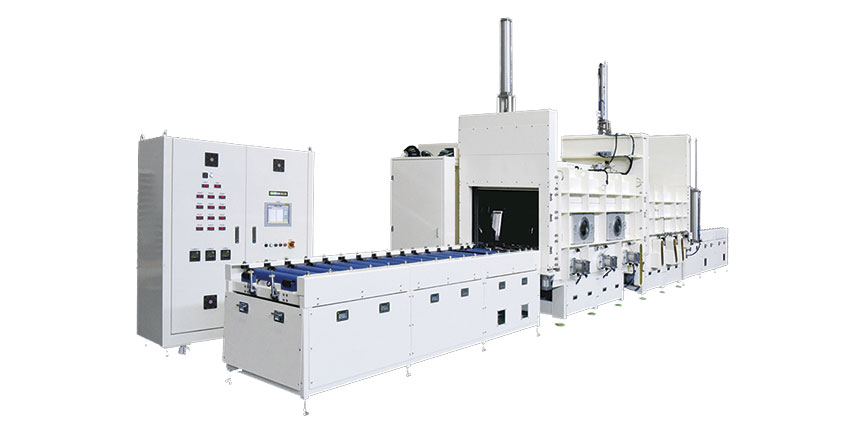 Vacuum dryers for secondary batteries for automobiles
---
Another example, and a good opportunity for our business going forward, is autonomous cars. We developed and built a vehicle guidance system, including a control system, and have built an automated valet parking technology system upon it. We are engaged in joint research in this field with a university. The idea is that the car is left at the entrance of the house by the driver and then it automatically goes to where it should be parked. All the driver has to do is get out of the car at the entrance of a hotel or building, the car will then autonomously park in the mechanical parking lot without any intervention needed. This is called valet parking and we plan to provide such a solution for the needs of a future society where such practical applications will be invaluable.
Although there is a shift towards autonomous car systems, there will be a transitional period. We cannot switch to autonomous cars overnight. A transitional period will take place whereby people still drive their cars while new autonomous cars are simultaneously in operation, so I believe that our business needs to go beyond simply providing parking systems; we must offer solutions such as new parking management systems to continue succeeding.
---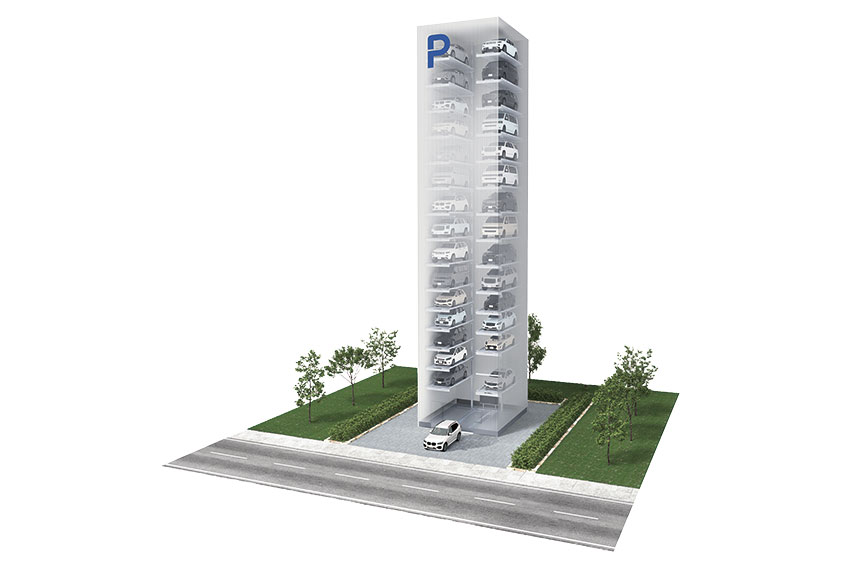 Elevator type car parking system "ELEPARK"
---
Japan has an aging and declining population, which is expected to drop below 100 million by 2060. Not only will domestic market demand get smaller, but also in terms of recruitment, it is becoming more difficult to hire talented graduates. For your firm, what has been the impact of these population changes, and what opportunities or challenges does it represent?
I think there are two ways to respond to the shrinking of the population. First, as demand is decreasing, if we continue doing business as we do now, sales and profit will drop. There is a sense of crisis, but I think there are new needs emerging from the shrinking population. For example, local regions have decreased in population, but it's difficult to shift everyone to urban cities. The people in local regions still have to have a life to lead. Social infrastructure in those regions is aging, so we have to provide solutions like wastewater treatment systems. We'd like to provide such services.
In terms of recruitment of new talent, our key focus is diversity and inclusion, so we would like to target people with diverse perspectives, including those from overseas. We would like to quickly establish a system to secure human resources in line with the trend of overseas expansion, while strengthening the linkage between management strategy and human resource strategy.
Let's transport ourselves to the year 2030, ShinMaywa's Long-term Management Plan end date. How do you think the ShinMaywa Group will have progressed towards its Long-term Management Plan by then?
We announced our Long-term Management Plan last year (2021). We reviewed what state we were in through key performance indicators (KPIs) and following this set concrete targets in May 2022. We launched a new organization to develop new businesses, and we want to show our stakeholders that we are doing everything to achieve that goal by 2030. We'd like to double sales from 200 billion to 400 billion yen. Sales from overseas markets currently stand at 40 billion but we'd like to more than double that to 100 billion. We want to be recognized as a global company in the future.
As an overseas example, ShinMaywa has long been doing business with Boeing and were responsible for the development and manufacture of the wing-to-body fairings for the Boeing 777 and installed on all B777 flying today. We also have been responsible for the development and manufacture of wing-to-body fairings for the newly developed 777X too. If we look at another aircraft, the B787, this is also a great example as it was the first medium-sized commercial aircraft to use composite materials for its main wings. ShinMaywa was responsible for the development and manufacture of the main wing spar here.
We continue to use advanced processing technologies to meet the various challenges required of modern aircraft, such as being "lighter," "stronger," and of course "more fuel efficient". ShinMaywa has a proven track record in terms of quality and delivery, we are proud to have been named Supplier of the Year by Boeing for two consecutive years in fiscal years 2013 and 2014.
The ShinMaywa Group has many products that solve social issues, and here I would like to also introduce how our subsidiary ShinMaywa America's two main products contribute to society.
The first is the Automatic Wire Terminating Machine of ShinMaywa which automatically cuts and crimps terminals at a high speed and accuracy is highly appreciated for its superior quality after processing by automobile harness makers. ShinMaywa America has continued to improve the productivity of clients since 1989 by providing products and services that respond to market needs such as this wire processing system. This is apparent especially when it comes to superior quality and durability, their excellent service support network near customer's facility has seen them build an excellent reputation in the industry.
Nowadays the wiring harness for automobiles are referred to as the blood vessels and nerves like those of a human body and are play a very important role in connecting several devices and delivering electricity and signals through the entire car as CASE (Connectivity, Autonomy, Shared mobility, Electrification) technologies increase.
---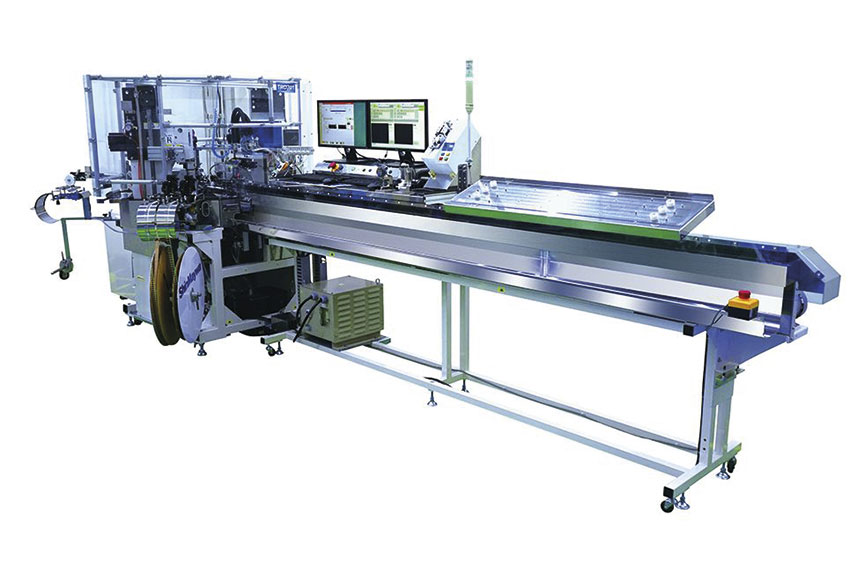 TRD701 Automatic Wire Terminating Machine
---
The second example are the submersible pumps which contribute to wastewater treatment, something indispensable for our daily lives. ShinMaywa's fluid business began when the first self-prime pump was developed in 1954. ShinMaywa America has provided drainage and wastewater submersible pumps to the North American market since 1996. Since entering the North American market, our submersible pumps have been evaluated for their high reliability and quality. In particular, ShinMaywa's wastewater submersible pump, the CNWX series, solves clogging problems due to our innovative Pass-Through Technology and are highly evaluated by municipal, commercial and industrial end users.
---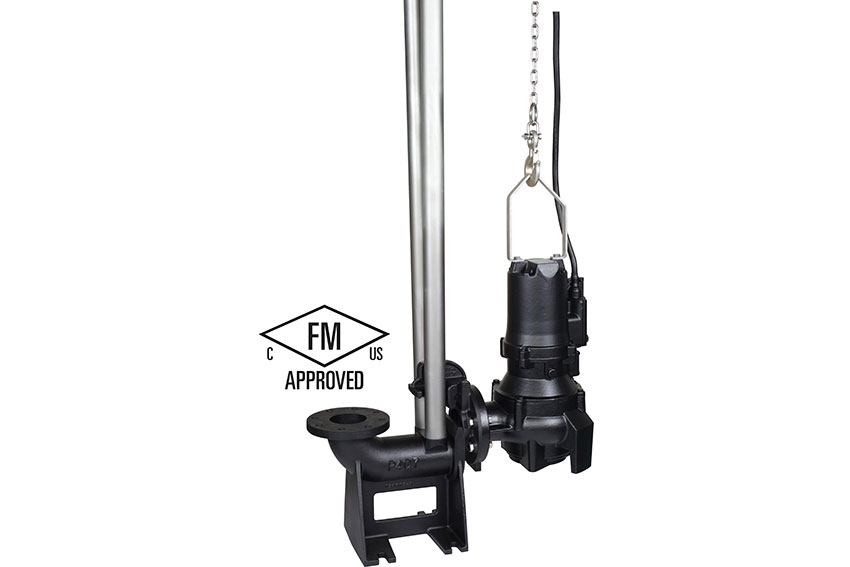 Non-Clog Scroll Submersible Pump
---
ShinMaywa America would like to continue contributing to the improvements in the automobile industry by delivering high-quality systems such as the wire processing system. And also, for daily life solutions, by providing fluid equipment and services for wastewater treatment, something our customers demand continuously.
To conclude, at the time of our company's founding, we studied the aircraft business and I think that people still have the strong impression that we specialize in this business only. We'd like to change that impression and be recognized as a company that provides services to other industries such as, for example, social infrastructure projects overseas. That is our ultimate goal.