Can you explain the qualities of Japanese monozukuri? Why is it that Japanese monozukuri has been so successful in these niche B2B fields such as Heating, Ventilation, and Air Conditioning (HVAC) systems?
I think the main feature of Japanese monozukuri products is that they are user-friendly, hard to break, safe and secure. This is the key differentiator.
In modern times, Japan's population is ageing with 28% over 65, and with a fertility rate of 1.37, Japan's population is simultaneously declining. These changes are putting, some say, Japanese monozukuri in jeopardy. Can you explain to us the opportunities or challenges associated with this population change for your business?
The average age of an employee here at Ichinen Tasco is 47 years old and we haven't been able to foster and grow the next generation just yet. Employees in their 20s or 30s still have some progress to go before they become mature employees. The succession of technology and expertise is going to be a big challenge for us. It is very hard for us to secure good, talented workers and we foresee it getting more difficult in the future. To alleviate this, we have started to hire non-Japanese. In fact, recently we have been hiring Filipino engineers. Also, we are trying to position young talent on the front lines of our operation from the beginning of their employment.
The Japanese market is shrinking, but if you look at the air conditioner usage rates in Japan, it is over 90%. In the ASEAN and western markets, the rate is around 20% to 30%. We would say that we still have plenty of room for us in those markets. Wherever there is an air conditioning system installed, they need the tools to install it, and that's where we see opportunities. We also have the know-how and tools to collect the  Fluorocarbons (CFC, HCFC, HFC, etc) refrigerants that come from replacing air conditioning units.
Last year the Suga administration announced its decision to decrease carbon levels by 46% relative to 2013 levels. As a company providing tools and service equipment for HVAC systems, how are your solutions helping to reduce the impact of HVAC systems on the environment?
The CFC Regulation Act was enacted in 2014 and ever since then, we have been required to collect the refrigerant. In terms of TASCO's sale performance, in 2021 we had a 47.5% share in the sale of recovery units, and a 60% market share for cylinders of Fluorocarbon refrigerants.
What is your assessment of Japan's HVAC market? Do you think it's aging and there is a need for the replacement or can the tools and service equipment you provide prolong their lifespan?
Worldwide we are required to replace CFC refrigerants with lighter Global Warming Potential (GWP) refrigerants. There are two ways to tackle this. The first is to replace the equipment itself, and the second is to repair the equipment and prolong its lifespan. In Japan, the demand for upgrading by replacing the equipment is around 60%. Whether you want to repair the equipment or replace it, under Japanese law we are required to collect the CFC refrigerants and contributing to that goal is our mission. Leakage of any kind would be disastrous for the environment so, of course, we are looking to prevent something like this from ever happening.
You have a new product, the High Sensitive Nondispersive Infrared (NDIR) Sensor which uses a probe tip to measure levels of condensation in the HVAC system. Could you elaborate more on why you recently launched this product? What are its competitive advantages, and what market opportunity do you see with this product?
We used to buy the sensors from Figaro Engineering and working with a supplier in Taiwan we produced a leak detector. The problem with the conventional semi-conductor type leak detector was that it reacted to any type of refrigerant. When you compare that to the NDIR technology, it uses infra-red rays to detect specifically the CFC. It is aware of the correct wavelength of those CFC refrigerants, so false positives are avoided. If you were to put the general leak detector on a factory floor with soy sauce or sake, it would react to the ingredients emitted from these products. This wouldn't be the case with the NDIR sensor.
---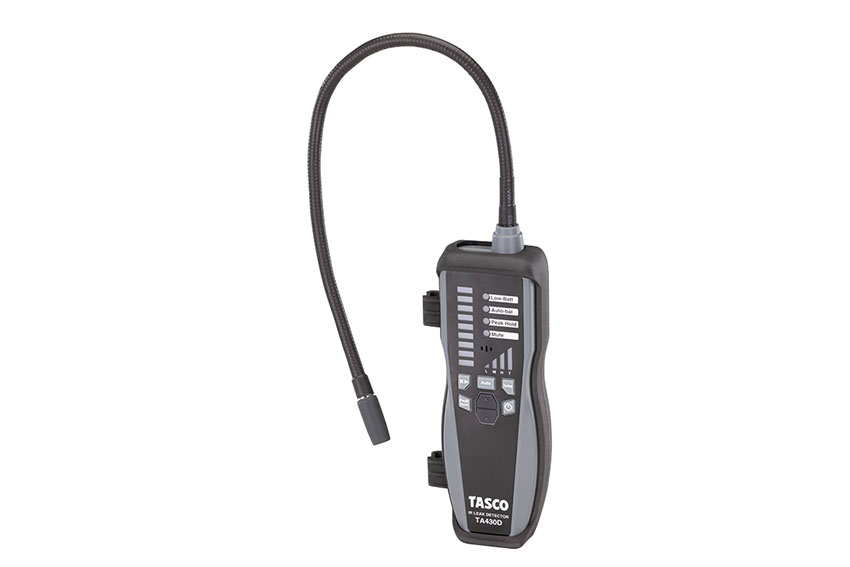 ---
Among your vast product lineup, which is your best selling? Which are you most known for in the industry?
Air conditioning tools are by far the number sector we are known for. In terms of total sales, however, one of our temperature control detectors sells extremely well. The technicians use them after installing an air conditioning unit. We do the development here and then pass on the ideas to entrusted factories to manufacture the products. For any form of measurement product that could potentially produce errors, we stick to making them in Japan. When we produce tools, the poor parts are further developed by us, to improve them. The improvements for parts or components which do not require high quality or safety features we source from Taiwanese or Chinese makers.
---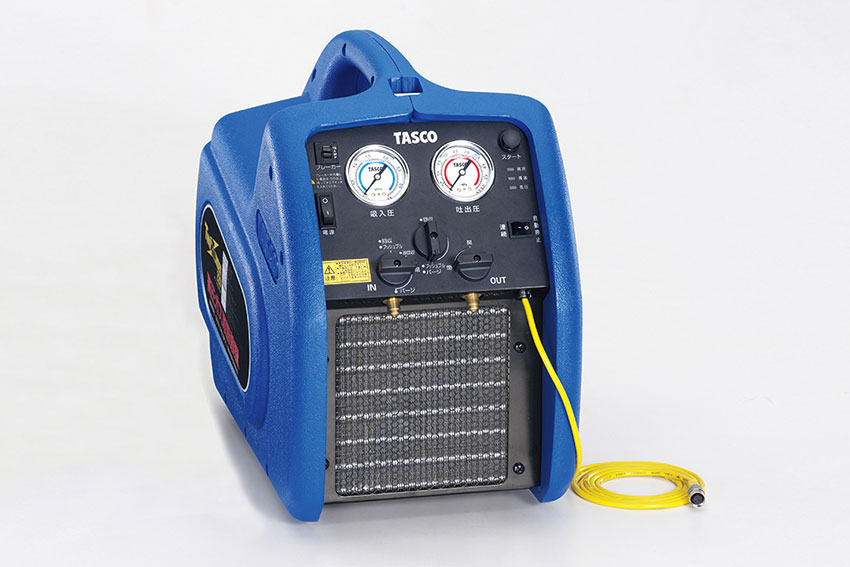 ---
For example, this recovery unit is made in China, but when you look at the springs or pistons used inside the machine, we produce those in Japanese factories. From there we send them to the Chinese factories for assembly. We entrust the manufacture of the springs and pistons to a small-to-medium-sized enterprise (SME) in Osaka.
In recent times, especially with China's zero COVID policy we've seen factories closures, with strict quarantine infection control measures limiting staff of major logistics and shipping companies. At the same time, there are positives to COVID-19, with some businesses seeing it as an opportunity to move towards e-commerce and selling directly to customers. In the case of your business Ichinen Tasco, what was the impact of COVID-19 on your business over the last two years? What adjustments or changes have you had to make to adapt to it?
Our work style has changed a lot. We have a subsidiary company in Thailand, but unfortunately, right now we are still unable to travel there. It means that we have to conduct web meetings and create more video content. We worked together with the Ministry of the Environment and the Ministry of Economy on an environmental project they had initiated reclaiming CFC refrigerants in Thailand, Indonesia, and Malaysia.
COVID-19 actually turned out quite good for business. Over the past two years, we have not been able to physically meet with overseas counterparts, but we were still able to continue selling and manufacturing our products. This is because of the accumulation of communication with our overseas counterparts. Without those accumulations, we are not able to continue this kind of relationship. I think it's about time to restart face –to face communications.
Your company has created a number of unique solutions as your leak detectors, flaring tools, and mini vacuum pumps. Are there any that you would like to highlight for us? Which one do you think you are most proud of?
Last year we launched our new electronic flaring tool. In the past, we used to use the flaring tool manually. With this electronic flaring tool, you can use it simply with a touch. This is made in China, and we have a patent for the motor parts and the core pipe. We outsourced manufacturing to our partner company in China and we had estimated sales of around 2000 units per year. It has however outperformed predictions, selling approximately 5000 units per year right now.
---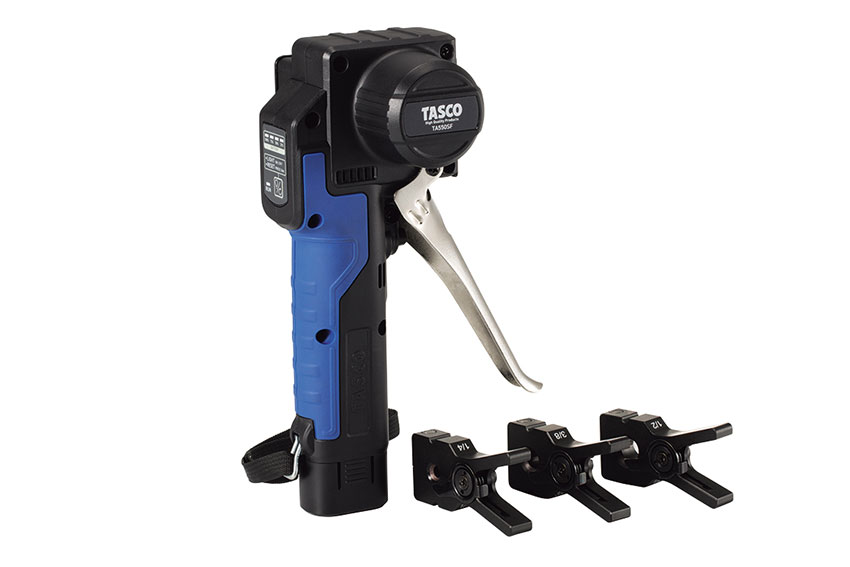 ---
For this particular product, we have an exclusive distribution agreement with the Chinese manufacturers, so we are sending it to both the Japanese and the overseas market. The Chinese maker is also selling these products to the US and European countries as well. The flaring tool is very special in that it can never fail, and therefore never leaks CFC refrigerants.
We know that co-creation with overseas partners is something you have previously been engaged in, are you looking for more co-creation partners in the future to develop new products?
Yes, of course we would like to find a co-creation partner. It happened to be a Chinese company that partnered with us on the development of the previously mentioned electronic flaring tool. I would say that wherever there is a country or company that can accept and share our philosophy for development, then we are willing to go there and collaborate.
Can explain your Tasco Black Label lineup which is an exclusive product lineup for the Asian region? Why have you developed this line of products and what are the advantages it has over other offerings in the market?
In the Asian market, Chinese tools and products are dominant because of their low cost, however the quality is quite low. Compared to the Chinese products, our products are much more expensive. That is why we wanted to supply a low-cost lineup that users in those markets can afford. We worked together with Chinese and Taiwanese suppliers to develop the Black Label lineup.
You have a subsidiary company in Thailand which you spoke about earlier. Are you looking to establish more bases internationally, and if so, which countries are you planning to expand further into?
Our number one target right now is Asian markets through our Thailand base. We would like to expand the sales in this market. The Black Label lineup is designed to serve these markets as a low-cost lineup of products. We would also like to target the western market. We believe that, in the west they can afford the Tasco brand and therefore would like to expand there. First of all, we need to find a good distributor in the western market so that we can expand our firm there. We are considering potential M&As. In the Ichinen group there are now about 20 companies, ten of which became group companies through M&A, so of course M&A will be one of our strategies moving forward.
Imagine that we come back to conduct this interview again on the last day of your presidency. What would you like to tell us? What are your goals and aspirations for the future?
Before 2013 when we were acquired by Ichinen Group, we never thought about going out to the overseas market. After 2013 I thought our products could be sold in the overseas market as well. The biggest target is the United States. The market size is very large, and I believe there is a demand for our products there. My dream is to penetrate the US market and customers over there can use the Tasco branded products.