Can you please introduce your company and yourself to our readers?
UMC is a "Monozukuri" company and an EMS (Electronics Manufacturing Service). Customers outsource their manufacturing to UMC. We support manufacturing of leading-edge customers in the areas of Automobiles, Industrial and OA equipment, and develop long-term relationships. We manufacture highly reliable and durable products like core parts for EV/PHEV/HV. In this regard, we are a unique EMS. Also, we are good at producing large IT infrastructure or semiconductor manufacturing systems. As for production, we develop and manufacture full assembly line in-house from scratch.
I worked for Toyota Industries Corp for 38 years, and I was the director of the electronics division, where we specialized in electronics systems for EV/PHEV/HV. We outsourced the production of EV/PHEV/HV related products to UMC which is why there is a long-standing relationship between UMC and Toyota Industries Corp. I recently became the president of UMC last year. Although I originally specialized in the design field, I supervised every part of the manufacturing process, from design, development to production. When I was working at Toyota Industries Corp, I had high expectations for UMC's procurement and production capabilities.
UMC established the first overseas factory in Shenzhen, China in 2000. Since then, we have enlarged production to Vietnam and Thailand to cope with labor cost competitiveness. In 2013, we established a capital alliance with Toyota Industries Corp. in which they take a 5% stake in our company, and targeted the production of key sub-assembly units for EV/PHEV/HV, they have a 5% stake in our company. Beginning with the production process design, we also develop and manufacture in-house automation equipment for volume production.
In 2018, we had a basic agreement with Hitachi Ltd. to manufacture its full line-up of IT servers/storage and network systems. In 2021, the Toyota group invested in UMC to strengthen our financial ground to further enlarge production of other core parts for EV/PHEV/HV. The major shareholders are Toyota Industries Corp. which accounts for 34.6%, Aisin Corp. for 7.8%, and Nexty Electronics, a subsidiary of Toyota Tsusho Corp. trading house for 7.8%.
Regarding our major products, automotive parts make up 60.7% of the total product lineup. Industrial equipment makes up 15.5% and office automation (OA) is 21.6%.
In Automotive segment, we manufacture core parts for EV/PHEV/HV, sub-assembly unit within the aluminum diecast case, such as PCU (power control unit), DC-DC converters to supply DC(Direct Current)for motors and others, and in-vehicle battery chargers. We also supply an inverter for the electronic compressor used in car air conditioning systems and battery cooling. Our customer is the global market leader of those key units; thus, we have enumerable requirements especially in quality.
---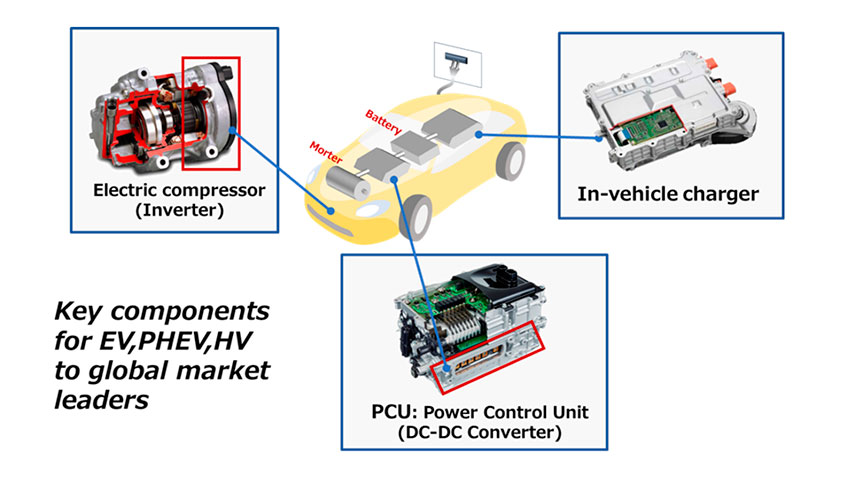 Key components for EV/PHEV/HV
---
The Industrial equipment segment includes manufacturing large IT servers/storage as well as semiconductor test systems inevitable for their manufacturing process. The semiconductor test system has thousands of leading-edge chips with water cooling systems. The heaviest weighs 3.5 tons, more than a car.
---

Left: Semiconductor testing system
Right: Hitachi Ltd. Full line up of IT and network infrastructure
---
What is your quality assurance system to ensure that wherever your products are made that quality remains consistent?
We comply with ISO/TS certifications. We also integrated Toyota's quality assurance structure into our company's DNA by following the same criteria as the Toyota management system. Solving the problems one after another at the front of manufacturing, we learned how to improve the quality. Especially in collaboration with Toyota group companies, we enhanced our quality management system.
To optimize the quality and efficiency, we design, develop, and manufacture in-house automation equipment and assembly lines from scratch by ourselves. We standardize the line by modular unit and each unit has multi-purpose functions. Convertible modules enable "Coating", "Optical Inspection" and other production processes.
---

UMC develops and manufactures automation equipment and full assembly line in-house
---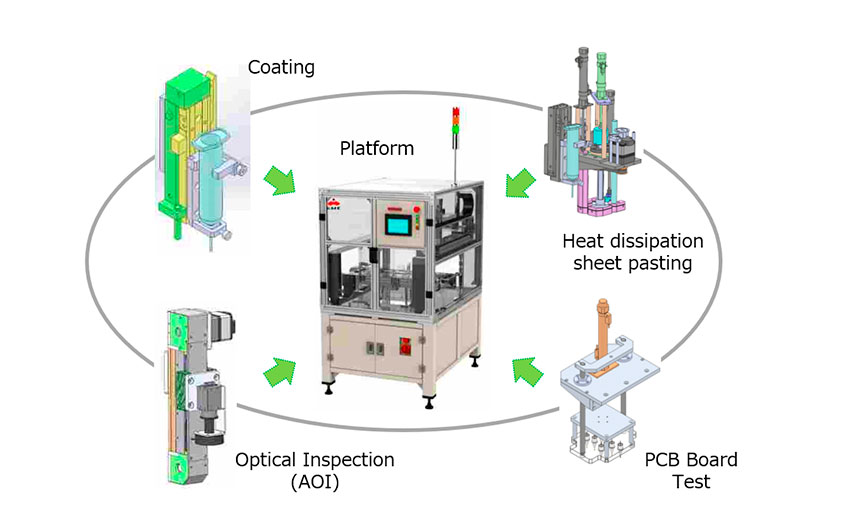 Photo: Modular Production systems:
---
Toyota Industries Corp. increased its share in UMC from 5% to 34.6% last year. What is your strategy to strengthen your capital business alliance with Toyota Industries Corp.? What advantages does this relationship bring to your business operations?
Although, we are independent in this business alliance, we are partner. For Toyota Industries Corp., outsourcing key unit for EV/PHEV/HV vehicle is critical, so they consider us as part of their in-house production. We treat all our customers with the same dedication and loyalty as we show Toyota Industries Corp. We apply what we learned from Toyota group to serve our other customers.
The alternating current (AC) inverter is one of the joint businesses with Toyota Industries Corp. These are car components which were standardized and adopted by Toyota, the Detroit Big Three in North America, and European makers.
The shortage of semiconductors for use in automobile production has been widely publicized. It is just one of many serious disruptions to the global supply chain. We have also had the lockdown in Shanghai and the war in Ukraine. As a company with many manufacturing sites throughout that region, what steps have you taken to ensure that you can continue to provide a stable supply of your manufactured products to your clients?
As we shift to EV, a higher level of processing by chips is required due to electrification, autonomous driving, or collision prevention. We are trying to understand what is causing semiconductor shortage. One possible reason is that many global manufacturers use the Toyota Kanban purchasing method, which means purchasing little by little instead of in bulk. This was probably the reason why Denso Corporation announced that they will be purchasing a one-year stock of their parts and components. This can be a way to mitigate the shortage of semiconductors.
Outside the automotive industry, are there any particular sectors that you are making a priority? Are you looking for overseas partners to enter those sectors, similar to your partnership with Hitachi in 2018?
We do not have any plans for partnerships currently. However, if a promising opportunity comes, we will consider it.
In 2000, you first began operating overseas in China, and now you have expanded across Southeast Asia. Going forward, are there any key markets that you would like to expand into, and what is your strategy to further expand your overseas operations?
We would like to expand into North America where there is a large automotive market, and there are reports that the EV market will have significant growth. Currently, we do not have any specific plans, but if we will, a joint venture would be a good option to expand there.
In 2022, you were transferred to the Prime Market of the Tokyo Stock Exchange. What message would you like to send to potential foreign investors explaining why they should invest in UMC?
Electronics systems are indispensable for industry innovations. The shift to EVs is accelerating the usage of electronics. Within the in-vehicle electronics area our focus is mission-critical driving functions such as "Running, Turning and Braking." We focus especially on manufacturing core parts for EV/PHEV/HV to global leading auto-components companies as a partner. We are unique in this regard. Also in industrial equipment, we manufacture and test large IT infrastructure systems for datacenter as well as semiconductor manufacturing systems. We will further support our leading-edge customers focusing on their product reliability, durability, or robustness by evolving our manufacturing capabilities and would like to grow together.
If we come back on your 60th anniversary, 6 years from now, and have the same interview all over again, what are your dreams for the company, and what goals would you like to have accomplished by then?
Currently, our profit margin is very low, so we need to increase it. Our operating margin target is at 3%, which is average in our industry. However, we think we can do better. It is difficult to control the cost margin. We have to strengthen UMC's unique services and capabilities based on our business relationships with our customers. Actually, we develop and manufacture in-house automation equipment and automation lines by ourselves. We will further innovate our development and manufacturing of in-house automation lines. Our next step is to expand our existing business into other sectors.