Despite being a resource-poor country, Japan has built an enviable international reputation for its material innovation. For example, Dr. Shindo, a Japanese scientist, was the first person in the world to develop a prepreg resin material in a cost-effective way, known today as CFRP. Innovation is a company-wide endeavor, and Toyo Tanso has pioneered isotropic graphite, a valued material in today's industrial world. Why are Japanese firms so successful when it comes to material innovation?
The result of different Japanese companies specializing and focusing on a particular area is the achievement of a lot of success worldwide. Toyo Tanso's philosophy is creating something that cannot be found anywhere else, which has been the beginning of our business and the secret to our success. Since we put a lot of importance on listening to our customer's needs and demands, we opened factories around the world to become closer and directly listen to our clients for a better monozukuri. We are always close to the market we are targeting.
Another essential thing about monozukuri, which I often communicate with people working at the plants, is that creating something that is not found in the market means not just relying on the existing equipment. One has to be involved in the design and development process of the equipment to create a product that has never been seen in the market. To do so, we need to work with the makers because we cannot manufacture the equipment ourselves. There are limitations to only utilizing the existing equipment or machines. Developing an unprecedented product will not happen by only utilizing those.
More than meeting with the customers, we frequently meet and communicate with our suppliers so that they can provide us with quality raw materials and equipment. I think it is vital to enhance the reliability of our suppliers. We perform a detailed check of the volume we want to purchase. It is crucial to communicate with the suppliers about the manufacturer of the equipment, the market needs and the reason for the needed improvement on the equipment. With the aim of enhancing communication and reliability, we meet and discuss with the machine and raw material manufacturers. Our meetings with the suppliers are also driven by our customers' requests, as they are often worried about the status of the supply. We can assure our customers that we can have a stable supply because we always follow up and confirm such information with the suppliers.
Our customers share their investment plans with us. Similarly, we share our investment plans with them and assure them that our investment plans are based on their plans and that we are not making unnecessary investments. By doing so, we continually receive orders from our customers and gain their confidence.
Over the last two years logistics issues have affected chip and semiconductor components supplies and slowed down industries such as the automotive sector, for example. We are also currently seeing a very strong depreciation of the Japanese yen against the US dollar and commentators now are calling for the comeback of 'made-in-Japan' to fully benefit from these changes. From a macro perspective, what is the impact of these events on your business operations? How have you ensured a stable supply as a company with international production bases?
Many things happened in the last few years. Due to the pandemic, there were a lot of shutdowns, and the biggest was the shutdown of communication. Because we were not able to communicate with people as we did before, it led to a decline in reliability as well as a negative impact on our human network and our basic relationships with others. To respond to that challenge, we introduced the remote communication system as soon as possible. Even with the pandemic, we tried not to change or give up anything. Although we did some remote meetings, we still went ahead with our meetings as planned. Last year, we predicted the rise in energy costs which began last autumn, so we already budgeted accordingly and made plans to address that issue. Japan used to be the base for the production of materials. However, we are now considering moving some of our production to overseas factories. We have processing factories around the world. The number one strategy to address the recent development is automation and the streamlining of the production process. Streamlining is reducing the usual five steps involved in the production process to one or two. In order to use a machine, you need some time to set it up, which actually takes up to 70% of the whole process. You have to start from the tool setup, then spend some time programming. Spending more time setting up means decreased productivity; hence, failing to reduce the ultimate cost. Considering the rising energy costs, the shortage of labor that is also happening in Western countries and the inflation in the US, it is very difficult to continue the way we used to do things. Therefore, we are trying to pick out particular regions or areas where we should produce value-added products. We should divide the value-added and non-value-added products so that we can streamline the steps in the process and strengthen the communication between our subsidiary companies to fortify our company's core structure.
Many companies are trying to attend to environmental and climate change issues. Since we use furnaces, we are working on changing our energy source to ammonia-based. Also, more electricity consumption means increased CO2 emissions. We are thinking about other alternative energy sources such as solar panels which we are now using. However, we cannot implement these changes all at once. One of the alternative ways is to transfer production to the overseas market. If we can use water or wind power generation, then we can reduce the use of oil or gas. Ammonia power generation is one of our options too. We plan to make these changes gradually. The key point is to enhance the efficiency in production and lower the number of people working at the plants in order to maintain stable production and productivity. Other places in the world are also facing the problem of a declining population, so we are carefully analyzing the data on the population movement globally. Even in China, the labor cost is different between Shanghai and Beijing. We will be trying to move our production base to an area with a lower labor cost, at the same time try to achieve the automation of the process there.
At this point, we have not yet made a decision nor made any investments in moving our production base overseas. We are still contemplating that. Another option we can consider is to strengthen our mass production capacity in Japan. With that, however, we will have to address the energy cost issue, which will take some time.
Graphite, the primary material of your company's products, is very brittle which makes it not a very good material for structural components, but it can be made stronger through specific processing methods. With your isotropic graphite, you were able to develop something that has excellent heat & electricidal properties, is corrosive-resistant and gets stronger in temperatures up to 2,500 degrees. Could you tell us the story of why you developed this material in 1974, and how have you further improved upon it since you first introduced it?
It was the prior president and management team that first developed the isotropic graphite, I was not yet there when that happened. They also created the equipment to manufacture isotropic graphite. The details about the history of this company have already been written in a book. We used to produce graphite for a long time before 1974. In the past, we used to press the material and then cut out a graphite block. However, we eventually wanted to produce something with a better performance. Isotropic graphite was chosen because of its extreme heat resistance. That property is needed to produce wafers in the manufacturing of semiconductors. Furthermore, the manufacturing process for semiconductors does not tolerate impurities. In other words, there is no material other than graphite that can be used. These are the important points why graphite was chosen. In addition, in the continuous casting of non-ferrous metals, the solidifying step in the process calls for the usage of graphite dies to uniformly release the heat. If the heat fails to be released uniformly, good material cannot be produced. When a customer chooses this graphite, they can enhance their products' value and yield. Of course, there are many more complexities involved in why graphite is chosen, and pore size also greatly matters. Still, we are trying to offer our technologies to the customers, so they can produce something that has a higher value.
---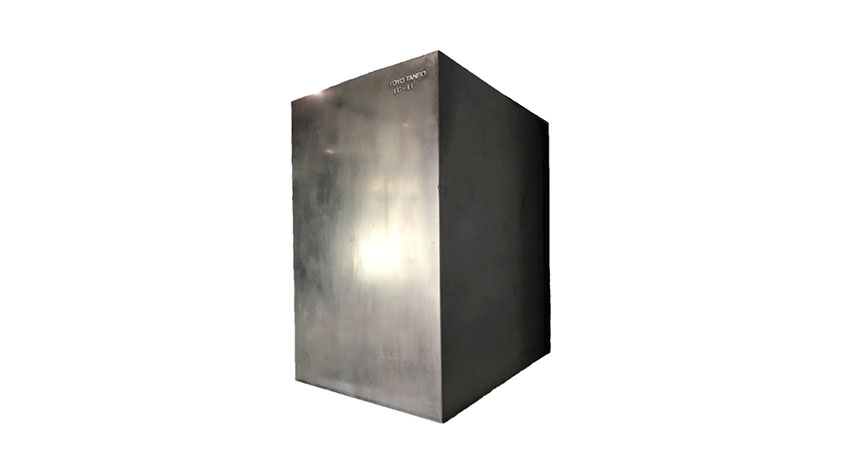 Isotropic graphite
---
Last year, TSMC opened a fab with Sony in Kumamoto, followed by an investment in Germany and two plants in Arizona and Ohio in the US, adding to several new foundries worldwide opening concurrently. What are your expectations for this year and next year as the production of semiconductors increases, as well as for your business?
Looking at the history of semiconductors, we have seen steady growth over time. However, there have been some small ups and downs in that trend. At the downs, seriously considering how to survive and become sustainable as a business is essential. It is important to be prepared for the next stage to climb back up, which serves to be the principle for our investments. We have been making investments even though we have seen some drops in that particular industry. On that note, we are striving to regularly meet with our customer's top management because it is imperative to get firm confirmation and assurance from them. Many people are saying that from this autumn to next summer, semiconductor production is going to slow down a bit, particularly general semiconductors. However, several people also say that there is a possibility that it is going to pick up again after next autumn. Power semiconductors differ from those because they can be applied to EVs, automatic driving, IGBT as well as sensor technologies. Hence, power semiconductors will remain strong this year and the beginning of next year.
Besides the semiconductor and steel industry, your carbon products also apply to the atomic, transportation and medical industries. With such a diverse range of customers and all these industries growing very fast, how do you prioritize and spread yourself to keep apace of the latest developments in each of those industries?
We have created a task force for different applications in our group companies, including our subsidiaries. Each task force plans a strategy for the growth of its focused area. The plans they have put together for the growth of each application are brought to the management team. Our subsidiaries also need to think about the sustainability and growth of their business. The president of each subsidiary company and the leaders of each task force decide where they are going to concentrate their resources. From those plans, we create our company-wide midterm plan and decisions for our investments. We think about the investment capital and people, which is the most important. Even though you want to make an investment in a certain area, it is not possible to produce anything without the people. Therefore, it is important to deliberate on how to educate our existing staff and hire new talents. The different task forces are going to prioritize the focus areas and regions. After they put together their plans for growth, they submit them to the central management, which will only be approved after convincing the board meeting members. Investment decisions are then made. Some of the applications in the task force are related to energy industry infrastructure. Fuel cells are expected to be one of the applications using hydrogen as a clean energy source, and our mesoporous carbon, CNovel®, which we were the first in the world to commercialize industrially, has been technically proven to have high performance in fuel cell applications through joint research with research institutions. To promote the early penetration of new materials, we not only supply materials but also collaborate with users in different industries to commercialize and make them available, thereby stimulating the end users, especially innovators, and promoting early diffusion and recognition.
---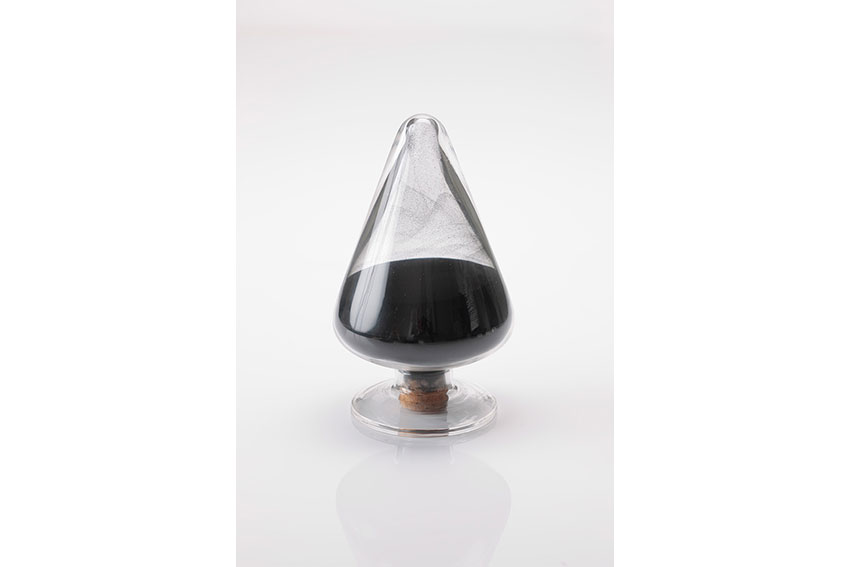 CNovel®
---
The automotive sector has been one of the focus areas of Toyo Tanso for years. In our interview with you last year, you told us about your joint venture with one of your partners to enhance the capabilities and the research and development for Perma-Foil, a series of graphite sheets. Can you give us an update on that? Has the joint venture been set up, and how is it going?
It is critical to secure high-quality raw materials because we cannot make quality products without them. Raw materials could change or vary over time, so we must keep our eyes on good quality materials. We set up a joint venture with a great company called Air Water that will enhance our reliability going forward. However, we are not satisfied with only this joint venture because we want to produce a higher quality product and expand the areas of application for this product. This product is used not only by the automotive sector but also by the semiconductor sector. I cannot disclose everything, but the areas of application are widening now, and we will keep widening as we move forward. I think this joint venture was an excellent decision, but we still have many areas of application to discover. This technology is very unique, and we can add special value to the new application areas. We would like to continue to work with the engineers, clients and partner companies to enhance the application of this product.
---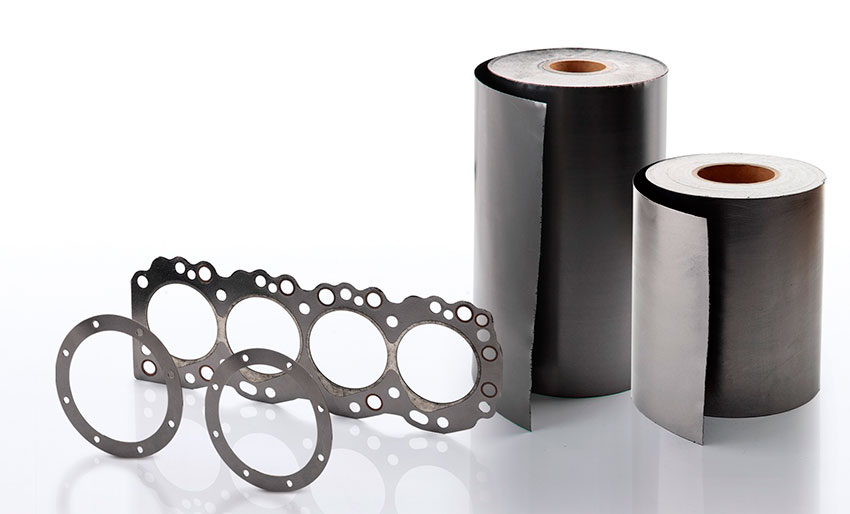 Perma-Foil
---
We have been meeting every two years for a while now and there is always a new product to discuss. Very often, however, you are not sure about the applications of some of these products. When we met with Toray a couple of years ago, they said that when they first developed CFRP, there was no market because no one understood what it was for, why it was so expensive or what the applications could be. They had to research the product and its application to educate the market. As a company with the core philosophy of creating something that does not exist and constantly developing these new products for applications, how do you ensure you find the market? How do you convince or educate the market to use this product to replace their old materials?
I agree with what you said. Although we are saying that we are trying to create something that does not exist, it does not mean that we are creating something which does not have a market. We always follow the needs of the end-users, which is the beginning of manufacturing. We educate our sales team about how to draw the customer's needs. It is very easy to ask what they need, but it is important to ask why they need it. There is a secret to the real needs of the customers. Of course, they want to improve the quality of their products, reduce costs and probably mass-produce a certain product. To achieve those goals, their engineers have many requests that have to be met, and responding to them requests is our important mission.
Furthermore, we often join exhibitions where we may be able to showcase our products and technologies and get some reactions from customers or potential customers who we have never met or connected with before. We can directly ask the visitors for their feedback, whether they find the product interesting, or if they would use it in some other way. We have done it before for the carbon fiber composite and Perma-Foil.
Recently, you launched a new type of graphite electrode for the EDM process that is targeted for cemented carbide applications. For this electrode you have impregnated copper inside the pores of the isotropic graphite material. Why did you develop that? What market need did you see, and what are your plans to further roll out this product?
It is applied for making carbide tools that are used for cutting extremely hardened materials. Until now, these tools have been made using different materials, but they are very costly. Using our impregnated material has the dual advantages of lower cost and ease of production. It was driven by the demands of the market.
---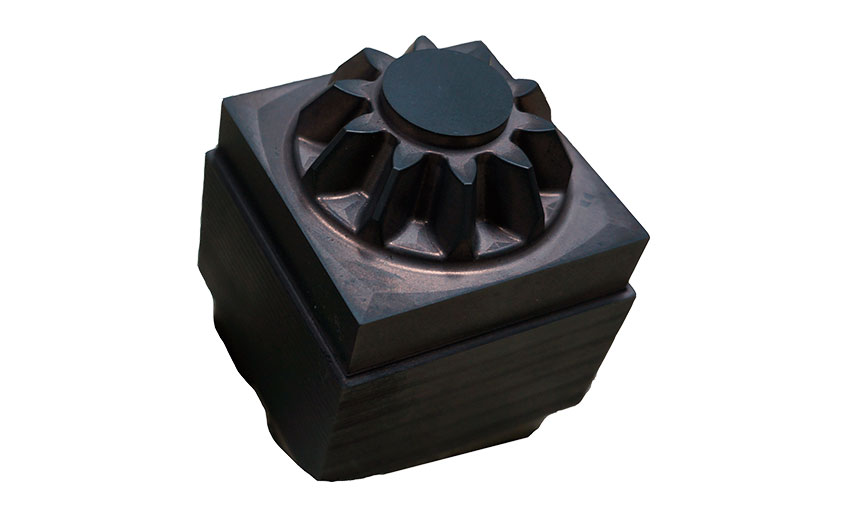 Electrode for EDM
---
In 2021, Toyo Tanso's fiscal year showed a strong rebound from 2020. Your net sales increased by more than 20%, and you have achieved an operating income increase of more than 65%. Furthermore, there is a steep increase in your results for the first two quarters of this year compared to last year. Can you comment on the rebound of the company? What are the core reasons for the very strong growth that we have seen over the past year and two quarters?
We strive to address all issues like the shortage of resources or productivity at the very early stages by taking proactive actions. We always try to devise a workaround for all these issues as early as possible. If we find a plant with full production capacity but lacks knowledge, we start to educate the people immediately. Also, we have pushed forward the automation of our production line and enhanced our production efficiency.
The weak yen is working positively for us. Although the prices of raw materials, electricity, gas and oil are going up, we see a positive result because we covered all these price increases with the rise of our product prices. It was a challenge to negotiate with the customers. However, they can understand because they are also in the same situation. From the long-term perspective, many customers accepted the rise in the price of our products and showed understanding of our tough situation.
Looking towards the future, what type of M&A, joint venture or endeavor would you be looking for, and which particular countries or regions would you be focusing on?
We have been looking for a partner for M&A for a long time. However, it is very difficult to do so at this time because the environment is changing rapidly and is not very stable due to the pandemic and war. We are also seeing some impact from the US-China trade friction. The environment for this industry is always changing, impacting the supply chain. It is hard to foresee where things are heading or predict what will happen next, but M&A is always one of our options in the near future. A joint venture is another viable option, and we remain open-minded about all these options.
Rather than a specific country, we are looking for certain sectors. The big shift from gasoline to electricity in the automotive sector has significantly impacted the material and component makers. In the last few years, they have had to change their plans. We found out who will be the main player in this sector, but it is very hard to see who will be playing the central role. Many countries are trying to enter the market, and it is a huge challenge to narrow down the countries. However, we always find it attractive when a country has good materials and technology.
Last year was a milestone for Toyo Tanso because it was your 80th anniversary, being founded in 1941. It is the first year toward the next ten years for your 90th anniversary. If you could look at the future through a lens, how would you like Toyo Tanso to look on its 90th anniversary?
We disclosed the five-year plan, but we do not do that for our ten-year plan. Actually, we have already considered our investment and human resources plan for the next ten years from now. To make a decision on the investment, ten years would not be enough since fifteen years is the standard time to look ahead. I do not think that the type of industry we are involved in will change. We will still be a maker of graphite materials in ten years. However, to be sustainable and survive until then, we have to take action now. We need to think about how we can be sustainable in ten years. We must keep our eyes on the changes in the resources, raw materials, customers, markets and people. Likewise, we have to see to it that our investments are in line with those changes. Those are the topics we are discussing with the company's task forces and others in our company.