Over the last 25-30 years, Japan has seen the rise of regional manufacturing competitors who have replicated Japanese monozukuri processes by taking advantage of cheaper labor costs and pushing Japan out of mass consumer markets. However, we still see that many Japanese firms are leaders when it comes to products such as textiles or clothing. How have Japanese firms been able to maintain this leadership despite the stiff price competition?
I believe the reason why Japanese companies are still competitive in the market is the high quality of monozukuri. It focuses on minute details, and that has been a Japanese strength. Asian countries such as China, Taiwan, Vietnam and Thailand are appreciative of Japanese brands for their detail, and that is why Japanese companies are still able to compete.
Japan is one of the oldest societies in the world, causing issues such as a labor crisis or a shrinking domestic market. What are some of the challenges and opportunities that this demographic shift is presenting for your company?
We have established our factories in Dalian, China and Ho Chi Minh in Vietnam, so we can cater to the whole Asian market for production. To compensate for the lack of human resources, we are actively welcoming trainees from China and Vietnam, so currently we are not struggling with the labor shortage, as we have already created this global environment.
Our Dalian factory actually runs the forefront of our group's production, and we have the greatest number of Vietnamese and Japanese factories, so we are not confined to Japan, but we have opened up to Asia and we are passing down knowledge and doing monozukuri within the region. That is our mindset towards open monozukuri.
As you say, the Japanese market is shrinking, so we have conducted M&As to enlarge our business domestically. As for retail, although the Japanese market is shrinking, we have increased the number of our direct retail stores. We have about 90 in total, but about 50 are direct-sale retail outlets, shop-in-shop at department stores and about 40 are within department stores.
In China, we currently have over 100 locations and stores where we can do direct sales with our Towel Museum brand. 20% of items produced in the Dalian factory are sold within China. In Vietnam, we have four direct sales stores and we are trying to enlarge and expand the number of stores there.
Due to the pandemic, staying at home, as well as social distancing, helped contribute to many physical retail stores shutting down. However, at the same time, online sales jumped in Japan by 13%, making it the fourth-largest e-commerce market in the world. How has your business adapted to take advantage of this growth in e-commerce?
We have been increasing by 20% over the past three years. We started direct sales through Amazon. In Vietnam, we received approval from Amazon to create their products and received a license to create on behalf of Amazon. We produce it in our factory and send it directly to Amazon, and they do the sales. With QVC, the Japanese popular direct sales channel, we have a large-scale turnover in TV shopping.
Since we can produce a lot of products, we are actively opening up new sales channels.
Now, we are the only company in Japan that has a comprehensive production scheme from production to wholesale to retail. In this business model, for example, a major SPA, they do not have its direct factory, they work together with its cooperating partners. We have our factory, so that is a big difference between that major SPA and other Japanese companies. We have a comprehensive business model, similar to Toyota's. Our Towel Think Lab is like Lexus, as it is a high-end product.
Your Dalian factory is your production forefront, however with China's zero-COVID policy, we saw mass lockdowns across many of China's major urban areas. The country has now abolished this and has started opening up to the world. What were the effects of China's zero-COVID policy, and how were you able to adapt to it?
The impact was quite minimal. On December 7th, the Chinese government announced the policy, and we have 1100 employees there, and out of them, 700 caught COVID the following week. However, after one week, we got 85% of our employees back to work again, and thanks to that, we gained group immunity and we only closed the factory for one week. We only had two absentees, and the others were still working.
---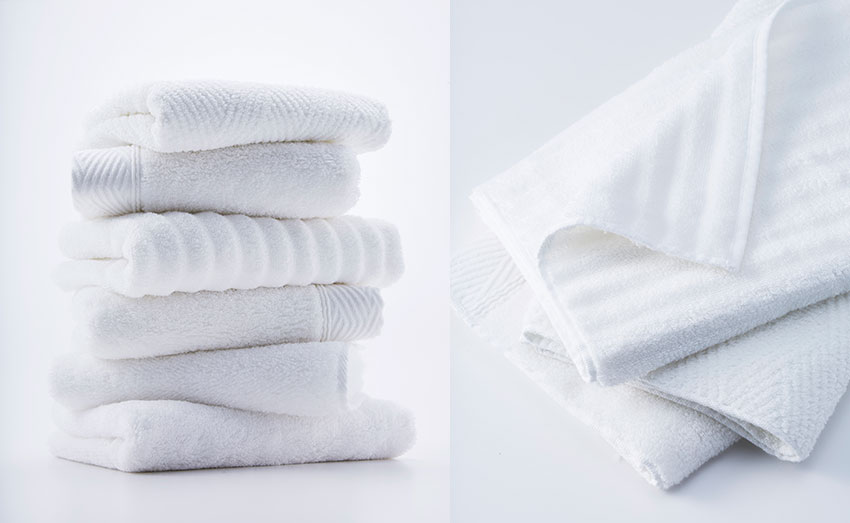 ---
The Warp brand is a functional towel that decomposes odor through the unique Hydro Silver Titanium. Can you tell us a little bit more about the Warp brand, and when it comes to the Hydro Silver Titanium, what were some of the challenges that you had to overcome?
Hydro Silver Titanium was developed by DR.C Medical Medicine Co., Ltd. This Silver compound based on titanium oxide is widely used already in Japan in exterior paint or paint for guard rails. The reason why it is kept white is that when sunlight hits, it creates a catalytic effect, breaking down dirt into water and CO2. It washes out the dirt on surfaces, so it has self-cleaning properties. Many Japanese guardrails and building exteriors are kept clean thanks to that.
It is also used in bathroom sinks and toilets. Since this titanium oxide is applied on the surface of Japanese toilets, it decomposes the smell and the dirt protein into CO2 and water, so Japanese toilets are considered hygienic. We applied this technique to towels.
We coat the surface of the fiber, so it is not visible. We created a technique that even if it is applied, you cannot tell the difference between it and an ordinary towel. Fibers often have sweat and dirt, which are unsanitary proteins. It needs to be retained for a few hours until it decomposes into CO2 and water. For example, this unsanitary protein is left on the surface for two or three hours and eventually, it is decomposed, and the smell is mitigated.
What is unique about it is that Hydro Silver Titanium continuously decomposes the source of smells or other proteins, which means you do not need to wash the towel often because unsanitary protein and the source of smells are constantly being decomposed so you do not smell that much. Pillow covers are also made with the Hydro Silver Titanium technique. That is the technology that we have.
Asian skin heavily differs from European or American skin. In Asia, due to a thicker dermis, it ages slower, but a thicker stratum corneum means it also scars a lot more easily and is more sensitive as a result. How do you ensure that your towel and clothing products are suitable to suit different skin types?
We are focused on the Asian market, and there is a reason. First of all, the lifestyle is different from Europeans. Asians, including Japanese, prefer soft towels whereas Westerners prefer thicker, hotel-type towels. The reason is, of course, the difference in skin and lifestyles, but also different water. Western countries have hard water, whereas Japan has soft. If you use Western hard water to wash a Japanese soft towel, it would be destroyed.
In Japan, there is high temperature with high humidity, so if the towel is thick, it will not dry, so people prefer thin and soft towels, and in Japan, we hang it to dry in sunlight or machine tumblers. Furthermore, the voltage is different, 200 and 110. There is a big difference in the culture and lifestyle. In Europe, it is washed with hard water and even though the towel may be thick, they use a 240-volt tumbler, so it dries. However, in Japan, with the humidity, and only 110 volts, this type of thick towel does not dry, so soft and thin ones are preferred. That is why we are only focusing on the Asian market with towels, and we want to be number one in Asia.
After conducting repeated research and experiments, while also utilizing the highest quality cotton, you created the Towel Think Lab, which is, as you put it, the 'ultimate towel'. Can you share with us some of the experiments and the research that you conducted, and what your findings were? What makes the Towel Think Lab the ultimate towel?
Fundamentally, this is a fiber. You can see that the towel threads have a lot of fuzz there. We developed our fiber, or yarn, that has less fuzz sticking out of it, and it requires less twisting. 10 years ago, we developed this yarn, and not many companies use this type of yarn for towels because it is expensive.
Conventionally, when you are making a towel with ordinary fibers since it has much fuzz, you have to apply glue to make it firm, however, with our new type of yarn, we did not need to use any glue. When you add glue, you have to have it at 95 degrees Celsius, but since we are not using glue, we can keep it at 60 degrees. The price of the yarn itself may be higher, but the production cost - since it requires less heat - is cheaper. Also, it reduces carbon dioxide and saves energy, and since it has fewer twists, it absorbs a lot of water. This became a five-star quality manufacturing method that is considered ours, and we acquired a good design award as well as a patent on our production method.
Towel Think Lab was created to brand the product that we had developed. It is like Toyota – first, you make the automotive, and based on experience, you come up with the Lexus. The Towel Think Lab label is like the Lexus. We have an original manufacturing method for the ultimate towel. We use the highest-grade cotton. We use the world's best-known super long fiber type of cotton, like Giza. There are locations in the US, India and others, where we pick the highest quality super long fiber cotton in every area, every region, and we do monozukuri out of it. By combining the highest quality raw materials with our technology, we try to create the ultimate towel. Another good thing about our five-star quality product is that since we do not use glue, it absorbs water from the first. That is the strength of our products, and we promote our products through Towel Think Lab.
We have our retail stores and high-end department stores. We have our direct sales store, where the high-end customers gather. We are similar to Toyota in how we do our branding.
When it comes to the fashion industry, we are seeing firms and brands such as H&M and Zara taking high-end fashion houses' products and reproducing them quickly and cheaply. Today, the fast fashion trend is valued at about 91 billion U.S. dollars, but it does also create a lot of waste. More than 10,000 items from the fast fashion trend go into landfills every five minutes. As a manufacturer of high-quality towels and clothing products, what is your take on fast fashion, and how do you believe it can be made more sustainable?
From the environmental perspective, there is a big loss from the fast fashion industry, but for those who like to enjoy fashion, it is important. I feel the age is changing, however. There is a balance of power, and environmental concern has become prioritized. Zara and H&M originate from Europe, so they must be mindful of the environment, especially in the production phase. However, to conduct their business, they produced quite a lot.
In company management, it is important to balance out the sales with the environment, and there are only a few companies that succeed with that in mind. It is a constant challenge for global apparel and textile manufacturers, and we believe there will be a good opportunity for us.
You discussed having the goal of being the number one in Asia. To achieve that, could you elaborate on your strategy, and are there any countries or regions you have identified for further expansion into?
We want to focus on the areas where we have our factory. First, in China, I said there are 100 direct stores, but China is massive, so we can aim for 1000 or even more. We are working in the Chinese market, and the advantage is that since we have our factory, we can do direct sales more easily. Likewise in Vietnam, the population of Vietnam has increased to around 100 million people, so the market is growing.
Since we have our factory, we want to enlarge our direct sales there and then have a consolidated foundation from which to expand to Thailand and other neighbouring countries. Business-wise, it is efficient to create a market where you have your factory, because factory employees, with their know-how, can do sales, creating a synergistic effect.
Imagine we come back to interview you again in three years: what would you like to have achieved by then?
Difficult question. Going back to your question about sustainable activities, last year, we started to collect used towels. This was initiated 10 years ago when we started to create our five-star quality brand. We wanted to be the eco-friendliest towel company in Japan, and that is one of the initiatives that we have taken, so last spring we were able to collect 352 kilograms worth of towels from department stores. Last fall, we gathered one ton of towels, and at home, usually people use towels and they just bring them to the department stores.
What we do is we cut the used towel and make string, or yarn, out of it, and we use this yarn or ribbon cotton as the horizontal yarn of the towel. This is the ribbon cotton. By starting this project, we received many contacts from other companies, and we are collaborating with famous brands. We use this recycled fiber as horizontal yarn, so we are trying to create a circular value chain, or circular economy, a type of recycling.
Our target for 2025 is to have zero waste from our factories so we can be Asia's number one environmentally friendly towel manufacturer. That is the 2025 target for our company. That is the big target that we currently have.
By taking that new environmental project, we get more talks from the B to B side, and that is helping us to grow as a group. Since last year, we have verbalized what we are doing, so it is more conveyable to people. I think we are the first towel makers to produce such an annual report, and we will continue providing it.
---
Interview conducted by Karune Walker & Sasha Lauture