Japan is an island nation that historically has had to import and refine many raw materials that are the basis of its economy, the third largest in the world. What role is T&K Toka playing in the printing industry? What is the advantage of Japanese manufacturing when it comes to specialized chemicals?
It would be too large a subject for me to speak to the Japanese specialty chemical manufacturing industry in general, so I will state my views from the standpoint of the printing ink manufacturing industry, which is the industry we are entering. As you have pointed out, Japan is not rich in resources for chemical products, so we need to import many raw materials from overseas. Therefore, the cost of printing ink produced in Japan is relatively higher than in resource-producing countries. This disadvantage acts as a general requirement for the survival of Japanese manufacturers, who must provide products that add high value to raw materials to make their business viable.
During the 75 years from our company's foundation until today, we have long competed with domestic manufacturers to improve costs and value in a domestic market, where information is easily exchanged due to the small size of the country, competing inks are easily compared, and required to fulfill the Japanese preference for fine print quality.
As a result, several Japanese printing ink manufacturers have grown into leading global players. This shows that the advantage of Japan's specialty chemical manufacturing industry lies in its location in a market that demands better, and in the industry's survival environment, where it is commonplace to compete with many rival companies to improve value by taking advantage of constraints.
Our role in the printing industry is to provide printing inks that excel in niche applications and specific functions that cannot be satisfied by general-purpose printing inks but are necessary to achieve the printing that customers want.
In the early days of UV printing, while other printing ink manufacturers were reluctant to take aggressive action due to the small market, we focused on satisfying the needs of customers who wanted to increase the utility of UV printing with our UV products.
This effort led to building on the foundation of our current reputation as "UV ink = T&K TOKA." In addition, eliminating powder dusting in sheet-fed printing with conventional inks has been a longstanding issue and dream of the entire industry. In 2014, we launched the world's first conventional sheet-fed powder-free ink, contributed to the printing industry.
---
Saitama head office
---
What would you say is the competitive advantage of Japanese products? Why choose Japanese products instead of Chinese products, among others?
I recognize the competitive advantage of Japanese products are their quality and reliability. Quality is determined by its performance level and stability. The fact that Japanese products have not failed to meet expectations over the years fosters reliability, which is probably why Japanese products are chosen.
As a manufacturer originating in Japan, we are proud that "Made in Japan" is a kind of brand, but we also proudly introduce the products offered by our group companies as "Made by T&K TOKA Group" to customers around the world as a trusted brand superior to "Made in Japan."
Japan is facing certain challenges related to population change. Already, 28% of people are over 65, and by 2060 there are expected to be less than one million Japanese people. For Japanese firms, this means a smaller domestic market to sell products to. How are you reacting to these population changes?
Japan accounted for approximately 65% of our group's total sales in the most recent fiscal year. Japan's declining population poses a potential threat to our group as the domestic market shrinks. However, as I mentioned earlier, our flagship products are not general-purpose printing inks but UV inks for niche applications or specific functions, and therefore I believe that our group's growth is possible even in a shrinking domestic Japanese market as a whole.
First, even in the stagnant domestic market, UV inks continue to grow, and various market surveys indicate that UV inks are expected to continue growing. Although UV inks are a niche product and their usage is small, they have a wide range of applications, including product labels and various types of packaging, and overall demand is increasing due to the growing need for individual packaging for food products. In addition, to further expand the areas where UV inks are used, we are developing products that will further enhance the safety of UV inks as chemical products.
Second, I expect to expand the application of UV ink technology to the field of flexible packaging printing, which is a new area for us, i.e., the creation and growth of the EB ink market. The Japanese market for gravure inks, which are currently used for flexible packaging, is an attractive market with a scale of approximately $600M, and we are developing this market from a long-term perspective.
Since COP 26 climate conference took place last November, all countries are really pushing towards green technologies. If we think about inks, we know that they contain petrochemicals and curing agents to help them dry. We know you are engaged in R&D to use more biomass-based products instead of petrochemicals. Could you expand on what new products or technologies you have developed?
Our green technology initiatives are for combating global warming and environmental pollution.
We are proceeding with the introduction of carbon-neutral city gas and CO₂-free electricity at our business sites in Japan and expect to reduce CO₂ emissions from our manufacturing processes and offices to a level of about 1.3% (about 98.7% reduction) by the end of 2022, compared to FY2020.
UV inks are printing inks that cure and dry instantly upon UV irradiation, and we have developed power-saving high-sensitivity UV inks that can reduce power consumption during UV irradiation to 50% or less compared to conventional UV inks. Besides, we have developed UV ink that uses biomass-derived components instead of petroleum-derived components. We are expanding our lineup to include UV RICE inks that use rice bran oil, which has few applications (most of them are disposed of), as a biomass-derived component. In addition, research and development of biomass UV inks are underway to increase the number of biomass components while maintaining the performance and ease of use of conventional UV inks.
Coronavirus has been devastating for the world economy for a year and a half now. Can you tell us what are some of the mid to long term changes that the coronavirus has accelerated at T&K Toka, and what was the impact of Covid on your company?
Our medium- and long-term changes accelerated by COVID-19 include the acceleration of paperless operations and the increase in non-personal internal and external meetings. While changes in the way we conduct our business have also accelerated, so has the decline in the share of information media printing inks and business form printing inks in our net sales.
The impact of COVID-19 has also been felt on multiple fronts. The most significant impact has been the disruption of the supply chain, which has resulted in delays in the import of raw materials at our company, jeopardizing the continuation of ink production, and a shortage of container vessels and delays in unloading at our US subsidiary, resulting in delays in the receipt of ink and the implementation of extensive shipping restrictions for our customers. In addition, as in many other industries, supply chain disruptions drove up the prices of many raw materials, which had to be passed on to the selling prices of products. At our Chinese subsidiary, lockdowns and other factors delayed the plant construction schedule by more than six months and postponed the start of operations at the facility.
Today inkjet printing is replacing older offset-based printing technologies. UV is one of the most famous types here but there is also the EB (Electron Beam) printing which runs at a much cooler temperature and allows for very thin film substrates or plastic based packaging printing. We know that you have a big share in UV, but can you tell us how you're leveraging that technology to expand in the EB market?
One of the reasons that our UV inks have a certain market share is that we have a comprehensive lineup of products that can respond to each area according to the type of substrate to be printed on and the printing method. In particular, when printing on a substrate other than paper, UV ink design know-how is required to ensure that the UV ink does not peel off from the substrate after printing and to achieve the required ink film characteristics. By providing the market with EB inks that incorporate the knowledge of UV ink design that we have accumulated over the years, including the green technology discussed earlier, we believe that printing using EB curing systems will be possible on a variety of substrates and with a variety of printing methods, thereby contributing to the expansion of the EB market.
---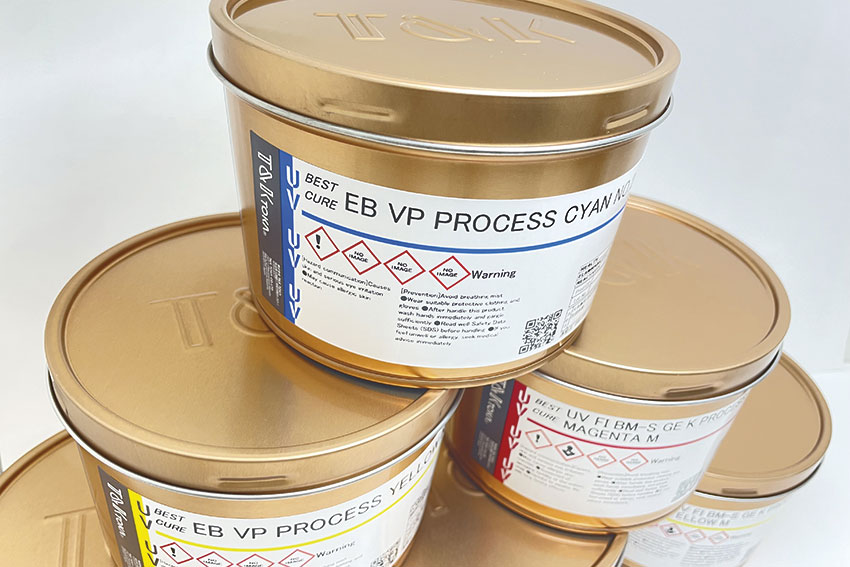 EB ink
---
Are you seeking an international partners to help you unlock new markets overseas, and if so, what type of partner?
We have experience working jointly with foreign partners to develop new overseas markets and have had great success. In 1988, we established a joint venture with Hangzhou, Zhejiang Province, China. This joint venture has grown to become one of China's leading printing ink manufacturers with the No. 1 market share of UV inks in China and a listing on the Shanghai Stock Exchange in 2020.
Our management philosophy is to contribute to society by providing truly good products for our customers through our unique technology. I am widely seeking new partners who share this management philosophy. I would be happy if this interview will be an opportunity to meet a new partner.
You've talked about the need to create products specifically tailored to each region which you're going to - highly functional materials that are specific to that region. Which products are you developing for the different regions?
Global printing machinery manufacturers sell printing machinery to countries around the world, but there are differences in specifications preferred by different regions and countries. Regulations governing the chemical substances used in the design of printing inks also differ from country to country. In addition, there are country-specific differences in the availability of our service systems, differences in climatic conditions, and market price levels. In response to these factors, we are developing printing inks suited to each region and country to provide optimal printing inks for each region and country.
In Japan, we have a comprehensive product lineup and a large number of personnel to respond to customers, so we are working to add value to our commercial, package, and label printing products in accordance with the characteristics of each market.
In Asia, we are working in the same way as in Japan in countries where our group companies are operating, but in countries where we do not have a base but provide products to customers with the help of local distributors, we offer inks that can be used for a wide range of applications and are easy to use, rather than specialized inks. For Europe and North America, we are developing inks that are easy to use while emphasizing green technology.
Your overseas presence began in 1989 when you first expanded into Hong Kong, and more recently you've been in the US since 2018. Looking towards the future, which particular market will you be looking to expand further into, and how would you do that? Would you be interested in M&A's, joint ventures or even your own factories or sales offices?
For overseas markets, I have classified our targets into two groups: one is the Asian region, where the UV ink market is expected to grow significantly in the future, and the other is the North American and European regions, where the UV ink market has already been largely formed.
The theme for the Asian region is the re-growth of UV inks. We intend to achieve growth by strengthening our existing subsidiaries in each country and using these companies as a starting point to strengthen our outreach to peripheral markets. In the Asian region, the recognition of our UV inks is extremely high, and our product brand, UV 161, has become synonymous with UV inks. We are working on the renewal of UV 161 to increase the market share of our UV inks, which is outpacing the market growth rate by leveraging the high recognition.
In the North America and Europe regions, we were able to double our UV ink sales during the last mid-term business plan period, which started in 2018. However, the market share of our products in these regions is still low, and we believe there is considerable room for future expansion. We have begun to introduce some new products for the North American and European markets with a strong awareness of the needs of each region, and we are strengthening our service system while checking the response of our customers.
Of course, I have plans for M&A, joint ventures, and the establishment of factories and sales offices. I will make strategic investments at the most appropriate time and in the most appropriate form, taking into account the social and economic environment, the needs of our customers, and the trends of our competitors.
Are you looking to penetrate the FPD (flat panel display) market in China?
For more than 30 years, we have been developing, manufacturing, and selling UV inks for optical fiber and pigment dispersion liquids (mill base) for color filters, one of the FPD components, as precision dispersion products that deploy pigment dispersion technology cultivated in the printing ink business.
As the center of the FPD industry has shifted from Japan to Korea/Taiwan and China, we established a new company in Zhejiang Province, China in 2018 for the purpose of developing, manufacturing, and selling pigment dispersion liquids (mill base) for color filters, and started the production in July 2022. COVID- 19 delayed the start of operations by about 18 months from the original plan, but we are very excited about the contribution to our business in the future.
Let's say we come back to interview you again in five years' time. What would you like to tell us about your goals and dreams for the company in that timeframe, and what would you like to have achieved by then?
I cannot reveal our strategy now, but in five years we will have introduced a new generation of UV inks that will be completely different in design concept from what we have today. In addition, EB printing will be much more practical, and its presence will be incomparable to what it is today.
Five years from now, I hope that our company will be able to meet our 2030 vision of "becoming a global company that is trusted by society, where individuals and organizations grow together."