In the last few decades, we have seen regional manufacturers competing with Japanese brands and products, thanks to economies of scale and a cheaper labor force, pushing Japanese makers out of certain mass production markets. Nevertheless, when we look at specific niche B2B applications that are often characterized by high mix-low volume production, we see that Japanese firms have maintained leadership in technology and market shares around the world. How can Japanese companies compete in the global marketplace today, in spite of this tough price competition?
In terms of the overall picture, when you look at the history of the manufacturing industry globally you can see that there has been this westward push. Things first began being manufactured in the US, especially things such as refrigerators and televisions, and then slowly those US products were replaced by the Japanese ones, thus Japanese manufacturers grew into market leaders in home appliances and electrical components. Now we have seen this shift even further to Korea and China, while in the meantime the US has shifted gears completely. We see that the regions that are dominant in an industry change with the times, and now Japan is in this pivotal position where it must shift gears and change its direction.
I believe that our company is in the stage of warming up to become more international. In order to really expand we chose Vietnam as an initial jumping-off point and a place we can really begin to flex our muscles and become a global firm. Together with Indonesia, we are really strengthening our recruitment from the region. Up until now we have been all about making things for Japan, but slowly Japan has reached a crucial point in which it needs to shift this mentality. In order to take Japanese companies to the next level, we need to really begin to further penetrate international markets and hire international staff to generate new ideas. I believe that Japanese manufacturing has reached maturity, so companies must find other ways to leverage their potential. I believe that rather than through manufacturing, the next level will be achieved through the minds and brain power of these companies.
When it comes to the core elements of the industry we are in, it really comes down to your company's strength in design and assembly manufacturing. Of course, on-site installation is equally crucial. When you are working on the scale we are working at, we believe that we have so much potential and room to grow. Our company is not working at the level of mass production, and we are not working within industry standards and a mainstream level. Our company provides control panels for buildings and their complex air conditioning systems or factories. We are not providing control panels for standard requirements of factories and buildings, rather we are providing solutions for complex and very specific large buildings, so the control systems we are able to design are very very niche. In a sense, this is something that only we can provide, and that is why we see ourselves as having so much potential and room to grow.
Let me give you an example of this. There are specific cooling and heating systems that are designed for the Marunouchi district of Tokyo, and that kind of cooling and heating system is not run by gas, but instead run by a water and oil system. When it comes to being able to roll out that kind of system that keeps in line the usage of water and oil to conserve energy and be efficient, the only company that can provide such hardware happens to be our company. What I want to share in a sense is that, while there are such companies that really stand out and have done the cover of Newsweek magazine, there are other companies that really work behind the scenes and our company is one of them.
Actually, our company started out as a manufacturing firm, and I started working at the company 25 years ago. It is a family-owned company that my father started, and this is our 56th anniversary. In fact, the company was established when I was only one year old.
Twenty-five years ago, when I joined the company, we were only manufacturing the different components required for control panels, basically, we were only dealing with manufacturing. Ideas were being thrown out in terms of the future of the business and how to expand. Many people were still under the impression that the best way to expand would be to really continue to sell our product of control panels and continue down the manufacturing route. Rather than taking that route, I decided that another way in which we could really expand inside of a niche field and really cater to our clients and meet the needs of that specific clientele. The idea was to become strong in a small market and become the dominant player in a small ocean. Through that, we would always be able to sustain ourselves and the business. So the expansion moved away from only manufacturing to also being able to provide all sorts of other services such as software design, local installation, and maintenance. It is through this sort of integrated services that we have been able to sustain ourselves in recent decades, despite various economic crashes and cataclysmic world events. We actually haven't felt a hit in our sales and been able to maintain salaries for our staff as well as provide bonuses.
Your company caught our attention because of this integration providing software development, hardware wiring, installation, and maintenance. This is especially relevant because we know that the automatic control panel industry is quite a fragmented market where tasks are usually separated between companies, however, your company offers a complete package to clientele. Why did you decide to be so integrated, and can you run us through the history of this integration?
To answer the first part of your question, we were just thinking about what would be the best for the clients. When it comes to the clients, it would be so much easier for them if they had to provide just one order sheet. If we can take all those little details off the client's hands that would actually be to their benefit.
As far as the key moments that led to our integration of many services, it feels sometimes almost like God came down and spoke to me. It really feels serendipitous because around the time that I decided to make this shift, I was predicting that this process may take ten years to do. The idea was to start with integrating the design phases, complete that, and the final step would be to integrate maintenance. Just as we were beginning to see how we could begin to design hardware and software, there was a technician who had a wealth of experience when it came to large-scale plant systems and factory systems. I myself was on the maintenance side of things, but in order to really run the company as president, I wasn't able to both run the maintenance side of things as well as manage the company. I was able to call on somebody who I really trusted on the maintenance side of things. After just one call, they were willing to join us and take care of that sector. Within a short eight-year period we were able to have a solid, large-scale framework in place, and a solid foundation for profit. Since we established this foundation, our sales haven't dipped. The reason for that is because our biggest client is Azbil Corporation, and when it comes to building air conditioning control systems, they actually hold 80% shares in the market, and so by being able to supply them we are able to solidify this very consistent revenue source that hasn't changed for years.
As this work with Azbil has served as a solid foundation for us, we were really able to expand our applications and diversify our portfolio from not only providing control panels for air conditioners but for factories and other buildings too. We have also diversified into more high-voltage sectors and what we are doing in those industries is providing the inspection services needed. Inspections are done on a monthly and annual basis, and they always require certain components to be changed. Through that, we have established another steady arm that provides consistent revenue.
---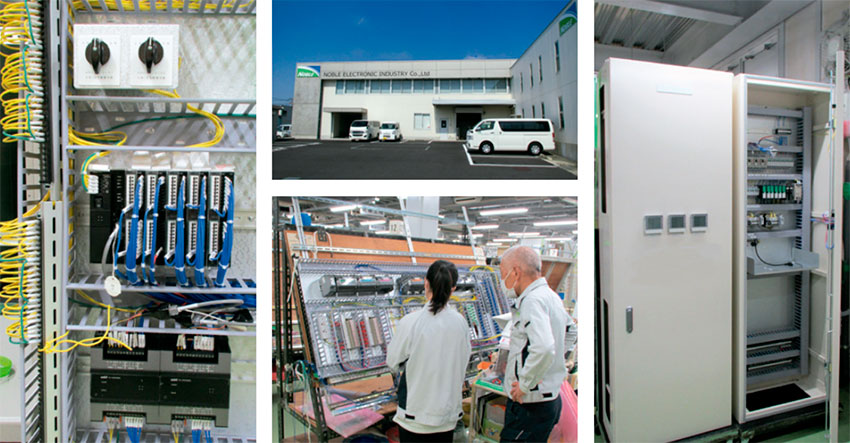 Manufacturing factory of control panels for building HVAC
---
We saw that historically your company created these automated control panels, mainly for the heating, ventilation, and air conditioning (HVAC) sector. In recent times you have invested in new applications including factory automation, and as you mentioned, inspection services for electric and power companies. Why did you decide to expand into factory automation and electrical inspections?
When it comes to power supply, and that field, in Japan, it is actually quite fragmented. Those working on high-voltage supplies are completely different companies than those working on low-voltage supplies. There is almost this thick barrier between the companies that do one and the companies that do the other. This isn't servicing the clients, and for them it is more work to contract those companies and sort out all of the different technical elements involved in bending, cutting, and designing the blueprints for the layout and having to connect that all to the main grid. Again, it was more about how we can make this process easier and more convenient for our clients. If we were able to provide the whole package, from low voltage to high, things would be streamlined considerably.
With COVID-19 a lot of these SMEs have taken a hit, and with that, there have been more requests and demands for our company to step in and provide these kinds of services. In a sense, the pandemic has provided opportunities for us and our business is actually doing well.
Looking towards the future, are there any other applications that you foresee or that you believe your company has a shot at?
Actually, when it comes to the field of electricity and power cables, I think we already have that under our belt, so for me, the next field I really want to expand into is overseas. We have our business in Vietnam, but things are only really beginning. We need to see how our technology and services can actually be applicable when it comes to the world stage. In Vietnam for example, they do things completely differently than here in Japan. It isn't about taking the Japanese culture and fitting it there, but rather being able to fit the local needs and the local demands. Understanding their culture and providing technology and services that fit them. I am very interested in seeing how we can expand internationally, not only in Southeast Asia but also in the US, Europe, Africa, and even Australia. Fortunately, I have contacts and friends in these areas and so I am really looking to see how we can go global.
Japan is widely publicized as having a declining population since 2011, and of course, it is aging rapidly as well. We know since 2015 you have been accepting technical interns from countries such as Vietnam, can you tell us what advantages foreign interns bring to your firm, especially as you look to expand your Vietnamese operation? What kind of profile of international intern are you looking to join your company?
When Japanese people encounter foreigners they automatically have some impression in their mind; sort of preconceived notions, and I was the same. Luckily, I have had the opportunity to travel to different countries through my business and have visited not only the US but also many Mediterranean and Southeast Asian countries. I think I came to understand that Japan as an island nation doesn't have any countries around them. Japanese people don't understand what it is like to be in a culture that is landlocked and to have a border with another country. The way Japanese people think is very rare in the world we live in. In order to help the Japanese in our company overcome this allergic reaction they have toward foreigners, we started this technical internship program. We really want them to feel closer and have a form of affinity with the outside world. The next step from there is to recruit foreign staff from Vietnam and Indonesia since we have offices in the region. The goal is to really have the Japanese staff interact with them on this sort of equal status and to create a better relationship and mutual level of understanding. Doing this will really create more resilience for dealing with any situation and have a better way of connecting and communicating with people from overseas.
The whole process is quite interesting. First of all, we had a number of Vietnamese come on a five-year working visa to Japan, and the idea was that after that five years they would return to Vietnam and join the Vietnamese operations of our business, solidifying the business there through the five years of technical training they received in Japan. Some were shocked that the salaries of those people went down when returning, and obviously, I should have seen this happening, as we have to adjust salaries based on localities. Those individuals ended up quitting and finding ways to return to Japan to work for other companies, where they could maintain that higher level of salary. It is only natural that this would happen, but for us, it was quite the shock at the time. The whole point of the training was to be able to multiply the technicians we have and the level of their expertise. Obviously, they need to keep certain standards and retain realistic rates.
This plan seemed to be at a dead end, but after the spread of COVID-19 has settled down, we will invite Vietnamese engineers to Japan as long-term training business trips for half a year or one year, and work together with Japanese engineers. I would like to work together to improve technology and exchange personnel.
You've mentioned that looking toward the future you would like to expand past Southeast Asia to markets like North America, Europe, or Africa. Within that expansion strategy are you looking for partners, and if so, what type of partners are you looking for?
From working in the building sector, and providing control panel systems for buildings, the best way in which we do business is to partner with companies that have a solid share in the market. For example, Azbil has 40% of the Indonesian market, with Siemens at 30% and Honeywell at 30%. That is why it makes sense to work with Azbil and working with a company that has a solid foothold is the way to go for us. Singapore would be a really good option for us in terms of taxation and creating a hub might be the best way to go. From that we would really be able to expand our business throughout the region and that is the strategy we have in mind right now.
If we were to come back and have this interview again in 4 years' time, what would you like to have achieved by then? What goals or dreams would you like to have accomplished?
One aspect I am really putting a lot of effort into is the technical training and educational aspect of our business. To continue that and ensure that our core technology is able to expand and bring joy and happiness to as many clients as possible is my dream for the company. Right now, our profits are at around JPY 1.5 billion, and we are looking to expand that to JPY 2 billion in the next four years.