In the last 25 to 30 years, Japan has seen the rise of regional manufacturing competitors that have replicated the Japanese monozukuri processes by taking advantage of cheaper labor costs, pushing Japan out of mass production markets. However, Japanese firms are still leaders when it comes to quality-sensitive products. How have Japanese firms been able to maintain leadership despite the stiff price competition?
I am not 100% sure if Japanese monozukuri or manufacturing companies remain leaders globally. Taiwanese firms are leading in manufacturing semiconductors, which are very valuable devices and products, and Korea has claimed some shares in that industry. I think Japan was successful in the design, but those countries made the bold move of heavily investing in cutting-edge semiconductor manufacturing equipment. Japan has not maintained the same level of performance as it had attained 20 to 30 years ago, and it lost its leading position in the semiconductor industry as well as in other sectors and industries in Japan.
Japan maintaining its high position in quality sensitivity has some good and bad sides. Japanese companies tend to over-engineer or over-spec, which I have found to be the case in Pioneer too. That happens because manufacturing companies or engineers are committed to satisfying their own aspirations and spirit, and they get overly excited about developing products they predict to sell very well while not communicating with those in the marketing or sales departments. One of the reasons why Japanese manufacturing companies are losing their share is their failure to listen to their customers. Things could change if we begin listening to our customers. Businesses like restaurants or hotels display quality and passion for service as well as listening well to their customers, which are some points that are difficult to find in other countries. I think the opportunity for Japan's economy, in general, of finding how to monetize and price those values and qualities for the recipients of such services and products was finally forced by the inflation of prices.
Monozukuri sectors, specifically, have a huge opportunity to improve, but I do not think that we are doing a good job. Some companies recognize the need to change and start to listen to their customers and look at their competitors outside Japan, which are the basic things we learn from business schools or marketing and sales.
Pioneer is evolving from being an audio equipment maker to a solution provider for mobility by integrating AI. Why do you think the company needed to evolve in that new direction? Since you took leadership, what are some of the core changes that you brought to Pioneer?
I believed that if we did not choose to pursue the evolution of our business, the value of our company would only continue to plummet. I did not want that. Hardware is not bad, rather it is important. We need to design, produce and deliver high-quality products that people can use, such as iPhones and iPads, which are nicely designed, high-quality products though not necessarily cutting-edge technology. Since these are considered good products from the users' perspective, we stick to using those products.
I wanted the company to shift from just making hardware products or monozukuri in two respects. The first is producing and keeping the machine running. The other is the true meaning of monozukuri, which is listening to the people and coming up with a low-cost but high-performance design that is standardized. Furthermore, we are pushing the services and value to our customers or users, which we sometimes call solutions, like software as a service (SaaS), including non-software or hardware. It is simpler and faster for many start-up service providers online to get their business going. As soon as they design a smartphone application, they can immediately launch it. On the contrary, hardware requires a longer lead time in launching a product because it involves design and production. Since we have been doing this for a long time, we take pride in our high-quality design & manufacturing, delivery and after-sales services. We found out that we have the tendency to launch great new products through the major auto accessory retail chains, such as AUTOBACS and Yellow Hat. However, after that, we do not know who bought our products, why they purchased our products or how they use our products. These devices are truly precious ones containing sensors that can produce data that can be utilized for future solutions, like AI prediction. We want to change our business model. We know how to make these devices, but we want to differentiate them from others and optimize their value.
Our next step is to determine what data we want to collect from the devices and identify the pains of our customers - whether consumers, individuals or businesspeople in the industry, by listening to them. Based on the variety of pains or needs that have to be fixed, we can redesign more devices, infotainment systems & data collection, analyze the data and provide data or services so that customers are willing to pay for them. That also makes sense from the perspective of our company's values. Many startups or IT companies say that they can solve their users' pain, but how did they collect the data? They collected the data from someone else, and that is the control we have at our disposal. We sell millions of units directly to consumers or automotive OEM customers, from which we gather tons of data every day. That is the difference. It can be said that this is IoT in our terms that will be the key segment.
Driving, in general, can sometimes be very stressful and negative emotions can be amplified, which leads to poor decision-making and, in turn, could lead to serious car accidents. Piomatix helps ease drivers' stress and it is incorporated into many different products that you have developed, such as the Vehicle Assist system. What are some of the key features of the driving experience that Piomatix is looking to enhance?
Piomatix is our brand name for the new platform of technology assets. We already had some of the core technology assets that we have been enhancing, however in order to build Piomatix, we hired software engineers or acquired assets to compensate for the missing pieces. NP1 is the first product that we have embedded with Piomatix, and the second and third products are under development. One core asset of Piomatix is navigation routing, which is our core technology. Our car navigation products are selling well in Japan. The market is not increasing due to Google Map or other similar software, but it is not dwindling either. My friends asked why I chose to join Pioneer and work on car navigation. They thought it was not exciting. I considered that a good question that I wanted to challenge.
---

---
I found that Japanese roads are very different from other countries because it is hard to articulate the point or desired destination on the map. For example, there would be east or west gates if the address is a large distribution center. Also, a driver cannot make a left turn on a major road to get to where he intends to go, so he will have to take another turn. Despite those unique aspects of the roads in Japan, we have that data and know-how for our users. Car navigation devices are not only telling the driver the route, but its collecting various data and uploading them to the cloud. If the data shows many people slowing down at a particular intersection, there must be something wrong. A warning could be given to people approaching the intersection. Prediction is one of the key values when drivers are stressed, especially the elderly or even those who seldom drive, like housewives or younger people without their own cars. Those people have this pain, but we can provide a stress-free driving experience for them where they can focus on the road ahead instead of looking at the display. They will not need to manipulate the screen because they can simply talk to the device. NP1 tells its users the directions clearly - turn right on the third light, which I do not think Google Maps can do. It is very easy and less stressful. Routing engine is our core.
We are very green-conscious too. Our 'Piomatix for Green' is a specific technology, or algorithm, that we have filed a patent for car navigation systems. It estimates how far a car can go with a specific amount of fuel left. It looks like an amoeba on the map. In fact, EV users are more sensitive about knowing where the charging stations are because they do not want to run out of electricity in the middle of nowhere. We will be able to make information available about not only the locations of charging stations, but also whether they are open, need reservations, are occupied or how fast they are. By partnering with third-party providers, we can assist EV users who are concerned about whether they can reach their destination without charging. NP1 or Piomatix will suggest to the driver where to stop. In the future, if the data is available, we can make reservations for an EV spot or suggest interesting places or must-visit local restaurants to our users. The contents comes from one of our partners, JTB, or companies that are similar to OpenTables or Yelp in Japan. By connecting the data via cloud, we can just be as creative as you can imagine.
---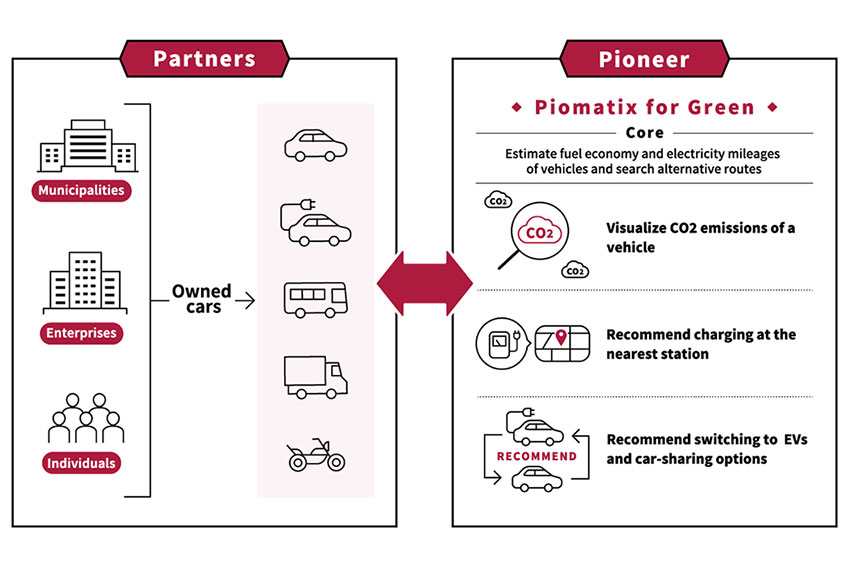 Piomatix for Green
---
How will you gather such very localized information and data in Japan or in the United States?
We can gather the data from companies such as JTB who want to monetize their assets or information. By partnering with them, we can become the extra source for their incremental sales. That would be a win-win partnership.
Within the next 10 years, how do you believe digital technologies and AI will impact the driving experience?
I think NP1 is already giving more flexibility to its users by offering features that have not been seen before. We sometimes call it Knight Rider, which was derived from a show that features an artificially intelligent car that communicates with a detective. For example, Mercedes-Benz EQS is an advanced smart car with great infotainment systems, but it also means you have to pay. The catch of our Piomatix or NP1 is it allows users to have an advanced smart car regardless of how old their vehicles are. That is its beauty.
The technology for autonomous driving already exists like Tesla, but I think it will take time because legal systems are unique to each country and people's cultures and perceptions vary.
What are your plans for the NP1 going forward as your newest business model?
Partnering with third-party service providers is an enormous opportunity and we only need to be as creative as possible. My partner team can find a service provider to address whatever pain or wish a driver using NP1 has and just connect them through the cloud. It is not yet commercialized, and we are still in the discussion and development stage. Nevertheless, I believe it will come. It may cost more than we initially expect, but all data comes so quickly. We want to take the lead in creating or showing the future vision for the cloud, AI and driving partner type of products. The next products after NP1 could be some other mobility products such as for motorcycles, kickboards or boats.
Pioneer entered into a partnership with an American firm, Cerence Inc., just last year in 2021, with the purpose of developing conversational AI infotainment solutions. Are you looking for similar partnerships in overseas markets?
We are open to seeking new partnerships, which was not necessarily the case for Pioneer before because we took great pride in developing new products by ourselves. SaaS products need to be quickly launched and tested. We must listen to the voice of our customers after they use our products so that we can fine-tune them. It is a very high cycle, but that is the SaaS model principle. It differs from hardware manufacturing companies that require a long time for processing and serious development in order to perfect the product as it goes out to the market. Once it has been launched to the market, it can no longer be fixed.
---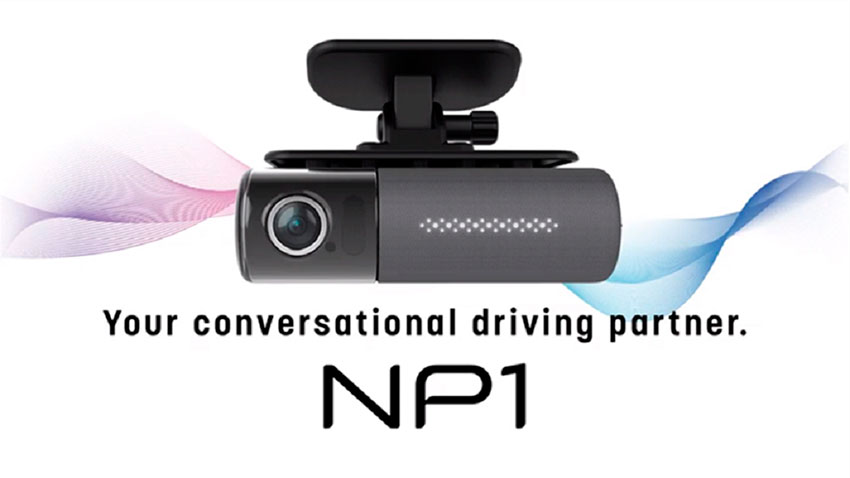 ---
In our interviews with companies that provide mobility solutions, especially through digital technologies, one of their key concerns is security and privacy. You deal with people's personal data and behavior, and because everything is connected, there can be security threats from hackers or ill-intentioned parties who can disconnect the whole system. With your universal system, how do you deal with these security and privacy concerns?
We are greatly concerned with managing security and privacy. In the products we sell, the data we send does not come with privacy. It is only the unit numbers, so we can avoid that. Any industry or company can be faced with the risk of cyberattack and the cloud system where the customers' data from subsequent charging is stored can be compromised. Also our systems are not connected with the safety controls of a vehicle such as breaking or acceleration.
In 2021, you have launched the SaaS Technology Center, which supports Pioneer's transformation from a manufacturer to a provider of products, services and solutions. How do you expect it to bolster your R&D capabilities?
I did not want to give you the wrong impression that we had been focusing on OEM and hardware services. That is partly true because we have a strong aftermarket, which used to be only the hardware. We are shifting that by putting hardware and SaaS services together. NP1 can be included in that category. Vehicle Assist is a SaaS product with hardware for businesses and enterprises instead of consumers. We may have four different types. Aftermarket is very important to us, including speakers and audio-related products.
We have many software engineers who are working to develop products. Although our legacy products require a lot of firmware/software engineers to develop, it has given us one-time revenues only. SaaS-type products like NP1 and Vehicle Assist can be updated as needed, so different kinds of software engineers are required. Hence, I hired an experienced leader from a SaaS company who used to be the CTO of Mobility Technologies (ex-Japan Taxi). With him, we developed a team with a combination of some of our employees and outsourced engineers including data scientists. We have about 300 people right now. Although we do not aim to double that number immediately, we want to have more software engineers to boost our new product development.
---
---
In the next 15 years, 1 in 3 Japanese people will be over the age of 65, presenting two major challenges for firms. First is that there is a smaller pool of talented young graduates to replace more seasoned workers and pass on their knowledge to the next generation of workers, creating a labor crisis. The second concern is the shrinking domestic market. What are some of the challenges and opportunities Japan's demographic shift is presenting for Pioneer Corporation?
Software developers do not have to be Japanese. If we have strong leaders and bilingual CTOs, we can create software engineering centers in India, Israel, the US or practically anywhere. Mr. Sanjay Dhawan, our new Chairman, who has been doing that for many years, has countless tips and access to that. The shrinking market of Japan is a challenge because new car sales are going down. More than 50% of our revenue, mostly hardware, comes from outside Japan. If we launch the NP1 and SaaS products outside Japan, the share will change. I do not worry too much. Pioneer's advantage is its strong brand and a solid distribution network globally. We sell products almost everywhere in the world. That is our unique point that IT start-up companies do not have. They approach us to leverage our strong brand and distribution network, which sometimes requires hardware devices.
Why do you think Mr. Sanjay Dhawan, the new chairperson who you invited at the end of June this year, is such a great fit for the strategy?
We partnered with Cerence when he was the CEO almost a year ago. Since then, we have had a lot of discussions. We found that he has extensive knowledge in the industry, not only automotive, but also software, cloud and AI in particular. He is now running Symphony AI Systems as CEO, which does not have an automotive business. Through his experience at Cerence and Harman, he has a strong network and knowledge on the automotive field. Today, our customer base, including OEM, is mostly Japanese, so we want to expand our customer base. Also, I expect him to give us strategic guidance, especially in SaaS products for the automotive sector.
Moving forward, which countries or regions are you targeting for growth as part of your midterm strategy, and what other strategies will you employ to strengthen your international business?
We are still discussing and redefining our strategy. Cars run everywhere, but there are variants. Our products or services can be provided to industrial companies in the US or Europe and other developing companies with relatively old cars. Personally, I think we can provide value to those countries. NP1 can turn any vehicle into a smart car, but the cost may be too high for developing nations. We are working very hard to dramatically lower the cost of such products. Perhaps we can customize the hardware and software to satisfy specific developing countries in the future. The big motorcycle market is not always in industrialized or advanced nations. I would not specify a country because we are open.
Imagine we come back on your last day as president to have this interview again. What are some of the objectives or goals that you would like to have achieved by then?
On the day I decided to get this job, the company was struggling financially. However, there was a private equity who believed that Pioneer can be turned around with someone as a leader, should I be that someone or somebody else. Still, I wanted to be that person to fulfill that goal of turning the company around. Pioneer is a very well-known brand, at least for those who are older. People have a positive image of Pioneer, but they also know that it has been struggling for the past decade. When I talked to the employees, I found out that they love Pioneer to a great extent, so I wanted to make them proud of the company again. Suppose I successfully turn this globally famous Japanese top-brand company around while making the customers and employees happy. This will be a good case for a successful turnaround of a Japanese electronics company which had been struggling to change for a long time.