What does monozukuri mean to you and what do you believe to be the strengths of your firm that allow you to compete in the global marketplace?
The fundamental idea of monozukuri is very important to me. When I was a student in New York, I studied the steel industry in the United States and Canada. At that time I felt that the steel industry was critical for infrastructure. I got my doctorate degree and then I started to see the steel industry peaking, and then begin to decline. As you know in Japan there is also a decline in the steel industry.
I built up a big technical center beside our plant and concentrated on the new business. I survived for over 50 years and now you see we are developing new technologies and new materials. Not being content with only manufacturing is an important fundamental idea. For me to see the development of new products at my age, it's all very interesting. I am already 86 years old and in August I will turn 87.
Mr. Ushigome, you mentioned that despite your age, you're coming to work every day, which in itself is remarkable. Could you run us through some of what you feel are the most important moments in TYK's development?
Before establishing TYK, Tokyo Yogyo was a very small private company which produced graphite powder. This graphite powder is used in the steel and refractory industry. Through this business, we studied the steel and refractory industry and finally were able to produce our own refractories. From here we moved into clay mining. Using the clay we mined, we produced bricks. Obviously, these are markets that we couldn't continue forever and thus we have diversified over the years. We have since moved into newer technological markets, such as metal matrix composites, secondary refining, and other nonmetallic mineral product manufacturing. A big change is needed, otherwise, we cannot continue to exist. You could say that I've been to hell and back in this company.
Can you tell us more about the challenges and opportunities that Japan's aging demographic poses for TYK?
I believe the Japanese government has been misleading with the fundamental and essential issues of labor availability the decline is domestic productivity. I also believe the acceleration of immigration of excellent foreigners is required. It is my view that advanced countries including Japan fall into periods of decline after enjoying a period of maturity. Therefore, it becomes important to incentivize the immigration of people from developing countries, as well as to promote globalization by making overseas bases and recruiting skilled migrant workers. Furthermore, some of these migrant workers will work in Japan once they understand the company's management policy and culture. We also want to recruit overseas students studying in Japan who are interested in the culture of Japan. We have to focus on finding excellent talent, not only just here in Japan but overseas.
Japan was closed for hundreds of years and has previously had strict immigration policies. Obviously, nowadays it is much more open, however, Japanese people can be a little apprehensive about immigration and can be scared of foreigners. How do you propose to change this mindset?
Social development is becoming a big problem. Many people from many countries come to Japan. People from China, and India for example, and regulations in Japan can sometimes make that difficult. I personally would like to hire skilled Korean workers, but right now it isn't easy. We have tried to establish educational exchanges to expedite the flow of skilled foreign workers into our company.
Of course, it takes time to overcome this. We have dedicated 30-40 years to all kinds of solutions, nothing is impossible. It is an achievable goal for Japanese firms. There is no challenge too big, as long as you take a careful and considered approach.
What are some new applications or areas you've been able to cater to through this concentrated effort into research and development?
We've made some headway in the iron & steel industry, and have pushed for products to contribute toward carbon neutrality. One example is the multi-hole plugs that are applied to the bottom of an electric arc furnace. The usage of bottom purging plugs is nowadays a standard application for the oxygen steel-making process, but often the increased wear of the plug or an insufficient purging rate leads to an early stop of usage. With the Jumbo-MHP we developed a plug which eliminates exactly these weaknesses.
---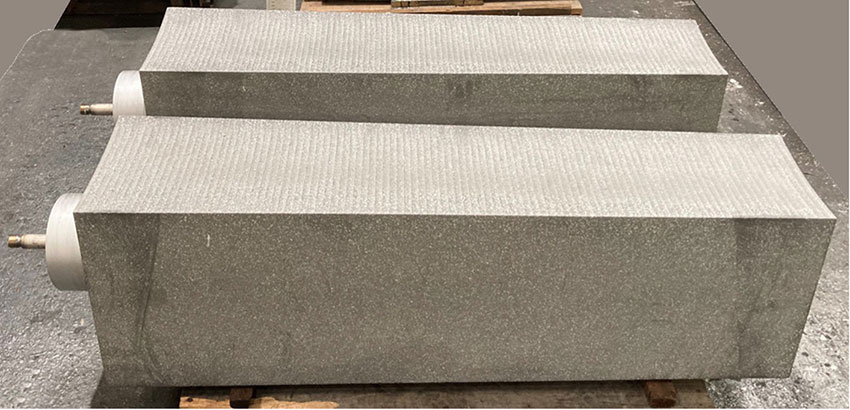 Jumbo-MHP
---
We also have lines of precast products, such as precast bricks and unfired high-quality bricks. Additionally, we have advanced materials like fine ceramics, hydrogen sensors for measuring atmosphere H2 levels in a furnace, advanced ceramics products applied for renewable energy, zirconia setters for electronic components and products for the semiconductor fields. We are also proud of our products relating to EVs and Lithium-Ion batteries.

Can you explain to us how your technologies and materials can better contribute to the sustainable production of steel?
For us, this crisis presents a big chance. Every piece of equipment producing iron and steel requires periodic furnace relining or bricklaying. Occasionally operation conditions in these furnaces can become extremely harsh; they are too hot and too hard to work in. In Japan, maintenance of bricklayers has become critical because the number of bricklayers is decreasing, and most young people don't see it as a desirable career. Adding onto that is the fact that the age of bricklayers is ever increasing, in fact sometimes over the ages of 60. Without bricklayers, our customers cannot maintain their equipment. TYK provides large precast blocks instead of conventional bricks or castables. When our customers use our large precast blocks they can enjoy the benefits of only having to repair areas that have been damaged. This means they don't need to stop using a refractory whilst repairs are conducted. Additionally, our precast blocks reduce the burden on bricklayers, reduce construction time and reduce energy costs because TYK precast blocks do not need to be preheated at the site.
Can you tell us about your MOREX line of crucibles? Were they designed with the international market in mind, or is this something you're designing for the Japanese market?
---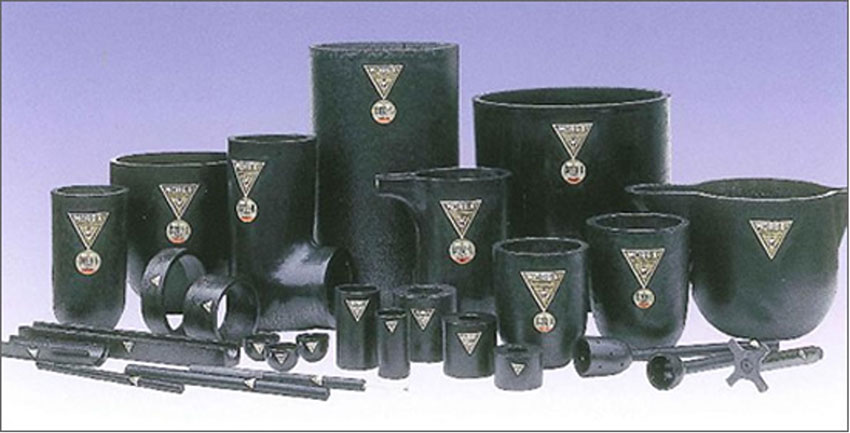 MOREX Line
---
The MOREX line's main features are its uniform and constant quality, high physical strength and very good crack resistance, low porosity for a good erosion and oxidation resistance and high thermal conductivity for short melting times and energy savings.
Our MOREX line is designed for the global market, however, we are very cautious about China. Obviously, there is a huge market there and a lot of potential, but there are obvious reasons to be a little apprehensive.
Looking internationally, we know that your company has offices in Europe, America and Asia. What markets or regions do you think have the highest potential for growth in the future?
We see growth in Southeast Asia and want to go to countries such as Vietnam. We also see a lot of growth in India. The United States is a very charming market and we've been there since 1977. Right now we have six branches in the United States, and four in Canada. The United States brings back many memories for me. I studied for my MBA in America. North America for us is still the most important international market.
When you bring your products to overseas markets, do you ever collaborate with local firms for sales, or in a distribution capacity? Are partnerships with overseas companies something that you're interested in?
Crude steel production in advanced countries has been structurally reduced,
However, the iron and steel industry will still be key, especially for developing countries with increasing populations. Globalization is essential to us and it is crucial to find local manufacturing plants. Once we establish the plant, we will expand sales by increasing the kinds of products we offer.
Another development of our international business that is key will be the expansion of our construction works. TYK has been expanding its construction business for various kiln furnaces such as environmental melting furnaces and incinerators. We also design brick linings and supply both refractories and refractory construction.
In the case of refractories, they are a shrinking market, especially for the iron and steel market in advanced countries such as Japan, the US, and Europe. On the other hand when you observe expanding markets such as India, Vietnam and Southeast Asia you can see considerable growth in refractories. China still produces more than 100 million tons of crude steel and has a 53% global market share in terms of production.
When trying to tackle an overseas market it is important to consider many variables. Our first step is to establish local production sites and recruit excellent local staff who are able to sell TYK products directly to our customers. We then look to supply products which are suitable for the market in question and respond to customer requirements. We also look to educate local staff so that they can understand the TYK management philosophy. We want to establish what I like to call a cubic relationship with customers. This is a relationship that is top to bottom and every which way, in all directions.
Mr. Ushigome, one day when you eventually leave the company, what legacy would you like to leave behind? What message would you like to share with the new generation of TYK employees?
Our company is incredible, and I am grateful for all the things it has given me. We all only have one life, so we have to make this life worth living. Smile and enjoy it with effort and passion. Expand the circle of joy and gratitude through work.