Japan has been facing a lot of competition from regional competitors in the last 20-30 years. From your point of view, as a manufacturer with the number one market share for noodle maker machines here in Japan, can you give us your take on the advantages of Japanese food processing machinery, especially as it compares to regional competitors in China, Taiwan, or Korea?
We can look at the phenomenon from different angles and perspectives. Of course, there are some companies that are stronger and those that are maybe weaker in every industry, but today we will mostly be talking about the food processing industry, which is the sector that we find our company in. When you talk about the kneading method our machines apply, that is something that is very traditional and very Japanese. Companies here in Japan are not only trying to introduce machinery, but they are also trying to encapsulate the traditional part of Japanese manufacturing itself, especially when you are talking about the introduction of Japanese traditional cuisine.
---
---
Back in the day, it was very hard, and as you might know, hand kneading is very intense. It is a very specific method of making noodles, and I feel our company has been successful in mechanizing these traditional methods of making noodles. It has had a great effect on the industry, and still to this day, our company has gained a lot of fame and attention for this. I think that also goes on to define Japanese companies as a whole; we all strive to just be capable of putting our best efforts out there in order to create products that are beautiful, functional, and of very high quality.
Japanese cuisine is becoming famous not only here in Japan, but worldwide. Before the pandemic, Japan had more than 30 million tourists visiting annually, and the country was really winning the hearts and minds of international tourists through their stomachs. In terms of cuisine, Japan is now exporting up to JPY 5 trillion worth of goods yearly, and the government wants to increase that five-fold by 2030. As Japanese cuisine continues to get more popular, what changes have you seen from international customers, and how is this government support helping your business as Japanese food culture is exported abroad?
Washoku has been a trademark for Japanese cuisine itself for many consecutive years and 10 years ago UNESCO registered the cuisine itself to their list of world heritage cultures. More and more Japanese restaurants are starting to introduce their unique techniques and recipes to the world. This is attracting a lot of people from overseas to come to Japan and try traditional Japanese cuisine and its essence. As a company that is closely related to the washoku phenomenon, we have been taking advantage of the situation. We have always taken a supportive role to any foreign affiliates who would like to introduce our noodle-making machines to premises and restaurants abroad. We also take a supportive role with Japanese restaurants that are exporting their business overseas and trying to get a foothold in those foreign markets. To answer your question, everything has been positive with the changes and the recognition that Japanese cuisine has been receiving. While it is true that because of the COVID-19 pandemic things have slowed down, we are looking optimistically at a bright future for Japanese cuisine once the pandemic clears.
Your company is an SME, but you are also educating people and businesses. You are not only selling machines, but you are also selling the know-how on how to make noodles. For over 46 years now you've had a noodle school that is colloquially known as the noodle Mecca, with over 50,000 graduates from the school. Recently you set up a school in Korea, and you have been conducting workshops in places such as Toronto, Sydney, and Shanghai. Can you tell us more about the role this combination of education and machinery plays?
Sharing techniques and information that has been gathered over many years is very important to us here at Sanuki Menki. The hardware we sell will not do a good job unless you have the skills and experience necessary to operate it. All the conditions are slightly different for each customer, and it really isn't as simple as just slicing up noodles or pasta.
---
---
You have to have more comprehensive knowledge about the kind of flour used, the proportion of water that needs to be added, and the correct techniques for mixing from the beginning all the way to the end of production. As a result of this, you will have a slightly different product output. Through the noodle school, we are able to bridge this gap and educate people on the correct way to use our machinery and make noodles. Additionally, by sharing information with our graduates we are able to operate the schools in a similar fashion to a research center; meaning we can search for and perform new techniques and recipes that augment traditional Japanese methods. Educational processes themselves are very important for us and enable our company to step up the quality of our products and machinery. This activity has been very fruitful thus far for us.
Of course, over the past 3 years now COVID-19 has had a huge impact on many industries, and in particular, the food industry has been hit hard. In general, people are eating out less at restaurants, and brick-and-mortar operations had been shut down for almost 2 years now. On the other hand, the food industry has adapted to the adoption of takeaway services such as Uber Eats and Grab, which have grown exponentially during the last 3 years. Could you tell us the impact of COVID-19 on your business operations and how have you been able to adapt your business for your customers?
Yes, the pandemic situation has had a very drastic effect on the whole industry, especially for dining services. People were unable to go out and enjoy eating out during the early days of the pandemic. Obviously, a company like ours is not immune and we saw fewer users of our noodle-making machines. We also saw a decrease in usage from already established facilities because of companies downsizing. Those companies were not able to operate at full scale, and the natural effect of COVID-19 came to the surface.
Every cloud has a silver lining though and there are some good things to come out of the pandemic. Frozen ramen and soba noodles became handy to people stuck in lockdown, and thus there was an increased need for frozen noodles. Dried noodles became more popular also, so we did see an uptick in these kinds of clients. However, I would say that even this business saw some downsides, and those negatives come from the initial costs for clients. It requires quite a bit of investment in not only buying the machinery needed to cut the noodles, but also the storage facilities to keep the cold noodles. That initial cost became a very difficult decision to make for some customers of ours. In particular, overseas customers felt it was difficult to make such a decision because there was no guarantee of a return on investment. To put it simply; it was risky.
Additionally, we saw some clients having a hard time receiving governmental incentives to stay afloat during the difficult pandemic times. Gradually these days there is a return to the way things were pre-pandemic, however, we are yet to reach 100% return. In a partial sense, some customers are coming back, and the industry as a whole is rebounding, but this rebounding process unfortunately is a slow one.
We know that you first established Sanuki Menki in 1910 when you were engaged in rice straw processing. Nowadays you style yourself as the number one noodle-making machine manufacturer with more than 23 locations here in Japan and 15 around the world. Could you tell us the story of how Sanuki Menki became the number one noodle machine maker in the world?
I would like to go over just the outline of some of the company's key milestones here because the overall company history is very long and detailed. I am the fourth generation to hold the title of company president, and the company's founding fathers have always struggled and fought to find ways of introducing proper noodle-making machines that reproduce techniques of professionals who know how to make these products by hand.
Being able to automate these processes has become a great achievement for the company and through our machines, we have won the trust of our customers. Not only are we working on that side, but we are also working hand-in-hand with the sales offices and sales affiliates such as convenience stores or frozen food manufacturing companies. For that sake, it has always been very important to have great relationships with such affiliated companies that are using our products to create their own products for sale.
As I mentioned earlier, the machine itself will not work properly without the proper knowledge and skills to operate it. That is why we decided to open up our schools and communicate with customers about how to create solutions that better fit their needs. Japan has a long history of noodle making, and as you are aware, it is a very traditional form of Japanese cuisine. Automated noodle making however is still a controversial topic, with many in the field still feeling that handmade noodles are superior in quality when compared to a machine. This is an image change that is very hard to break, and being successful in breaking this perception is one of the company's greatest achievements. We feel blessed by our success thus far.
---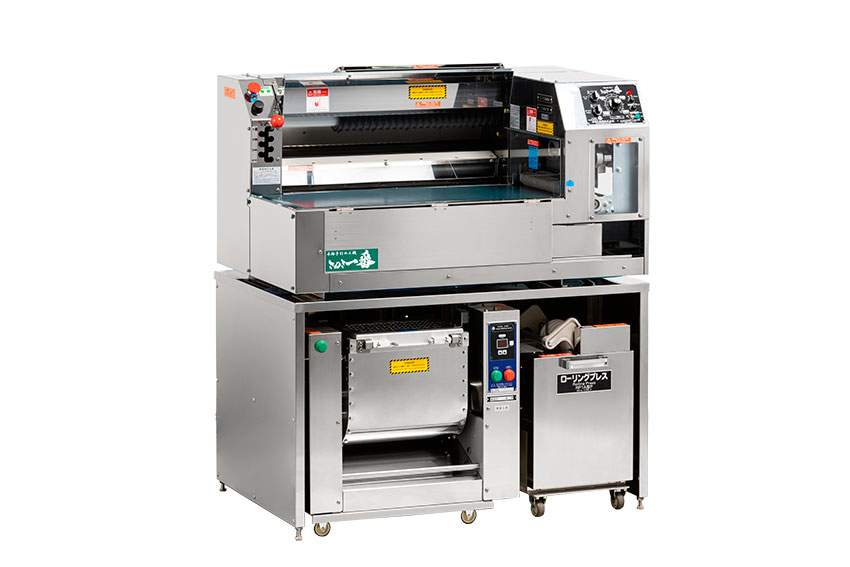 ---
What would you say to restaurant owners overseas still perceive handmade noodles as quintessentially better than handmade automated ones?
From our perspective, hardware and software need to balance. It is very important to mention because mechanizing and optimizing will allow you to have a better kind of balanced manufacturing with flour. That flour inevitably contains gluten. Some of the master chefs out there can be really good at shaping the noodles and have consistency with their form. However, despite that esthetically good form, you also need to ask about the texture and the formation of gluten itself. Is that gluten in the dough balanced? Unless you are very experienced it is difficult to develop and difficult to know. A machine can do this consistently, and as fast as possible. Through our machines, the texture will be as good as a master chef can produce. At the end of the day, this element is what contributes most to the best eating experience possible with noodles.
When you make it by hand, it is difficult to convert that into a business, especially in terms of acquiring overseas customers that want authentic noodles in their own countries. Through automation, we can replicate what a Japanese master chef can do all over the world.
What role does open innovation play in your business? Are you looking for partners overseas that could help you further develop your products?
Our company slogan is actually "noodles of the world," and it is our mission to satisfy people all over the world with our noodles. There are still many corners of the globe that we have yet to reach with our noodles, so we still see many opportunities to introduce our noodles and technologies to those who want to try them. As long as there are people that want to experience authentic Japanese noodles, our company will be there to support that endeavor.
The infrastructure however probably needs to be established because it's not just enough to have noodle manufacturing equipment. Freezing capabilities and distribution centers are needed, and crucially there is a need for someone who can handle the whole chain of distribution and sales inside other countries. We are actually looking keenly at possibly Africa as well as South America, and that is because of the hot climate there. Those countries have a greater need for frozen food as a way of preserving dishes for a longer time. The population is another factor, and obviously, the population in those countries is growing year-on-year.
All things considered, there are still many places that have yet to be introduced to our noodle-making machines, even domestically in Japan. We see a lot of potentials that we can grow into.
Japan's population change is a big issue for many companies domestically as it is set to fall below 100 million by the year 2050. As you look to prioritize your expansion, which particular countries will you be looking to in terms of your mid-term strategy, and how will you go about expansion in those areas?
It is going to be a long process for anyone who is looking to introduce Japanese cuisine to more foreign countries. It is very hard for Japanese companies to step outside the boundaries of Japan, especially when we talk about SMEs. Companies like ourselves are experiencing issues now with the shrinkage of domestic labor, and to be completely truthful, the domestic situation right now is very hard to deal with. In many ways, SMEs like ourselves are being pushed to make a very difficult decision on where to take our business outside of Japan. Even if we were to make a decision on the location for future expansion, the method hasn't been decided upon, whether that be through a local distributor or maybe a sales office. There isn't a fixed strategy right now.
There should be something said about raw materials too, and while it is possible to export techniques and equipment, raw materials themselves are very difficult to export fresh. For that sake when we do export it isn't going to be a one-to-one replication of Japanese cuisine, there needs to be some adaptation due to the quality of ingredients. All of the conditions need to be lined up in order for us to go ahead with foreign expansion.
Right now as you know, we don't have any distributors in Africa or the Middle East. The goal is in the not-so-distant future to have distribution in those locations as we see those areas as untapped markets.
Each prefecture in Japan has its own distinct way of preparing noodles. Udon is very smooth with a firm texture, soba has a lovely aroma, and buckwheat noodles have a very delicate flavor. What is your favorite type of noodle and from which prefecture do you prefer?
It is difficult to say precisely because there are so many top-quality noodle types. In my mind, they are all good. In fact, when we go on business trips around Japan the first thing we do is visit local ramen or soba noodle shops to see for ourselves what types of noodles are served in the prefecture. There are just simply so many noodle types, toppings, and styles that it is impossible to pick just one.
For the industry as a whole right now, there is a tendency towards more health conscience noodles such as gluten-free varieties. Avoiding gluten in general is quite a hot topic and we are seeing this merge into the noodle industry. Basically, we are seeing both the food and the medical industry shift their focus onto ways that we can all live healthy and long lives.
Imagine that we come back and interview you again in 5 years' time. What goals or dreams do you hope to achieve in those 5 years?
To put it simply, I would like to continue to fulfill our company slogan which is "noodles of the world." We would like to fill the stomachs of people all around the world and satisfy those customers with the best quality Japanese cuisine. By introducing our equipment all across the globe we can continue to make delicious and healthy Japanese cuisine accessible to all those that desire to taste noodles made in Japan.
Although we do have financial targets like all companies do, for me personally it is more about the philosophy and the message we send to our customers. The founding fathers stood for the principle of being capable of introducing the best noodles through their machinery and that principle stands tall to this day.
Our company is capable of meeting the expectations and needs of all of our customers through both our roller type machinery and the hand made type machinery. Both types of machines come in many size variations and this enables our company to tailor the solution to the customer. That tailored solution we provide pushes us ahead of our competition as a company that our customers truly value.