In recent decades, Japan has seen the rise of regional manufacturing competitors who have replicated Japanese processes, but taking advantage of cheaper labour costs, pushing Japan out of mass industrial markets. However, we still see may Japanese firms maintain leadership positions in niche B2B fields. How have Japanese firms been able to maintain their leadership despite the steep price competition?
To explain the competitiveness of Japanese companies, we need to look back at history. Japan was strong when it came to assembling products before the arrival of smart phones, in the 1970s and 80s for example. The electronics industry can be divided into assembly companies and parts manufacturing companies. The assembling, which Japan was strong at, was actually outsourced to China and other Asian countries where labour costs were lower. Major assembly companies representing Japan were actively finding cheaper labour forces to produce their items that were exported to the USA and other developed nations. With that, Japan lost jobs.
While the assembly of electronic parts was shifted to overseas EMS due to cheaper labour costs, functional component manufacturing still remained in Japan. There are many advanced companies, such as KYOCERA and Murata for example, that focused on developing technologies. Although the assembly has been moved to overseas EMS, the component manufacturing still remains. That has been the strength of Japanese companies. The infrastructure of Japan's industries is also one of its major strengths.
Our company was established in 1949. We first developed a resistor that was applied to a radio that was developed by Sony. At that time, the US developed a transistor, but the application was still in surge. It was Mr. Kodama from Sony who was behind using a transistor radio, the TR-55, and our resistor was used as the AM receiver of the radio. Sony was highly recognized for its miniaturization and high-quality performance electronic devices and that was the start of our long relationship with Sony. Over the years, our resistor has been used not only in radios, but also in AVs, TVs, and VTRs. Eventually, quartz crystals came into the spotlight, and Sony recommended that we deal in quartz crystals. We developed and incorporated that into Sony camcorder. At that time, it was common to do everything by hand. We manufactured the crystal units manually. However, we later developed an automated method, which not only speeded up the manufacturing process, but also contributed to the miniaturization of our products. For those crystal units to be made, there is a case in which the crystal is trapped inside and sealed. We have developed a unique packaging technology using electron beams to seal these cases in a vacuum. This is the "Electron Beam Sealing," for which we have obtained a patent.
The first computers were cupboard-sized devices however today, laptops surpass them when it comes to processing power. Moore's Law dictates that the number of transistors on a microchip doubles every two years. We are currently seeing a massive trend of miniaturization as products become smaller and have more functionality included. How are you reacting to this miniaturization trend?
Miniaturization is something that we have always been pursuing. To miniaturize our crystal units, it is divided into two sections. The first makes the crystal board inside the case more functional and higher performing through special processing and treatment. Crystal photolithography processing is one of the typical techniques. Photolithography technology of quartz crystal is a fine processing technology for quartz crystal utilizing the mechanism of photographic film development. Exposure technology of photographs is used to transfer a pattern onto a quartz substrate and form openings and recesses of the pattern by etching, applying micron-scale ultrafine patterns to the substrate. The second is working on the case itself and the sealing method. We have developed "Crystal Package" using Metal Diffusion Sealing method. Crystal Package is an innovative package combining a resonator and case made of quartz crystals. Three crystal wafers are formed into a cap, a resonator, a base respectively and sealed simultaneously by "Metal Diffusion Sealing". This technology enabled us to develop the TFX-05X, the world's smallest 1210 size kilohertz (kHz) crystal unit. Our smallest 1210 size is currently used in TWS (wireless earphones) and also hearing aid devices. We are trying to penetrate more into that market. There is a ceramic package that is a little bigger. However, our "Metal Diffusion Sealing" technology does not use ceramic packages. We use only quartz crystals, and that is our strength. With regards to miniaturization, going forward, our competitiveness will continue to increase. We are currently aiming to make the world's smallest megahertz (MHz) crystal unit the 0806, and this is still under the research and development phase.
---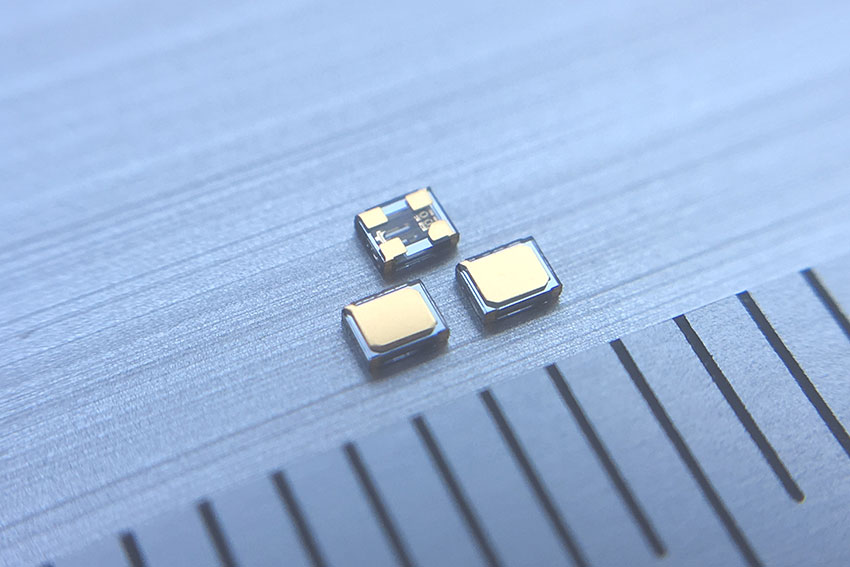 32.768 kHz tuning fork crystal unit TFX-05X (1.2mm×1.0mm×0.35mm)
---
Can you tell us more about your TFX-05X, the world's smallest 1210 size 32 kHz tuning fork crystal unit? How is it superior to more conventional crystal units?
There is a growing need in the world for portable products such as TWS and hearing aids, as I mentioned earlier. There is now even a hearing aid that is embedded in the ear. Miniaturization is required not only for the device, but also for the crystal units inside the device. Smart phones and smart watches are also getting smaller, as well as many medical devices that will be miniaturized in the future. By miniaturizing our products, we are able to open up new possibilities for their application. It allows for us to enter into new markets. We want to continue miniaturizing our products so that they can become applicable in even more ways going forward.
Your crystal units and oscillators are used in a variety of different applications such as smartphones, automobiles, medical devices, wireless communication or new visual equipment. What application are you currently focusing on?
Our major focus is on communication modules. Nearly 80% of the world's communication modules are produced by Chinese companies. Our products are used in their products. The communication module market is growing rapidly and we are currently strengthening our product line-up and enhancing our production capacity of the TFX-04. Statistics show that the world's smartphone production volume is approximately 1.4 billion units per year. The TFX-04 has a 35% share of this market. We also sell to Chinese smartphone manufacturers through agents.
---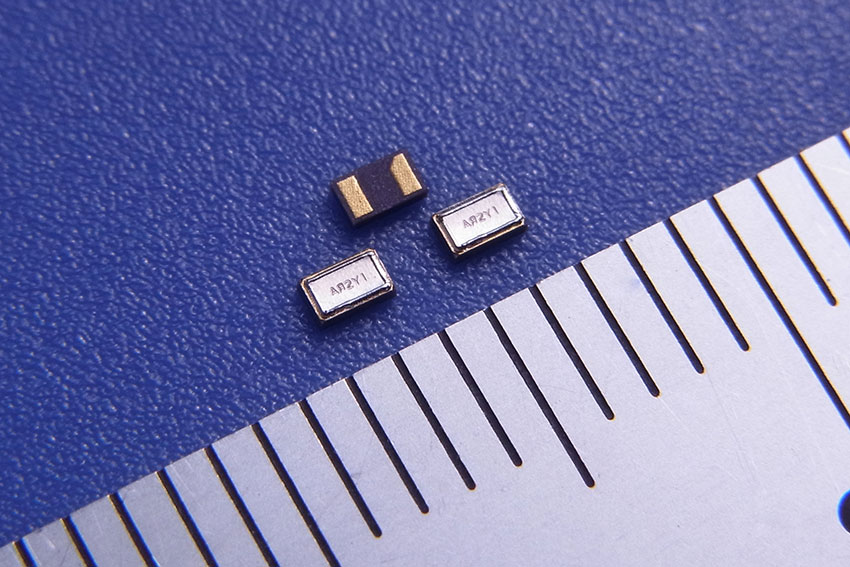 32.768 kHz tuning fork crystal unit TFX-04 (1.6mm×1.0mm×0.5mm)
---
When it comes to the communication module market, is enhancing production capacity the only strategy that you are employing to take advantage of this growth?
We are making efforts to increase production capacity. Currently, we have enough capacity in terms of space. However, the facility with the machinery in it is very expensive, and recently, due to a shortage of parts from equipment manufacturers, it is taking longer to deliver machinery and equipment, so these considerations need to be taken into account. Also, we are not trying to mass-produce the standard type only. Rather, we want to also produce a cutting-edge premium type with higher performance levels.
Can you tell us a little more about your R&D strategy? Are there any other products and technologies that you are currently working on that you would like to showcase to our international readers?
We discovered a new cut angle of quartz crystals "KoT cut" in 2020. We are developing crystal units and crystal oscillators from 300MHz to 1GHz that simultaneously provide "high precision high frequency", "good phase noise/jitter characteristics", and "good frequency-temperature characteristics" that cannot be achieved with conventional products. We have applied for patents for this technology in major countries around the world, and have completed obtaining patents in the United States, Taiwan, the United Kingdom, and Japan. With an eye on 5G and post-5G, we hope to provide our customers with powerful solutions in the high-frequency band, which is expected to see further expansion in use in ultrahigh-speed optical communication networks, base stations, and measurement equipment.
What role does collaboration and co-creation play in your business model? Are you currently looking for co-creation partners in overseas markets?
We have had a long-standing collaborative relationship with MITSUBISHI ELECTRIC Corporation, Japan's leading general electronics manufacturer for over 35 years and this has been important for the development of the electron beam and electron beam devices. Technology, like this electron beam, can be handled by any company. However, the application and use of that technology cannot be mastered without the efforts and know-how of that company. Companies such as KYOCERA and Murata, as well as our own company, all base our business and technologies on the accumulation of this know-how.
When it comes to collaboration in the domestic market, it is very hard to find a partnership that is equal. When you partner with a company, there is always an upper and lower partner in the relationship, financially or technically. This is not very effective for the company.
When it comes to working together with overseas companies, we don't think there is much merit in terms of hardware, but we have been cooperating on the software side for some time. Therefore, we are focusing on retaining our technology and developing in-house.
Moving forward, which countries or regions have you identified for further expansion into and what strategies will you employ to do so?
With regards to our overseas strategy, we have sales offices in Taiwan, Singapore, Shenzhen, China, and South Korea. We provide solutions that match current trends and offer the best value to our customers through sales development with a focus on the Asian region. In terms of manufacturing, we have factories in Malaysia and Xi'an, China. Approximately 90% of our production is shipped from our domestic subsidiary, Aomori River Techno, but we have established an optimal production system for the entire group. Xi'an River Electronics Corporation, located in Xi'an, China, has been doing well in sales of small tuning-fork crystal units and manufactures slightly larger products than in Japan. China has a large population and a lot of wealthy and middle-class people. We are looking forward to expanding our business from China.
Imagine that we come back two years from now and have this interview all over again. What would you like to tell us? What are your dreams for this company and what goals would you like to have accomplished?
We have a three-year midterm plan to make our company a JPY 10 billion company with JPY 2.5 billion as raw profit. We also want to increase the ROIC of the company to 21%. When it comes to our products, we currently have the world's number one share in terms of the "TFX-04". Since we are a manufacturing company, we always want to keep developing innovative technologies with new ideas for the world. And we would like to contribute to people's happiness. Those are my goals for the future.