The past three years of dealing with COVID have presented immense challenges for you as the president of the company in Japan and China. What would you say are the key takeaways or lessons you have learned during that period?
The pandemic occurred unexpectedly, and we may face another situation tomorrow without warning. We must be ready to respond to any challenge or situation that comes our way. We can do that theoretically, but it is very difficult to predict possible events that could happen every day, 24 hours and 365 days a year. Regardless, we have to think about them, as doing so proved to be something very important during COVID-19.
Japan has become a model for many other advanced nations on how to combat certain healthcare challenges. With its aging population, we are seeing a change in the outpatient model from treatment-focused to prevention-focused. Digital technologies are playing a very important role in this transition in Japan. To what extent do you think digital technologies can transform healthcare in Japan?
Very recently, many companies in the medical industry have been trying to incorporate IT in their research, program development and sales marketing, which is the trend we need to enter somehow. Solasia is a small company, so we need more resources to apply that very high-level and new technology. The older pharmaceutical industry firms have to consider employing such IT.
Transitioning from a treatment-focused to a prevention-focused outpatient model is the right path. The reimbursement system is the most important and challenging aspect of that change. In Japan's reimbursement systems, almost all medicine, except for example vaccines, is reimbursed for the actual treatment of the disease. This allows the attending physician and the government to track the current number of patients who become ill with a specific disease. However, no one can predict how many patients will be treated in the prevention-focused model.
PMDA and MHLW are very concerned about preventive medicine because of their very limited budget. The biggest concern from a regulatory or political point of view of moving toward prevention medicine is the larger budget required. However, from a company's perspective, prevention is undoubtedly more important than treatment, which remains the same. We hope to get into the prevention field, which I believe is the right direction for the future. It is a little bit challenging except for some special cases.
Very interestingly, the world "prevention" is the Japanese word "yobo". The Ministry of Health, Labor and Welfare (MHLW) doesn't like this word choice because it is associated with prevention and falls under an uncategorized budget. We sometimes use hassho yokusei instead of yobo. It's very technical, but it is one of the ways to get into the prevention field. The government, patients, the pharmaceutical industry, physicians and all associated people and groups must think about how to use and expand the prevention-focused outpatient treatment model.
Most of your drugs are for managing the symptoms and side effects of oncological medicines and chemotherapies. With Japan's aging population, on the one hand, there will be more elderly and sick people, in theory at least. On the other hand, as a small company with limited resources, it can be hard to maintain good human resources to pass on your expertise and recruit. Do you see Japan's aging population as more of an opportunity or a challenge? How do you weigh the two?
The growing elderly population in Japan is an opportunity because our target population is increasing. Having an aging society may not be advantageous for individuals, but for companies like ours, it offers opportunities. Undoubtedly, caring for elderly people is crucial. However, treating and preventing diseases in the younger generation, particularly children and pediatrics, should also be deemed important for the country's future.
Japan has a very interesting pharmaceutical ecosystem, especially for innovative treatment methods, specifically since the implementation of the Sakigake System. We have seen some interesting developments in regenerative treatments for cancer treatment in the blood and solid tumors. What are your thoughts on the prospects of regenerative treatments to combat solid-state tumors and other kinds of cancers?
It depends on the type of the tumor. Blood cancers and solid tumors are just some of the target areas we identified where this could certainly be used.
Cancers are something that start off from one's own cells and then mutate into cancer cells. Sometimes, there are symptoms where the nerve system is destroyed or something is ruined completely rather than that mutation happening. For such cases, it is probably more appropriate to use regenerative medicine. Destroyed nerves, neurons or organs can be changed and filled in, or the original organ can be supported. Perhaps, that is one of the fitting targets.
SP-04 is your latest publicly announced formulation, designed to treat chemotherapy-induced peripheral neuropathy. How can SP-04 have greater efficacy in treating the side effects of chemotherapy drugs compared to conventional treatments?
Demonstrating efficacy and safety depends entirely on the targeted medicine's mode of action. Our SP-04 mimics one of the enzymes responsible for reducing ROS in the body. In this case, we think prevention is the appropriate approach. SP-04 has a new mode of action not found in existing medicines. Considering there is currently no approved drug for treating peripheral neuropathy, SP-04 could be the first if it progresses successfully. We are in the process of licensing this compound and are actively pursuing its development.
Unfortunately, we couldn't achieve the primary endpoint of the global phase 3 clinical trial programs two years ago. It was very sad news. We changed the target chemotherapy, which causes peripheral neuropathy. The original target of the chemotherapy was oxaliplatin, a platinum compound, known to be a unique and great compound. However, we can't remove all the possible influence between the SP-04 and platinum. It is really complicated.
We made the decision to shift the target chemotherapy from oxaliplatin to taxane due to its simpler nature compared to platinum. We initiated an animal study specifically targeting taxane-induced peripheral neuropathy. Personally, I have high hopes that the animal study will showcase the efficacy of SP-04 in treating taxane-induced peripheral neuropathy, thereby paving the way for its progression to the clinical stage in the future.
A year and a half ago, PledPharma (currently Egetis), the original licensor, and Solasia is promising efficacy in animal studies. Based on previous animal study data, our plan is to initiate a second study in Japan. We anticipate starting this study within the third quarter of 2023, and it may take approximately six to eight months, or even up to a year, to complete and compile the final report. If the second animal study can provide compelling evidence of excellent efficacy with satisfactory data, we may consider planning a small-scale clinical study. While I am hopeful for such an outcome, it is important to avoid making confident claims about efficacy. All decisions regarding the program should be made based on another scientific basis. Nonetheless, we are committed to supporting the program in Japan.
Currently, there is no approved drug to prevent peripheral neuropathy worldwide. Physicians still have to use existing medicines not officially approved to treat them.
---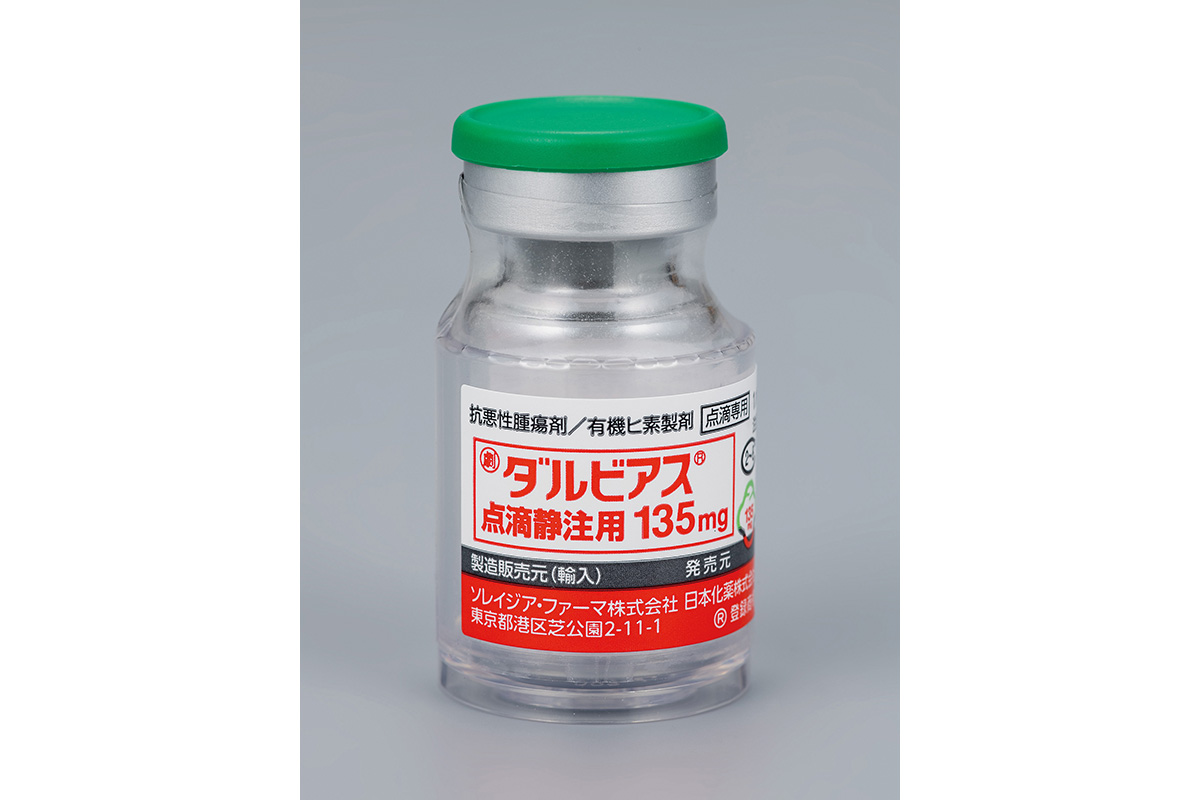 Darvias®
---
Darvias, one of your already commercialized drugs, has exhibited strong potential for PTCL treatment. It has received approval in Japan, and the development and approval process is underway in various regions worldwide, including China, Korea, South America, North America, and the EU. It has a unique action mechanism that specifically targets the mitochondria in the cell that it treats to be more effective. How is the mode of action, the attack mode, of targeting the mitochondria of the Darvias different or more effective than other treatments for PTCL?
The overall response rate of Darvias is comparable to other drugs used to treat relapsed or refractory Peripheral T-Cell Lymphoma (PTCL). PTCL is a heterogeneous disease, meaning it can have various underlying causes. It is important to note that no single drug with just one mode of action can provide a complete cure for PTCL. Treating PTCL requires a combination of different modes of action. Darvias, with its distinct mode of action, offers a unique approach that differs from other medications. Various types of medicine can exist alongside it, so it is not a real competitor.
In the treatment sequence for relapsed or refractory PTCL, Darvias could be administered as the first or second medicine.
In recent years, we have successfully obtained approval for Darvias from the regulatory agency in Japan. Nippon Kayaku is responsible for selling and marketing the product within Japan. We are actively seeking partnerships for the sales and marketing of Darvias in the United States, China and other regions.
After receiving the approval, we prepared the Named Patient Program, a very familiar program, especially in Europe. The physicians can ask us to deliver Darvias to a good appropriate target patient they found. We started Darvias NPP in Europe, India and China and are about to start in South America. It is a temporary process until we can obtain approval from the regulatory agency in these target areas.
In some special cases, like France, its government can reimburse it to the NPP target patient at present, from which we may expect some revenue. We can't estimate how many Darvias will be delivered because sales & marketing activity is not allowed in NPP, but it is one of the ways to strengthen our brand's name and spread it until the official approval.
Darvias has a very special mode of action to lead apoptosis through direct attack to mitochondria. Based on the data from pivotal Phase 2 Asian study, its good safety profile is shown, as it may allow the physician to use it among elderly patients and/or for long-term treatments. Nevertheless, Darvias has demonstrated efficacy that is comparable to other medicines.
Are there any particular markets you are prioritizing for Darvias? How long do you anticipate the formal regulatory approval process will take in those markets?
Everyone says that China and the United States are important targets due to their large market size, so these countries are our top priority. We should find good partners in these countries and request them to proceed with the program themselves. We are actively searching for suitable partners and exploring licensing opportunities to collaborate with companies that can serve as strong partners in these expansive territories. Hopefully, we will be able to do so successfully.
The timeline of development depends on the country itself. Typically, the government may request a clinical study, which can take two to three years, including the review period. Regulatory agencies in these countries might require an official development strategy that involves small or medium-sized clinical studies. In the best-case scenario, maximizing existing clinical data and waive local clinical studies.
We already obtained the approval in Japan. Prior to applying for the NDA for Darvias in Japan, we invited Korea, Taiwan and Hong Kong to participate in a phase 2 pivotal clinical study. Hong Kong and Taiwan have political ties with China. If the Chinese agency acknowledges and accepts the data from the Taiwanese study, the clinical study may be waived, significantly shortening the development period from three years to approximately a year. However, the likelihood of this happening is very low.
In general, the clinical development of Darvias in other territories may take about several years. Korea, Taiwan and Hong Kong will be easier than other territories like China or the US because these countries have participated in the pivotal study and we can expect direct filing an NDA with conducted clinical study data to the regulatory agency. After the first approval, phase 3 or a comparative study may be required. However, that still depends on our further negotiation with the regulatory agency. We didn't do clinical studies in China and the US, which is a completely different circumstance.
As a business leader, what qualities do you find appealing in a potential US partner? Are you looking for a partner with a great network, smaller, more flexible or agile companies or a big company with a wide reach?
Solasia means "sol plus Asia", so our main target is Asia, including Japan and China. In this context, we should look for a partner in China, as it is a main target area. When seeking to acquire a license from an American, European, or Chinese program, the target area is often limited to Asia, including China. Consequently, this restricts our business opportunities to expand to the United States. Licensing under the program of a US company would usually mean that the company keeps the US market for its business while letting us take other areas. We hope to obtain global rights, the same as Darvias, as having such rights would provide us with the opportunity to consider expanding our business and establishing partnerships in the United States.
When our company started 15 years ago, our first investor was MPM Capital, a large venture capital company in the US. Through MPM, we established a great network in the US. One of the ways to look for a good partner is by taking advantage of these already-established special relationships that we continue to foster. Every company, including Solasia, participates in official conferences to pursue partnerships. Even though Solasia is a small company, we have a wide network.
Can you tell us about the current focus of your product development strategy? Are there any new formulations in the works that you could give us a little preview of?
Our current program is related to traditional small molecules. We are working on discovering another modality and/or molecule, including gene therapy. Four years ago, we made a research and development contract with Editforce, a small Japanese biotech company.
EditForce has cutting-edge RNA-editing technology as its core PPR (PentatricoPeptide Repeat) technology, similar to the Nobel-prize awardee CRISPR/Cas9, a DNA-editing technology. We are collaborating with EditForce to find a good target protein which their technology produces, with the goal of curing some diseases, mainly cancers completely using gene therapy. Because we found several types of target diseases, we started an initial program with them to explore target proteins.
We have embarked on expanding our small molecule business and have set our sights on venturing into new areas such as gene therapy and emerging technologies. Recognizing the need for additional resources, we are actively seeking collaborations with specific external parties, to leverage their expertise and knowledge, enabling us to progress collectively as a team. I am truly excited about this next step for Solasia.
How would you describe Solasia to those looking for business partners, and how would you like to be seen as a company in the global market?
Despite being relatively small, Solasia is a very exciting company. Our team consists of experienced and knowledgeable individuals. We are dedicated to maximizing our efforts and solutions, even with limited personnel and resources. We take pride in being a selected few.