If we could start by having you introduce your company a little to us. What kind of firm is Sohbi Kogei? What are your main strengths and core competencies that allow you to stand out among your competition and what are some of the key milestones that have come to define your business throughout the years?
Our company was founded in 1958 in Osaka, Japan. We went to Thailand in 1988, China in 1993, Thailand again in 1995, The Philippines in 1999, and then China again as well as Poland in 2006. In the span of around 18 years, we were able to establish six factories in overseas locations.
It is hard to imagine a company like ours achieving this level of overseas expansion in those days. We had only around 200 employees in 1988. For a company of that size, we needed a lot of momentum to go out to overseas markets. At the time, we still had a lot of orders in Japan. I think competitors really could not understand the reasoning as to why we would expand to foreign country such as Thailand. With this number of employees, we decided to establish factories in Thailand, China, The Philippines, and Poland. Sohbi Kogei had a strong will to survive in this industry and the only way to do so was to expand in overseas markets.
---

---
I thought long and hard about the strengths of my company. We are proud that we have several hundred machines as well as pieces of equipment in the whole group. This has allowed us the strong in-house production capability, and as such, we have a diverse client portfolio. This is what I think is our company's core competency and what sets us apart from our competitors.
The idea brings us to the reason why we were able to successfully establish six factories around the world in only an 18-year period. When we decided to establish a factory abroad, and if we wanted to operate them at full scale, we would need to operate them within 2-3 shifts. In order to fill out the shifts, a lot of orders are needed. We as a company wanted to secure a certain volume of orders in order to fully operate these machines, and for that there is a research element required in order to find the field that will give us this certain volume. If we go for the highest quality and technology that is not going to give us enough order volume because there is little demand in the market. I thought that it would be nice to do business at a lower level than at the highest level. That level of precision processing covers consumer electronics, office equipment, and AV equipment. All of these areas are fields that Japanese companies excel in. Once these Japanese companies start production in overseas markets, I thought that we could get a lot of orders from them.
In order to respond to the orders that we receive, we need not only machines such as presses, but also production tools such as press dies, and we must be able to prepare equipment for productions. Once the stamping businesses like us go overseas from Japan, all the other associated processing technologies like coating and welding, all also go out to overseas markets. Based on this theory, what we have tried to achieve is integrated processing, from pressing and stamping all the way to coating, basically creating a one-stop shop for these kinds of services. In order to gain such ability, we focused on training our employees.
From 2006, I stayed in China running Chinese factories for 10 years. This was a time of rapid growth in China, and while initially we had around 2500 employees there, labor costs rose and that is why I started working on automating production lines there. At the time, many operators feared the introduction of robots because they believed that they would lose their jobs. What I came up with was to design and develop an automated system, manufacture the automated process in-house, and digitize the production system as well. We tried to gain control of both hardware and software in-house so that we could give new jobs to these employees. I believe that we were successful in this initiative, and it is the reason we have expanded this initiative to other locations.
The reason why our company was able to succeed in automation is based on a certain idea. There is a clear divide for work, with robot makers just making robots and machine makers just making machines. When working on automation, we usually ask each manufacturer to install it. Consider what if you introduced a robot to your production line, what happens if the robot breaks down? It stops their entire production line and no more work can be done. Our thinking was, "What if we had the ability to fix automated equipment such as robots?" That sort of ability would really differentiate us from our competitors. That is the philosophy behind Sohbi Kogei's in-house comprehensive production capacity.
---
Creating something new
Skill-sharing meetup
Head office
the craft of manufacturing
Sohbi Kogei products
Sohbi Kogei produces a variety of items
---
I became the president of the headquarters and started the management of the entire group in 2015. Among all of these different locations and factories, we have differences in the level of technology in each field at each factory. What I started doing after being promoted to management was to establish the exchange of knowledge on a Sohbi Kogei global scale. I instructed the staff in factories that were lagging behind to go and visit factories that are more advanced and to look at the technologies there so that they can bring knowledge back to their own factories.
Every year I invite teams who have excellent performances to Japan to make presentations to each other. We are trying to promote the enhancement of technologies as a group, allowing the whole group to bring each other's levels up by sharing information and experiences. I think that our growth is pretty much driven by small group activities where employees can compete with each other. This activity is called "ISOAP activity" in our Group and has a history of more than 20 years.
Japan in terms of monozukuri has suffered over what is commonly referred to as the "Lost Decades." While it is true that I also felt a drop in manufacturing, I do not believe that Japan's monozukuri spirit will ever truly go away. Japanese people do have the cash to buy foreign products, but without reinvesting in Japanese companies the county's industries will continue to fall. I think it is time for Japan to regain its manufacturing crown.
When it comes to molding, one challenge manufacturers face is the occurrence of burrs; unwanted protrusions, and ridges that can negatively impact the outcome of the product. These not only affect the aesthetics of the product but can also be costly to remove. How are the molds you are manufacturing overcoming this burr challenge?
This is honestly something that is really difficult to achieve. Imagine that you are using scissors and trying to cut a piece of really thin paper. If there is no gap between the blades of the scissors, cutting will not be a problem, but if there is a gap between the blades of the scissors, it will be difficult to cut. As long as the blades are fully engaged with no clearance, a perfect cut can be achieved. However, fortunately, blades have a life expectancy as we all do, and while in theory if you are able to maintain the blades in a perfect condition then you can always cut, but that is just not possible in the real world. Once those blades start to deteriorate that is when burrs occur.
The same applies to the entire structure of the die and you have to apply super-precise processing so that the upper side engages with the lower side without any clearance. In order to achieve this, you need good-quality processing machines and tools as well as excellent capabilities in designing, polishing, and heat treatment. This level of precision must be maintained throughout all added processes so that you can keep the best conditions possible.
With the push towards carbon neutrality, a lot of materials have been introduced recently. In order to improve the performance of EVs, motors are required to be lighter, the ability to process new materials that can maintain strength is also required. This is going to be a challenge for our firm moving forward.
---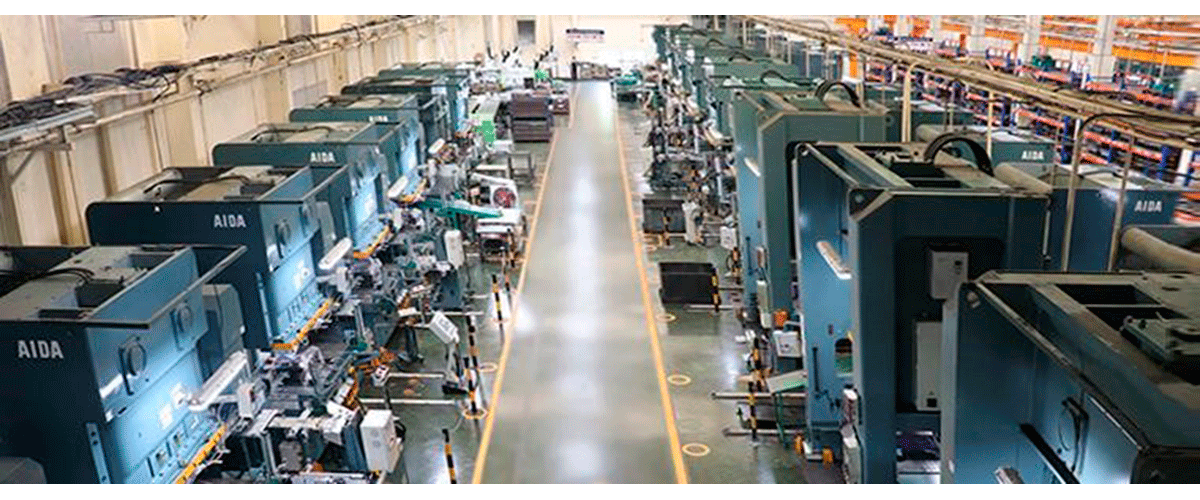 ---
It is clear that your molds need to be ultra-precise to cater to this new market of materials for the EV sector. However, we also know that your products are used for other applications such as communication equipment and electrical appliances. Is there a specific application or industry that you are focusing on right now?
The world is now moving towards electrification and within the structure of these EVs, the motor is the most critical part. If you want to produce components for motors there is a requirement for super-precision technology, both in terms of components as well as materials. Motors also require a case and that case also requires precision molding technology. This sector is the area we are targeting in particular at the moment as it requires the molding technology which we possess. We are trying to establish an automated production for this field with measuring machines installed so that we can gather data and enhance the accuracy of our production.
Are you also looking to form partnerships with EV companies in order to elevate your technology? When it comes to these partnerships, are you looking for international collaboration?
As you already know, Japan is an island nation with a unique language and that is why at times international collaborations have communication gaps. Japanese people are not good at globalization because the nation as a whole has a long and storied history of being closed off to the rest of the world; we are simply not good at opening ourselves up to working with foreign entities.
Unless you open yourself to others, others will not open themselves to you, that is just the way the world works. I think the same can be said for companies, and if we cannot be open to other companies, those companies will not be open to us either. Once you open yourself up, however, you can learn many new things, but the fear many companies in Japan have is that by opening up they may also lose something. I believe that what can be gained will always outweigh what can be lost. I hope that in the future more Japanese companies open themselves up to collaborations with foreign companies, and there needs to be a switch in mindset. Japanese firms need to think of foreign firms as rivals rather than enemies, and if we can do so I believe that mutual growth can be felt by all. This is the attitude we apply to working overseas in new industries and new customers.
You have manufactured products that your customers have specifically requested, but they are not exactly your own original ideas or conceptions. Is there a moment in the future where you imagine that you will take a market-out approach and design something that is for the market that you will then sell?
I have always told my employees to challenge themselves by approaching new things without fear of failure. Some of the other locations have had ideas or initiatives for new technologies and at some point in the future we will complete in-house production for those technologies.
Are there any other countries or regions you have identified for further expansion into and what strategies will you employ in order to achieve this?
No one expected COVID-19 to hit when it did and I think there were not many that we actually prepared for the long-lasting effects. The same applies to the current destabilization of social conditions such as nationalism. The current world situation is destabilizing, and we believe that if we are to expand into a new region, there needs to be an element of stability. We may consider expanding our existing footprint, but we believe a wait-and-see approach is probably the best course of action at this time. I believe that staying on the current course is the best outlook for Sohbi Kogei.
Imagine that we come back on the last day of your presidency and have this interview all over again: what goal would you like to achieve by then?
I am not the first-generation president of Sohbi Kogei, I am the fourth. I assumed the role of CEO when I was 66 years old and taking control of the entire group was rather unexpected for me. I am really not the type of person that becomes the president of a company, but here we are eight years later and I am quite lucky to have this position.
Normally people retire around 65, but I am still doing business, but at some point in the future, I need to think about retirement. By that time, I would like to grow the group and double the revenue. For each of the locations throughout the globe, I would like them to become the number one press stamping company in their countries. That is my goal and dream.
---
Interview conducted by Karune Walker & Paul Mannion