As a glass processing manufacturer, what is your interpretation of monozukuri? What are the advantages of Japanese manufacturing?
Basically, the common aspects of Japanese monozukuri still exist, and as you know many people are aware of Japanese monozukuri as an indicator of high-quality products. The wider world has been receptive to this philosophy. This concept hasn't changed for many years and continues to stay strong. As a specialist manufacturer of glass processing machines, we saw a little decline in ordering demand from the overseas market because of the current COVID-19 situation in 2020. However, 2021 saw us regain our footing and we are in much better shape. We see a lot of future potential customers from both domestic and international markets. We've gained attention and are as strong as we were before the pandemic.
The necessity for highly precise processing machines has been increasing drastically for the past several years. We can see that markets overseas especially have been keen to find Japanese monozukuri companies relating to their industries. We have been conducting research and development from all angles and are proud to provide the market with light labor-saving, high performance, high-quality scribing machines. We have gained a good reputation in the industry and thus have gained attention from domestic and overseas markets.
In many cases, domestic and overseas manufacturing companies are demanding nonstop mass production by volume and the shortening of lead times for machinery assembled at the production sites here. Japanese companies, including us, are acting as loyal partners in providing not only top-notch technical assistance but also the specialized machinery which can be described as one of a kind (only-one).
Japan has been subject to intense regional competition in the last 30 years. Manufactures in Korea, China and Taiwan have replicated the Japanese processes and products but have done so at a cheaper labor cost. Despite this, we still see companies such as your company succeeding in niche fields such as glass processing. Why do you think Japanese manufacturers have been so successful in niche B2B fields?
We believe it comes from the national character of Japanese people showing interest in what is happening around the globe. This interest in the past brought a lot of techniques and technologies from foreign countries to the Japanese people. It's not like these are secrets of Japanese companies, we are gaining a lot of knowledge from overseas and bringing these technologies to Japan and modifying them.
As time has progressed, however, we have seen the production of LCD and semiconductor products, for example, being moved overseas. This is a natural and unavoidable trend as part of companies' cost-cutting efforts. Japanese companies have also had a history of supporting local production. As a result, although Japanese firms have been greatly affected by the mass production of standardized products overseas, on the other hand, they have not yet lost their competitiveness in niche areas. This is why we believe that a Japanese company like us, which is by no means large, can continue to generate profits by honing our own one-of-a-kind technology.
Japan's population situation is very famous worldwide. It's an aging population as well as a declining population having already 28% of people aged over 65 and fertility rates at 1.37. This makes labor-saving devices and automation machines much more important for companies. Can you talk to us about how your machines are helping to alleviate this labor problem? What are the key technologies you're integrating to help?
The shrinking population is not a new concept for us and has driven most Japanese companies to integrate automation on a wider scale. We see a lot of demand coming from customers, not specifically for our production, but for automation. Here is where we can come in with our excellence, not only introducing machines, but creating signature synergies. Our machines are not fully automated, they must be operated by a human, but decreasing the requirements for manpower is already happening across production sites.
---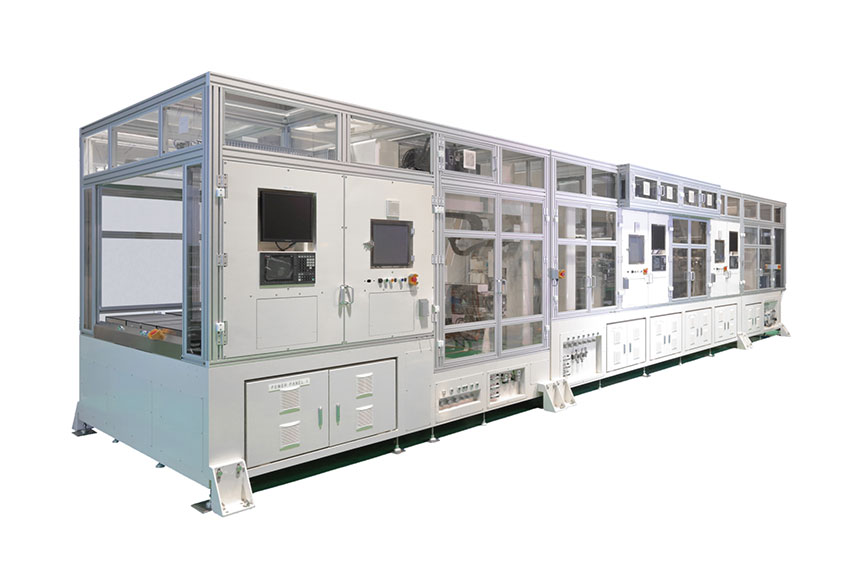 ---
We see that you have three main categories of glass processing machines. First, you have the LCD type processing machines; second, you have the CF, TFT, and PDP processing machines; and finally, you have the industrial use glass processing machines. Which category is the best-selling? Which are you seeing the most growth in, especially with overseas markets?
Currently, there is not so much new demand for architectural glass processing machines at our company. The second type you mentioned, the CF, TFT and Plasma Display Panel (PDP) processing machines are being supplied to large TV manufacturers to produce plasma display panels. Unfortunately, as you know these companies have been stepping out of these markets, mainly due to intense competition from other companies that produce Liquid Crystal Display (LCD) panels. The production field that we are now paying attention to is the automotive industry, especially the scribing machine for the LCD panel that is used inside of automotives. This machine is used to cut automotive LCD panels for use in the automotive industry. Also, the Flat Panel Displays (FPD) are still in good shape and do good business for us. If we were to outline these segments of our business, we would have to say that flat-panel glass scribing machines and automotive glass are now in high demand or can be expected to be.
Could you tell us more about your FPD glass cutting machines used to create LCD panels for the automotive sector? What are some of the advantages of these machines and why are they better than conventional machines?
The main advantage is the elimination of glass flipping motion, which is very risky and this is because flipping motions can cause cracks in the glass. We have succeeded in creating this non-flipping scribing machine to eliminate this problem, resulting in a stronger and more stable glass panel. As a prerequisite, cutting glass requires two processes: first, a cutter inserts a scratch at the position to be cut (scribing), and second, a breaking stress is penetrated along the scribing line to fold and separate the glass (breaking). The FPD glass processed by this machine has a structure consisting of two types of glass sheets (TFT/CF) laminated together. Conventionally, any problematic chipping is generated when the glass sheet is flipped over after either surface of the glass sheet is scribed. In our non-flipping scribing method, on the other hand, after each side surface of the glass sheet is scribed, the glass sheet is delivered to the stage located on the upper side, the glass surface with scribing line is vacuum-held from above, and then the bottom-surface of the glass sheet is scribed from the lower side (please see the picture below). Our method can reduce the generation of chipping and cracking at the scribing point of the glass by eliminating the flipping motion.
---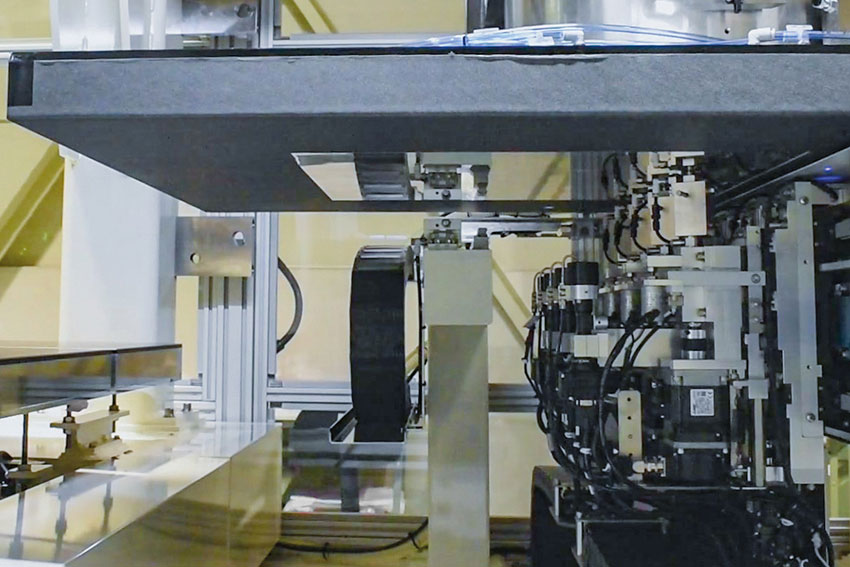 ---
We know that the automotive industry is undergoing a huge change and the switch to electric vehicles (EVs) is imminent. In fact, the Suga administration said two years ago that Japan must transition fully to EV by 2035. Besides EVs we also have connected autonomous shared electric (CASE) vehicles coming onstream where flat panel displays will be very important to convey information to the people in the cabin. How are you adapting to this new transition in the automotive industry?
The changing of the inside of a car has been a gradual change over many decades at this point. Of course, we can see rapid change happening with the transition to EVs and with that comes a change to the interior of the vehicle. Currently, in the cabin you may see a very conventional square LCD display installed. In the future, we hope to see more originality in terms of the design and function of the interior. The next generation will of course change not only the shape, but also the function of LCD dashboard panels.
Obviously, our company will be adapting and changing with the industry. We are looking to continue to help our customers produce, scribe and grind panels in a proper way to meet their needs. Change is rapidly happening, with more and more flat panels being introduced. This change is keenly being looked forward to. We are constantly analyzing and investigating our products to fit the market's expectations.
With this change in the automotive sector, collaboration with not only domestic partners but also foreign partners will be key to success. In the case of your company are you looking for an overseas partner to help you create new technologies or to develop your products further?
The machines we have sold are often introduced in the process of manufacturing our customers' secret and latest production lines and are therefore developed in a way that is closely related to the needs, know-how and confidential information of each individual customer. Because we place the highest priority on protecting the confidentiality of our customers' information, we have refrained from positively advertising and disseminating information for our machines. However, from now on, we believe it is very important for Japanese companies, including our own, to partner with or co-operate with others in order to understand the demands of local markets.
Mr. Hiroshi Shirai, your company has a long history and, clearly, you've adapted to the times with the technologies you developed. Your company has a long list of impressive milestones. What do you consider to be the most important technological milestone in your company's history? What are you most proud of?
There are two milestones that come to mind. First, in 1982 the company succeeded in developing the world's first computer-equipped NC scribing machine with interactive, automatic scribing size and pitch calculation functions for normal and wired architectural glass. By specifying the product size(s) to be scribed, the machine was able to derive the optimum scribing pattern from the set mother panel size and move on to the scribing process. What made this NC scribing machine revolutionary was that it was the first machine of its kind to employ digitalization. It was a pioneer in the introduction of computers into the scribing process and was very widely adopted. What was extremely difficult at the time was inputting digital data into this scribing machine. Until it was completed, if the input values were even slightly wrong, the program would not run and the scribing process would not take place. The X/Y coordinates needed to be correctly inputted, and it was extremely precise. It really was a one-of-a-kind technology. The other that comes to mind is the development of line equipment in 2006 that could process G8 size (2,160 mm x 2,460 mm) glass sheets from feeding, scribing and breaking in a single operation. These two became major milestones throughout our whole company's history.
---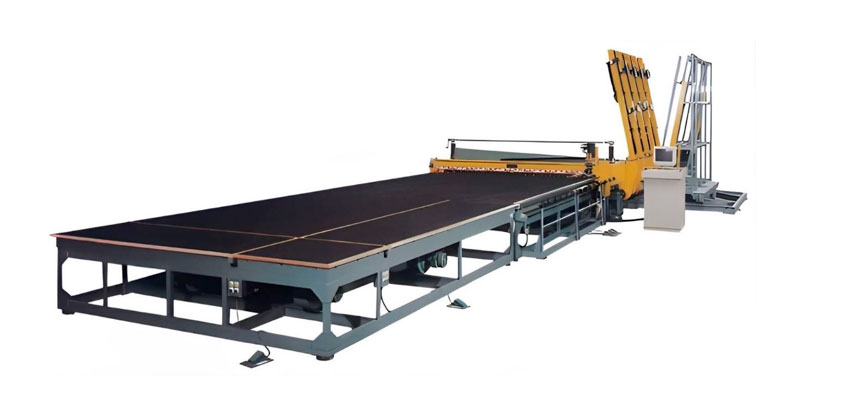 ---
Japan is famous for its level of spending on R&D. Approximately 3.5% of Japan's GDP goes towards these endeavors. What are the new technologies and added values that you're working on providing to your customers with your machinery?
---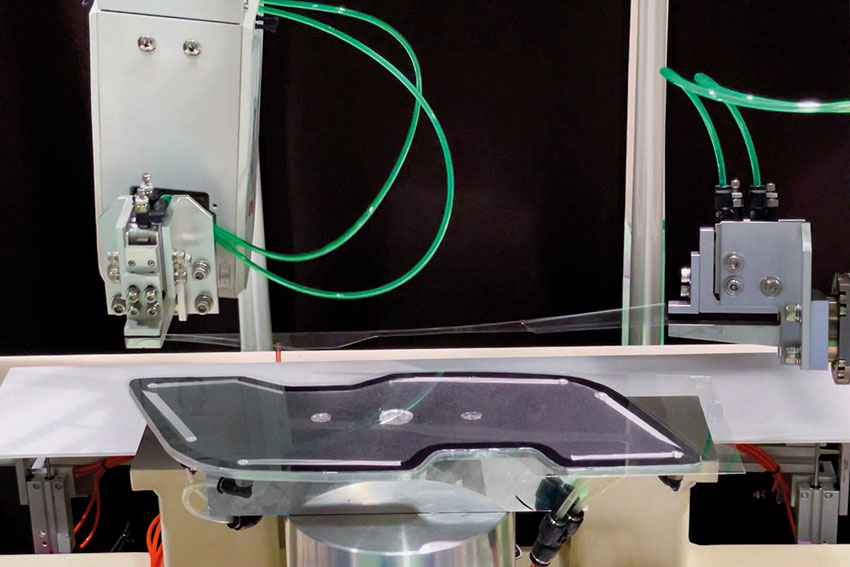 ---
Our non-flipping glass scribing machine is that we are contributing a lot of our R&D capabilities towards and is in higher demand right now from the market. We are constantly researching ways to improve our machines and make them even better. In fact, we recently introduced robotic breaking motion into this technology. This thought is considered revolutionary. Especially in the automotive industry, FA (factory automation) is strongly recommended and there is a demand for machines that can automatically create LCD panels for automotive use. Originally, we had manufactured the machines that could scribe and break the glass sheet into the special shapes to meet our customers' needs. One of our additional advancements in this time is the completion of the technology that can separate and remove unnecessary glass sections from the broken (processed) glass using several robot hands, as shown in the picture above. This has made it possible to automatically process and produce LCD panels for automotive applications with complex shapes, which previously could only be processed by human-hand. We want to emphasize the reason we are applying so much automation is due to the social problems facing Japan. Actually, it's not just Japan that is facing labor issues, realistically it's a global issue.
To what extent can you shorten the lead times with full automation?
It depends on the situation. For mass production the dimensions of each glass are different. This particular process can scribe the glass and process it at the proper speed. The ultimate goal here isn't just to increase efficiency and shorten lead times, but the unification of quality standards for the customers. On their side, the operator can introduce disparities in production. Introducing our machinery can make this more balanced, more unified and most importantly reduce defects.
The grinding processes are also experiencing a lot of changes right now. Conventional grinding processes use a lot of water. In response, we have developed a distinctive cover that uses binary fluid (a mixture of water and air) to apply water to only the necessary areas with pinpoint accuracy, thereby reducing the amount of water used as much as possible. As a result, the amount of water used has been successfully reduced to less than one-tenth of that used in conventional grinding processes. Furthermore, the characteristic of binary fluid allows water to be sprayed onto the grinding area at high pressure, preventing sludge (a mixture of fine glass cullet and water) generated during the grinding process from adhering on the glass surface, and eliminating the time and labor force required to wash and dry the glass sheet after grinding.
---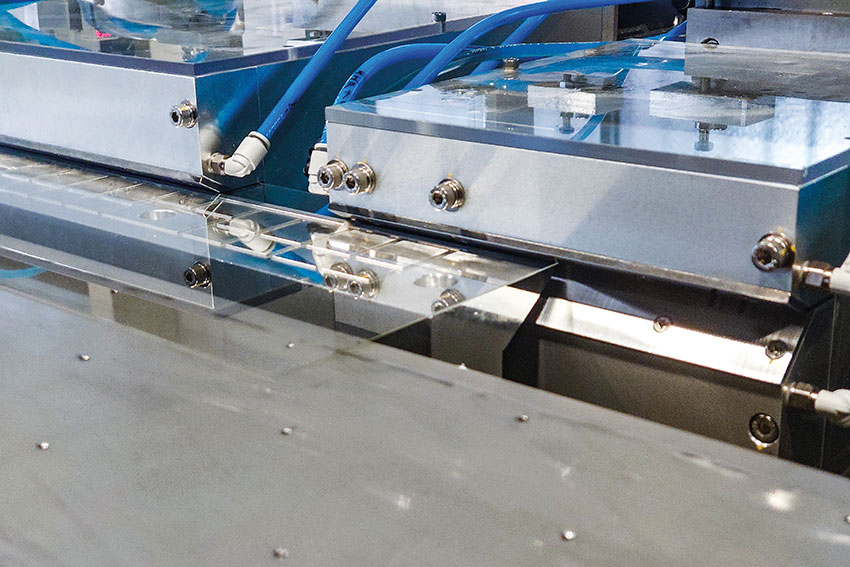 ---
Moving forward, which international markets are you looking to further your presence in?
We already have established local subsidiaries in Taiwan and China, and we are very optimistic about a continued boom there. Further expansion might see us move to India. It is a very promising market. Basically, there would be two approaches here. The first would be to go it alone and reach out to local companies that need our products. Secondly, we would have to go through the sogo shosha, the big trading houses that usually Japanese companies go through.
Imagine that we come back to do this interview again on the last day of your presidency. What would you like to tell us? What are your goals for the future of SHIRAI TECH?
It's been a long ride as president. I would like to keep our own ways consistent and I hope that SHIRAI TECH has a long and prosperous life. I also would like to keep up the good job we've been doing. The very essence of the company runs through its initial vision of the company. Its vision is "Scribing is the origin of glass processing." Scribing is the first action when processing any glass products. Even the slightest deviation in accuracy in this process can have a major impact on subsequent processes. We are proud of the fact that we have been manufacturing the scribing machine that handles this first process for more than 50 years and have continued to fulfill our great responsibility for glass processing.