In recent years we've seen Japan architecture and interior design industries resonate throughout the world. Concepts such as ZEN, for example, have become standards in international countries. The first question I have for you is why do you think that is? Why is Japan able to come up with so many different innovative design ideas that have been adopted and respected worldwide?
It's not about the world, but I think I can tell you why Japanese designs are accepted and loved in China. Originally they tended to prefer decorative designs and there's been a generational demographic that prefers more minimalistic in designs as a recent trend. And Japanese designers are typically good in those designs. That's why I believe those minimalistic basis designs are favored in those market. And I believe those origin were based from ancient Japanese temples and classic gardens
Since Japanese companies have very good construction quality, minimalist designs are done very well by Japanese firms. And especially in those minimalist designs, finishing is the most important point to show the spaces more fascinating. So that not only about the designs but also construction control quality is required.
In terms of our company, we do a lot of management in design and constructions, so on-site we have a Japanese manager who oversees the construction, and that's why we can oversee all the details and quality and be assured that we have the best quality. We believe our company is one of the best at minimalistic design.
How did your company live through the coronavirus crisis? What are some of the changes that it triggered?
First, we'll talk about the beauty industry. It has changed a lot since the bubble burst in 1993. We have seen a huge change in the industry among salons. Around 1996, the Hair Color Japan was established in Japan. Up until then, the biggest trend among Japanese hair salons was perming, but after the establishment of the Hair Color Japan, the dying of hair has become the major trend in Japan. It has shifted hugely from perming to dying, so we have looked into how best to sell coloring space to be designed.
We looked into American salons from 1980 to 1997 to gather all the information about what trends were the best, and we based our salon designs on those American salons. Until then, Japanese salons had a huge sign saying they were beauty salons. That's all they had, but from then on, we moved on to something more visually appealing, so the consumers would know immediately what the strength of those salons were.
When people see these stores, they can realize that these particular salons are very good at coloring hair, so we can see the differences in their strengths and that's how we revolutionized interior design. That's how we make changes in this industry.
In terms of Takara Group, since we also have expertise in salon equipment, and we also have a cosmetics product called "LebeL" we know how to maximize the space. So that the hairdressers can move around easily and perform at their best.
From 1997 coloring was the big trend as menu but from 2005, people tend to shift to look for more healing space in salon, so we created salons to meet their needs. And from 2020, we had the covid outbreak as you know and from then on our focus has shifted into social distancing and protecting our clients.
---

Salon color bar and head spa room
---
What are the challenges and opportunities that Japan's unique demographic situation is creating for your company?
The population has been decreasing, and they say that every year there will be around 500,000 to 800,000 of depreciation. In terms of the working population, they say that in the age range of 50 to 65 year-olds, there will be depreciation of 600,000 people, and of course there's a huge impact on businesses from that.
In Japan domestic market, we consider it is necessary to propose to facilities mainly aiming to those elderly persons such as salon clinic where provide anti-aging service or orthopedics where provide rehabilitation support services.
Regards to those barber and beauty salons, we believe importance and necessity to propose "rooming" in salon deigns especially for those elderly customers with more fascinating salon space such as relaxing and comfort space salons for physically disabled customers.
In the point of human resources in duties, there are serious problems such as securing young employees and securing skilled workers at construction sites. Young designers are actively recruiting women to fill the designer workforce, but securing on-site technicians is not just a problem for our company, but a major issue for the industry as a whole.
Why does that benefit the clients so much? The salon 'rooming' concept. What are the unique qualities of that?
As you know in the pandemic situation, people require more social distancing. And as you can see the attached layout of "rooming", it's a private space. We can focus on a one-on-one service, and customer won't meet another customer next to your room. So we can say that there's more of a sense of security because of this layout. In the sense of infection control, for both customer and salon staff can be secure from infection issue.
---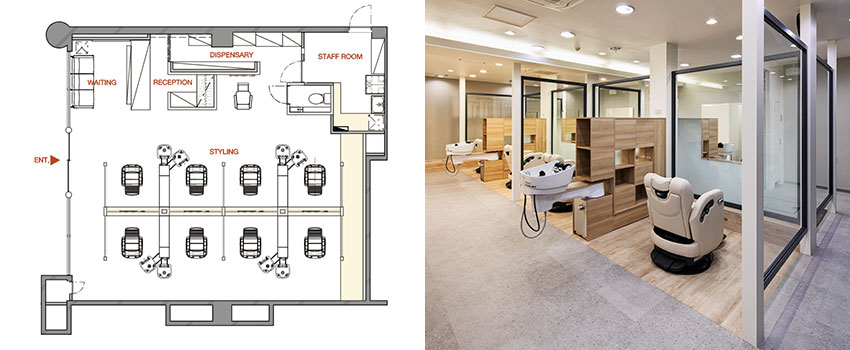 "Rooming" drawing and salon image
---
This rooming is not only have positive profit in safety point but also have profit for salons enable to increase the sales amount and profit for customers to have satisfaction for having a private room in salon with relaxation and comfort. So it generates more revenue and lead to customers' loyalty. We call loyal customers who visit the salon more than 10 times a year. A loyal customer has created a profitable salon. As for elderly and richer customers are actually coming to our salons more often expecting for infection control and comfort.
Your company is part of the Takara Belmont group. I presume, Having an in-depth knowledge of the equipment used in the salon can be very beneficial. Could you explain to us what are some of the synergies and advantages of belonging in the Takara Belmont group? How does that help you differentiate yourself from other similar companies?
I think one of the advantages of being part of Takara Belmont is that they have a history of 100 years, so they have huge branding power in the industry, and they're very well known. We have been creating and designing salons because Takara Belmont develops the equipment that the salons use, and we can match the needs of the salons very well because we have that advantage.
As example, when customer use equipment of Takara Belmont in barber/beauty salons or at clinics, we can propose space design in the best efficiency to utilize them considering environment of those salons and clinics enable to maximize the performances.
It's not that we design the salon and then set out the menu. It's the other way around. We set out the menu, then we can design the space and that's how we create the layout. That's certainly one of our biggest trends.
---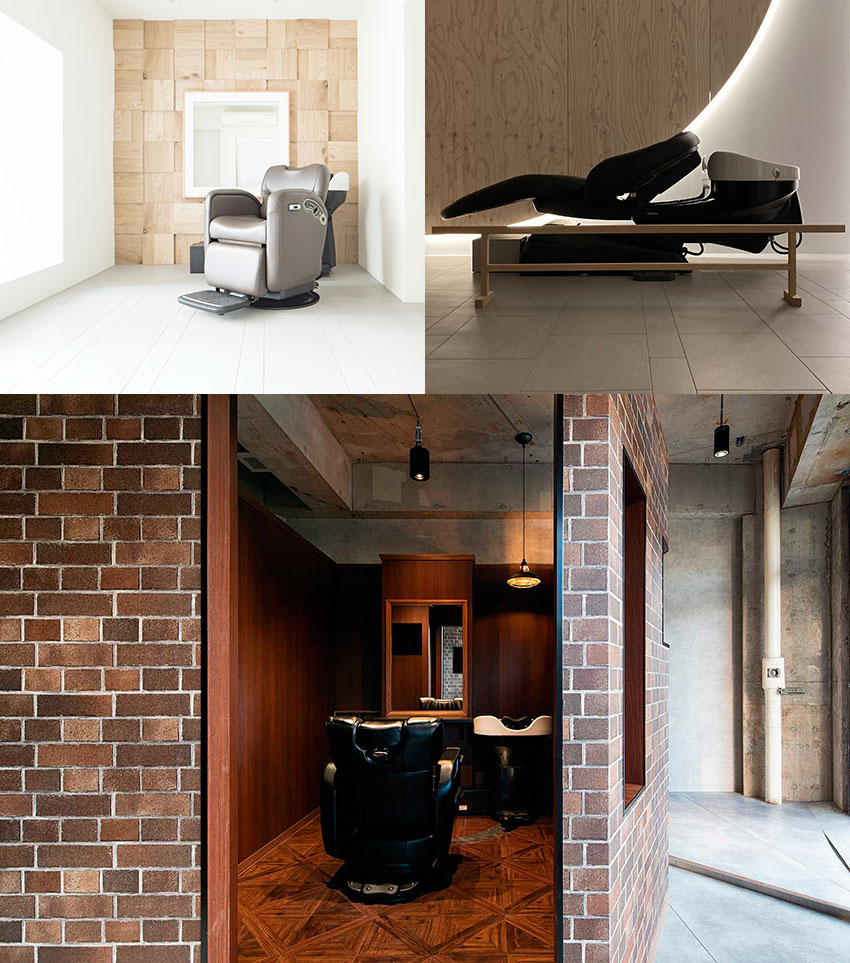 Salon & Barber
---
We saw in our research that you opened a specialty store located in Singapore in order to showcase your products and designs. Can you tell us a little bit more as to why you decided to open the store, and why did you decide to open it in Singapore?
Takara Belmont has 13 companies in overseas so far and we are providing space design by co-operating with them. Singapore branch has a showroom called "TB SQUARE". This is offering not only proposal of equipment but also space design and they are provided from Japan.
---

TB-Square Singapore
---
Can you tell us a bit more about your international strategy? What are some of the key regions that you would like to expand or strengthen, looking at the future?
We have branch in Shanghai and space designing and construction work are handled by themselves. On the other hand, New York and London offices are operated under Takara Belmont.
We are currently not undertaking any construction work in New York or London but we design local hairdressing salons and trade shows to promote sales of equipment.
I think we can seek a lot of opportunities in Asia and as a possibility, Asia can be the base in our international strategy because they have black hair. Japanese cosmetic quality to dye black hair is high and usage methods are also good so that we can apply our expertise in this market. We also consider that it is possible to provide a ideal medical design. We are going to expand this operations by centering Asia especially, Shanghai.
---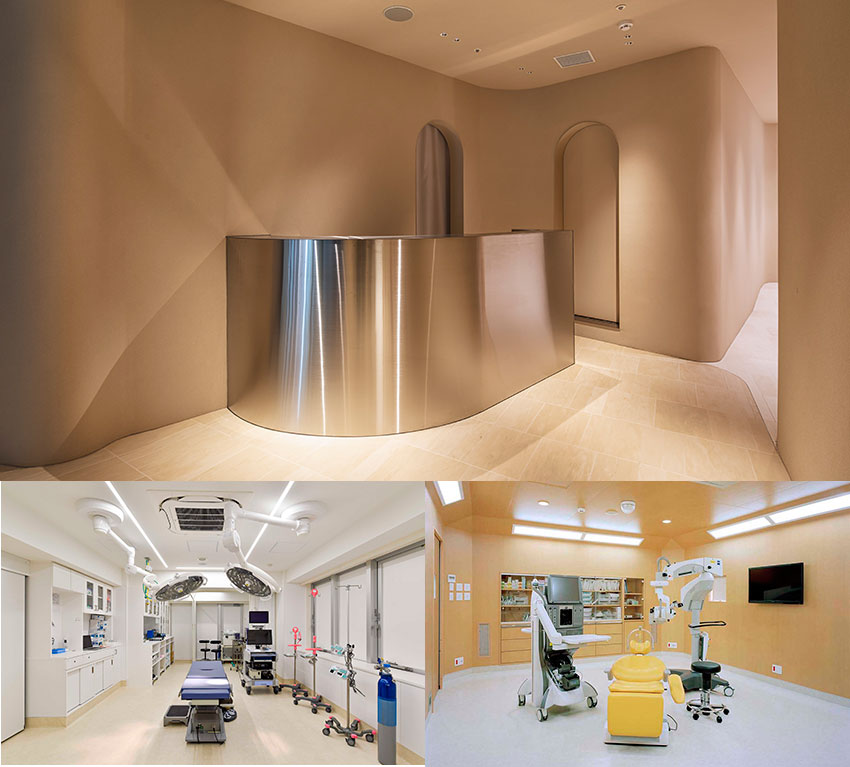 Designed clinic by TAKARA SPACE DESIGN corp.
---
Let's say we come back to interview you again in seven years' time for your company's 70th anniversary. What would you like to tell us about your goals and dreams for the company in that timeframe, and what would you like to have achieved by then?
1959 - the year the company was established - is also my birth year, so our company turns 63 in on May 4th, and I also turn 63 and in seven years I'll be turning 70 as well. Takara Belmont has the beauty and clinic business, and we want to remain a leader in their space design. What we have to do is keep beauty as our core business whilst dental and medical still have a lot of room to grow. It's still in the process of development and there's still a lot of better design spaces that we can propose.
Although beauty business remains our core, we believe that the dental and medical sector will generate more revenue for us in the future. One of the themes of the company remains "Rise into beauty, Walk into life", and we want to be able to create the salons and clinics that embody that.
To be able to do that, we also have to educate our designers better. Our designers have to be operating at a higher level and Takara Space Design isn't as established a brand as Takara Belmont is yet, but we want to be able to further develop our brand and make it stronger. As a professional designer I want to be able to show you the embodiment of the idea of our company by then.
As you know, we have launched TB-SQUARE in Singapore. We actually have one in Osaka too, so if you ever have the time or opportunity, let us know so we can show you around.