In the last 25 years, Japan has seen the rise of regional manufacturing competitors, who have replicated Japanese monozukuri processes but at a much cheaper labor cost. Despite this, many Japanese firms still maintain leaderships in niche fields. Can you tell us how have Japanese firms maintained their position despite steep price competition?
One of the strengths of ICOM is that we do not follow countries like Korea or China when it comes to low-cost, high-volume products, and always strive to maintain a "Made in Japan," policy. I should emphasize that this has been the case since we were founded, which was over 60 years ago now. Our engineering and production specialists are based here in Osaka and we all speak the same language, eliminating cultural and communication issues. We develop everything we do from start to finish here, so from that perspective, we are very good at what we do and we have been doing it for a very long time. This in turn leads to increased quality and lower maintenance. For manufacturers that make household appliances, there is a wide variety of things those companies have to make. In ICOM's case, however, our core competencies are in RF technologies and that, in a sense, is all we do.
Japan is the oldest society in the world and has a rapidly shrinking population. This is presenting several challenges to Japanese companies, the first being a labor crisis; less talented graduates coming through for companies to replace older, more seasoned workers with. Secondly, there is a shrinking domestic market. Can you tell us what challenges and opportunities this demographic shift presents to ICOM?
We are very aware of the demographic situation in Japan and have implemented moves to make our production units smart factories. We are also implementing 5G technologies. Not just the commercial cellular products, but also IoT-based implementations optimized for smart factories and robotics. We use Japanese manufacturers' robots in the production of radios, which have been implemented in our factories. Another potential new business stream we are considering is the selling of our know-how that we have gained through these automation processes.
When it comes to Digital Transformation technologies, Japan is often criticized for having a very slow adoption, with the country only being ranked 28th in IMD's digital competitiveness ranking. What Digital Transformation technologies are you looking to implement in the future?
Traditionally, two-way radio does not fit the description for IoT, but one of the reasons we have survived so long is that we have always adapted to whatever the latest technologies are and implemented that where possible within our product range. A good example of this is in our Long-Term Evolution (LTE) Internet Protocol (IP) radios, which are cellular network-based products that operate like two-way transceiver radios. That in itself is an IoT solution. Obviously, when using carrier-based networks, you can create a new business model with monthly subscriptions. That is another profitable area that we have managed to create in the last three to four years.
---
IP501H ICOM LTE IP radio
---
In modern society, people have many ways to access information, TVs, computers, smartphones and even smartwatches. Radios have been around for more than a century and are still the preferred medium when it comes to responding to emergency situations. In a society where the means to send and receive information are so varied, what benefits do radios have?
With a phone, you only have the ability to talk one-to-one. With radios, you are able to talk one-to-many and are able to communicate with anyone tuned in to the same frequency if they are within communication range. It could be a thousand people that you could talk to. Radios utilize the frequencies that are already there and do not always have to depend on a network.
With mobile phones as an example, the people that run those networks control the system. Users have no say in the system operation. When the 2011 Tōhoku earthquake hit, everything was wiped out and the thing they needed most was two-way radios. Icom supplied Digital Convenience Radio (DCR) products to assist in the emergency response. This DCR standard was on the Icom helped to create.
There was a need to go digital and we already had the technology that we developed in collaboration with JVC Kenwood Corporation called Next Generation Digital Narrowband (NXDN) and we made that a standard for the US market in particular. We provided that as a proven test case to the Japanese authorities and they agreed to make it a standard in Japan. Currently, public frequencies are full in many countries, so of course, the move to digital is more efficient. Everybody thought that two-way radios would die out when cellular phones came around but the two-way radio business is still here.
ICOM has five product divisions. Can you tell us which one is your current focus and which you believe as having the most potential for future growth?
There is no single complete answer to your question, but from a simple market size perspective, land radio is the biggest and the one with the highest growth potential for us. Having said that, because each division is centered on RF radio-based technology, we are always developing products for those genres.
When COVID-19 caused businesses to go down, budgets for the land radio industry were reduced. We covered the shortfall there when everybody was locked in their houses and decided to try out amateur radio. We are very unique and lucky to balance each division out and adapt to the changing market.
With such a diverse use of your products, how are you able to adapt to meet customer requirements?
Radios are radios, however, there are lots of settings. Take for example emergency calls: users want to take these immediately. We design these radios with lots of settings to adapt to the needs of the customer. You can see that a radio can become a very complicated thing, and people need training to properly use one. We feel it is important to create a universal design in order to meet the various customer needs. Historically, we have received many customer requests and we design our radios to meet those and function as a "one universal radio."
We are always asking and meeting end-users about requirements. We talk to the people that actually use the products and are able to adapt to industry trends. We can often create new user requirements by offering a solution that has features that have not been implemented yet. A good example of this is the D-STAR system
---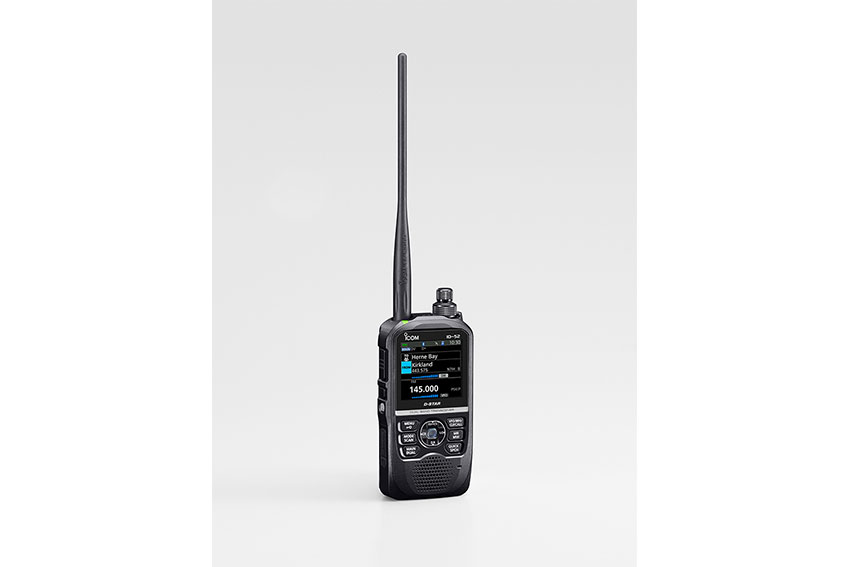 ID-52A D-Star Portable Transceiver
---
It was one of the first radio system to use IP links, so distance was no longer an issue. As a result of creating D-STAR, we also managed to be faster in data transfer than cellular phones were at the time. We could access the internet on amateur radios before cellular phones, and it helped us create 6.25kHz, which was mandated by the FCC in the US to reduce spectrum congestion. It all came about because we did the digital development first as we had the IP knowledge. We took that knowledge and experimented with it and found something that was required by a different division. Other companies will often only tackle one category, and in fact, they sometimes do not realize that.
Connecting a radio to the internet protocol would be a very difficult and challenging process. How you were able to overcome these challenges to make the radio on the internet protocol?
At about the same time we started to develop wireless LAN products, we gained know-how on IP and networking formats. For a short time, we even did a PC building business. We had a lot of knowledge of the internet and IP and applied that to radio systems. With the advent of digital codecs, it was a natural progression.
One of your products is the IP500H, which supports simultaneous and multiple calls and it is being used by Osaka Metro. Can you tell us more about the IP500H, and why it is superior to your competitor's offerings? Why did the Osaka Metro decide to go with your device?
---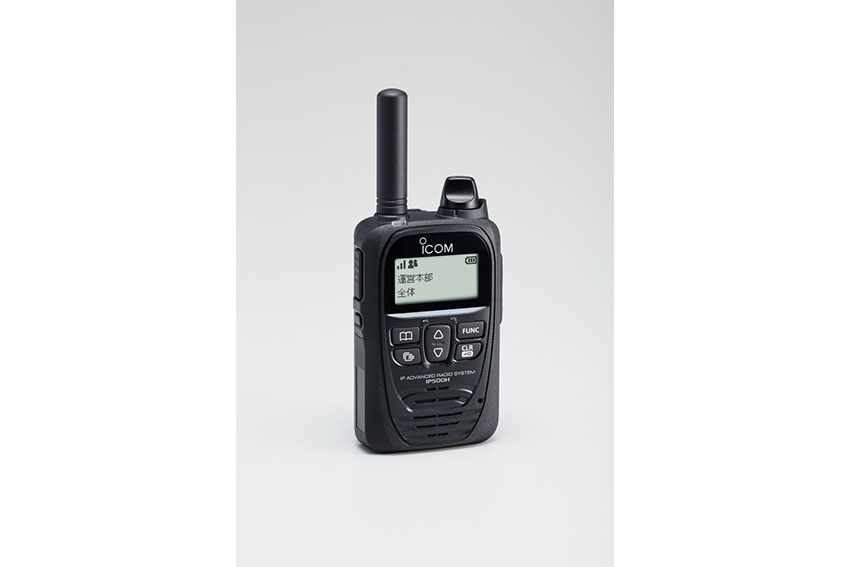 IP500H
---
First, as you mentioned, is the ability to talk and transmit at the same time, and the second is our IP system has the ability to be a closed network, as the system is completely isolated from the public internet. The server and the control are within the carrier system, which never goes through the public internet so can never be accessed from unknown external sources, and that increases the security which was required when it came to the Osaka Metro. We were able to offer a radio-like operation that was secure and had good clear communication capabilities. With Japan having cellular coverage of over 99.8% of the population, that means you can take it anywhere and use it.
We call our system Simultaneous Talk-Listen and it enables several people to talk and listen at the same time without interruption. It really is a big advantage and is very similar to the kind of face-to-face conversation we are having here.
What role does collaboration play in your business model? Are you looking for any collaborative partners in overseas markets?
At the moment, we have a requirement for more software engineers, and as you mentioned, with the declining population, we see more and more competition for those talented people. We have collaborations with our subsidiaries in other countries, and we can source talent from them, as well as our M&A activities, which are geared towards obtaining talent, in addition to our normal hiring activities.
Can you tell us about your R&D strategy, and are there any products that you are working on that you would like to showcase?
From an R&D perspective, our core competencies are in RF technologies, so we put a lot of resources into that. The amateur category, despite sounding less inspiring, has actually been responsible for a lot of the advancements we have made in the land mobile radio category of products. We have the ability to cross categories and implement technologies developed in one to enhance the products in another. An example can be seen in the IP connection developed for our amateur D-STAR products, now being implemented across our entire product line.
What is your favorite product offered by ICOM?
I actually like unlicensed radios. The whole family can use them without any license, and they can be used anywhere, hiking or walking for example. In fact, we sometimes use them in the office here.
---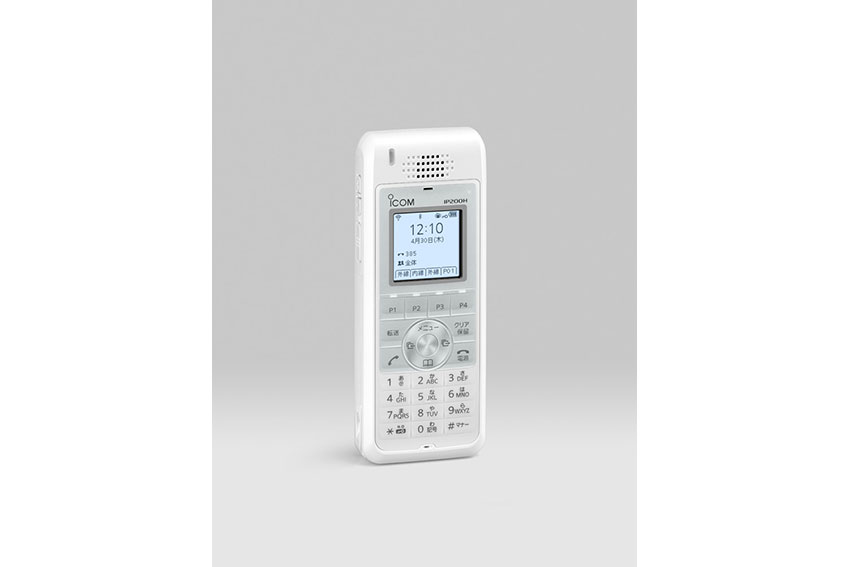 IP200H
---
The IP200H is basically, it is like a desk phone that you can put in your pocket. It is also an LTE push-to-talk (PTT) device. You can call phones or call internally, all using PTT, as well as having Wi-Fi built in. Wi-Fi allows you to connect even outside of an LTE signal. It is the one-to-many features of our products that I talked about earlier. It might cosmetically look old-fashioned, but it is very handy. What I find most interesting is that with mobile phones, you have to wait 4-5 seconds to connect. With this device, it is almost instant and from that perspective, it is very useful.
As a company with a wide range of products in different countries, is your best-selling product overseas?
We have "10 million-seller" products like the IC-F series, but it is not always sales that affect how well a product sells overseas. Often it depends on local regulations and requirements. For example, IP radios in Japan have over 120,000 subscribers here and about 30,000 subscribers in the export market at the moment. Mexico, as an example, will not let us set up a local presence, so we have to create a grandchild company; a subsidiary of a subsidiary. This is something that we are going ahead with, and it means that we can start selling our products to the Mexican market.
What other countries or regions are you targeting for further expansion and what strategies will you employ to do so?
With the American market, as we mentioned earlier, we are planning on expanding into Mexico. We have a presence in Australia and are eyeing expansion into the New Zealand market as well as further expansion in the European market through Poland. With Asian, we can target larger countries such as India and Indonesia, but there are credit risks involved in those markets right now. At the moment, we are concentrating on expanding the footprint of our subsidiaries and the territories they cover.
Your technology clearly contains a lot of unique features and is complicated to copy, however China has demonstrated an ability to make very convincing counterfeit products. How are you able to fight against counterfeit production and define your product in the eyes of consumers?
It has reached a point now where a country like China is almost guaranteed to try and copy your products. We do not put as much effort into their market. We also have counterfeit product measures where we have holograms on certain products that cannot be copied, as well as QR codes that the user can register on our database and be able to identify if the product is real or not. Counterfeiters cannot copy the electronic serial number.
Imagine we come back in seven years and have this interview again: what is your mid-term strategy to continue your growth? What dreams and goals would you like to have accomplished by then?
I think we have mentioned that our emphasis right now is on increasing our efforts on IP products, and obviously, we would like to continue to increase our volume and revenue from that. In our mid-term business plan that we have published, we are aiming for JPY 35 billion in sales, and hopefully, in the next seven years will be ahead of that.
We are not disillusioned by the fact that the market is a shrinking one, but also the number of players in the market has also shrunk. As long as we stick to our fundamentals, core competencies, and do not overextend ourselves, we think that we can keep growing and survive in a shrinking competitive market.
I have a concept of a 'One Team, One Plan, One Goal', which took inspiration from Alan Mulally, the ex-president and CEO of the Ford Motor Company. We were friends in Seattle, and when the time came, Mr Mulally allowed me to borrow the 'ONE FORD' concept that he implemented when he joined Ford (After his time as CEO of Boeing in Seattle). It is my vision that as CEO, I make the One Icom concept a reality and bring Icom together as a whole. I have created a team outside of the overall structure of the company that debates topics on how to run the company and come towards a unified consensus.