What do you believe to be the strengths of Japan's manufacturers that allow them to compete in the global marketplace?
Although the Japanese business model has shifted from B2C to B2B, the world still patronizes Japanese products, even behind the scenes. I believe that the strength of Japanese companies is quality control and assurance as well as their monozukuri spirit. Their keen interest in maintaining high-quality products gains the trust of the international community and allows them to compete in the global market. Along with quality, Japanese manufacturers make sure to always deliver on time. Even for products that are not widely used, a company's spirit of craftsmanship prevails. The techniques and technologies employed in the development of a specific product have led to a more elevated technology. Kiwami or the ultimate pursuit of quality has brought about more efficient ways of production, as well as the improvement and betterment of monozukuri. Another strength of Japanese firms is their lifetime employment system, enabling the employees to learn a variety of skills. Because the workers are skilled, products can be manufactured by a few people. Moreover, with such a system, the company can preserve skilled techniques, Waza. Still, the situation can change in the future.
An increasing problem, especially for SMEs, is the departure of skilled workers. Along with that is the departure of technical expertise, affecting the continuity of business. What challenges and opportunities exist for Tokai Kogyo in mitigating the impact of Japan's aging and declining population?
To mitigate the impact of the declining population, we are introducing automation and robotics. However, that approach sets some limits in our pursuit of kiwami or craftsmanship, so we are also developing AI, IoT and IoH systems to be incorporated into our factories. Due to AI's limitation in retaining the craftsmanship spirit, we still highly value the people, so we strive to make our company attractive enough for talented individuals. Looking on the short term, we are trying to incorporate diversity by employing older and younger generations alike, including women and foreign workers. We have established our subsidiary that manages overseas trainees, which is an organization that has already been approved by the Japanese government.
One of the most impactful changes for parts and components makers in the automotive industry is the transformation of materials to make cars lighter and more fuel-efficient & accommodate environmental regulations. What impact has this shift in material demands in the automotive sector had on your business?
The two major demands from our clients are making more lightweight and carbon-neutral materials. Transitioning to more lightweight materials also involves changing the design of the product. To support carbon neutrality, we need to change the process of manufacturing by applying energy-efficient processes that will still yield the same quality of products. We need to use adequate materials for production to use less energy. Also, plant-based materials are being widely used, like cellulose nanofiber (CNF), which is the focus of our R&D now. Instead of using conventional rubber, we are proposing the use of resin. We also use sponges inside to make our products lightweight. Nevertheless, it is a challenge to combine these materials.
Could you share an overview of your foaming technology for car and train seats, which you have recently applied to your USUKARU wheelchair cushion system? What motivated you to apply this technology to the medical field?
Our company started with rubber-related products, and we have woven the rubber as a material for seats. However, due to the change in society's demand for comfort, we focused on using our urethane foam technology for seats because it has excellent body pressure distribution. We have always wanted to enter the medical field, but it involves high risks. I had a friend whose lower body was paralyzed from snowboarding. While talking with him, I found out about the lack of a quality cushion for those who need to be sitting for an extended period of time. It was one of the incentives for the invention of USUKARU.
---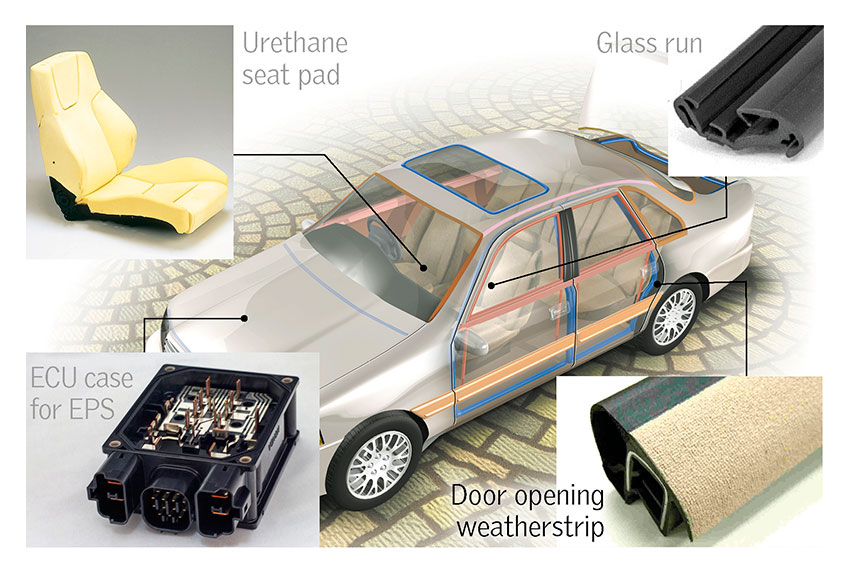 ---
What are some new applications or products you are planning to create using CNF?
The focus of our research and development is plant-based materials for parts, including CNF. It may be difficult to fulfill the specifications of the clients but changing our perspective adds value to environmentally friendly and carbon-neutral products, which we are trying to promote though it can be very expensive. The end-users should recognize the intangible value of environmental friendliness for us to be able to continue the cycle of eco-friendly products. I feel that we must acknowledge that each of us is a part of the human race. I tell my employees that that is a challenge for humanity.
Building off of the success of the USUKARU, what is your next objective to penetrate this new market? How else are you applying your core technologies to the medical sector or to any new sectors?
We are always looking for new possibilities. Due to the difficult hurdles we need to overcome in the medical sector, we want to utilize our technology in the pet industry. Similarly, we are seeking to contribute to the needs of the agricultural industry.
Considering that a third of the population will be over 65 in a few years and fewer people are getting married, more people are likely to have pets. Alongside this trend is the aging of pets, so we are aiming to provide a solution or a medical service for that. In agriculture, we worked with machine developers to jointly develop tractor seats utilizing our USUKARU, which absorbs vibration.
Collaboration is a great tool, especially in entering new fields, in the transfer of technology and in the developing of products. What is the role that collaboration or co-creation plays for your business? Are you looking for any new overseas partnerships?
Collaboration plays a vital role in our business model, particularly in international business. Since the automotive industry takes place in multiple locations across the globe, we have to be able to readily supply our products to secure our business opportunities. Working together with local partners, joint ventures or technical alliances is important. Additionally, to enhance our international competitiveness, we want to work with both Japanese and foreign manufacturers for joint development and lower production costs. Every country has its own culture, language and mindset, so local partners acting on our behalf is crucial.
Looking towards the future, is there a particular market or region that you consider the most key??
I feel that there may be an excess of suppliers, so our focus is not to invest too much in facilities. We want to fortify our existing facilities to fully utilize their capacity, and also strengthen our partner companies. We want to collaborate with local partners to penetrate into the markets where we do not have a production facility. Likewise, we are also open to M&As.
Imagine we come back in five years and have this interview all over again. What would you like to tell us? What are your dreams for the company, and what goals would you like to have accomplished by then?
Our company's credo or philosophy is that we want to contribute and enrich society through our monozukuri. In five years, I want to fully execute our ongoing TKG 2025, our midterm plan.