Could you please give us an introduction to your parent company, Asahi Intecc, and its business?
From its inception, Asahi Intecc has been manufacturing wire ropes used for industrial equipment, and later expanded to medical devices. In the field of industrial equipment, we supply single mesh wire ropes, cable racks and other wire products with diverse functions.
In the field of medical devices our PCI guide wires helped to revolutionized cardiovascular treatment, and we supply a variety of other medical components. We employ renowned Asahi Technologies to provide OEM products and services to medical device manufacturers around the world.
We also supply guide wires, catheters and other products used for catheter interventions in various therapeutic areas to customers worldwide under our own brand name. Our PCI guide wires, leading products marketed under our own brand name, enable a groundbreaking, minimally invasive treatment that reduces patients' incisions and hospitalization.
In this way, we've greatly contributed to the worldwide use of PCI or percutaneous coronary intervention. PCI is an endovascular treatment for diseases caused by blockage or narrowing of coronary and other blood vessels without a large surgical incision in which a guide wire is inserted from the wrist or groin area into coronary artery of the heart, and a narrow blood vessel is expanded with a balloon catheter.
By continuously listening to the voices of the physicians who actually treat patients and deal with various cases, quantifying their feelings in the form of product specifications in addition to making product development and marketing teams work together, we've created many products.
We created four core technologies to address physicians' real needs. Wire drawing technology is a processing technology to make wires thinner gradually to a desired diameter by using high precision processed diamond dies. Wire forming technology is used to process various types of wire made by wire drawing, including stainless steel wire into ropes and coils designed for different purposes.
Coating technology is composed of two processing components. The former is to coat the surface of wires and ropes with an ultra-thin film of PTFE resin or other material, and the other is to extrude thermal plastic resin. Our unique processing equipment and special torque technology improve controllability of the wire by giving it ideal torque response.
Leveraging these four core technologies, Asahi Intecc has created numerous medical devices that meet physicians' needs. We have further developed them into even more advanced cutting-edge technologies, including laser processing and die and injection molding.
We are building a global R&D system, keeping touch on a dynamically changing global medical market. Wire related research into metals and cutting-edge materials takes place at our Osaka R&D center, the one related to resin materials happens at our Shizuoka R&D center, and that for die and injection molding and other high precision processing technologies is conducted at our Tohoku R&D center.
At our global headquarters and adjacent R&D center, we develop medical products by integrating the technological findings of other centers and by using feedback from top physicians. The simulation room at that center provides an environment for evaluating product prototypes and for training physicians in an environment that closely replicates the conditions of actual clinical settings.
Outside Japan, Asahi Intecc Thailand engages in product improvement development and production technology development. In the United States, Asahi Intecc USA is working with the country's physicians to develop peripheral catheters which are in high demand in the US market.
Armed with lessons learned from the 2011 Thailand floods, we are working to further boost production efficiency and promote decentralization to strengthen business continuity planning. We are building a mutually complementary system where all factories can produce the same products.
With increasingly automated production systems that meet the high-quality standards required of medical devices we flexibly handle procurement, production and shipping.
In order to guarantee the high quality required for medical devices, we perform timely quality control by supervising development and production sites, and by maintaining and managing our certifications in international standards.
We have established a global regulatory affairs system by allocating specialized personnel who deal with the legal systems in each country, and our sales network has expanded to over 110 countries and regions. In the US, we have launched a direct sales business, aiming to further increase our market share.
In addition to our world leading cardiovascular products, Asahi Intecc develops various devices used for neuro vascular, abdominal vascular, peripheral vascular and other endovascular therapeutic areas. In recent years, we have also been developing products used for gastrointestinal endoscopy. In the cardiovascular field, Asahi Intecc developed the world's first products useful for CTO treatment, contributing to significant increases in success rates.
CTO, chronic total occlusion, is a lesion that has been completely occluded for a long period in the coronary artery. High torque performance and pushability are required for a guide wire to be able to pass through such a hard lesion.
We are also expanding into the field of gastroenterology and developing endoscopic guide wires used during a procedure called ERCP for stone removal and other gastroenterological products. Our products also have a fine reputation in the field of gastroenterology thanks to their excellent torque performance and safety.
Our endless energy enables us to face the challenge of saving human lives with technology and passion. Our one and only technologies help us become a global niche top company. The future of healthcare through truly unique technology.
Now could you talk to us about Filmecc's origins and operations?
Firstly, our company name, Filmecc, comes from "Firm Innovative Leader of Medical Creation with Customer". We have been collaborating with our clients and creating innovative products and services.
Our offices in Japan are divided into three locations. The headquarters are located in Nagoya, and the sales division is located in Shinjuku, Tokyo, and our R&D center is located in Asahi Intecc's Global R&D Center in Seto City, Aichi Prefecture.
Our president is Toshiya Osawa who is also an executive officer of the parent company, Asahi Intecc. Our company was established in 1996 as the second brand of medical devices company initially.
Our company is capitalized at 99 million yen, or about $1,000,000. Our department was originally within Asahi Intecc, but was spun off and integrated into Filmecc.
The difference between Filmecc and Asahi Intecc is that Asahi Intecc focuses on physicians and hospitals with its own products. On the other hand, Filmecc designs and manufactures products on contract for companies like Boston Scientific and Terumo, etc, so we are separate companies.
---

Filmecc Co., Ltd. is a CDMO/CMO company within the Asahi Intecc Group, specialized in developing and manufacturing medical devices.
---
We share technology, quality, manufacturing and other functions while maintaining customer confidentiality. We try our best to provide a full range of services from design to manufacturing, although in some cases we are contracted only for design or only for manufacturing, depending on the customer's requirements and needs.
Our company was reborn in this July, we became a new company. Our "purpose" is "Contribute to improving people's quality of life by providing a solution that exceeds customer expectations with our best technology".
The most important thing is to exceed customer expectations. Each and every one of our customers and employees is aware of this purpose, and we work together as an organization to provide the best solution to our customers every day.
Our CDMO or business has one unique feature, and that is that Asahi Intecc Group has its own unique medical components. By owning medical components, we can be involved in the development of medical devices from the very early upstream, and if we do not have the optimal materials, we can design and develop new material from scratch.
We definitely have the upper hand in having a medical component business in the CDMO market. This is a most important point.
---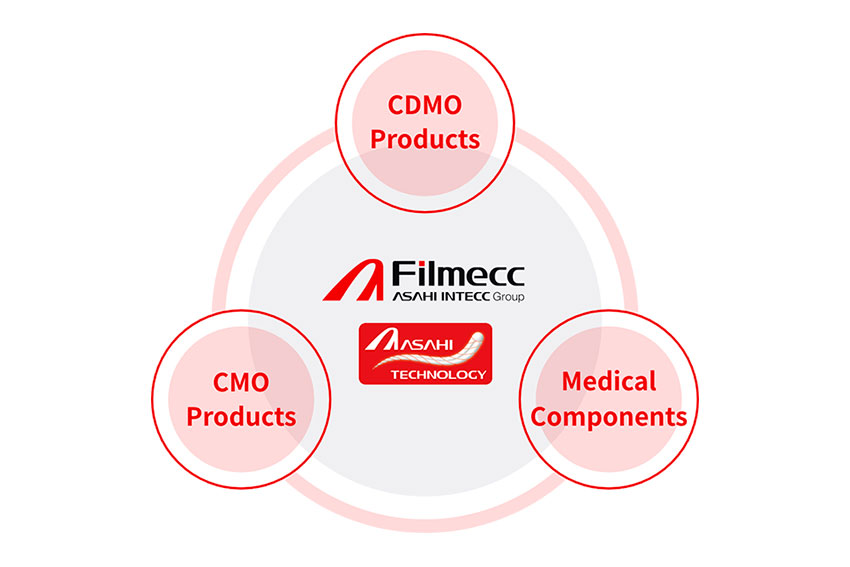 Business Segments and Products
---
For example, we have collaborated with Boston Scientific, a giant US medical devices company. We have delivered various medical components and semi-finished product to them, and we have been their partner for many years. They trust our technology so much that some of their products are distributed worldwide with our logo. This is an example of how our technology has improved the customer's values, thereby creating a win-win relationship between the two companies. We hope to create many more good examples like this in the future.
Regarding our business areas and future expansion, in existing businesses, we have been providing products and services in areas of cardiovascular, our main business, as well as peripheral vascular, abdominal vascular and neurovascular and the gastrointestinal area.
We have designs on two new business domains - electrophysiology and structure heart diseases, now we are beginning to develop new businesses so that we can offer products and services in two new domains.
We have three offices in Japan. As I mentioned, we have the sales and development, obviously, in the US. One is Filmecc USA Inc., and we also acquired the CDMO company "Rev.1 Engineering" last year. For mass production, we have factories in Thailand, Vietnam and the Philippines, allowing us to manufacture at the most appropriate location.
We talked about four core technologies before - the wire forming and drawing to create consistent size and consistent quality, the torque for ease of use and application, and the resin coating, which is very important. These technologies allowed you to dominate the PCI field for many years. What is there left to improve? What is the next challenge in terms of perfecting this wire technology? What would you say is the current focus of your research and development?
Asahi Intecc originally started off as a manufacturer of industrial materials, especially ropes, and they entered the medical field by providing an endoscope wire to Olympus. In order for them to secure overwhelming market share for endoscopes, quality is essential and they trust us, so we have this more than 30 year relationship with them.
Actually, it can be traced back all the way to the founder, when he started off the Asahi Intecc business with only his wife. Only the two of them were manufacturing wire ropes, and Olympus were looking for high quality wire ropes in a certain area of Osaka, which has a lot of business there, and our company also originated in Osaka.
At that time, a wire rope manufacturing machine was very expensive. At first, we provided wire ropes to Olympus and they evaluated our product and determined if it was good or not. At that time, you could manufacture using the machinery, but you couldn't tell the result if the quality was good or not.
Our founder introduced a tensile strength and measurement machine, which was very expensive at that time. The cost of this tensile testing machine was equal to, or more expensive than the manufacturing machine itself, but he wanted to know right off if the product was good quality or not.
That is the spirit that is embedded within Asahi Intecc and Filmecc until today. The business with Olympus began, and eventually we started to provide spring guide wires and started work as a CMO company. At that time, the design was made by our client, and we only manufactured it, but we began to create their own brand and became a CDMO.
The first approach was the manufacturing of guide wires for the coronary artery for CTO. When the vessel is fully blocked, we use the guide wire to create a path, and at that time U.S. companies were reluctant to develop a product, so we came in with Japanese physicians.
Using our brand guide wire, Japanese physicians were successful in creating a path for total occlusion blocked coronary artery.
It naturally spread to Europe and the United States. Physicians were impressed to see this success and wanted to use it themselves. Currently, Asahi Intecc guide wires and catheters are known not only in the cardiovascular field but also the abdominal and the neurovascular areas, as well as peripheral vessels present in feet. Asahi Intecc's brand is well known, especially in these areas.
Filmecc was established about 20 years ago, and at that time we started off as an OEM manufacturer of CMO, but clients started to ask us to develop ourselves, so we evolved from CMO to CDMO, and the customers highly appreciated this. We have four core technologies that support the manufacturing of Filmecc.
Our technology can be traced back to the introduction of the tensile strength testing machine, but at the beginning we used to purchase wire-drawn stainless steel. I think relying on outsourcing is a risk, so by following the founder's spirit, we made the drawing process in-house by purchasing the machine.
The reason why is also to maintain high quality. If you rely on others, you must tolerate a high degree of variance, but if you make it in-house, you can be more precise and decrease that variance.
The objective of our research and development is to increase the tools or the technology that we can offer to our clients so we can enhance the solutions that we provide. Our Filmecc brand used to rely heavily on Asahi Intecc's brand. In creating synergy with Asahi Intecc, we want to focus more on B2B areas which Filmecc has strength in, especially in the field where Asahi Intecc does not cover.
---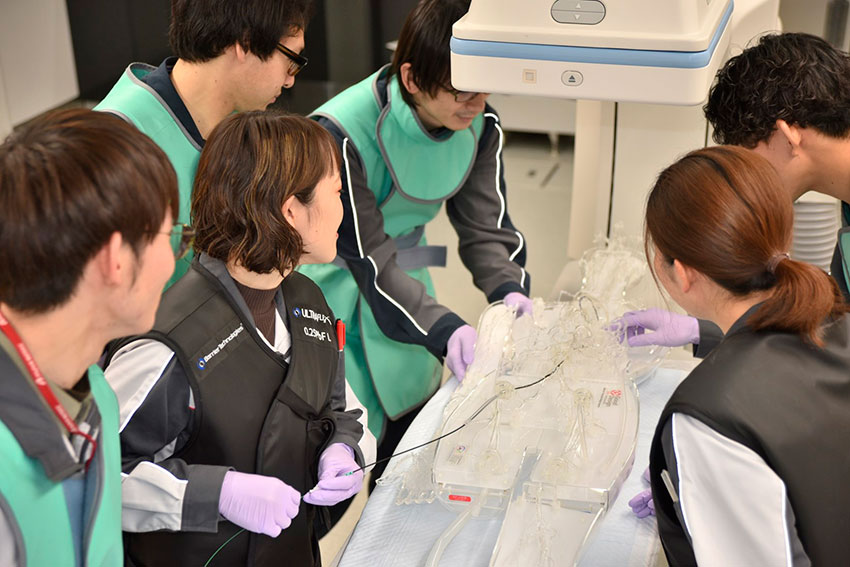 Filmecc engineers have been developing the product based on the customer's requirements and the needs of physicians proactively.
---
We are trying to fortify the areas that Asahi Intecc were not able to focus on till this moment. Medical devices are centered around the US, the CDO business is especially very active there, and there is a culture to outsource so we would like to continue serving in America.
Last year we acquired "Rev.1 Engineering" in order to fortify our US operations. They are engineers who have been engaged in structural heart diseases and electrophysiology.
Our target is to utilize our technology to enhance the brand quality and awareness of our customers. Working together with our US partners and subsidiaries, we would like to continue to serve the American Market. We use a special sensor that uses pressure to measure the flow of blood.
---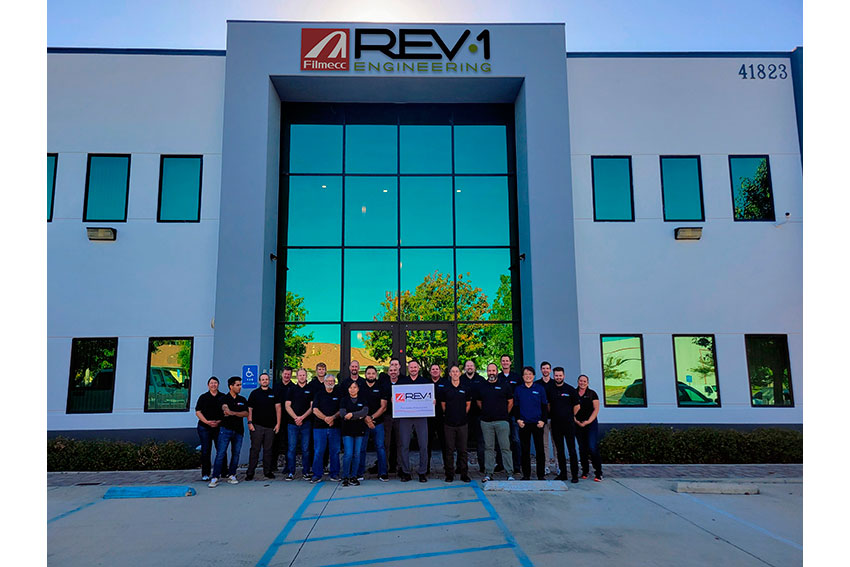 REV·1 Engineering (USA) specializes in the design and development of complex, minimally invasive, interventional medical devices.
---
As a good example with our U.S. partners, I would like to introduce our collaboration with Boston Scientific. Several of their products use our components and assemblies, and the finished products are distributed globally under our "ASAHI TECNOLOGY" brand. It means that they acknowledged our brand quality, and that's why we are able to show results. Filmecc would like to continue providing new additional value to our clients, such as this example, by providing Asahi technology to them.
Japan has an aging population, but we're seeing the same thing in Germany and Italy in a couple of decades, in China as well. There's potentially a huge market. How do you see this change? What impact is it having for your company, both in terms of the challenges it may present but also the opportunities?
As you say, Japan is advanced in terms of its aging population. For sure, the Japanese example will provide a pioneering model to other global companies. Japan will be the first in the trend of this aging model. We see this as an opportunity for new medicine, and we are collaborating with Japanese physicians. We're thinking of a new business model, first collaborating with the physicians, then proposing to our partnering companies.
We saw information about the idea of robotics for conducting operations themselves, for example. To what extent do you believe digital technologies will transform healthcare?
As Asahi Intecc group, we are keen on introducing robotics. Japan has a well-built social welfare system, but it's more centralized in the urban areas, even in Japan. Since good hospitals are more centralized in urban areas and less in the rural areas, by introducing robotics to rural hospitals, physicians can remotely control and perform the necessary operation or procedure for clients in rural areas.
We are trying to add new value by working together with several U.S. and European digital component provision companies, for example, for adding sensors to our product so it can be controlled or monitored remotely.
How do you envision your international development? What are the key steps that you've set out?
We are currently prioritizing the U.S. market. We have a new group company called Rev.1 Engineering, which we want to fully leverage.
Next, to China. It's a very big market, but there's difficulty in penetration. There is a huge potential market there, but we would have to do something that we can control by ourselves.
After that would be Europe. Once we consolidate in the U.S., we might enter into Europe. There they have the MDR regulation. There's a tendency among our partnering companies to reduce the amount of products offered to Europe, so we have to look at this MDR regulation and decide whether we should go on or keep our share small.
We don't have a specific plan at this moment, but once we consolidate in the US and it's time to move on, M&A would also be an option. Since CDMO businesses need to be close to their clients to communicate thoroughly with them, we need a base closer to our clients.
Let's say we come back to interview you again in a four years' time for your company's 30th anniversary. What would you like to tell us about your goals and dreams for the company in that timeframe, and what would you like to have achieved by then?
This July, we had a big structural change in our company, and Asahi Intecc's CDMO division joined us, so we have over 100 employees now. We are currently reformulating our purpose, mission and core values. In terms of guide wires since there is a well-established Asahi Intecc brand, and we receive contacts through Asahi Intecc.
After the guide wires, it is the delivery devices such as catheters that we have strengthened, so we want to be a number one company when it comes to the requirements for delivery devices. It may take five or 10 years, but we would like to achieve this objective.