In the last 25 to 30 years, Japan has seen the rise of regional manufacturing competitors who have replicated Japanese monozukuri processes but doing so at a cheaper labor cost. However, Japanese firms are still leaders in niche B2B fields. How have Japanese firms been able to maintain their leadership despite the stiff price competition?
I think each industry has different circumstances. Patience and the spirit of never giving up until goals are achieved are embedded in the Japanese character, which works well in business scenarios. Since WWII, several excellent companies have been born, like Sony. Maybe even before WWII, many companies tried to catch up with the US. Nowadays, China is also greater than Japan. In the 50s and 60s, the founder, my grandfather, always strived to be a good cutting tool manufacturer in the global market. That kind of powerful motivation helped to lift Japan's economy. The Japanese people's remarkably challenging spirit at that time may be a bit different from now, which could be due to the change in the educational system, among others. As Japan struggled for many years after the economic bubble burst, Korean, Taiwanese or Chinese manufacturers were able to catch up. However, Japan has kept its position in niche fields, such as precision machining of parts for iPhones. A big part of the manufacturing process of iPhones is managed by Foxconn Technology Group, a Taiwanese company, but many important parts are still being provided by Japanese manufacturers, such as semiconductors, sensors, lenses or cameras. Some parts may have been easily replicated by Korea or other Asian countries, but not the core points or the black box know-how.
Similarly, OSG has the unique know-how we have built in the last 84 years. Our main products are carbide tools and high-speed steel tools, and our high-speed steel cutting tools have a much longer history. The manufacturing process may seem to be as easy as buying the materials, grinding the tools and applying a surface treatment before finishing. In reality, it is essential for precision tools to first obtain good material as well as quality heat treatment technology instead of just putting it in a chamber and increasing the temperature. Nowadays, everybody can get highly efficient processing machining from Germany, Switzerland or Australia.
Most cutting tool manufacturers outside of Japan can put the lot, select the original program and produce the cutting tools. On the other hand, we combine everything, including selecting specific technology, grinding machine or good cutting oils. A significant difference is tool geometry and the smooth surface of the flute, cutting edge and so on. Since applying surface treatment or coating at the final process is also important, we have developed our original recipe for the coatings. Everything is a mixture, which gives us an advantage over our competitors in Asian countries.
Throughout our long history, one of our strong points has been production capacity, especially tapping tools for threading. We estimate that OSG's manufacturing capacity for taps is more than twice as many as the second or third largest manufactures in the world market. On the other hand, our new core products like drills and end mills, our capacity is not as huge as our taps. In our case, we are confident in our small-sized end mills, but we also produce larger sizes for many industries such as aerospace or construction. Aerospace is in a difficult situation due to COVID, but I do not think that will last forever. Perhaps, in three or four years, the aerospace industry will recover. Our strengths include capacity, know-how or process of production, and a wide range of products. In the cutting tool business, customers need a wide range of solutions, and we can bring threading solutions while linking the drilling process.
Our primary business strength is that we can provide the total solutions for our customers using round shank tools, which is a notable point compared with other competitors in the global market. Although in some cases, Chinese or Taiwanese competitors produce good products, they may not be added enough technical services. They may be able to produce large quantities targeting the bottom of the market triangle. On the contrary, we target the high-end or middle-range markets, indicating that customers prefer performance in addition to the cost. Some competitors targeting the bottom can maintain large quantities but not have a high turnover.
One of your most notable cutting tools is the A Brand, which include the AE-TS-N or the AE-TL-N, which are DLC-coated carbide end mills for non-ferrous metals. Can you tell us more about the A Brand series, and what makes it superior to more conventional cutting tools?
The A Brand was initially launched as a first-choice product for customers. We expected to increase the volume of this brand once we started it. Actually, we have incorporated most of our best technologies in each A Brand product to guarantee high performance in our customers' applications. Because it can provide multiple solutions for most types of applications, we have set slightly higher prices for the products under this brand.
Simultaneous with the growth of the A brand business is the increase in the volume of production. The increased lot of production in the factory means greater profitability at our production sites. Therefore, we can generate profit in a factory and in a market because of high productivity and good pricing. Since the A Brand gives us high profitability, we are always pushing this brand as the first choice for the customers. We try to keep adding new types of products to the A Brand to give the best solution to our customers.
Typically, the new series, AE-N end mills, is for aluminum or nonferrous materials and applications. We have integrated our latest technologies in this series like new flute forms, to give smooth chip evacuation capability. Moreover, we also put on the DLC-SUPER HARD coating, which is a thin and smooth surface type with emphasis on sharpness. By adopting the DLC coating, high welding resistance is achieved even in aluminum milling. Therefore, the sharpness of the cutting edge is kept through high-speed machining, helping our customers to keep a much longer tool life. Customers must change cutting tools that are welded or broken, which requires time for resetting the machines. The tool life lasting long enough means that it is helping their productivity.
---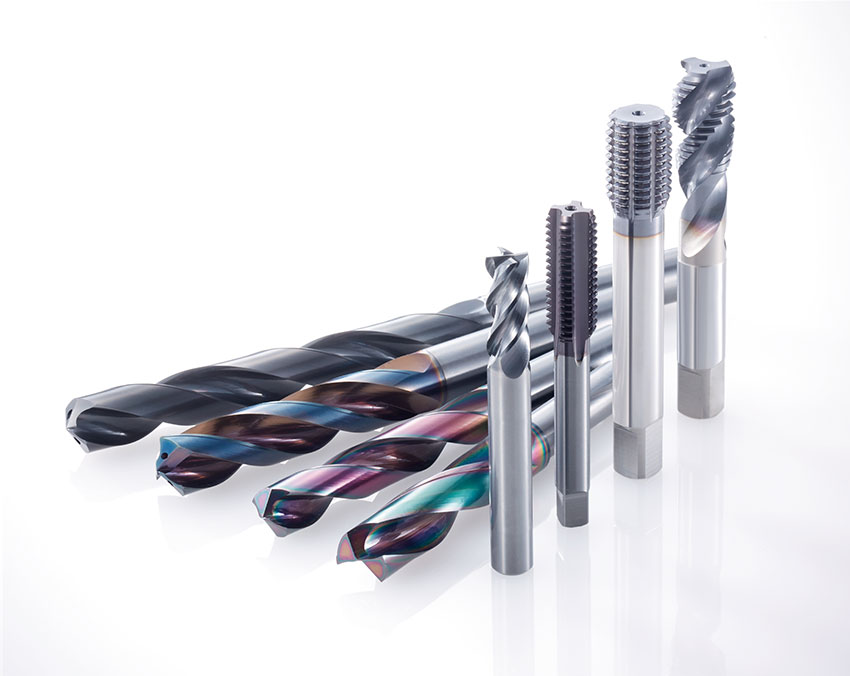 A brand products
---
Your products are utilized in a wide variety of industries, including automotive, die and mold, aerospace, energy as well as the heavy industry and construction machinery. Which industry are you currently focusing on, and are there any that you are looking to expand into in the future?
The automotive industry, for example, is a broad industry structure, with many types of components produced by Tier 1, Tier 2, or even smaller suppliers. This broad pyramid structure of the components industry also includes aerospace, construction, electrical, and IT equipment. A-brand standard products are often used in these sectors, among others.
When targeting large end-users such as aerospace and automotive, where precision is required, we offer specialty products that can always provide the optimum shape for each application. From a marketing perspective, providing specialty tools to major users requires supply and development capabilities, which is where our strengths can be leveraged.
Customers may not want to spend time on the tool change process, so we are confident that if our tools are adopted, we will continue to supply them. Of course, competitors are also constantly approaching these target customers, so the market is always competitive.
Sometimes we win, but sometimes we lose. As long as we keep taking various opportunities, we can have a unique business model. We decide which tools to offer, custom-made or the A Brand tools, depending on the volume or type of applications in each industry. In most cases, selling standard tools requires working with dealers. OSG has a strong sales network globally. We now cover 33 countries with OSG's overseas organizations. Each has its sales channel, which also opens a way for us to obtain real information and business opportunities in the global market. In addition to trying to find significant opportunities through our sales department in the global market, using dealer networks also substantially helps us to expand our standard tool business worldwide. These combinations are very advantageous.
---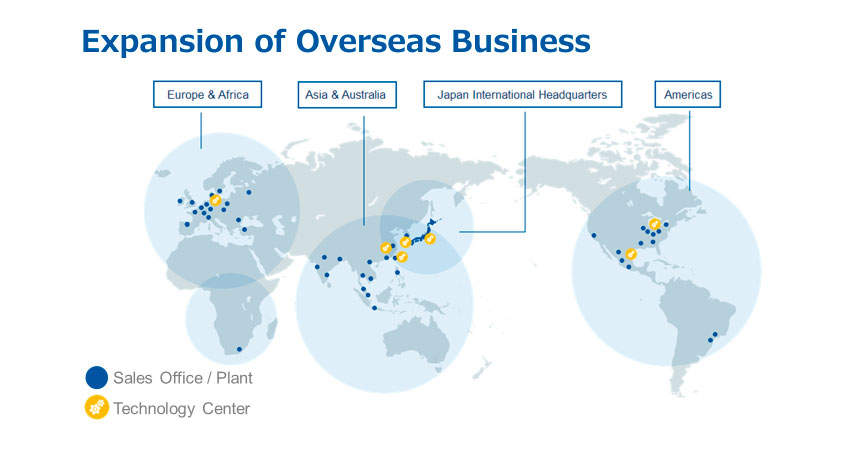 Global Network
---
The automotive sector is undergoing a great change with the switch to EVs from gas-powered vehicles. As a result, fewer overall components are needed in the manufacturing of cars. Traditional gas-powered vehicles require roughly 30,000 components, while EVs require about 15,000. What are some of the threats this switch to EV poses for your firm, and how are you overcoming them?
That is a concern for the future, so of course we are considering how to respond to the shift to EVs, since it is clear that the shift to it is a future concern. When we do shift, we will lose powertrains, so there will certainly be a portion of the business we have done so far that will be lost, but it is not a large percentage of our overall business. But in 10 or 20 years, a billion people out of a total world population of 7 billion will have access to EVs. If we exclude children, we can say that less than 6 billion people are still using engine-powered cars.
As long as we maintain a high market share in this engine-based powertrain, it will not rapidly drop to zero. There is plenty of time to shift to other business segments, and the shift to EVs will bring new business opportunities as well. We are also focusing on the development of products that respond to the new possibilities of EVs.
The automotive industry is undergoing a period of great change, and CASE(Connected, Autonomous, Shared & Service and Electric), the next generation of what automobiles should be, is attracting attention. The concept of CASE is changing the players in the automotive industry, and while COVID and China's Zero-COVID policy may have an impact, the supply chain is undergoing major changes.
Already, EV vehicles are beginning to enter into markets not only through automobile manufactures, but also through those from other industries. EV vehicles will require more electrical equipment, and new entrants can expect new business opportunities. We must also determine how to proceed and how to catch up with new business opportunities in areas such as sensors, lenses, and semiconductors. The new medium-term plan also targets the micro precision processing tool business, which also covers such new business opportunities
One interesting target in your midterm plan is your goal of achieving a 40% share of the global tap market. What actions are you planning on taking to achieve this?
Taps have been our product since our founding, and our strength is our production capacity.
We already have a global market share of just over 30%; if we can reach 40% or more, we will be far ahead of the second place. If we can secure such a high market share, that position will guarantee good profits for us. Taps are one of our most profitable products. The reason we can produce taps efficiently is that we produce them with our own-developed grinding machines. We have a large number of thread grinding machines designed and developed exclusively for our own use.
Currently, our main tap factory is located in Shinshiro City, Aichi Prefecture in Japan, but we also have medium-sized factories in Korea, Taiwan, Brazil, and Mexico. Most of those factories use our developed grinding machines, and we have a stable position in tap manufacture.
Several of us in the Management of OSG have noted a business article about Lanchester's Law, a plan adopted from military strategy that can be applied in the business world. In terms of war, this strategy quantifies the relative strength of armies and predicts victory or defeat. The ratio of forces already determines who wins and who loses. Applying Lanchester's Law to our tap market share, the strategy of the strongman applies when the market share is 42% or more, and I try to motivate my employees with it.
We would like to achieve a 40% and more share of the tap market in the future, but we are not yet strong enough in Europe and perhaps even in the Chinese market. In these markets, we have a solid opportunity to increase our tap market share.
According to the Japan Cutting Tool Manufacturers Association, each manufacturer must report monthly results so that accurate figures can be obtained. In Japan, the market share of taps has already exceeded 50%, so we believe that it would be difficult to expand the share much further in Japan. In the U.S., the USCTI, an association, is the basis for accurate statistics. In China, Asia, and Europe, it is difficult to count exactly. In our analysis, these market shares are still small compared to Japan and the US market share. Our focus is on growth in these (China, Asia and Europe) markets.
The main markets we are targeting for micro machining tool applications are Asian countries. Micro-machining tools are used for small parts, but those parts are produced in large volumes, for example, in electrical equipment and automobiles. The mass production is concentrated in the Asian market, especially in China. This is because labor costs are low, and many companies in the parts industry are building huge factories in China and other Asian countries. If we target the parts industry, especially for small-diameter tool applications, then OSG will be a good choice for customers because of its wide selection and ability to provide total solutions.
Major parts manufacturers continue to produce the same parts 24 hours a day, 365 days a year, so they need a large array of cutting tools. Therefore, if they do not have an adequate supply of quality tools, their machines may stop and productivity may be down. Such customers are not biased toward one supplier, but often use multiple cutting tool manufacturers as a hedge against risk.
So, if we can guarantee a stable supply of a certain volume, productivity on the customer side will stabilize and there is a possibility of continuous business expansion. That is the kind of game plan we are drawing up, and it is part of the micro-precision tool strategy in our mid-term plan. First, we need to reach out to customers in Asian countries by utilizing our sales department and channels. We are also working with major machine tool manufacturers to approach the Asian region.
Machine tool manufacturers will want to sell machine tools, and we want them to sell cutting tools. We are working on the idea that by combining our products, we can offer the best combination and performance to our customers. It can be a win-win relationship for all. Machine tool manufacturers fully understand the advantages of their products, but they do not specialize in cutting tool selection. In that case, if OSG can provide the best combination of cutting tools from the beginning, we can make a total proposal of selected tools with our wide selection of products. That is one of our strategies to work more closely with machine tool manufacturers.
Most Asian countries are covered by our own group companies. Machine tool manufacturers also have facilities in Asia and export machine tools to Japan, China, and other Asian countries.
OSG's Asian operations are also combining local machine tool makers with our cutting tools to offer to their customers. We are able to do this kind of collaboration because of our worldwide network. This is another of our strengths that differentiates us from our competitors. Since OSG has sales offices in more than 33 countries, we are able to provide total solution services to our overseas customers through various collaborations.
---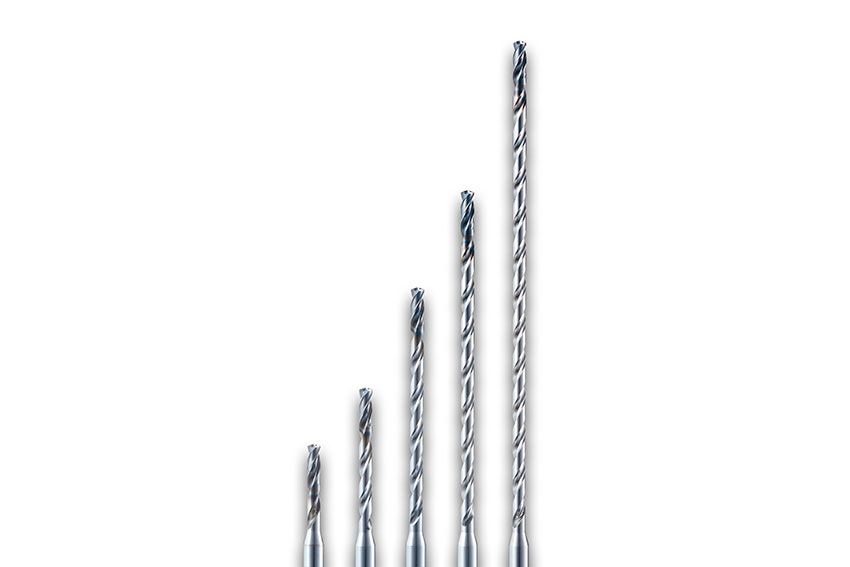 ADO-MICRO DRILL for micro machining
---
Imagine we come back in six years to have this interview again. What would you like to tell us? What goals would you like to have accomplished by then?
Life seems so short these days, in 6 years I will be 60 years old. When I became president of OSG last year, I thought it would be difficult to imagine 30 or 40 years from now, but I could imagine 10 or 20. 20 years from now, our company will be over 100 years old. As per my stated goal, we must be an even better company than we are today by the time we reach our 100th anniversary. That is my first mission and vision. In our mid-term plan, we aim to strengthen our corporate structure and add growth potential to become a larger company.
The 90th anniversary of our founding is on the way to achieving our mid-term plan, which is aimed for 2030. In the best-case scenario, we would like to achieve the medium-term management plan for the year 2030 two years ahead of schedule, and on our 90th anniversary, we would like to make a start toward our new goal for the 100th.
When I became president, I told our employees, "This is the era of VUCA", which has four meanings: volatility, uncertainty, complexity, and ambiguity. This is because we live in an era in which it is very difficult to predict what will happen in the near and distant future. Even in the era of VUCA, companies must survive. In order to survive, OSG must outperform other companies even in the uncertain environment known as VUCA.
If we can build a strong organization and structure, we will have a better future even if the environment changes drastically. That may be my guiding principle. I am not sure if that is right, but I want to show what I want the company to be in the future. I continue to send such a message to our employees.