Over the last 25 to 30 years, Japan has seen the rise of regional manufacturing competitors who have replicated Japanese monozukuri processes, pushing Japan out of mass markets. However, we still see Japanese firms as leaders when it comes to lifestyle products and materials. How have Japanese firms been able to maintain this leadership despite the stiff price competition?
In the beginning, the Japanese culture or people, in a good sense, need textures and high-touch services among many others. Japan used to be poor, so food was then the priority. Gradually, however, Japan rapidly changed its phase, and people began to need more products like electronics and cars for a better life. Owning products or having money means success.
Rather than just emerging into the world to rule it in the next stage, we would like to be respected and produce better products. We need to concentrate more on specific parts, which I talk about with our people. Cheaper sheets and pillows are available everywhere, especially through e-commerce. Everybody can easily buy USD 5-10 products every day. We are not supplying our products that way because easy products such as easy textiles or easy furniture do not last very long. Buying these kinds of products and continually getting rid of them amounts to a lot of garbage. It is not only not sustainable for the environment, but it is also an impossible cycle. Feeling better is important as well as satisfying your life, my life and society. To satisfy the Japanese market with regard to the products, the material has to be light, functional and feel good. Aside from having good materials, the second one is having good ideas based on new concepts or technologies. It is not just like the IC chip technology, but technologies that are for daily use and easy to use, including the analog technique. The third significant aspect to satisfy the Japanese market is design. To illustrate this amazing point, let us consider Japanese food. It is not only famous for being healthy, which can be under material and functionality, but the aesthetic design of Japanese food gives it more value.
I do not know whether it is a good or bad thing, but Japanese customers need significant customer service after the purchase. Many call us to inquire about maintenance or repair, and they ask us to make the collection to dispose or reuse them. Although doing that entails a high cost with low profitability, that part is very important for Japan in the long run to improve quality and service. I believe that this part would be crucial all over the world. we do not sell cheap products because we need to sell for a better life, not just the products.
Japan's demographic population is old and rapidly shrinking. As a result, the Japanese domestic market is shrinking, and there is a labor crisis How are you adapting to the challenges that this demographic shift is posing for your company?
We have to think about it in two ways. First, we should look at people who can work, and the decreasing labor population. In the Japanese projection for the population sorted by age, the red line shows 14 years old. The labor population is those who are 15 to 60 years old. Maybe 61 to 64 should also be included in the labor population. The green one indicates those over 65. The younger, more powerful and active generation is shrinking, so we have to compensate through the use of digital technologies. We built a new logistics center, where we used to need around 60 to 100 people to carry and sort products. However, we learned the system from Amazon and installed at our center. Perhaps, we can continue to reduce the number of people, which will still enable us to easily manage the same amount of work. We invest in that kind of market like robots to cover the shortage in labor.
On the other hand, the green belt on the graph never shrinks, which means that the number of mature people who may need medical care or some support is stable. Since Japan is leading in this demographic change, it is a huge burden. However, if we solve this situation, maybe we can help the world. China and other countries are on the same track and are even more so following suit. If we have good technologies in the green belt, then the demographic situation is not a great danger for Japanese companies. For human beings especially, sleep is critical. The power of sleep weakens as one gets older, requiring some support. That is a basic idea. Succeeding in the Japanese market would mean being able to expand to China, the US, Europe, Africa or India.
The three major elements of health are "diet, exercise, and rest", but while diet and exercise are focusing on "improving lifestyle habits", the next step is suddenly the field of "medical care and medicine". We hope to bridge the gap between these two fields with our "sleep improvement" and "consulting services".
To this end, we are developing a service called "Nemuri no Sodansho" with the goal of creating a place where one store for every 100,000 people in Japan can easily consult. The service measures an individual's sleep environment using an activity meter and analyzes the sleep environment, including "sleeping patterns," "sleep efficiency," "sleep quality," "daytime activity level," and "sleep duration," to visualize sleep at home. Based on the results of the analysis, professional personnel (SleepMaster) at the stores provide advice on the sleep environment and suggest bedding and other items suited to the individual.
Gore(R) Down Comforter which infuses the technology of Nippon Gore is the world's first 100% cotton comforter to prevent the invasion of mites and house dust. Can you tell us a bit more about the Gore Down Comforter, and how were you able to achieve this feature of preventing mites from getting into the comforter?
Sometimes mites are the origin of problems like allergies. Although they are small, they are tough. Gore Down Comforter use high-density fabrics and special films to prevent the entry of dust mites and house dust. We have relationships with many of the leading chemical manufacturers in Japan and around the world, large and small, and are always looking for new materials like Gore.
---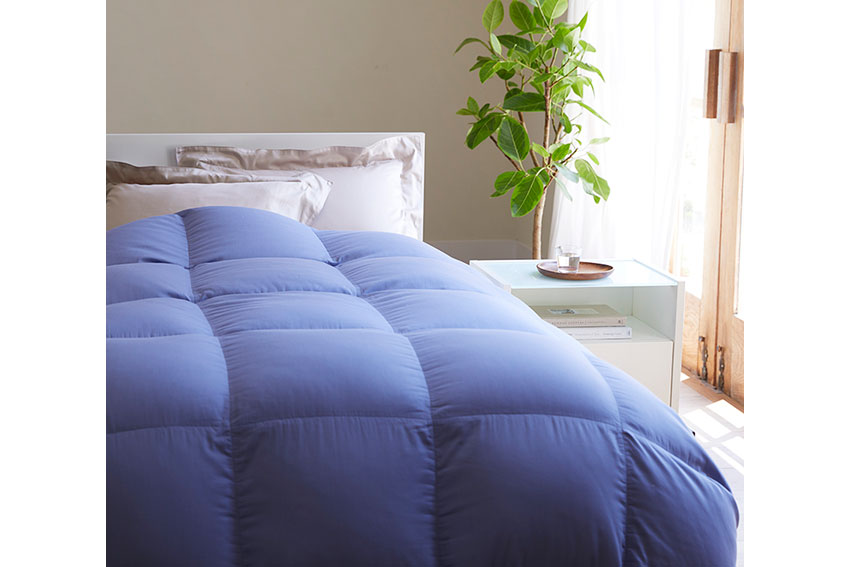 Gore Down Comforter
---
Japan Research Laboratory of Sleep Science is the bedrock when it comes to your product development. Are there any other products or technologies you are currently working on that you would like to showcase to our international readers?
Joint research conducted by Japan Research Laboratory of Sleep Science and a university has suggested that by using NISHIKAWA's four-layer special three-dimensional structure mattress, the quality of sleep, intestinal environment, skin quality, and many other things improves.
(https://www.nishikawa1566.com/company/laboratory/kenkyu/)
Uncomfortable and restless sleep can have a negative impact on the body, including blocked blood flow. A comfortable sleeping environment can reduce stiffness and promote more restful, performance enhanced sleep. The AiR mattresses support athletes of various genres, including Shohei Otani, who plays for the Los Angeles Angels of Major League Baseball, as well as the Japanese national soccer and wrestling teams. "AiR" mattresses, which incorporate the latest sleep science, have a four-layer special three-dimensional structure that conforms smoothly to the lines of the body in both side and back sleeping positions, providing excellent body pressure distribution and smooth tossing and turning performance, while the bumpy structure secures capillary and lymphatic fluid pathways, making it difficult to disturb metabolism during sleep. In 2014, it won the "Red Dot Award for Best of the Best," an international design award given to the best of the best. In addition, we are now trying to have sensors fitted into the mattress, which will always check one's sleeping condition, breathing or heartbeat.
---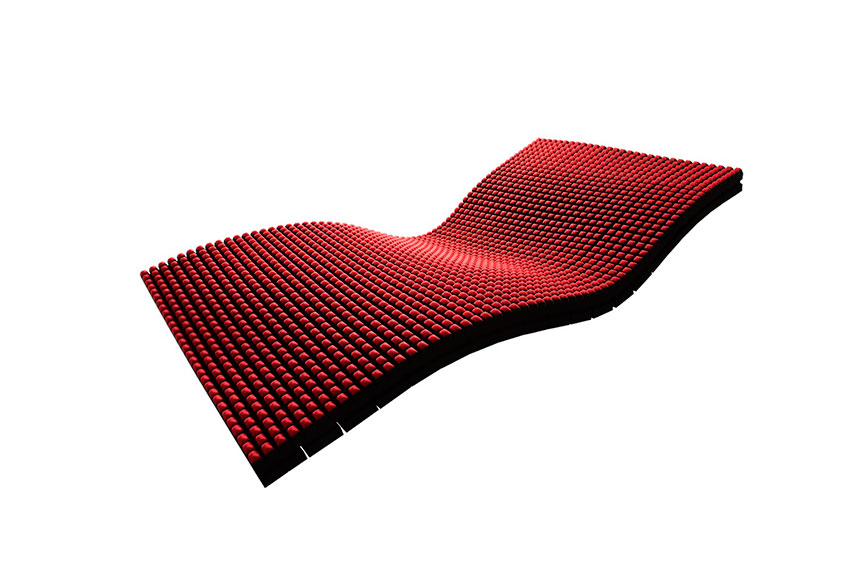 AiR mattresses
---
Are you looking for more international partnerships or just purely domestic ones?
We are always open, but we are looking for companies that are not just focused on money. We faced tough times which made us realize that money can easily be lost. Sometimes FX can fluctuate as we have experienced during the Japanese economic bubble. With a long-term relationship in mind, we have to choose a good friend. Because we are not a listed company, we can focus on medium- to long-term strategies rather than short-term profits. We are looking for partners who share our vision of enabling people to lead better lives through our products and services.
Moving forward, are there any countries or regions you have identified for expansion into? What strategies will you employ to do so?
We have already invested in Asian countries. China is close. One of the two points about China is that it is a source of our products. We make our products in China and import them to Japan. In addition to that, the customers are in China to whom we can sell our products. We have subsidiaries in Shanghai. Moreover, we either have partners or work on our own in other Asian countries, where we already offer our pillows and mattresses. This year, we finally opened "AiR by nishikawa" flagship store to Santa Monica Place, one of the most popular luxury shopping centers in Los Angeles which was delayed for two years due to the pandemic. This is our first challenge in the US. We are also looking at European markets.
What do you envision for the store you just opened in Santa Monica?
In the flagship store, visitors can experience the high-performance AiR mattress. "AiR by nishikawa" offers not only mattresses, but also pillows, cushions, and a wide variety of other items. NISHIKAWA's online store sells the AiR SI mattress with its special 3D cross-slit structure, three types of pillow with different functions and three types of portable cushion. In the flagship store in Los Angeles, visitors can see and experience seven items that are available on the company's online store.
---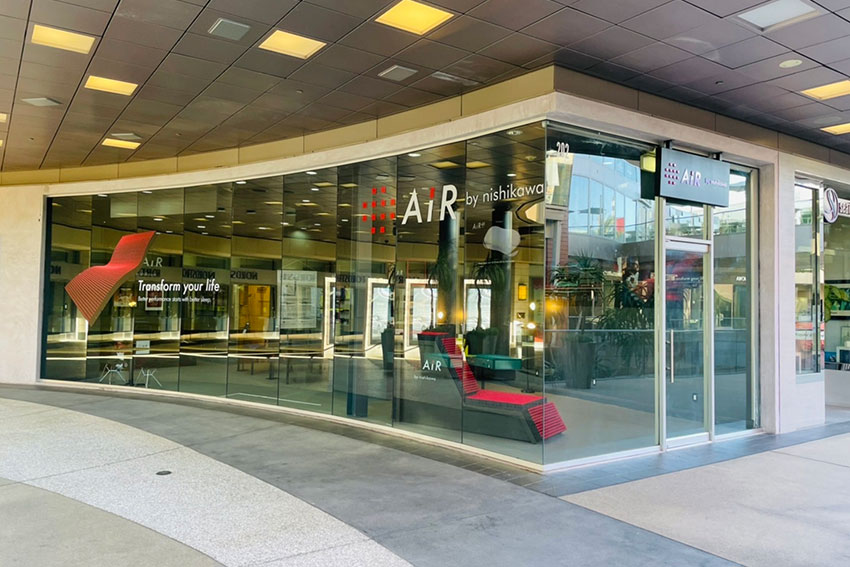 AiR store
---
Imagine we come back in a few years and have this interview all over again. What goals and dreams do you have for this company?
We already see the future. Our new concept is 'Better Sleep' or 'Better Life' and 'Beyond Sleep' by using Sleep Tech which is based on the biological rhythm of the human body or gene. That kind of technology is much more valuable than gadgets. Gadgets can be improved very quickly such as by changing the sensors. The important thing is to be able to offer a solution after learning about someone's sleeping information. The solution or the combined solution is the value, which I often talk about with our people. We always offer solutions and use basic, fundamental research to manufacture for the future.
We will continue to provide high quality sleep solutions to help people around the world 'Sleep Well and Live Well'.
---

Sleep Tech