What is the essence of Japan's monozukuri that has allowed its SMEs to become niche leaders in complex industrial sectors? As a manufacturing company, how do you ensure the highest quality standards for your products regardless of whether they are manufactured in Japan or overseas, in your factory in Thailand?
Japan's monozukuri is highlighted in many ways by our education system. From a young age, Japanese students are exposed to a wide variety of subject matters, and those who excel in more technical and scientific disciplines often end up working in monozukuri-related companies after graduating. There is also something to be said about Japanese culture, which values cooperation. People are raised to collaborate with each other and work together. I believe this is reflected in the kaizen philosophy and is something that you can clearly see on the factory floor. These are what I consider to be the foundations of monozukuri.
Monozukuri is a cyclical process involving the following stages: communication with the customer, product technology development, product design, manufacturing method design and manufacturing, followed by inspection and evaluation, shipping and, finally, communication with the customer once again. Each person involved in all these processes should focus on communicating with the customer and collect information for product performance (quality and stability, cost evaluation, customer evaluation, etc.). As a result of their work, each person involved in all these processes can self-evaluate and improve the following job to manufacture an increasingly better product for the customer.
In terms of achieving the highest level of monozukuri, it is important that each person in each process values communication with the customer. Even during the process, each person's ability to quickly collect and recognize highly sensitive information and high-quality product performance results can make a big difference in improving the quality of the following stage. This quality and each person's awareness of product performance control determines the overall quality of the manufacturing process.
Our company is not concerned with the passing or failure of products or intermediate products, but with management activities for good product performance control carried out throughout the company, led by the president. The relationship of trust between employees and the company is very important for achieving high level monozukuri, as well manufacturing. An important starting point is that the company value our employees, maintaining a safe working environment, and the employees have a desire to always improve the company.
We also have a factory in Thailand, and because we value communication with our employees and building trusting relationships with them, we also include their families. Unlike many other companies, the turnover rate for employees is very low.
I believe this is because of our strong communication and care. We know our employees, their families, and treat them with respect and care. Communication is another key here. Without proper communication there can be no transparency, and we would not be able to deliver our high-quality standards to our overseas production staff.
Can you tell us about some of the key milestones and technological developments in your firm's history?
Our company's history is closely related to that of Japan. The company was founded in 1934 and in 1958, it became part of the Nippon Steel Group, which is Japan's leading steel company. Back then, Japan was in the early stages of the so-called Japanese Economic Miracle, a period of rapid economic growth, and the public and private sectors were working together to develop the country's heavy industries. This was the first big milestone.
This period marked the beginning of Japan's big postwar infrastructure boom, and there was huge demand for our products and solutions. With the rapid development of technologies in shipbuilding, railway, construction, automobile, energy and other industries, the Nippon Steel Group was required by each industry and the government to develop advanced steel and welding technologies. In response to the demand for high strength, high durability, high corrosion resistance, low hydrogen, high resistance to cracking, high work efficiency and other high technology and performance requirements for steel and welding, Nippon Steel and our engineers worked as a team to develop "steel technology + welding technology" to build advanced steel structures, and have made significant contributions to the development of steel structure technology in most of Japan's major industries for more than 60 years.
As a result, we are currently one of the world's leading suppliers of welding materials and welding solutions for high performance steel structures in a wide range of industries in Japan, with a share of over a third of the Japanese market, including for general welding materials.
While we have contributed to the rapid growth of Japanese industry through public-private partnerships, we did not intend to expand our business abroad due to domestic demand until the early 2000s. There is huge potential for us to contribute to overseas markets with our advanced technology, and we are currently in the process of doing so.
Could you give us an overview of your main products? What are the main industries served by Nippon Steel Welding?
Our main products can broadly be divided into welding materials and welding equipment such as plasma welding machines. Beside welding industries, we also manufacture and sell highly resistant optical fiber products protected by stainless steel tubes based on the technology used to manufacture welding materials.
In terms of materials, we manufacture covered electrodes, solid wires, flux cored wires, submerged arc welding wires and flux for many grades of steel used in various industries such as carbon steel, low alloy steel, stainless steel, and nickel-based alloys. The main industries in demand are construction, shipbuilding, automotive, construction machinery and energy. Our main products are welding materials, but we are world leader in the production and supply of seamless flux cored wire (SF wire) in the flux cored wire sector.
The SF wire is manufactured by welding the outer layer into a pipe shape during the production process. The lack of openings in the hull prevents the flux inside from being exposed to the outside air. A major milestone in our company's history was the development of a technology for the mass and stable production of this type of wire, together with Nippon Steel Corporation, and the establishment of a mass production system at our production plant in 1991. In fact, we had already started manufacturing seamless flux cored wire in 1981, but thanks to this above technology, we were able to improve the quality of SF wire. Since then, various improvements have been made and we are still the world's leading company in terms of quality stability and stable production technology in the field of Seamless flux cored wire.
---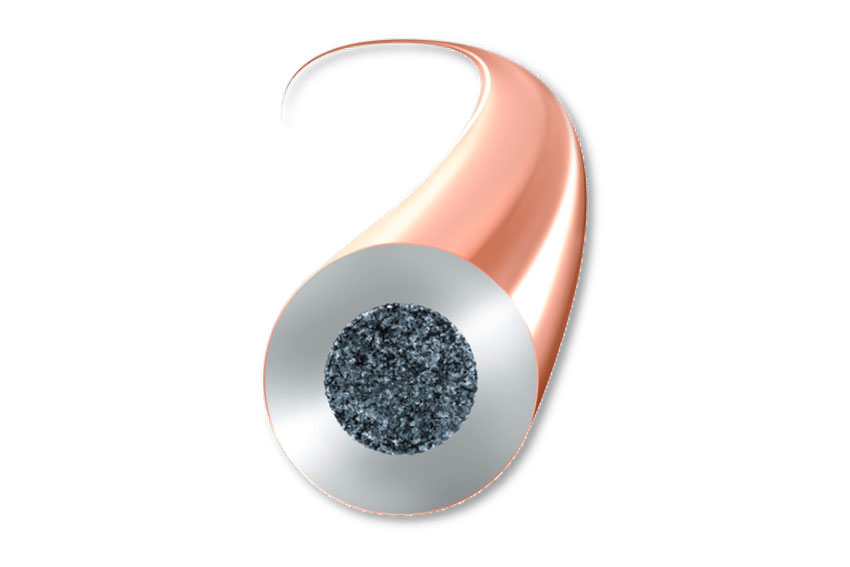 Seamless Flux Cored Wire cross-section.
---
Could you tell us more about your technologies? What are the main competitive advantages of your SF wire that have helped you achieve such a high reputation in your industry today?
The SF wire offers four major advantages in terms of weld quality due to the absence of openings in the outer layer and is widely used as a high-quality welding material in Japan and abroad.
First, it is not in contact with outside air which means that it can be treated at high temperatures during the production process, as the flux inside will not be altered even at higher temperatures. Dehydrogenation heat treatment at high temperatures ensures that the presence of hydrogen, the main cause of weld cracking, is extremely low.
Secondly, even after opening the package, the flux inside does not absorb moisture from the atmosphere and the hydrogen content of the wire is maintained at a low level.
Third, the surface can be plated during the production process as there is no penetration of the plating liquid, and the copper plating provides high rust prevention and high stability in welding operations.
Finally, the homogenous, unbroken circumference allows the wire feed to be aimed straight at the target point during welding.
---

The advantages of SF wire.
---
There is a tendency that the higher the strength of the steel, the thicker the plate and the colder the environment, the more likely the weld will crack. The main cause of cracking is hydrogen in the weld. The hydrogen content of SF wire is low from the beginning and remains low even after opening the package. In addition, unlike certain production methods of seamless flux cored wire, our quality is highly stable. So the use of our SF wire improves the reliability of the weld by reducing the risk of cracking, as well as reducing repair work.
It also has the added benefit of improving the quality of the weld in automated robotic welding, as the wire feed can be aimed straight and accurately at the target point during welding. SF wire is increasingly used in the manufacturing of many steel structures such as shipbuilding, construction, offshore structures, tanks, and pipelines due to its high quality, reliability, and operational efficiency. With the increasing need for carbon neutrality, offshore wind farms, hydroelectric power plants, cold storage tanks and pipelines require high strength and high-pressure characteristics, as well as the need to withstand low temperatures and corrosive environments. SF wire is increasingly being used to ensure high reliability and high efficiency in the welding process.
Aside from its many functional advantages, it also contributes to a cleaner, more aesthetically pleasing weld. Our wire is tailormade for the best possible welding performance. Also, our SF wire's technology can still not be produced on a mass scale by most companies, and this is another major advantage for us.
---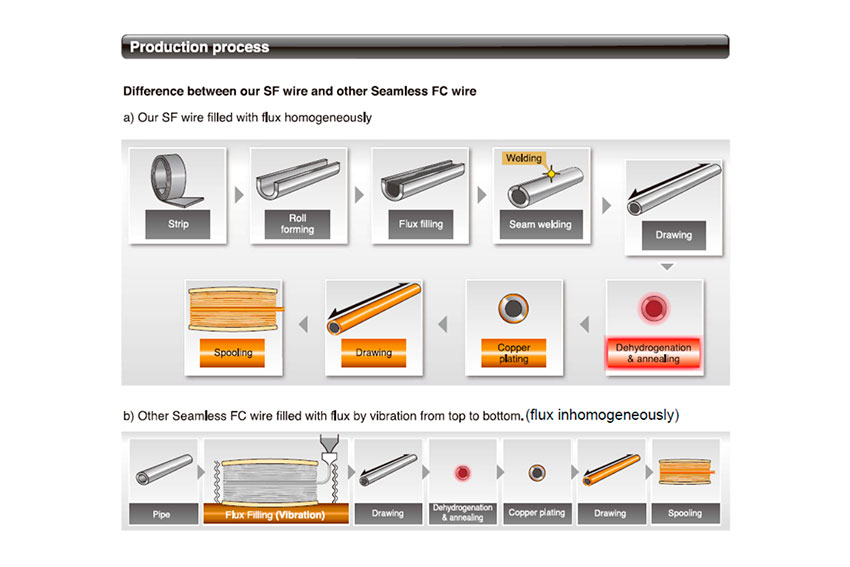 Caption: Seamless wire manufacturing process.
---
How has Nippon Steel Welding benefited from its international operations? What is the importance of foreign markets in your company's growth strategy?
When we look at the global demand for welding, according to a survey conducted by a magazine, the global ratio of different types of wire is about 40% for solid wire, 30% for covered electrodes and 20% for flux cored wire, whereas in the Japanese market, the ratio is about 40% for solid wire, 40% for flux cored wire and 10% for covered electrodes. In the Japanese market, flux cored wire accounts for a high proportion due to the increasing automation of welding, whereas for the rest of the world, covered electrodes account for around 30%. We believe that there is a lot of room for expansion in markets abroad, as the world's welding industry is expected to become more automated in the future and the switch from covered electrodes to flux cored wire will increase.
---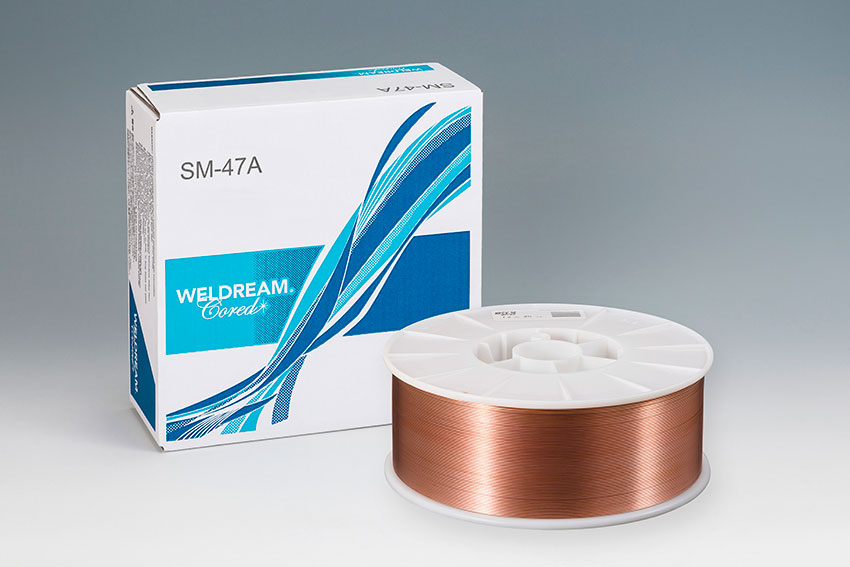 Weldream Seamless Flux Cored Wire.
---
The engineers at Nippon Steel and our company work as one team to develop "steel technology + welding technology" for the construction of advanced steel structures in various industrial fields, and one of our strengths is that we can offer advanced technical proposals to customers who weld steel by combining the various high-performance steels developed by Nippon Steel with our high-performance welding materials and methods. The performance and reliability of structural welds can be greatly improved by welding with a knowledge of the superior properties of each steel, and some construction process time can be minimized.
Both in Japan and overseas, we are not only selling welding materials, but also support our customers, communicating with them to solve their problems and issues. For example, the 634-meter-high Tokyo Sky Tree is an accumulation of high-strength components, and our welding technology has contributed to most of the major parts. Our sales workers listen to the customer's queries, and our specialist welding technical support team provides expert advice and suggestions on welding conditions and installation to suit the steel and structure, and then develops products to meet the customer's needs. In some cases, our overseas customer support follows up for more than a month.
---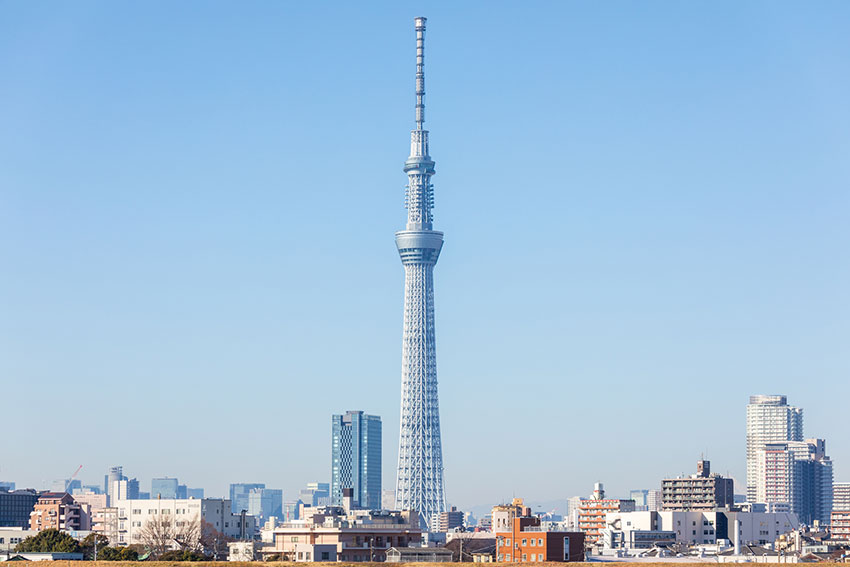 Example of a construction project where Nippon Steel Welding's materials were used, the Tokyo Sky Tree.
---
However, initially, we did not have much motivation to go abroad. The creation of our Thailand factory was done with an understanding that there was a market for our products in that location. It was a strategic decision as we anticipated the demand for our products would grow. Our point of view towards any further overseas expansion is no different: if we identify a need and anticipate great sales performance, then of course we are open to the idea of localizing production there. It is important for us to focus on our products' added value and the need to constantly improve not just in terms of volume, but also functionality.
What is your mid-term strategy to continue your corporate growth?
In the medium to long term, it is difficult to predict growth in demand in the domestic market of Japan, which is a processing and trading country, because its population has been declining since 2008 and other countries are promoting their own industrial production. I believe that in overseas markets, demand will increase due to economic growth and the spread of advanced technology in the manufacture of steel structures in the construction, shipbuilding, automotive and energy industries, which will increase the need for our high-quality, high-performance welding materials. Also, the SDGs, carbon neutrality and other social issues will also require technological contributions to make steel structures stronger, cooler, and longer lasting.
Our strategy in the midterm is customer oriented in both the domestic and overseas market. In this context, we have two growth strategies. The first is to further increase the sales volume ratio of high-performance products that meet the needs of customers in various fields by leveraging our world-class product technology and proposal-making capabilities, and by promoting monozukuri with an emphasis on communication with customers.
Secondly, we believe that it is important to expand our sales overseas. While we have a long history of developing advanced welding technology for most of the major steel welding industries in Japan and have a wide range of customers, including many leading companies, with a high-volume share of over a third of domestic demand, overseas exports currently account for just over 10% of our total shipments. We are in the process of developing and expanding our overseas sales. We are confident that we can contribute to many companies in the construction, shipbuilding, automotive, construction machinery, energy and other industries by making our world-class product technology and technical proposal capabilities widely known overseas.
As the president of Nippon Steel Welding what do you wish to accomplish five years from now?
We have made a great name for ourselves in the domestic market; there is no one in Japan involved in welding who has not heard of Nippon Steel Welding.
As president, over the next five years I want to develop our firm into a global company that is known by all major steel welding companies worldwide.
My goal is to go beyond our borders and increase our reputation overseas. We would like to be known as a reliable partner to all related industries in the international market as well.