Can you give us a brief intro to your company and its development over the years?
Kenzo Saito, former president, established Nippon Copack in 1951. Nippon Copack manufactures and sells plastic hangers that are used for delivering clothes from clothing press factories or sewing factories to clothing stores. Plastic hangers are used for preventing wrinkles during transportation.
In 1993 we officially started the re-use plastic hanger business. 2 Years later in 1995 we moved our production base to China ahead of the hanger industries, and in 2004 we established an extension of our business in Shanghai. In 2007 We started a large-scale operation on recycling hangers together with Shimamura. In 2011 we opened a factory in Shanghai that specialized in display fixtures and building furniture.
The main reason why we started to recycle plastic hangers is because former president Saito visited Yumenoshima Park in 1991. Yumenoshima Park was famous for its garbage landfill and at the time there were a lot of plastic hangers wasted at the park. President Saito saw many hangers landfilled at the park and it was very shocking to him so he decided to start the reuse hanger business. Now, in cooperation with many apparel companies, we are working to reuse and recycle plastic hangers without discarding them.
---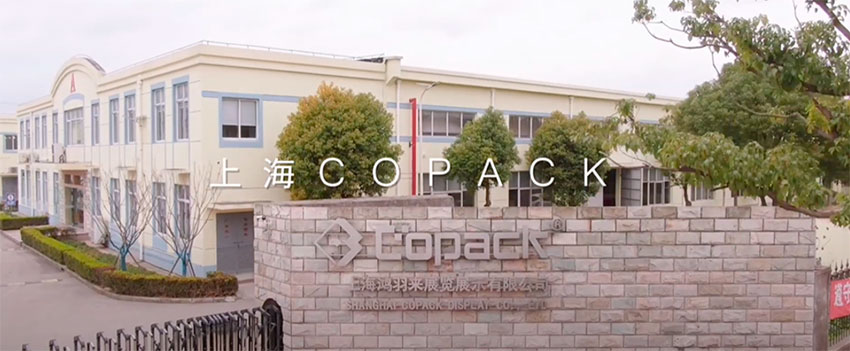 Copack's main plant, Shanghai Copack
---
We have production bases in Shanghai, Qingdao, and Yancheng in China.
Among them, Copack Group's main manufacturing plant is the Shanghai factory, which is located near Shanghai Pudong International Airport. It consists of 6 buildings with more than 350 employees. With a surface of 35,000 square meters, our factory is suitable to produce composite products. Most factories in China handle one material, but our Shanghai factory is good at mixed production, and each material can be processed at one location in the Shanghai factory. One of our customers here is Under Armour which uses our plastic hangers across their stores worldwide.
Japan is known for its attention to detail, quality, and refinement of products, China is famous for its ability to mass-produce goods in a cost-effective and time-efficient way. How do you maintain identical quality at your international production facilities?
Your worries are very understandable and in most cases, you would be right but we are aware and have experience. We have recreated the same ways of manufacturing as the ones we had in Japan and taught the local operators how things should be done so that we get the same output. It's controversial but some products coming out of China exceed the quality of that of the Japanese companies. Quality over quantity, we have quality assurance locally and check all our products before releasing them to the market. You can say that we have been pushed by our customers to ensure the quality of our products as they demand them in a variety of different materials.
---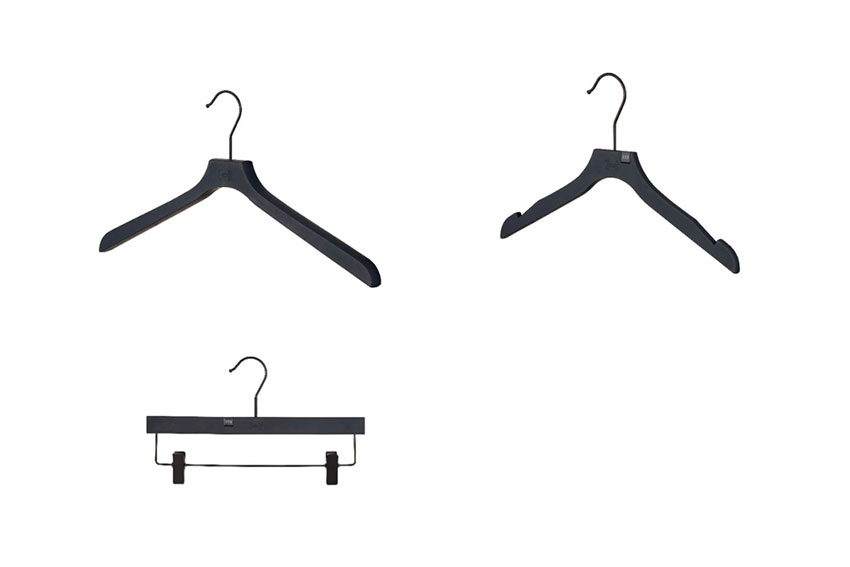 Under Armour's plastic hanger manufactured by Copack group
---
Copack's collaborations with Under Armour are very impressive, the market for hangers and similar types of products is competitive when it comes to cost. It's a market where it's very difficult to add value or to innovate in the product. What is your competitive advantage and how do you convince these big brands to trust you and to work with you while having so much competition?
What we are trying to introduce to our customers and our customers are coming back to us for the same reason because we make a difference. When you are using conventional or cheap hangers, the aesthetic will not look as luxurious or appealing as you would like it to have. For example, the wooden hangers that we introduced to our customers are making the products marketable and more appealing to the brand's customers. Our attention to detail and quality of manufacturing will result in the brands having more success in their sales, so we indirectly help them in promoting their merchandise as well. We do overall influence the marketing for our customers. In the end, the customers prefer us because of Quality checks, loyalty, trust, and the ability in producing high-quality products for them. The customers continue to trust us because we don't drop out halfway and implementing the project to the end is something that defines our contribution to the industry.
How did your firm deal with disruptions covid-19 created, your product is most valuable in the in-store experience. What changes did the company go through in strategy and development during the pandemic?
The business of Copack group was not that affected by the pandemic and we did not experience a real decrease in sales of Copack group. The reason why is because American or European distributors were still demanding products on a steady base. Domestically in China we did not see any kind of drop in demand either. When we talk about the Japanese market, we have cooperation with Shimamura who owns a lot of roadside shops. During the pandemic, building devoted to fashion-related shops had been closed. Building operating companies decided to close the building, so the apparel shop had to be closed. On the other hand, roadside shops like Shimamura which has their own shops in suburban areas were not closed. Depending on the type of business, some companies were affected by Covid-19 and companies were not.
Collaboration between Nippon Copack Inc. and Shimamura Co. Ltd
The collaboration between Nippon Copack Inc. and Shimamura Co, Ltd and our closed recycling system. We started working together in 2007, a hanger recycling operation for Shimamura at a manufacturer in Yangzhou, China. In 2017 the importation of plastic waste was regulated by the Chinese government. The plastic waste was then recycled domestically in Japan. We cooperate with Shimamura for cost-reducing reasons because recycling a hanger from scratch one to one takes a lot of financial burdens. We have made one-of-a-kind cooperation with Shimamura in the recycling of hangers here in Japan. Shimamura makes a huge contribution for us but I'll explain that contribution later on. We are now working on a project of recycling transparent vinyl covers with Shimamura.
What are Shimamura's characteristics?
First of all, it has the number 9 spot of largest apparel firm in the world, they have more than 2,200 stores in Japan and 42 stores in Taiwan. Their stores are mainly located in the suburban areas of cities. The production of the company is mainly in Asia. 85% in China and the last 15% is spread over the rest of Asia. The most interesting part about the company is the zero product waste, while other apparel businesses waste a lot of products. Shimamura sells its products by marking down and transferring surplus stock between stores for avoiding products becoming deadstock. It is the strength of Shimamura's environment-friendly operation.
What is the aim and what are the challenges of Shimamura?
Reducing CO2 emissions and being environmentally friendly is one of the main objectives of the company. They also would like to be more appealing to foreign investors, which is why they are working on PR activities regarding their activity of reducing CO2 emissions. Shimamura is a very open-minded company and through sincere efforts, Shimamura has built a unique environmentally friendly system that cannot be imitated by other companies.
We are facing a population decline and social issues here in Japan. The decrease in inhabitants in the Japanese market is shrinking the market too. We have come to a solution by actually having our hangers and the product put and set at a local manufacturer in China and shipped out to Japan. Hanging the clothes at the store, the store needs a lot of staff. To eliminate this unnecessary work we let our hangers go directly to the apparel companies so that when the product arrives at the store it already has the hanger set in place.
---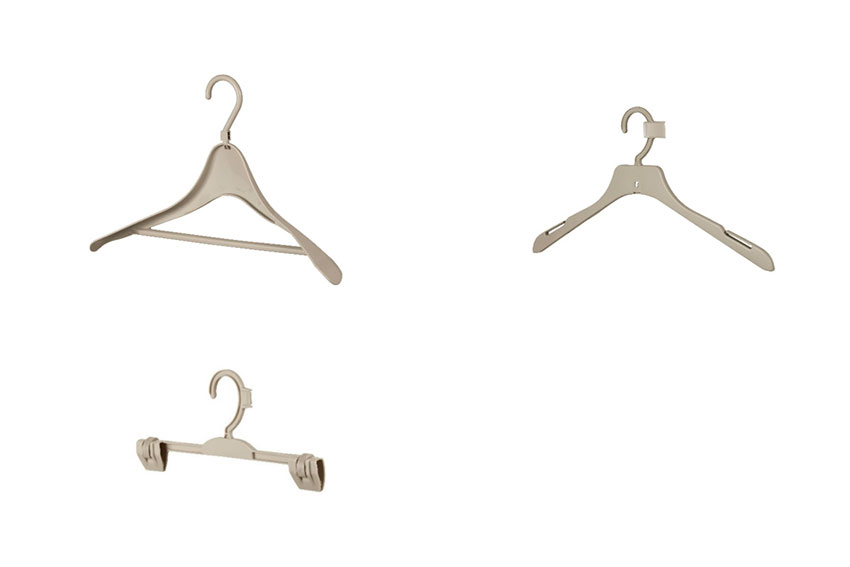 Shimamura's plastic hangers recycled by Copack group
---
Another point we like to bring some attention to is our recycling processes.
We think we are the only company out there that has the full recycling cycle, there are a lot of hanger manufacturers or display companies that use their scrap at the factory to launch the cycle of re-using, but we go further and we are recycling used hangers with the cooperation of the staff at the store and at the distribution center where the hangers are collected. When their selling process is finished, those hangers were transported to Shimamura's distribution center and pressed for easy transporting. After that, pressed hangers are transported to the facility where recycling is processed. While performing the recycling process the material has to be unified and sorted. We don't allow any type of impurities or material with different origins to go inside the process. Segregation of the type and color of resources has a lot of importance. This is the educational point, every store manager visits Shimamura's head office in Saitama to study their recycling activities.
Not only store managers but the staff of every Shimamura store have to learn to recycle and why the separation of impurities and plastic material is very important for recycling.
---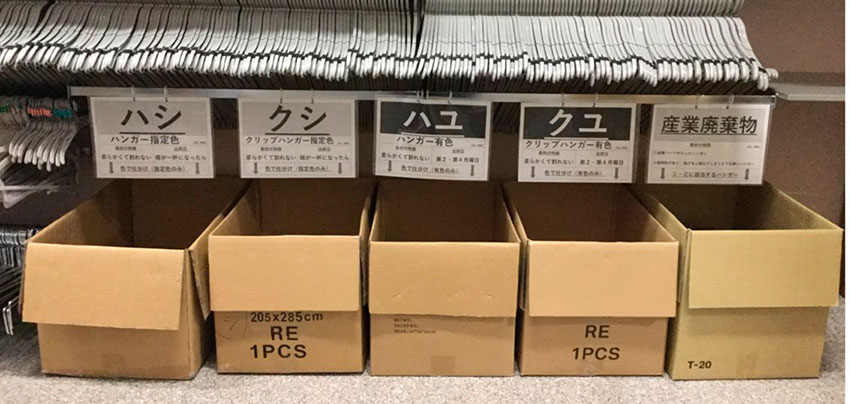 Picture of how Shimamura's store separates plastic hangers by material and color
---
Shimamura's distribution centers in five locations across Japan are equipped with a huge press which drastically reduces the size, pressing collected hangers and plastic bags helps to ship faster and in bigger amounts. Due to the process, the delivery cost also decreased. Before pressing plastic hangers, employees in the distribution center check if there is impurity. After pressed plastic hangers arrive at the facility where the crushing process proceeds, employees at the facility also check if there in impurities. Thus, impurities checks occur three times, at every Shimamura store, at the distribution center, and the factory.
If any impurities are found at the distribution center the personnel will contact the store and inform them that they are doing something wrong, and will ask them to check if there are no abnormal materials mixed up with the hangers. Pressed plastic hangers are transported from Shimamura's distribution center to Copack's facility, pressed hangers are crushed into small pieces. The next stage of recycling is to put crushed plastic hangers into water tanks to segregate Polypropylene and other plastic materials. Through this process, everything that's left floating on top in the water tank will be Polypropylene and it's for getting rid of other plastic materials and impurities. The next stage is the extrusion process where we melt the Polypropylene and pelletize it. When all this is finished it's ready to be shipped out to the production facilities.
No company does what we do in recycling initiatives, it's a full cycle system, from production to collecting them, reasoning with apparel shops, shredding them, and sending them to pack to the production site. The reason why Shimamura's recycling system works is that the recycling system has been established with education and efficient transportation of used hangers for accurate sorting. The recycling system involves close cooperation with the companies we talked about like Shimamura is essential.
Of course, each apparel company has different operations and different products, we understand the big picture of each company. Shimamura's recycling system is the most efficient case in our recycling business.
Through this kind of recycling system, customer cooperation is important because we need their help to improve the quality of its recycled material and it decreases the operation and production cost. Their cooperation means employees segregate the impurity and separately used plastic hang-ers by their color in the backyard of their stores. In addition, plastic hangers are pressed at the distribution center to save transportation costs. Also, Shimamura tries to unify the color of plastic hangers, so there is no need to spend time sorting hangers by their color.
The total quantity of Shimamura Plastic hangers we produce is 3,400 tons annually, and 1,786 tons of recycled material is used for producing Shimamura's hangers. The circulation type recycling rate is 52%. In 2023, we put the bar higher we are aiming to reach a 60% of circulation-type recycling rate and 85% in 2030. It is a good example of this one-of-a-kind recycling system that cooperates with a hanger manufacturing company and apparel stores.
Our recycling system with Shimamura drastically reduces CO2 emissions. Back in 2020, the emission of CO2 during the production of plastic hangers used to be 9,208 tons, a year later it already decreased to 6,704 tons in 2021. In 2022, it further decreased to 5,946 tons. If this recycling operation did not start, there would be 11, 760 tons of CO2 emitted and it would have a far greater impact on the environment and other solutions would have been needed.
Recycling of Shimamura's shopping bag and transparent vinyl cover
When a customer returns Shimamura's plastic shopping bag, Shimamura purchases the bag for 1 Yen. These bags are recycled and turned into plastic bags which are used for delivery. No one in the world has a similar recycling operation for plastic bags. With the cooperation of Shimamura, we spent 2 years finalizing this project. In addition to shopping bags, we are also trying to recycle transparent vinyl covers.
It's a product packing vinyl cover which is made of plastic material. It's used for wrapping clothing when transporting them from the production factory to the Shimamura store. As same as hangers, used transparent vinyl covers are sorted and collected at stores, and recycled into the same transparent vinyl for product packaging. There is no one recycled used plastic vinyl cover. Usually, transparent vinyl covers end up in the garbage, but it is assumed that about 2,000 tons will be recycled annually in cooperation with Shimamura, and it will be possible to further reduce the amount of plastic waste.
Our company and Shimamura will cooperate to continue and promote environmentally friendly initiatives, and in the future, we would like to strive to spread the complete recycling flow to the apparel industry.
Nippon Copack's action of clothing waste
The next project is about reducing clothing waste. Various apparel companies in Japan set up collection boxes for collecting clothing at their store and more and more people become aware of the project. Nippon Copack has been working on recycling those collected clothing and we set up scheme to manufacture molded products like hangers and mannequins made from pelletized collected clothing by using independently developed machines and methods.
---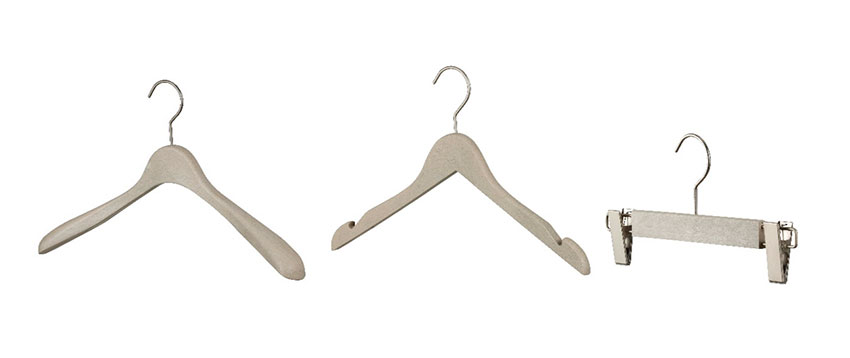 Hangers containing 30% clothing waste
---
Those hangers contain 30% of clothing, using more clothing lowers the amount of plastic material, ensuring petroleum resources are used effectively. It's very hard to pelletize composite material because each material has different melting points. We succeed to pelletize composite material by using special machines and using technic for controlling temperature. We know that other Japanese companies are trying to recreate our recycling method and machines but, we are proud to say that we are the only ones to have succeeded.
Apparel companies have a lot of waste and do not know how to deal with their wasted clothing, so we would like to help apparel companies by providing an eco-friendly and recycling solution. From now on, we would like to try to develop plastic bags and shelf boards which contain wasted clothing.
Your company is changing year by year, the firm was founded in 1951, and 3 years from now you're going to be celebrating your 75 anniversary if we were all to return on that date would there be a certain goal you would have wanted to have achieved by then?
The main goal here is recycling, it's the most important thing to our company. We want to be fully recyclable, not only in Japan but also in China we want our manufacturing to be fully recyclable. This is our number one goal in the next coming years.