Please tell us about your company's manufacturing philosophy or monozukuri? What are the strengths of this firm that make you competitive internationally?
The reliable and careful production processes of Japanese companies are central to monozukuri. The excellence of Japanese monozukuri gives us an advantage over our competitors in other countries. It is very difficult for Japanese companies to compete with China and other Southeast Asian countries when it comes to mass production, due to the costs. However, what is good about Japanese monozukuri and our own company is that we are careful and reliable when it comes to our production. With that being said, our company also has some massed-produced products such as our brush cutters, that are still in demand. The other major product of ours is our monorails, which are made in small-lot production to meet the needs of our customers. They need to be complimented with high quality and high reliability, in order to ensure their safety, as they could be quite dangerous if the correct production methods are not applied.
What motivated you to develop your Monorack monorail system? Can you share with us the history of its development?
---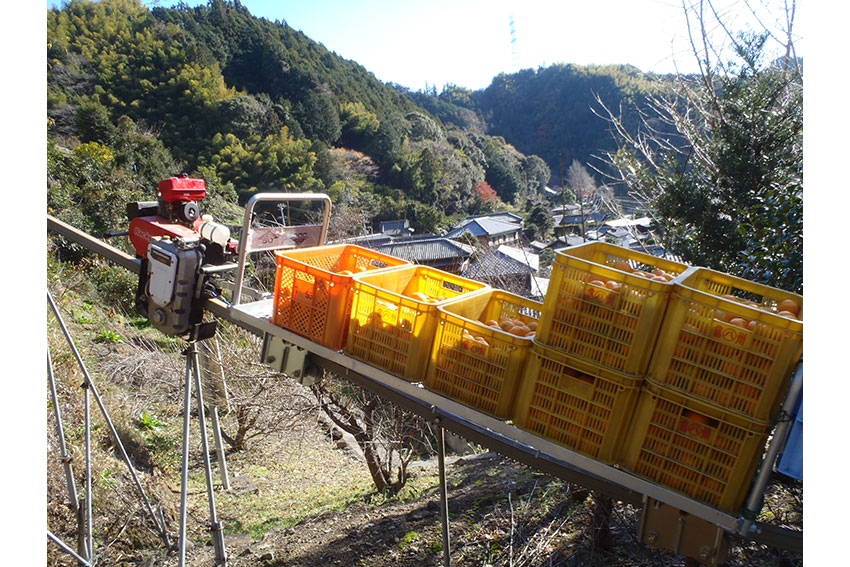 Monorails/Monorack
---
The departure point was a result of market needs. Mandarins are very difficult to grow and harvest, as they are grown on slopes. These slopes can reach 45 degrees in some areas. The person who harvests the mandarins needs to carry a basket on their back to collect the mandarins in. It is a difficult job to do. Something needed to be done to simplify this process. One distributor wanted to introduce and commercialize a solution. They approached us and asked if we could produce a solution to help in the harvest of the mandarins. We successfully produced a solution, and today, our Monorack has grown to be our flagship product. They help people working in the harvesting fields.
As you mentioned, one of its main applications is for labor saving. This pairs very well with a major social issue in Japan that has been affecting Japanese businesses, especially chusho kigyos in more rural parts of the country, which is the aging of the workforce. Can you tell us about the impact of Japan's declining demography on your own activities, and also how your products and services can help these companies in terms of labor support?
Our products were originally designed to aid in harvesting. Japanese farm workers are getting older, and with the introduction of Monorack, there are cases where farmers are still working in the field past 70 or 80 years of age. Some farm owners say that they will close their mandarin orchards and retire if their Monorack break down. Monorack are helping Japan's aging population problem by simplifying the work of the elderly and thus extending their lifespan.
And that is not the only application for which it is now being used. The Monorack product line is also useful in many other fields besides agriculture and horticulture. This is especially true in the construction field. New applications are being created one after another, and a variety of products are being used by construction companies. In the construction field, Monorack is making a significant contribution in labor saving to aid the declining labor force.
Is the Monorack something that you have offered foreign companies and Japanese firms operating in the construction sector overseas, or is it only being offered here in Japan?
There has not been much exposure of the Monorack as a product to foreign construction companies. So far, it has been limited to the domestic market here in Japan. We have been challenging ourselves to customize our monorails for use outside of the agricultural industry. It has only recently been expanded for use in other sectors such as the construction industry. Countries such as Germany, France and Italy have introduced the Monorack. However, the Monorack is being used more conventionally for grape harvesting, as those countries are famous for their wineries and grape horticulture. These countries may find applications for the Monorack in their construction sectors, however, there are regulations and legislation that must be adhered to.
Japan is quite strict when it comes to construction preciseness, such as protecting slopes from landslides. Therefore, the Monorack can be very useful. Overall, we see the shift from the Monorail's agricultural use to its construction use predominantly here in the domestic market for now. Recently we're seeing potential customers in Asia in the construction field, who are interested in the Monorack for infrastructural and civil engineering use.
Your core market is the agricultural sector. In many of the interviews we have conducted as part of this report, we have heard that it has been a transformative time for the agriculture sector in Japan, with many small family-owned plots being consolidated by bigger companies. We have seen new demands in terms of OPE, and in terms of agricultural machinery to cater to these bigger companies. What is your take on the evolution of Japan's agricultural sector, and what impact is it having on your company?
The overall tendency in the agricultural industry in Japan is automatization. This is aimed at simplifying the work in the fields, as while Japan has a large number of fields to harvest, there was a lack of technology introduced over the years to simplify this work. Right now, the industry is being automated. For example, we are seeing autonomous tractors being used to cultivate the fields.
Overall, as Japan is an island country, the harvesting area is limited, when compared to the US or some European countries. Therefore, the machinery preferred in Japan is more lightweight, compact and easy to operate. The machinery in the US and in Europe on the other hand is bigger, heavier, and required to operate for long periods over larger areas. That is the key difference between Japan's agricultural sector and the agricultural sectors in the US and Europe.
One of your flagship products is your SED series of brush cutters. How does this product best demonstrate your company's capacity? Can you give us an overview of the product and its strengths?
---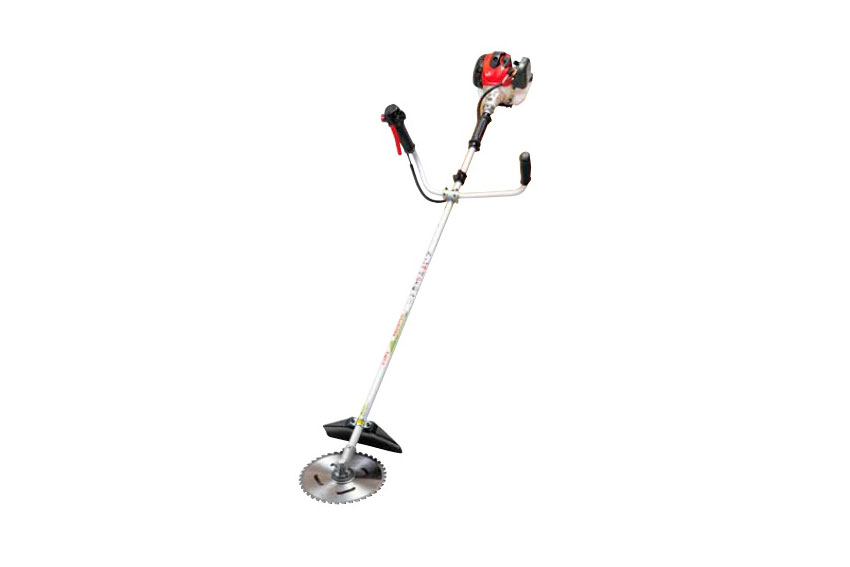 SED series of brush cutters
---
We are actually emphasizing our Monorack and monorails segment more than our agricultural equipment right now. The reason for this is that the lawn mower industry has several large lawn mower manufacturing companies present here in Japan. Also, there are many companies from China and the other Southeast Asian countries that produce similar types of lawn mowers at lower costs. Therefore, it is very hard to compete in that market.
Portable mowers are engine-based. Our lawn mowers are proven to be reliable and offer more longevity. However, the price competitiveness means that it is very hard to win over customers. On the other hand, the Monorack itself is a unique product, and we are focusing primarily on that product, rather than lawn mowing machinery.
Nowadays, our lawn mowers are shifting to an OEM business, so we are not pessimistic at all. Many well known Japanese companies are using our manufacturing capacities to produce lawn mowers. You can find their products in home centers around Japan. Those lawnmowers are made by us, and released under the brand names of these companies. We produce tens of thousands of units each year, and therefore have a very stable market when it comes to lawn mower production.
It makes sense that the Monorack is your focus as it is a distinguishing product of yours. What is your strategy to further develop this product? You mentioned trying to find new applications outside of agriculture and construction. What are some of those applications? What is the next step when it comes to developing this product?
Recently, the Monorack has started to be introduced for recreational and leisure purposes. For example, many of the Buddhist temples and shrines in Japan, are located on hills. The Monorack is being used to transport people from the bottom of the hill to the top, where they can visit the temples and shrines. One area where our Monorack is being used is in the cultural heritage areas of Tokyo, where many shrines are located. We believe that the use of the Monorack for recreational and tourism-related purposes is going to increase in the future. We also have a distributor who is aiming to introduce the Monorack to Italy for similar applications.
---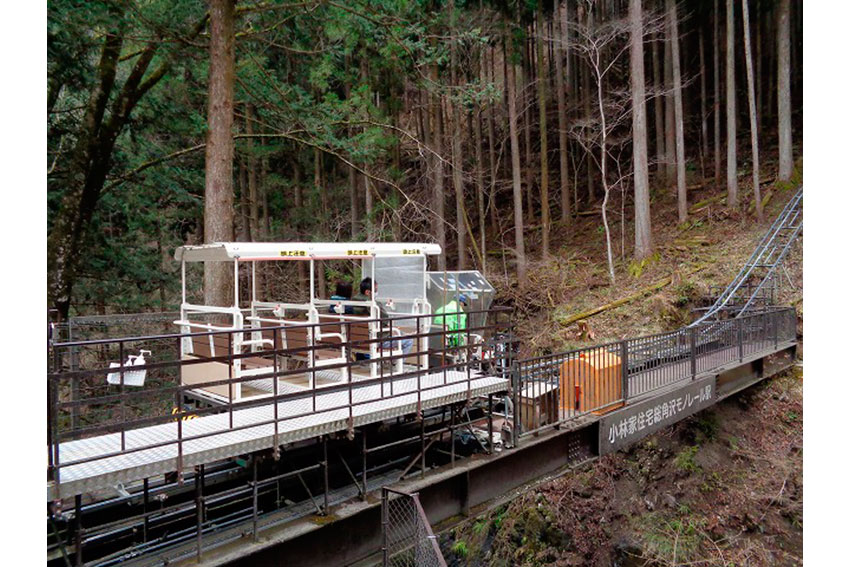 ---
We can see the Monorack being used for other recreational purposes as well, such as in golf clubs and theme parks, for example. The use of the Monorack for recreational purposes is rare when compared to its use in other industries. It is still a new application, but one we are excited about for the future. However, there is more emphasis on the Monorack for infrastructural and seismic related use, as well as civil engineering use. That is where the biggest demand is coming from currently.
We spoke with your staff earlier, about how during Covid, and more recently, you have received lots of orders, especially from overseas. Can you tell us more about the impact of the pandemic on your company?
The Covid pandemic actually had a positive effect on our business. The sales figures for our lawn mowers were also very good during that period, as people tended to stay at home due to the pandemic. The demand for mowers is greater than we can produce, and production is not keeping pace. When it comes to sales, our company did very well during the Covid pandemic.
I would like to know more about your international development strategy. Where are you focusing your efforts in terms of your international business?
First of all, when it comes to the ratio of our products, between 60 and 70 percent of our products are shipped and sold in foreign markets. We expect to see our foreign sales increase further, as there is a greater demand for our products overseas than in the domestic market here in Japan. That includes our OEM activities with the large companies that I mentioned earlier.
We also work closely with a major European company. They also ask us to produce products for them on an OEM basis. It is a co-producing relationship, and we use their extensive sales network which is located across the globe, with a lot of exposure coming from South and North America.
It is very interesting to hear that you are working with European company on a co-creative or OEM basis, and use their network as your own sales channel. Are you looking for similar such partnership opportunities with other overseas firms?
Yes, we are open to similar relationships to the one we have with the European company. These benefits are mutual, as we are not fully dependent on producing whatever they requires. Sometimes we do work as an OEM, while other times we propose technical skills to them. The relationship works both ways, and this has been a very strong partnership for us. We would like to develop more partnerships going forward.
You mentioned that you have been the president for ten years. Imagine that we come back on the very last day of your presidency, when you are about to pass it on to the next generation, and we interview you all over again. What dreams and goals would you like to have achieved for the company by then that you would like to tell us about in that interview?
We currently have an existing local company in China, which was established in 2001. I want to further expand our overseas operations by establishing a new overseas company next year. That is my first goal.
My second goal is to enhance our R&D capabilities. Our company's recent recruitment has been focused on human capital and R&D related knowledge. Two building are currently under construction on the site, which will be used as a new facility for R&D purposes. Our R&D activities are aimed at creating new product line-ups for the future. For the time being, we will be recruiting mainly for R&D positions. I want to enhance our R&D to ensure that the company has a bright future. They are my goals as president.