Much has happened around the globe over the last year. Japan opened its borders, the WHO officially announced that COVID-19 is no longer a global health emergency, and if we look at Showa Denki specifically, you have established technical sales centers in East and Central Japan as well as receiving certification to deal with specially controlled medical devices. As the president of the Showa Denki group, how would you reflect on your business over the last year?
In 2010, we initiated our overseas business expansion, which was significantly impacted by the COVID-19 pandemic in 2020. Meeting customers in person, shaking hands, and conducting business face-to-face had always been a guiding principle for our sales staff. This approach was deeply rooted in Japanese culture and deemed highly important. However, due to the circumstances of 2020, this person-to-person style of business had to be abandoned.
However, from the start of my overseas business, I often use online meeting tools or by phone calls with overseas customers and our own staff because I rarely stay at the office and always travel around the world. So personally, I haven't felt any stress or difficulties about using virtual communication for our own business, because we already know we don't need to always stay in the office before the COVID-19 pandemic. Our company is already prepared and I believe we don't need to be afraid of this pandemic too much and decided to continue business as usual by using virtual communication tools.
From an economic standpoint, Japan experienced a decline in 2020. However, as early as 2016, we launched our engineering solutions, and when 2020 arrived, our SDG solutions rapidly gained traction in the market, attracting positive responses from customers. During this time, I received numerous messages and inquiries from customers in the world, with almost every transaction requiring online meetings.
To be transparent, 2020 brought significant profits for our company. During that period, I spent six months in the US, four months in Thailand, and two months in Japan. This experience allowed me to gain insights into US culture, recognizing the existence of both positive and negative aspects, as is the case with any culture worldwide. Personally, I view this as an opportunity for personal growth and to gain a deeper understanding of the world beyond Japan. Given our foreign customers, I consider it crucial to comprehend their culture to better anticipate their needs and requests.
For example, there are notable cultural differences abroad compared to Japan. In 2020, during my six-month stay in the US, I seldom saw anyone wearing masks, which sharply contrasts with Japan's ongoing practice of mask-wearing, even during a simple visit to a convenience store in 2023. While I appreciate aspects of US culture, I identify as a Japanese man at heart and thus found it difficult to comprehend how many people in the US and Thailand could navigate the pandemic without masks.
Around 2019, I sensed a significant shift in the market, with a surge in customer interest and discussions revolving around Showa Denki products, particularly in the field of electronic devices. At the same time, our company became more commonly known as SDG, an abbreviation of Showa Denki Group, which was further bolstered by our involvement in a motorcycle racing team. Racing machines are visually striking and highly captivating, garnering excitement from spectators. In 2021, Honda's top racing team and SDG joined forces and in 2022, the SDG Honda Racing Team was launched.
In summary, while the year 2020 and the COVID-19 pandemic were unfortunate for the world, our company perceived it as a significant opportunity to make a substantial impact and achieve a level of success.
You have talked about the different aspects of the Showa Denki Group, and your main products are blowers and environmental equipment, but you have also expanded to include a marine business too. Can you tell us some of the synergies you are able to generate among this group with different business lines? How do you plan on expanding the group even further?
Within our group, the main business is conducted through our production company. Naturally, there are numerous competitors both within and outside Japan. When engaging with customers, I often inquire about what they consider the most important aspect of doing business, and the overwhelming response is trust. Trust is the most crucial sentiment for customers. In 2010 and again in 2022, SDG experienced a doubling in volume, and I attribute a key factor behind this growth to the trust our customers have placed in us.
Currently, in both the bass boat and industrial equipment industries, dozens of small and medium-sized companies are merged into several companies or business transfers due to problems such as a lack of success, among other reasons. However, we can beat other competitors through our global support network and the personal trust built up through our marine business and our motorcycle racing team.
This is where our overseas networks and English-speaking staff yield significant advantages. The SDG group possesses a global network that enables coordination and efficient communication worldwide. Through our marine business, we have unlocked new avenues for business opportunities. I strive to make the best of every situation and leverage any opportunity to enhance the company's public relations. For instance, if someone calls to report a malfunctioning engine on their boat, we can collect the data, prioritize the issue by contacting headquarters, and subsequently transform it into a future solution or product adjustment.
When it comes to fishing, it is all about having your own customized setup. Many bass fishers in particular customize their boats to suit their fishing style, and this may include things like additional rod holders, installing specialized fishing accessories, upgrading electronics, or even simply changing the boat's appearance for aesthetic reasons. How are you able to support this customization trend of bass fishing through SDG Marine?
If you take, for example, motorcycles used by the SDG Honda Racing Team, you will find a multitude of individuals collaborating on the bike. Despite there being only one rider, there could be over 10 people working on it. Bass fishing, on the other hand, differs as it is typically a solitary activity. Occasionally, a fisherman may bring along their spouse, but in most cases, they go alone.
---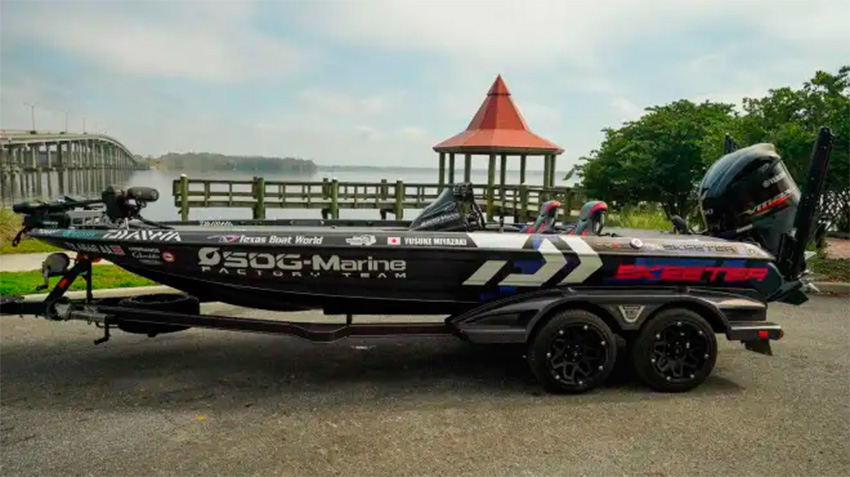 ---
Here is an image of Mr. Yusuke Miyazaki's boat, a customized creation by SDG Marine. He is a legendary bass fisherman and currently serves as the executive director of Texas Boat World. I distinctly recall being amazed the first time I saw his boat. However, I hesitated to undertake any repairs or cleaning on it, as I imagined it experiences significant wear and tear. In contrast, I find F1 cars always exude a sense of beauty, in my opinion. Boats can also be extremely dangerous, with mechanical failures potentially leading to the loss of life. Similarly, motorcycle accidents can have the same outcome, but when it comes to being on the lake, I believe the risks can be equally significant.
Mr. Kenta Kimura, a renowned bass fisherman, now around 42 years old, ranks among the top 5 anglers globally. He represents the SDG Marine team, and I first met him in 2018. Despite his short stature, dark complexion, and distinctly Asian appearance, he spoke impeccable English. I asked him about the most crucial aspect to change in order to challenge leading US bass fishing boats. He emphasized the significance of the captain and identified cash as his primary motivator. His perspective prompted me to contemplate my approach to challenges. Personally, I have reservations about the term "dream," often advising my employees to refrain from using it. If you wish to dream, it is better to do so while sleeping. Instead, I prefer that my employees employ words like "target," "final destination," or "goal."
Back in 2017, I had limited knowledge about SDG Marine, and at the time, we were merely a small distributor. However, one man offered me to buy U.S. Boat dealer "Texas Boat World" to expand our marine business. That man was Mr. Yusuke Miyazaki, and because I insisted that he should join the SDG Marine, now he is vice president of Texas Boat World and Executive director of SDG Marine. His acceptance marked a significant achievement for the company. While Japanese culture typically entails hiring around 30-40 new graduates annually, a tradition of great importance to Japanese companies, I felt the need for fresh ideas and a new corporate culture.
Essentially, I sought to create an external shock. Throughout 2022, I frequently engaged in conversations with Mr. Yusuke, placing great trust in him. Frankly, the COVID-19 pandemic shed light on both the merits and drawbacks of Japanese culture. In Japan, employees often continue working at the office even when sick, whereas, in the US, individuals stay home to prevent others from falling ill and to allow their bodies to rest. Personally, I believe that if one does not feel well, it is acceptable to stay at home. This is an idea I learned from my American friends. My discussions with Mr. Yusuke brought about significant changes for SDG.
---
|
|
|
|
|
---
Texas Boat World is located in Harker Heights, Texas, and is part of the Showa Denki Group. It offers the best in new and used motorboats, trailers, and motors, and it even has a showroom for the latest and greatest products. Looking forward, what are some of the strategies you would like to employ in order to further solidify your presence in the United States?
There are three keywords I have conveyed to my employees and the market in 2023. The first is "cool." I want our products and sports teams to epitomize coolness. The SDG Honda Racing Team and SDG Marine Factory team are both very cool. In Japanese, we use the term "kakkoii," and I consider it to be of vital importance. Take many companies out there and ask their employees if they believe their company is cool. I would hazard a guess and say that 99% of those employees would immediately respond with a "no."
This may shed light on why the Japanese economy is currently struggling. 70-80 years ago, many Japanese men started their own companies as small operations, and as the trailblazers they were, they felt that what they were doing was cool. However, same-as-usual Japanese company presidents sometimes focused too much on how to keep their position, neglecting the business operations and that makes the company "not cool".
Taking care of our employees is important to us, and I would say that the second keyword is "benefit." We want our employees to feel that SDG is cool. We want them to share with their friends and family what a cool company it is to work here. That, in itself, is the promotion of our brand through the use of a simple keyword. As you may know, Japanese salarymen have a culture of drinking late into the night after work. You often hear cries like, "At my company, the director is such a terrible person," or drunken men expressing similar sentiments. This is Japanese culture, and I never want my employees to feel that way. Instead, I would like them to say, "My company is the coolest company, and the president at my company is a cool person." People want to work for cool presidents and cool companies.
The third keyword is "pioneer," and it is my mission to astonish customers with the products and solutions we offer. I want them to perceive our solutions as something they have never seen before. Take SDG Marine, for example; every new product we introduce is a first in the Japanese market. I feel that we embody the pioneering spirit through our pioneering actions, and in my opinion, this keyword holds great importance for the future.
Japanese work culture has become so deeply embedded in businesses here that naysayers always assume that something new or pioneering will fail. Companies are paralyzed by hesitation when it comes to trying something new. Those old presidents are always thinking about risk management, which is the complete opposite of my thinking. Without action, there can be no results. Perhaps things may go wrong, but it is not the end of the world. If things do not work out, we can change our approach. While there are positive aspects of Japanese work culture, this hesitancy and overreliance on risk management is, in my opinion, its biggest downfall. Everyone is afraid of failure to the point that no one even attempts to do something new anymore. Japanese companies simply want to follow the tried-and-true path, but that path will no longer lead to greatness. SDG is willing to change course if it is not the best path. While sometimes following a straight path is acceptable, being flexible and changing course is necessary at times.
These keywords; cool, benefit, and pioneer, are the most significant lessons I have learned from American work culture, and I believe they can greatly benefit the Showa Denki Group.
Your company is involved in youth development through motorsports. You have participated in the MFJ All Japan Road Race Championship Series as well as the Suzuka 8 Hours Endurance Road Race of the World Endurance Championship which is held in August. Can you go into a little detail about why you decided to get involved in motorsports?
We have participated in three championships so far. The first one was the Japanese Championship, followed by the Asian Championship, and the final one was the Suzuka 8 Hours Endurance Road Race of the World Endurance Championship. In the Asian Championship, we won four races but unfortunately lost the championship last year. Our chances were dashed when one of our riders had an accident during a test run before the final round. Interestingly, when comparing the two, the Asian Championship has attracted a lot of audiences, significantly better than the Japanese Championship.
While SDG's main business is domestic, it also includes ASEAN countries such as Honda Thailand, Honda Vietnam, Honda Malaysia, and others. This is true for other major companies like Yamaha, Suzuki, and Toyota as well. Whenever I visit racing courses, I often see the directors of these prominent companies actively involved, working closely with the development chief and the chief mechanic. I strive to build good relationships with them, which is why when I visit their overseas locations, they warmly welcome me with open doors.
Within the domestic sphere, the SDG Honda Racing Team holds a position among the top 10 teams and has garnered a significant fan base for our motorcycles. In fact, many businessmen show interest in our association with the SDG Honda Racing Team. The 2022 Suzuka 8 Hours Endurance Road Race began on a solid note, with SDG Honda qualifying in 4th position. However, on lap two, while retaining the 4th position, our rider was struck from behind by the rider in the 5th position.
---
---
After approximately four hours, we made the decision to repair the bike. This was necessary as we had only completed a single lap until that point. SDG Honda is a top team, and we always strive for victory, even when it may seem impossible. To make a better attempt in 2023, we require more data. During an eight-hour endurance race, obtaining real-world data on factors such as fuel economy, suspension performance, and engine behavior is crucial. The only way to gather this data is by actively participating in the race. Repairing the bike was vital for securing our future in this sport. After four hours, we succeeded in getting our bike back on the track. Some employees questioned this decision, believing that we could not win after spending four hours on the sidelines. "Never give up," I told them. Every action we take is geared toward creating a better tomorrow.
Due to COVID-19 coming to an end, a number of international exhibitions are now resuming all across the world. In the United States, notable exhibitions include the Bassmaster Classic. Are you interested in participating in these international exhibitions as well as ones here in Japan?
I have a significant interest in overseas events, and the Bassmaster Classic holds great significance in American culture. I have personally attended the event two or three times. Since Texas Boat World became a part of the SDG family, we have received exceptional hospitality from their staff. From my understanding, bass fishing and outdoor sports are highly popular in the United States. In fact, I invited various staff members from Texas Boat World to Japan for a welcoming ceremony at SDG. Since then, many of their staff have shown particular eagerness to assist me. Some of them admitted that before the ceremony, they could not fully comprehend the size and scope of SDG. However, after their visit, they gained a deeper understanding. They appreciate the positive aspects of Japanese culture, and I believe this collaboration bodes well for our future.
There have been some within the company who questioned my decision to acquire Texas Boat World, perceiving it as an investment in a hobby. To them, I would assert that everything we do is an investment in the future. Whether it involves significant or minor costs, each decision is intended to move the needle and position the Showa Denki Group for a better tomorrow. Once again, it ties back to the three keywords I mentioned earlier. To experience substantial benefits, one must be willing to invest and pioneer. Without risk, there is no reward. If employees perceive the benefits and more people aspire to join SDG, then I consider it a win.
Many regard my business acumen as sharp, especially when compared to those who are hesitant to take risks. As I mentioned earlier, my aim is always to invest in the future. I vividly recall a few years ago when I purchased 30 used boats in the US. Some were in good condition, while others were less desirable. At the time, the exchange rate was around JPY 104 to USD 1. Consequently, I also acquired approximately 20 outboard motors. If you observe the current exchange rate, it stands at around JPY 144 as of this interview. We were able to sell all those boats at a significant profit. Many individuals would have shied away from taking such a risk, but I firmly believe that a life without risk is not worth living. It is this mindset that has contributed to my success. In a way, this is something I learned from Thailand; the notion of destiny and the belief that things unfold as they are meant to be.
---
Interview conducted by Karune Walker & Sasha Lauture