What is your take on monozukuri and what is it that sets your company and Japan apart from regional manufacturers in places like China, Korea, or Taiwan?
Different things can be said about Japanese excellence in monozukuri. One thing that underlines pretty much all activities for Japanese manufacturing companies is the national character. The Japanese national character is defined as being humble and building up technical expertise over time. As time goes by more technical know-how is accumulated and the Japanese people are really defined by this contribution to the country at large. That actually relates to manufacturing methods and making things in Japan; monozukuri is the word that in my mind defines the national character itself. It is a very specific word and helps to define everything we do here at Nagoya Giken too.
In our minds, two things can be embedded into this phrase of monozukuri, the first being technical know-how, and many Japanese companies are known worldwide for their greater level of expertise. In fact, many Japanese companies are known for the kind of technical know-how that no other company in the world possesses. These companies continue to hold this strong position and win as far as being competitive on a global scale.
Additionally, managerial skills are another aspect that in my mind comes to define the competitive drive of Japanese companies. First of all the departure point is Toyota of course, with production systems being standardized, which essentially means that anyone in a production line can perform similar tasks.
When we talk about our company, in particular, we are extremely proud of the technical know-how we have accumulated. Our company started with cold forging techniques, and what we do now we are proud to say no other company can do likewise. Needless to say, Chinese companies do excel at adopting technologie, but on the other hand, Japanese companies are the ones creating things completely from scratch. I think this is another key element when describing the strength of Japanese monozukuri. By definition, companies like ours are not only bringing new technologies but also bringing new products and ideas to the table.
Bringing things back to our company, our customers that use our products have to have an understanding of how our products are made. This is where our excellence in technology comes into play, and we really make things in our own unique and specific way. We've reached the point now where the Nagoya Giken way is something that no other company can do. This defines our excellence, and that is reflected in the loyalty we have from our customers.
You mentioned the national character in that answer, and how it speaks to a greater culture of craftsmanship, which has been severely affected by a major overarching social issue affecting Japan as a whole right now; the aging and shifting demographics of Japan. We are seeing a challenge, especially for SMEs in rural areas to pass on their technical know-how to the next generation, who are often more interested in moving to big cities rather than pursuing manufacturing. How has Japan's aging society impacted your company, and what has been your approach to address this challenge and preserve your technical expertise?
Out of the two problems that are apparent here, the overall decrease in population is something that we obviously cannot do anything about. That is something that is natural and something that a rural company like ours cannot make any contributions towards a solution. One thing that we should be escalating our activities in however is increasing the level of education of local students, starting all the way from elementary school. This can come from introducing those students at a young age to local companies, cultivating a natural interest in what companies like ours do. Later on when they graduate they may find themselves interested in joining the company. Obviously, as you mentioned there is this talent exodus where people migrate from local rural areas to bigger towns or cities. This area in Gifu is no exception with many wanting to move to the large city of Nagoya to find opportunities or settle down and have a family. Rural companies in Japan are suffering because of this, and Nagoya Giken is no different. It is hard to sustain human capital when this migration continues to move members of rural communities to big cities.
---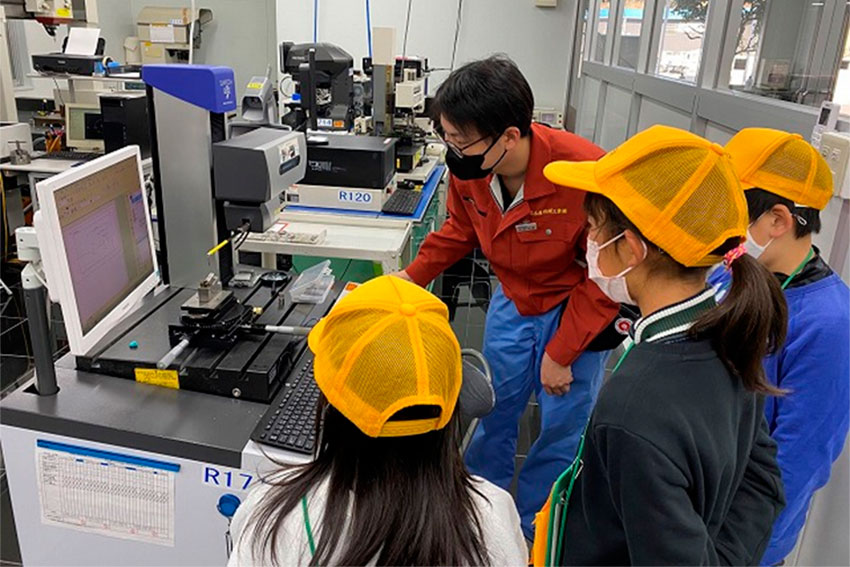 ---
What we have been doing is cooperating with local municipal offices here in Gifu and cooperatively introducing activities through these channels to some degree of success. We have ended up having some recruits and local people join the company, and those employees have the opportunity to gain technical skills naturally through both training and on-the-job training (OTJ). This is something we are attempting here in Gifu to avoid as well as overcome these prevalent social issues.
---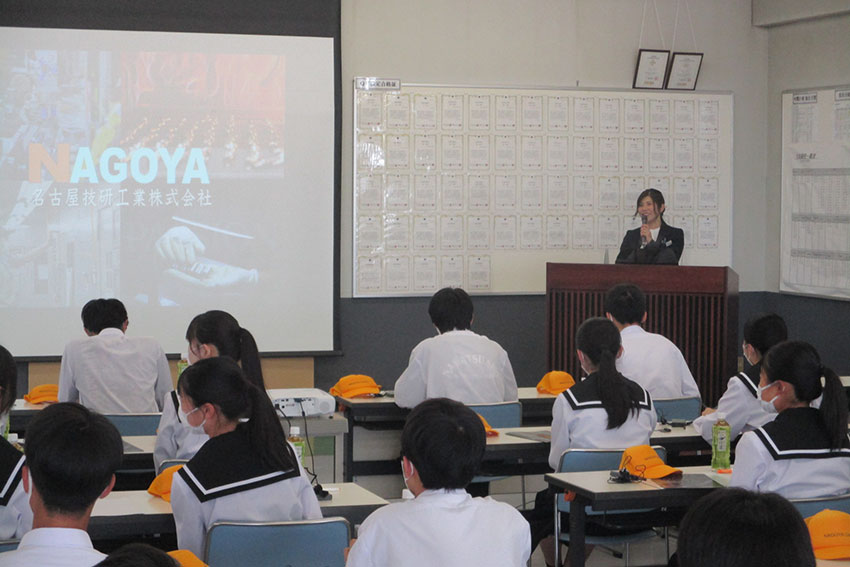 ---
Earlier you mentioned the Nagoya Giken way as being these technologies and techniques that simply cannot be replicated by regional manufacturing competitors. Could you introduce a specific technology or example that demonstrates the Nagoya Giken way? What do you think is the technology or technique that best exemplifies your company?
I would say that it is probably best exemplified by our brake parts. We make the connectors on both sides of the hose, and it is an extremely important safety part. As you know, a break must perform its job to the best of its ability, with defects costing lives. I think this is a good example of our excellent technologies through cold forging. No grinding or other technologies are used, and this product is created purely through cold forging performed at the highest level. We are proud to say that only Nagoya can perform to this high quality by only utilizing cold forging. There is a level of certainty that other companies producing similar products are using grinding, but here we are just pushing our excellent skills and technology to produce a pure product using only our core technology.
---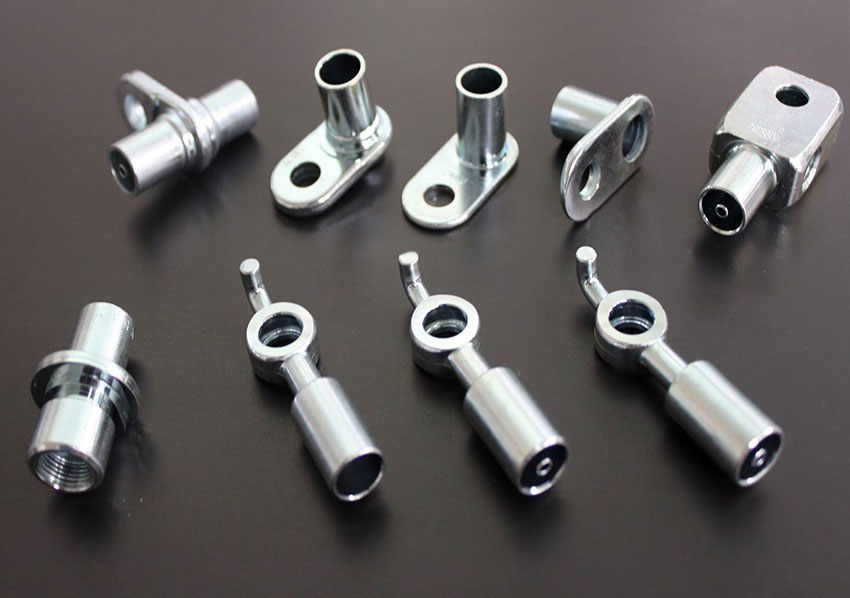 ---
The automotive sector represents a significant portion of your sales volume. This industry is currently living in a very transformative time with the switch to EVs and next-generation vehicles. Could you tell us a little bit about the impact this shift is having on your company?
It would be fair to say that the automotive industry has been experiencing tremendous change right now with the shift not only to hybrid vehicles but the electrification of many vehicles altogether. Of course, our company is having great exposure in terms of sales, and a large number of our sales are attributed to the automotive sector. Transmission parts are currently seeing a tendency of decreasing in manufacturing and I think there will be a time in the not-so-distant future when we cease production on those transmission parts. We do have parts that have stable demand, which tends to be the brake parts. Even if there is a complete transformation over to EVs there will still be a requirement for those brake parts. That means there will still be a steady demand, and in fact, we have been seeing an increase in demand for these brake parts. It is important to stress also that we are currently seeking new opportunities in this exciting sector, and our sales managers are now looking for what exactly Nagoya Giken can contribute towards EV-type cars. We have no clear parts in mind yet, but we are actively searching for solutions and products that could be added to our product portfolio besides what we have right now.
---
---
In this switch, we are seeing an increase and decrease in different demands. For example, transmission parts are slowly being phased out, but brake parts will always be in high demand. Are there any new applications or new types of parts or products that you're looking to apply your cold forging technology to for next-generation vehicles?
Let me talk more about the wider perspective first and then I will go into the company's R&D efforts in a little more detail later. SME companies in the automotive industry aim traditionally for mass production of parts. Reaching high volume rather than having a diverse product offering. Now with this change happening, we are considering the introduction of more high-added-value products with more sophisticated shapes. I think that epitomizes the changes that are happening industry-wide right now. Customer demands are pointing us in this direction, meaning that we are no longer aiming for pure volume, but instead making more specialized products that have added value. Unfortunately at this time, I can't say specifically what kind of parts those will be, and that is because we are still prototyping and have yet to have a super clear direction. It is not only Nagoya Giken however, with many companies in the sector thinking, experimenting, and sometimes struggling with where to take their businesses next.
Are you also interested in potentially collaborating or working with foreign companies?
Technical tie-ups with affiliate companies is not something we are thinking about right now. It has merits and demerits. One good aspect is that by having these kinds of collaborations you can expand your sales channels in a new locations besides Japan. That is a great advantage. Nagoya Giken has been a player in the industry for a long time now and we have been very scrupulously accumulating technologies here in Japan. It would be such a waste of time and energy to give up all these technologies to someone else just to have them essentially steal the technology that we have spent so much time developing.
I won't say that it is something that we are not doing, and we do already have a joint venture in China. Additionally, we have a local production facility in Vietnam. I would say that to some extent we are exporting to the Southeast Asian region, and in the future, we are keeping our eyes on supplying to India. Basically, we are acting in the shadows, granting our technology to certain customers who are operating off a royalty type of contract.
We know that you've been in China for some time now, and in 2018 you established your new local production site in Vietnam. Why did you choose Vietnam and what role does that new location play for your company in terms of supplying the Southeast Asian market?
Having already established a factory location in Vietnam we see that the Vietnamese market itself is growing, affording us the opportunity to grow our own activities in the region. Right now the company is not thinking about exporting to someplace else other than the locations we have right now in Vietnam and China. I wouldn't say it is something we aren't thinking about at all, however, right now we need to focus on growing the Vietnam factory bigger than now.
You said that your main focus is to strengthen your presence in Vietnam by increasing your production capacity and consolidating your presence. What is your strategy to do so? Perhaps in the future would you look to replicate the model you have in Vietnam in another location?
To answer the question, I think it simply comes down to increasing production capacity. Currently, the Vietnamese factory is only supplying Japan, basically localized production for Japanese customers. The expansion should be obvious; to introduce products not only for Japan but for nearby Southeast Asian countries.
This isn't yet a solid strategy, and right now is only in the proposal phase. Something to think about rather than a concrete action plan.
Even though we have interviewed many companies in Japan it is very rare to find a woman as the president of a company. What are some of the challenges you've faced as a female president?
As you've said, it is very rare to find a female employee holding upper management positions such as my own, especially in companies such as ours being manufacturing related. I don't necessarily see that as an advantage purely because I operate no differently than any other president, regardless of gender.
This company was founded by my father and I was also beside him looking over his shoulders and looking at what the company was doing. I do see my gender as an advantage in the sense that in our company, we are seeing a higher ratio of women than ever before. We are also seeing fewer women leaving since I stepped into the president role. Traditionally when women would take maternity leave they wouldn't come back, but currently, times are changing, and more and more companies are allowing women to have children and a career without the need to compromise one or the other.
We try to segregate responsibilities here at Nagoya Giken, and I personally have a preference for HR and finance. Mr. Kuroyanagi, our chairman, is handling the monozukuri and technical side of the company. We try to balance things and try to utilize our human assets in the best way that we can.
You've been the president for five years now and your father was the founder of the company. Imagine that we come back on the very last day of your presidency and interview you all over again. What dreams or goals will you hope to have achieved by then?
It is something that is a bit of an ongoing struggle and it is not something that can be reached in a short amount of time. Up until now, the company has been very focused on the monozukuri aspect, so ideally I would like to see further diversification taking place in order to shift the company in new directions. I can't really say exactly what direction I would like to see the company go, but I would like to see that direction being related to better working environments for people. We see a lot of social issues with the decline in population and an increase in elderly people working. My employees are not getting any younger, so I would like to see a better working environment for those people. As people get older it becomes harder for them to keep up with the high tempo of production compared to younger people, so maybe introducing something for these people to help alleviate the strain while still giving them steady employment might be the way to go. Everyone is welcome to work for our company and I would like to continue to create the kind of environment that is attractive and welcoming to all walks of life.