What is your analysis of Japan's medical sector, and how do you foresee its evolution in the years to come?
Nowadays, I believe that the strength of the Japanese industry is the power of basic science. Even big companies in Japan have low success rates for new medicines. We are still too small compared to mega pharmaceutical companies worldwide with very competitive R&D. Thus, we are trying to penetrate niche markets as a small company. Chugai Pharmaceutical Co., Ltd. has a notable strategy, and they have created an excellent synergy with the Roche Group, with whom they collaborate for worldwide R&D. For a long time, Japanese pharmaceutical companies have tried to have an R&D pipeline without collaborating with major pharmaceutical companies. I heard Eisai Co., Ltd. express how the times have changed and that collaborating with big firms was critical. Many Japanese companies have realised that rejecting that approach will make finding a market for your medicine outside Japan difficult. Japanese pharmaceutical firms have traditionally focused on developing their basic research & technologies as well as timing their pipelines.
What kind of collaborative partners would you be looking for in the development or marketing of your products overseas?
We are seeking partners outside Japan with a new medicine that has already been marketed in the Western countries as a niche product, especially for orphan diseases. The number of patients may be very small, but the patients really need those treatments. Japanese patients are longing for niche medicines that are yet to be developed. An example of this care is our Targretin Capsule 75mg, which was originally developed by Ligand Pharmaceuticals in California and licensed by Eisai.
Fortunately, I was a member of the development team who worked on getting this product from Ligand to Eisai. Eisai was looking for oncology medicine to be marketed in Japan and overseas, and they eventually succeeded in establishing several pipelines for oncology. However, Targretin is a very niche and orphan drug, so Eisai decided not to market it in Japan because it was a very small market at that time. Mr. Naito kindly told me that as the president of Minophagen I can obtain the licence and develop the medicine in Japan for patients with Cutaneous T-cell lymphoma (CTCL). That kind suggestion from Mr. Naito has provided us rights to Japan and some other Asian countries. We marketed it in Japan, and we are currently developing it in mainland China, where we have already found a partner. We do not have much information about the treatment of CTCL in China, but our partner has been helping us to slowly gain an understanding of the market. I am looking forward to the launch and growth of Targretin in the Chinese market in the next couple of years.
---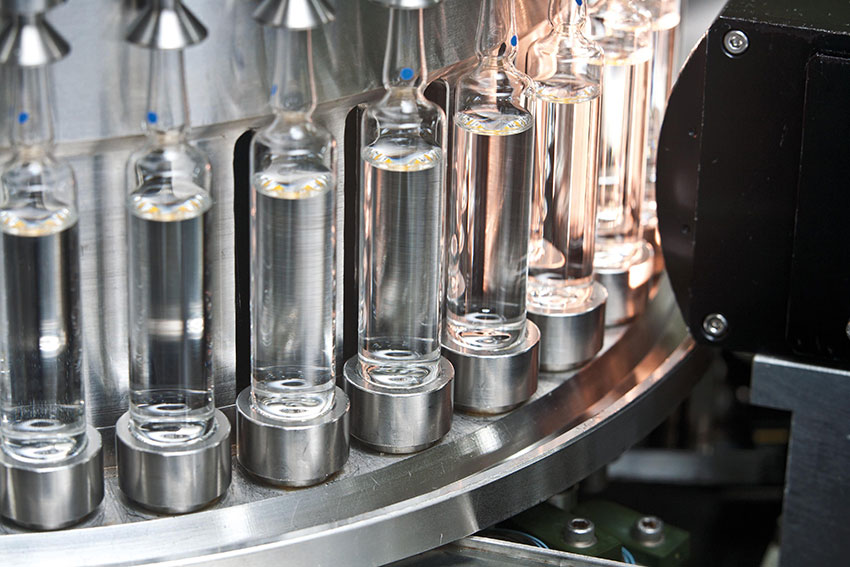 Glass ampoule line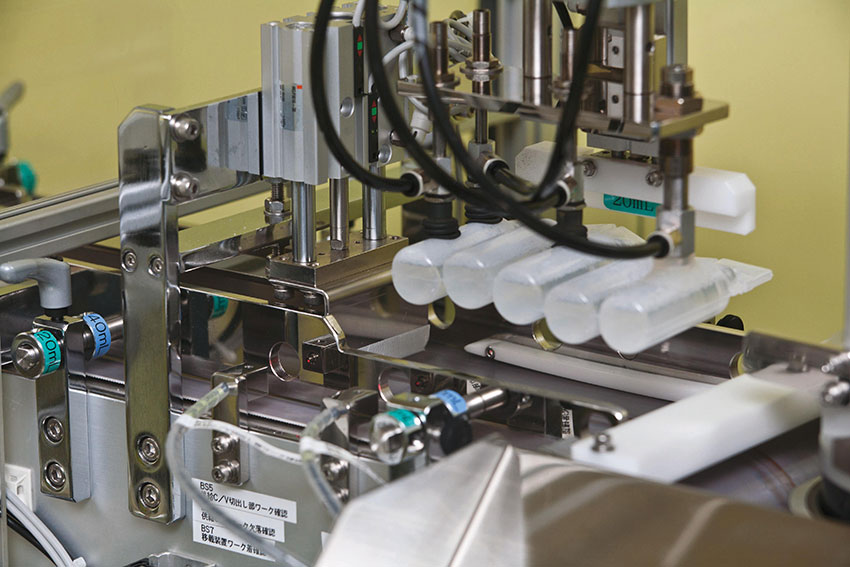 Plastic ampoule line
---
How has the COVID-19 pandemic affected your business?
Eisai China, who distributes our original products Stronger Neo-Minophagen C Injection (SNMC) and GLYCYRON Tablets (GLT) in China, told us about the lockdown in Shanghai, which made them unable to go to work since the end of March. Meanwhile the sales of our injection product dropped sharply due to the lockdown for hospitals as well since patients need a doctor's supervision when being injected.
We are not a big company, but we believe that our products are high quality and would like to carefully discuss with the local doctors and the community in China how to move forward with our local partner.
During the COVID-19 pandemic, we received some inquiries from doctors for SNMC or GLT. A number of doctors told us some glycyrrhizin products were effective for a portion of patients during the outbreak of COVID-19.
The Japanese ambassador in Ireland sent us a request for our tablet medicines, which were less effective than injectables against inflammation. Nonetheless, tablets are extremely useful. A few doctors in Ireland read about how some glycyrrhizin products were effective for a number of patients during the outbreak of SARS in 2003. It was not a formal clinical development process, but we voluntarily sent those medications in response to the government's request. We do not know whether the medicine fully worked or not; only that it worked somehow. It was unfortunate that we did not have the opportunity to pursue determining the efficacy of the medicine because it requires a large-scale clinical study. We have received similar requests from Southeast Asian countries like Indonesia. Some countries to whom we have distributed our medicine told us that our products were used to normalize the inflammation caused by COVID-19.
The active ingredient in your medications, glycyrrhizin, including SNMC and GLT, comes from the licorice root that has been used in traditional medicine for ages. Can you give us an overview of how glycyrrhizin supports the body & liver and its efficacy?
My grandfather (Tokuma Utsunomiya), the founder of the company, was a graduate of Kyoto University. Dr. Minouchi, who is the co-founder of our company, was researching glycyrrhizin when my grandfather saw the prospect of such development. It was approved by the Japanese government in 1948 as having satisfactory efficacy in alleviating nose allergies and hay fever as well as treating chronic liver disease. In 1977, when hepatitis C virus was not yet discovered, the clinical trial using SNMC led by famous Tokyo University doctors was completed. Glycyrrhizin and Mitsubishi Tanabe Pharma's drug called "Uruso" (UDCA) had long been used for treating chronic liver disease until the use of interferon. I had a personal experience with glycyrrhizin due to allergic diseases when I was young. Since my grandmother was a doctor, she injected me with SNMC at home when I had hay fever and asthma for a month during the summer. I was so amazed when I fully recovered from the hay fever, and it made me confident in its efficacy. It is an old medicine that can contribute to people globally because it is very effective and affordable. In recent years, biotechnology has been developed and other high-class firms have also developed a lot of new medicines, but our medicine is still very vibrant because it can really help people's health day-to-day.
My father's dream was to market glycyrrhizin in Europe, but it was a bit late because interferon treatment was already available in the market in the late 1990s. Our predecessors and my father tried to commercialize this medicine there. Some Japanese doctors have already collaborated with some European doctors in Rotterdam to develop SNMC in Europe. However, after we completed phase III clinical trials and submitted the data for marketing authorization, the European authority told us that glycyrrhizin is not qualified to be marketed because it is not easy to verify its mechanism of action in improving liver functions. They did not believe there was sufficient proof that the effect was not due to a combination of formulation, rather than just the glycyrrhizic acid. I was in Texas at that time, and the doctors at the University of Texas said similar things when we had a short discussion. It is very difficult to make the data for the authorities to understand, and Asian countries differ from the US and Europe. In China, we were able to distribute our products at an earlier time because, firstly, glycyrrhizin is widely regarded as something valuable by the medical field there. Secondly, due to my grandfather's reputation for his contribution to the activities leading to the normal diplomatic relations between Japan and China in 1972. Some doctors have said that it is a mystery how it works, but we have a technical brochure in English for those who understand English explaining the core of this drug is its anti-inflammatory effect. As a matter of fact, liver diseases and allergies are often a reaction to inflammation, while the combination of formulations can enhance the effectiveness.
Although the mechanism is unclear, the effects show that it is a good opportunity for us to promote it as an anti-inflammatory medicine. Minophagen initially concentrated on anti-inflammatory drug development, and treatment for the liver but we have recently expanded to the development of skin products like ointments for skin inflammation. We have been conducting a co-promotion with Miyarisan Pharmaceutical Co., Ltd. It is for skin diseases which have the same mechanics, including glycyrrhizic acid. Later, we moved to Targretin. We are an anti-inflammatory company by image.
A part of your midterm strategy is to promote your medicines in the Asian market. Can you tell us more about your international expansion strategy?
Mainland China is without a doubt our key market outside Japan. Our new product, Targretin, will be going through a clinical study shortly this year. We are hoping that at its completion, we can realize the commercialization of the product as an orphan drug within a couple of years. We are aiming for market expansion in Indonesia, South Korea, and other Asian countries for our glycyrrhizin products as they have good market potential. There have been a lot of issues with the quality assurance standards of generic companies, and their manufacturing sites have been audited by authorities. We were told that many companies have stopped the distribution of generic products in Asian countries. The suspension of supply by generic companies has led to us receiving some inquiries from overseas companies.
We are looking to collaborate with Taiwanese and Australian companies. We have not started with the clinical studies yet, but there is dermatological treatment research at the early stage developed by TWi Biotechnology, Inc. in Taiwan. In 2020, we agreed to collaborate with their product called AC-203, which treats epidermolysis bullosa. We are first looking to market this product in Japan through business ventures and related companies that we already know. It is a very niche market and probably an orphan drug, making it a great product for us to develop. Furthermore, we are searching for synergy so that the same doctors can see patients with the same disease. We are hoping to enter the Australian market for Targretin with a business partner as well. We are seeking out more pipelines that are at a later stage, particularly for medicines like Targretin. We want to find a niche and orphan drug that has already been marketed in the west and perhaps related to skin diseases. The key is that the patients in Japan need those products. Since we have not tested adult T-cell leukaemia patients during the development of Targretin in Japan, the Japanese authority has asked us to perform an additional clinical study. Adult T-cell leukaemia patients also suffer from skin diseases, and I think the additional study will be even more beneficial for the patients. We hope it will be finished within a year, and we are in the process of negotiating with the relevant government sectors. As a small company, we have to seek retaining exclusivity of Targretin. Discovering the supergeneric and bio-better of Targretin takes time but can spark a competitive drive.
We are endeavoring to expand our business in collaboration with local companies. Instead of becoming a major company like AstraZeneca or Pfizer, we want to be a smaller company in the locality with unique technologies and channels of sales. Through collaborations with local partners, we plan to pursue the licensing in and licensing out business. Our already established network through our products of SNMC and GLT have created a global sales channel, in 11 countries. We want to fully utilize that network in providing new types of drugs.
---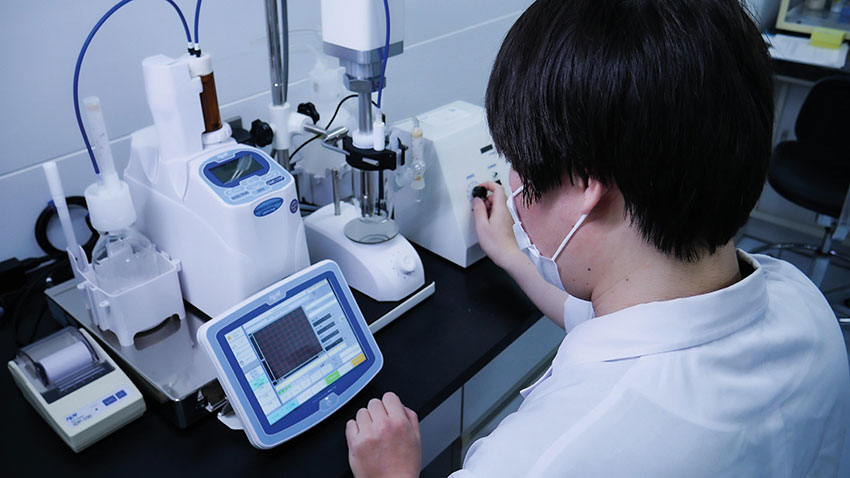 Research laboratory 1
Research laboratory 2
---
In business, every president brings his stone to a building's history. What dreams, objectives or goals would you like to achieve during your time as president?
I want to achieve the sustainability of our business toward becoming a 100-year-old company. As the third-generation president, I am honestly delighted that one of my sons joined our company this year. Maybe in 10 years, you can interview him as the fourth-generation president of our family-owned company. Most important is our vision of looking after the health and welfare of our patients with our medicine, research and focus on the niche market. Even as a small company, our goal is to do everything we can and give our best for our patients in Japan and overseas.