Japanese manufacturing has always been highly detail-oriented and is currently competing with regional competitors such as Korea, Taiwan and China. QCD is a core element for competing with these companies. In the case of your company, you have found a niche in screen printing technology and have built up a history of nearly 90 years. What advantages do Japanese companies have and what are the unique strengths of your company?
The essence of Japanese manufacturing is QCD, or quality, cost and delivery. This is the strength of Japanese manufacturing these days and enables us to compete with emerging economies that specialise in manufacturing. Our corporate philosophy can be traced back to the words of the founder of our parent company, who advocated "the basis of business is built on trust" and "be in tune with the changing business climate" in the company motto. This is in line with Matsuo Basho's haikai philosophy of " fluid and transitory" and "eternal and immutable." , which means that new changes should be introduced while maintaining universal values. Maintaining universality in this sense means maintaining the quality and trust gained by providing services that are needed by customers. Change means adapting to what we call society and streamlining our communities. For example, environmental issues are a major concern for many people, all over the world. Our company also has a major focus on providing environmentally friendly products and operating in an environmentally friendly manner. Our goal is to be a company that can contribute to the improvement of the global environment and the well-being of mankind. At our plant in Tsuru City, Yamanashi Prefecture, we purchase 100% of the CO2-emission-free electricity produced by hydroelectric power from the 'Hometown Hydro Plan' of Yamanashi Power NEXT, an electricity supply brand jointly operated by Yamanashi Prefecture and Tokyo Electric Power Energy Partner Co. In addition, the Group's operating companies that manufacture the metal mesh used in the production process of solar panels have their own solar panel generators and generate and utilise approximately 12-13% of all electricity used in production.
We focus on reducing the CO2 emissions generated in our production processes and at the same time providing environmentally friendly products. For example, screen printing can be used for a variety of applications. The surface and back electrodes of solar panels, in fact, are also formed by screen printing. Many electric vehicle components can utilise screen printing, such as filters, semiconductors, MLCCs (Multi-Layer Ceramic Capacitors) and components for CMOS (Complementary Metal Oxide Semiconductor) sensors. In addition, we works in conjunction with Nissin Engineering Inc, another Nisshin Seifun Group company, in the production process of semiconductor materials.
Our current goal is to make our production facilities environmentally friendly and to provide environmentally friendly products that meet the needs of society and our customers.
---
---
This year, Japan's population fell below 126 million for the first time in history. Added to this is the fact that it is an aging society, with 29% of the population aged 65 and over. To what extent do you need to cater for a customer base, especially from overseas, as Japan's population continues to decline? In terms of recruitment, what initiatives are you taking to ensure that you can continue to recruit talented people to join your company?
We, as a company, are aware of the demographic changes in Japan, but we don't see it as only a negative aspect. Rather, we feel that it is a good opportunity to make changes and that what we need to do is becoming clearer. One of them is to pass on our technology to the next generation. Our textile technology actually relies to a large extent on the skills of our artisans. Of course, we have very good and advanced machines, but even with these, adjustments and fine-tuning are necessary, which only a skilled engineer can make.
---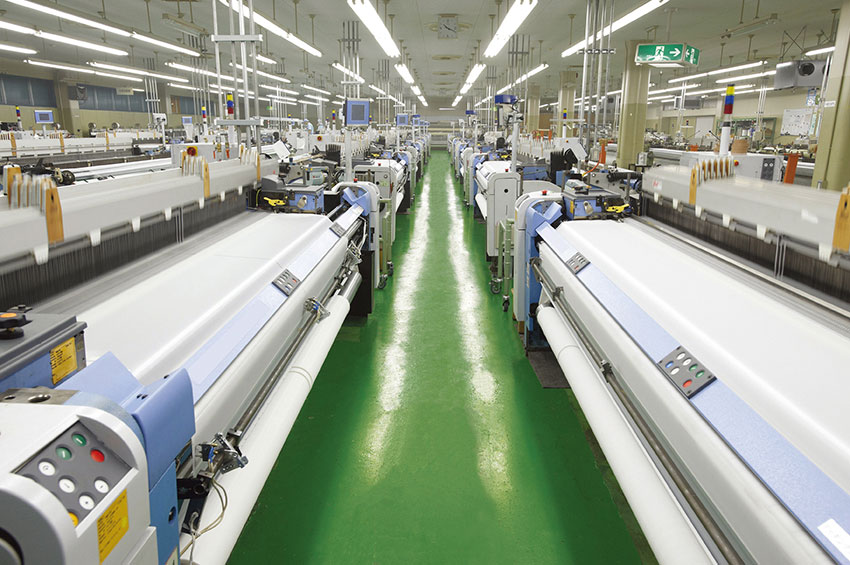 Weaving Machine for High Performance Mesh
---
Nowadays, not only synthetic fibres but also metallic fibres can be made thinner, down to about 10 µm.
Since only craftsmen or technicians can handle these yarns, it is necessary to pass on this knowledge and know-how to the younger generation. Technical training is important, but creating video standards and writing up the video so that anyone can use it is also very important to maintain the quality of the factory. To this end, the introduction of DX technology and automation will be key to making technology accessible and easy to use on the production floor.
Automation can help to reduce the impact of labour shortages by allowing older workers and seniors to continue working. In this context, we are diversifying our recruitment and continue to hire new university and high school graduates, but at the same time we welcome career recruits in all our plants, laboratories and sales. This is because we want to provide an attractive environment so that our workers are attracted to us and want to work for us for a long time. And if they are happy and comfortable, we want them to keep working for as long as they want.
In my mind, we have a value spiral concept. We create an environment in which our employees can work vigorously, and through training and development we increase the value of our employees' human resources, which in turn increases our ability to respond to our customers, and thus our customer value. Furthermore, the company increases its market value by providing products and services that address the market need for 'environmental issues'. If market value increases, the company's financial value will also increase, and investment in automation will form a positive spiral around manufacturing, leading to the well-being of employees. By turning this cycle around, we hope to contribute to the global market and expand our entry into new markets. To achieve this, it is important to utilise our strengths as the only company that has the both metal mesh and synthetic mesh and that is also able to produce molded products.
Since the beginning of this year, the exchange rate has depreciated significantly against the yen, which has of course increased the cost of procuring raw materials, but also made Japanese exports considerably cheaper. This means that the brand Made in Japan has once again become cost-effective. What is your company's assessment of this macroeconomic environment? Do you see it as an opportunity rather than a challenge for your company?
The depreciation of the yen is an advantage for our company. We currently have bases in the USA, China and Germany, and factories in Thailand and Indonesia. Domestically, we have three factories in Yamanashi, Shizuoka and Kagoshima. When doing business, we analyse location advantages in terms of logistics costs as well as foreign exchange and tariffs. Depending on the changes, we try to find the best location that meets the needs of our customers in the region and is also profitable. Geopolitical security is another factor that contributes significantly to where we choose to locate our bases.
Currently, business in China is strong, especially for our solar panel printing products, which are used extensively in the Chinese market. The situation in Chinese yuan and US dollar is slightly different from that in Japanese yen, but the costs of energy and raw materials are rising, so we are consulting with our customers to ensure that we get the right pricing conditions.
---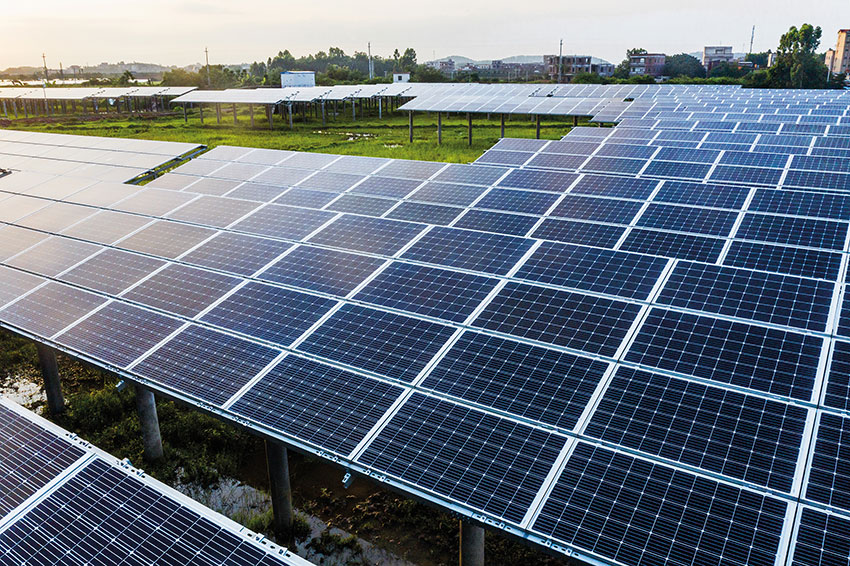 Solar Farm
---
We have had the opportunity to see the next-generation monofilament mesh for high-precision screen printing, V-SCREEN NEXT, developed by your company. Compared to stainless steel, it has higher tensile strength and no plastic deformation. What applications have been made possible by this technology?
V-SCREEN NEXT uses a material called TLCP (thermotropic liquid crystal polymer), which is actually a type of synthetic fibre that we are working on with a major textile manufacturer.
There are two approaches to its use, one from the perspective of screen printing and the other from the perspective of industrial products. For screen printing, its ultra-high strength and ultra-high elasticity have led to its use in fields where high definition and high positional accuracy are required. On the other hand, as an industrial product, it is used in notebook computers, where the hinges are made of this material. It is also suitable for use in speakers due to its sound and vibration properties, as these losses can be significantly reduced. As a mesh for acoustic applications, it is also being used in speakers.
TLCP is also being considered for use in hydrogen production due to its chemical resistance. In hydrogen production, there are considerable safety concerns, as common metal filters cannot be used, as hydrogen embrittlement occurs with metals. But even so, the cost is still high, so it is necessary to either reduce the cost through mass production or find applications with high potential. We have high hopes for the future potential of this material and would like to use it to expand screen printing technology and develop applications as an industrial product.
---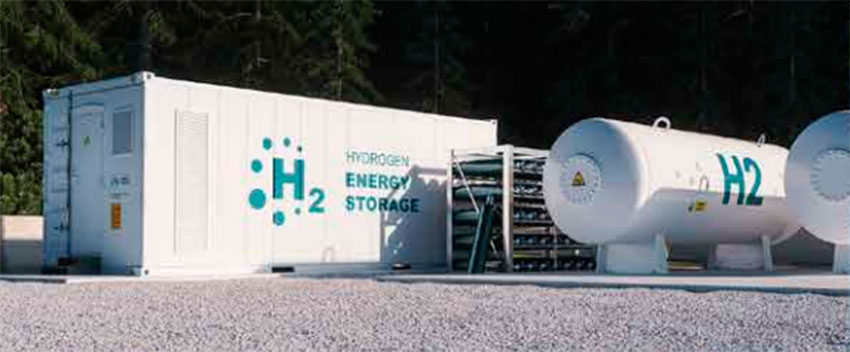 Mesh technology for hydrogen society
---
Your mesh products are used in dialysis machines for filtering blood - what exactly are they used for? What specific targets are you focusing on in the medical sector? Can you also give us an overview of your laboratory and what it has achieved?
In the medical field, we supply filters as components for the dialysis and artificial heart lungs you have just mentioned. Medical devices always involve risks, so it takes a very long time to ensure safety and to get approval. In that sense, the medical industry is always trying to develop new areas and applications, but it is still in its infancy.
One is an antiviral mask that has actually received approval from the US FDA and is currently on sale in US and Japan. These are very high-spec Cufitec® masks used by doctors, nurses and nursing home staff, etc. Cufitec® is an antiviral treatment on the surface of the mask, but it can also be applied to a variety of materials. For example, it is now possible to treat the surface of tables with antibacterial and antiviral treatment. Even in the post-COVID era, vigilance against viruses is still important, especially in the medical field. We are developing a niche for Cufitec®, which combines nanotechnology and resin molding technology using mixed masterbatch to create an environment that inhibits viral infection even when touching walls and floors. The medical sector is an area we will continue to focus on, and although we are still in the development phase, we intend to continue to actively enter this field.
Due to the spread of the new coronavirus, demand for antiviral products such as Cufitec® increased in 2020, but in the second half of 2021, demand came to a slight standstill as we moved to a with-coronavirus environment. However, our products incorporating mesh in hand soap and alcohol dispensers as a disinfectant to prevent viral infections are attracting attention. In principle, the liquid in the container becomes foam when the plunger is pressed through our two-layer mesh, and the product has continued to perform well, although it was in short supply in 2020 due to a significant increase in demand. The product is doing well globally and, in fact, many doctors now prefer foaming soap to traditional solid soap, which we feel is a significant contribution to the medical industry in general.
---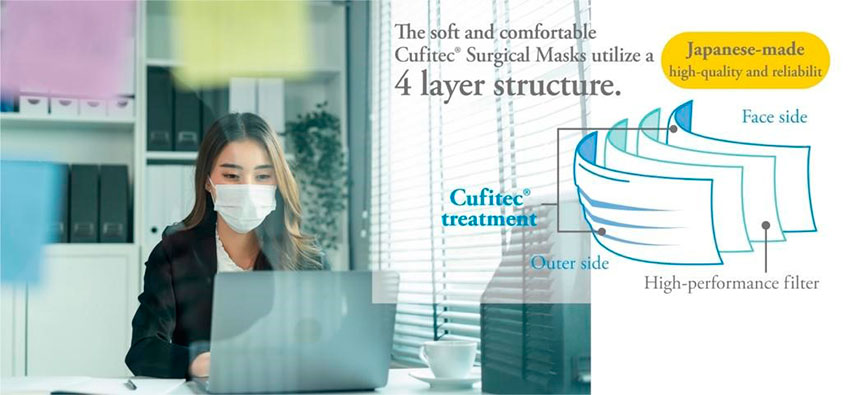 Cufitec® face mask
---
The other industry is the automotive industry, which is undergoing a once-in-a-lifetime change with the transition to electric vehicles. In the world, 4% of the vehicles sold today are electric vehicles, and demonstrations conducted by your company have confirmed that mesh filters are used in applications such as driving safety equipment such as brakes (ESC) and air conditioning systems such as air conditioning (HVAC). In order to target electric vehicles in the future, a more durable mesh needs to be developed. Tell us about this product development and how you make durable mesh.
Based on our philosophy of 'contributing to society through environmental improvement', we are focusing on the development of fuel cell vehicles (FCVs) and EV-related components. In collaboration with material and metal manufacturers, we are jointly developing new materials suitable for EVs. The shift to EVs will result in the loss of functions previously provided by internal combustion engines (ICEs), but hybrid vehicles will be the norm in Japan until around 2030. Injector fuel filters will remain in the era of hybrids, so we will continue to offer our current products and expect growth.
We are also developing products for FCVs and EVs, and although production volumes are low, we supply the filters needed for FCVs. We are also developing technology for products for hydrogen production, which can be applied to the hydrogen cycle, as FCVs of course produce electricity from hydrogen. In the hydrogen cycle, mesh products are used in the production, storage, transport and utilisation stages. All stages of this production chain offer new market opportunities.
---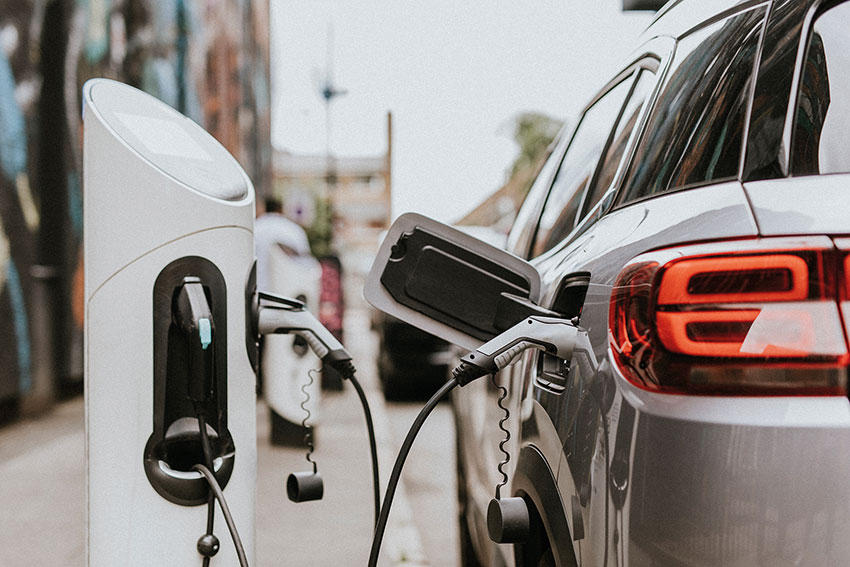 EV Charging Station
---
In addition, batteries are known to heat up quickly when replaced by batteries. Of course, many cooling solutions require filtering. We see this as a great opportunity for our technology. Also, when considering the number of electrical components such as MLCCs, the number of EVs is increasing rapidly, with approximately 4 000 used per vehicle today, but this is expected to increase to 10 000 in the future. With the increase in electrical components, our screen printing technology will be used more than ever. Our industrial plastic molding division can also step in to provide the components themselves, and we believe that EVisation will open up synergistic business opportunities.
Filter mesh technology started with silk and has changed to chemical fibres such as polyester and nylon. Today, there are also metallic systems such as stainless steel and tungsten. What is the direction of materials development?
We see potential in all kinds of materials that can be made into monofilaments and fibres. We can weave anything that can be made into yarn, and we are the only company that can supply both high-definition metallic materials and synthetic fibres to the market. Of these, TLCP is one of the most attractive types of material that we are currently focusing on. In fact, it is our strength that we are able to turn this TLCP into fabric. That is our uniqueness, but there are many other possibilities. The plastics we use are shifting from fossil fuel-based to plant-based plastics. We have recently presented products made from plant-based plastics at trade shows.
Recently, we have been approaching to make a new product from coffee residues. Basically, we combine that coffee residue with plastics and give it shape. The focus is not only on looking good and gaundiness, but also on providing products that contribute to a sustainable and environmentally friendly future.
Special features are important to meet the needs of our customers. To do this, it is important to first listen to that customer and truly understand the underlying issues they are facing. Then, after understanding the issues, we can apply and provide the appropriate materials and functions that also combine environmental considerations.
We do this through continuous research in our mesh technology laboratories, from which new environmentally friendly products are delivered. Another strength is our surface treatment technology combined with nanotechnology. Surface treatment can give mesh materials new functions. Our products are used in speaker mesh, the surface of which has been given a special water-repellent finish that repels water and sweat, but allows the sound to be heard clearly. By adding these properties, we are able to offer our customers a wide range of solutions.
---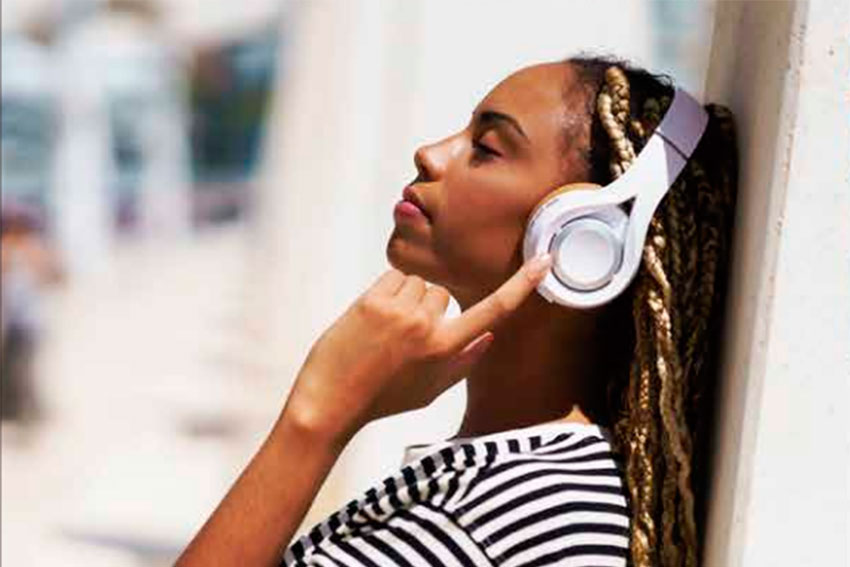 Acoustic mesh for headphones
---
Imagine doing this interview again on your last day as president: do you have any goals or dreams that you would like to realise during your time as NBC Meshtec's president?
Personally, I want to leave behind a company where employees can feel joy and pride in where they work. Through our environmental contribution, I want to increase profitability and invest in new businesses so that we can continue to contribute not only to the happiness of our employees and customers, but also to society as a whole.
Business continuity is very important to us, as we look forward to the day when our company turns 100 years old. I am confident that the path we have chosen is the right one, one that will benefit the company, our employees, our customers and the planet. When I retire, it will be very satisfying if it is recognaized that NBC Meshtec has made a significant contribution to society.