Mr. Morimoto, we found during our research that you yourself have quite an interesting background. You worked at Takeda Pharmaceuticals for many years as a chief researcher for drug delivery systems where you contributed to more than 70 patents. On top of that, we saw that you have international experience; you were the head of the Tianjin plant in China. Can you run us through your background, and how that background as a researcher for international operations helped you establish Morimoto-Pharma?
I graduated from Kyoto University majoring in chemical engineering. After graduating I joined Takeda Pharmaceuticals where I worked in the parenteral group for 10 years. After some short business and a study abroad in the USA, I then belonged to the solid dosage form group for 5 years. I started as a manager of the new dosage form group for 3 years and in the last years, I was dispatched to the Tianjin Takeda plant as a plant manager in China. During my time at Takeda, I researched and developed a new sterile powder filling and weighing system, a new automatic granulation and coating system, and orally disintegrating (OD) tablets made up of tiny enteric-coated granules. These products, Lupron Depot and Prevacid OD tablets were the top 2 selling products of Takeda with very high sales longevity.
At that time Japan's aging population was becoming a very prevalent issue. I thought that Takeda technologies should be used to contribute to developing new devices and formulations suitable for the safety and convenience of both patients and medical workers worldwide.
I learned a lot from Takeda. Plenty of time and money was used for the R&D of new devices and manufacturing systems. I always tried to think differently and thought over solutions day and night and always had a lot of documentation related to patents on my desk. As a result, I filed more than 70 patents for new dosage forms, devices, and machines. Fortunately, more than 10 products I was in charge of were released onto the market such as 4 different antibiotics, the famous nutrient supplement Alinamin EX, a triple combination vaccine, and a medicine for senility (tablets→granules for easier swallowing), in addition to others.
One highlight was the development of a dual-chamber prefilled syringe that combined powder and a diluent solution and was safely and easily used by doctors and nurses. It was the first product in the world of its kind. I also invented the powder-filling machine that could be used to precisely fill those syringes. It was a big success and even to this day, very little has changed with the machine itself. The machine can operate 24 hours a day without the need for human interaction. Everything operates automatically.
It seems at Takeda you had a lot of freedom to research and develop devices and machines. Why did you decide to start Morimoto Pharma?
I had a strong desire that one day my inventions would help patients and workers around the world. Even though I was able to accomplish a lot at Takeda, my inventions were only being used at one company. Because of this, I started my own company. And now my inventions can be used to help solve problems worldwide.
Normally, when I reflect on the success that I have achieved at Morimoto Pharma, I often think that is in part thanks to the experimentation and freedom that Takeda allowed me. Takeda pooled a lot of money into R&D, and it allowed a 25-year-old researcher like myself to make significant developments.
I established Morimoto Pharma in 2005. I've personally filed 70 patents at Takeda and 40 patents at Morimoto Pharma. Some of my recently filed patents are improvements and advances to ideas I have had in the past, while others are completely brand-new ideas.
---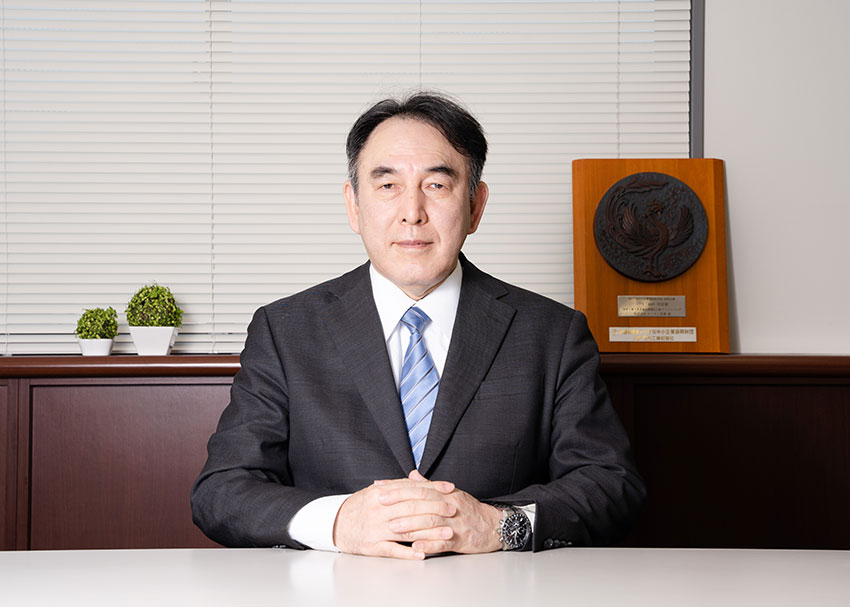 ---
You mentioned setting up Morimoto Pharma in 2005, a moment in time when Japan's aging population began to accelerate. When people think about an aging society, they usually think about increasing amounts of disease, but one of the big problems is drug delivery systems. Old people have problems swallowing and sometimes it's hard for them to take 3-4 pills at one time. On top of that, they often have eyesight problems making it difficult to recognize what type of medicine should be taken. Can you run us through some of the products that you have developed for Japan's aging society?
In 1997, I was appointed leader of a new group at Takeda. The group's focus was on developing technologies and dosage forms for elderly people. There was a meeting set up between the lab researchers and local hospital personnel to address real-life needs. In response to that we started developing Prevacid OD tablets. The formulation has over 10,000 small enteric granules per tablet, creating a famous first-in-world technology.
Around 1990, the Ministry of Welfare had already started conducting research into better ways of administering medication to elderly people. They were looking into which types of formulations were easiest to take. They concluded that ice cream, yogurt, and jelly were the best vehicles to assist in taking medication. I was at Takeda at the time and it made me think about a jelly dosage form. But, of course, some reactions may occur when making a jelly-drug formulation. That is why at Morimoto we developed our stand-alone jelly product called e-Jelly neo. It can be used to take medicine using a spoon, but also, tablets and capsules can be inserted directly into the pack. Tablets and capsules will instantly become deeply wrapped in jelly, which makes them easy to swallow and it is also very delicious. e-Jelly neo allows users to combine jelly with whichever medication they choose.
---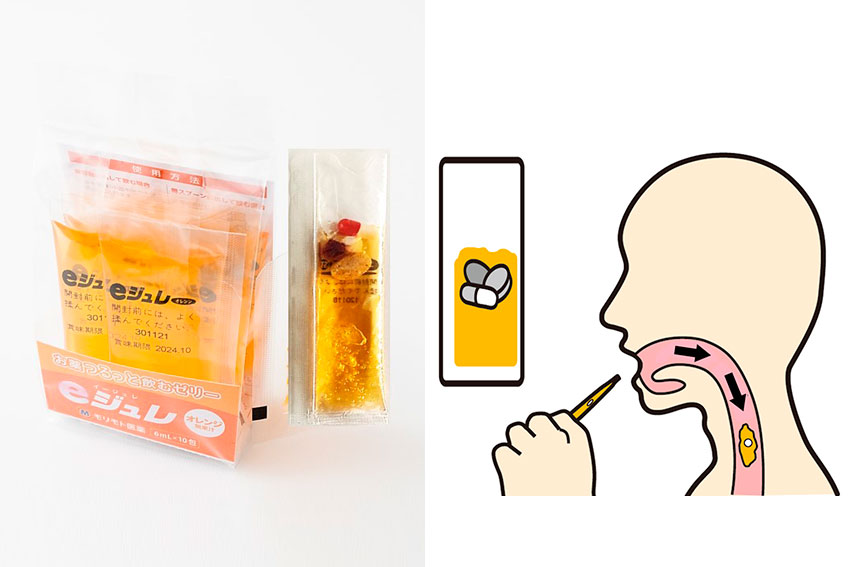 ---
I think that is the beauty of using jelly; you are not changing the tablet itself, but rather just the delivery vehicle, meaning it is very easy to use. We can also provide many different flavors. Add to that the fact that water does not separate from our jelly. It has received overwhelmingly positive feedback from customers.
Although pudding, food thickeners, etc. are effective in preventing aspiration pneumonia in people who have difficulty swallowing and are used commonly used in elderly care facilities and hospitals, using them to help take medicine is a bad practice because it can reduce drug concentration levels in the blood.
We also have another jelly product that I would like to introduce called GT Dosage Form. It is a combination product that contains both a drug and jelly in the same pack. The name GT means Gel Together and Good Taste and I think it perfectly describes what our product is. The jelly and drug are in separate compartments and not mixed until immediately before consumption. This means that it can be used by pharmaceutical manufacturers for nearly any tablet or capsule. The patient simply presses on the jelly compartment and the jelly and drug are then mixed. The patient can then enjoy tasty jelly while also easily taking their medication.
---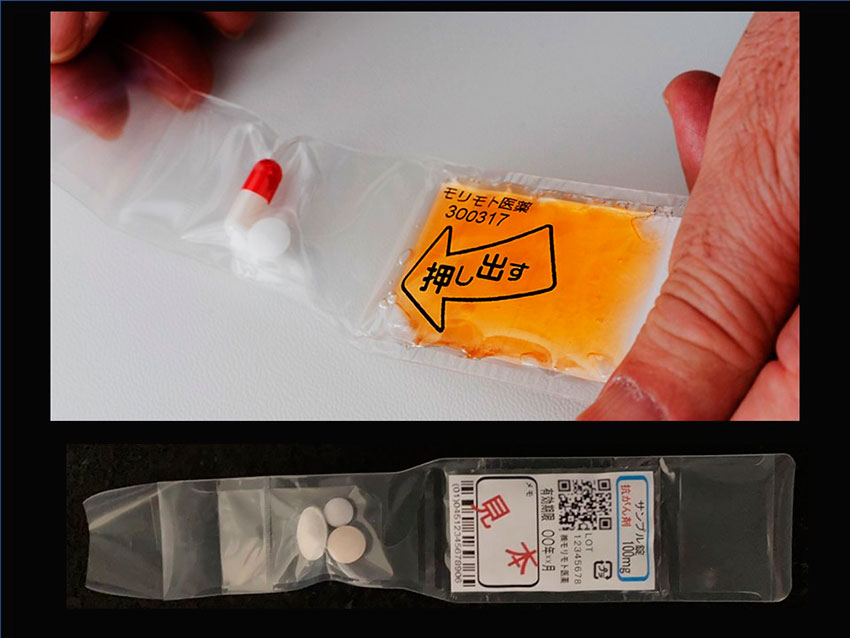 ---
During the development of our medicine-support jelly, we sought properties for the ideal transfer of medicine from the mouth to the stomach. It is also important to prevent the separation of water, which can enter the lungs. After hundreds of trials over several years, we perfected a jelly for assisting in administering pills, which is even effective for patients with dysphagia. Now in more than 10 countries, we have patents for this jelly dosage form that is very effective for elderly people and infants. Secrets behind our jelly's unique characteristics are shown in our patents: viscosity, hardness, water separation, adhesion, and so on.
I've often had the chance to present our products to pharmacists and explain how to effectively allow elderly Japanese people to take medication. Many elderly people and medical workers might still crush up medication and put it in food to make it easy to take. However, crushing is not good for either medical workers or patients and can decrease the effectiveness and safety of the medication. I have explained this in many presentations. However, despite the good reception we have received, many nursing homes across the world are still crushing medication.
---
---
In the United States and Europe, crushing medication is a very normal practice. Have you ever thought about marketing your products internationally?
Yes, this is something I want to do. I recently made a presentation for our products to a European expert who is a pediatric doctor and researcher, with a particular emphasis on assisting infants in ingesting medication. Europe has nothing like this.
Are you looking for partners to market the product overseas?
Yes, and it's part of the reason I was so excited about the interview today. I'm interested in getting the name of our company out there for an international audience, and once we get some more recognition, I'm sure we can move on to the next step.
For years vaccine rollout has been touted as a logistical problem due to the cold chain management required to transport vaccines. This is especially true in developing countries where the World Health Organisation (WHO) estimates that around 50% of vaccines get lost because of poor temperature control. We know that you have developed a special technology for the transportation of vaccines. Could you tell us a bit more about how lyophilization can make supply chain management for vaccines easier, and could you present your product and how it is superior to other alternatives?
With traditional lyophilization, production times can be very long making the process very inefficient. Our technology makes it possible to produce drugs and vaccines that can be stored and transported at room temperature with efficiency several times higher than traditional methods. Our equipment uses a vacuum spray freeze-drying tower with instant freezing. Frozen particles in the drying drum are heated and dried through direct heat transfer using direct contact with the inner wall. This allows for precise temperature control and efficient drying. The name of the product is Morimoto-LYO (mCFD). While traditional methods are typically batch processes, our process is continuous, which means it has much higher productivity.
---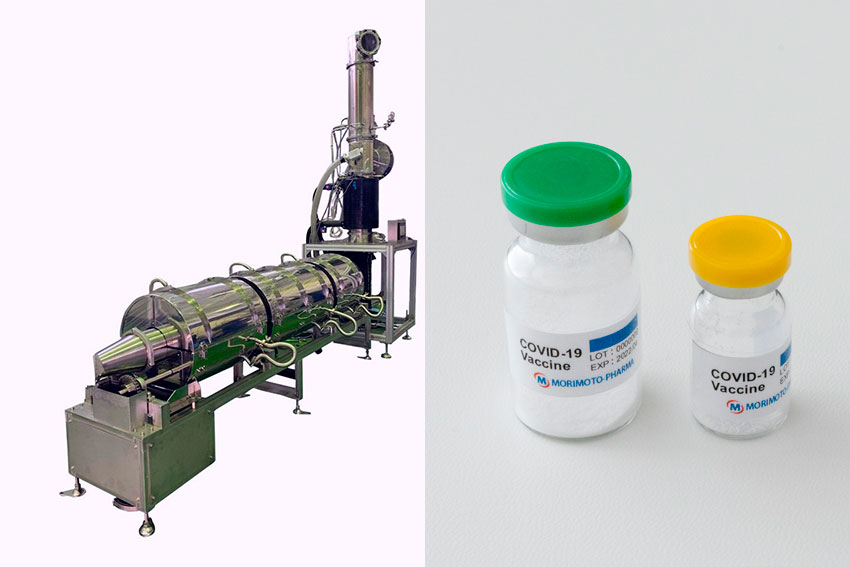 ---
Freeze-drying is traditionally performed by filling vials with a liquid solution and then drying them using a shelf freeze dryer in batches. While shelf freeze-drying is well established and has a long history of use in the pharmaceutical industry, it has slow sublimation and drying rates, making it both time-consuming and energy-intensive. A batch can take several days or even a week to process. Additionally, based on the exact contour of each vial and position, the heating profile and drying experience are different. For example, vials near the wall or door will be at different actual temperatures than vials in the center. Naturally, this causes unavoidable within-batch variability and results in a non-uniform batch of vials, a well-known flaw with shelf freeze dryers.
Takeda had been using this shelf type of equipment for tray bulk freeze-drying for a long time. It is very hazardous and labor-intensive. Many pharmaceutical industry workers worldwide have the same problems in terms of safety and efficiency, and I think the Morimoto-LYO goes part of the way to solving those problems. And as many people know, there are many problems and high costs associated with the cold supply chain, such as freezer malfunctions, which can result in vaccine doses being unusable and wasted resources. I think there are big opportunities for us to expand and improve the transportation and supply chain of vaccines and other medicines.
---
---
Your company is a relatively young company, established in 2005. Imagine that we come back in a couple of years and have this interview all over again. Is there a certain goal or ambition that you would like to have accomplished by then?
Ideally, I would like to take the products that we produce at Morimoto for the domestic market and push them worldwide, making more safe and more convenient contributions to mankind.
One issue I haven't addressed today is that of pharmaceutical blister packaging. Although it is not discussed in mass media, blister packaging has very serious problems. There is first the problem of accidental ingestion of packaging. This typically occurs with seniors. A similar but different problem is the accidental ingestion of medication by children. And thirdly, there is a problem regarding leftover, unused medication inside homes.
A very common problem for seniors that occurs when they are taking their medicine is the accidental ingestion of the packaging. Approximately 5000 of these accidents have occurred in Japan. Traditional blister packing for drugs is made of plastic with an aluminum foil backing. If accidentally swallowed, the packs can get stuck in the gastrointestinal tract. This can lead to hospitalization and even death. To solve this problem, we introduced our next-generation packaging called ESOP. ESOP stands for Easy Seal Open Pack. It is made using a soft transparent plastic film. ESOP is a larger size than blister packs making it very unlikely to be accidentally swallowed. Additionally, the soft film will not cause damage to the gastrointestinal tract even if accidentally swallowed.
---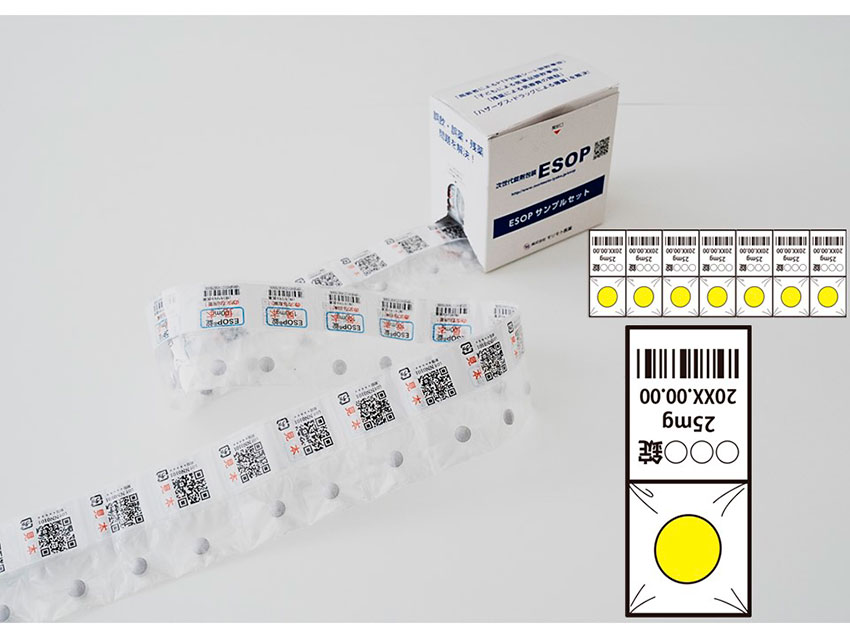 ---
The packaging itself is durable and tear-resistant and is designed to be child-resistant. Small children can often get their hands on their parent's medication, and they can push medicine through the aluminum foil of blister packs very easily. This can turn into a very dangerous situation if they swallow the medication. ESOP is innovatively designed to be child resistant. Seniors should not worry, because if the opening instructions are followed it is easy for seniors to open. Even for those with limited hand mobility. We call it child-resistant and senior-friendly (CRSF).
There is also a big problem with leftover medicine. In 2018, 650 billion JPY was lost due to leftover medicine. People forget when they purchased medication and have a lot of loose blister packs containing medication in their homes. They might throw away the medication because they are unsure of its type or expiration date. It means that a lot of medication is simply expiring or going to waste. There is also a problem involving the moisture absorption of drugs, which many people do not know about. In Japan, doctors do not like aluminum-aluminum-style blister packaging, so one side is almost always transparent plastic, but this allows moisture to seep in. To prevent this, blister packs are shipped to pharmacies in outer aluminum pillow packaging. But once this pillow packaging is opened, the moisture barrier is lost. This may cause degradation of the drug inside.
ESOP has all the necessary medication information on the label, making identifying the medication name and expiry date easy. Additionally, QR codes on the packaging can be used connecting consumers to the medication provider via IT. With ESOP it will be very easy for seniors to quickly identify and take their medicine. ESOP also offers moisture protection by incorporating a high-barrier film. This ensures the stability of the medicine inside. I truly believe that this is the correct solution to Japan's medication woes, solving the problem of leftover medication.
---
---
What is your last message for The Worldfolio readers?
We are committed to creating next-generation and intuitive technologies and devices such as swallowing aid jelly and combination drug and jelly (GT Pack), Morimoto-LYO for efficient lyophilization, and soft child-resistant packaging ESOP to bring about medical care innovation. We eagerly await collaborators, experts, and investors from outside Japan to contact us. With new partners, we want to expand and meet the challenges and needs of people and healthcare systems worldwide.