Over the last 25-30 years Japan has seen the rise of regional manufacturing competitors from countries like Korea, China, and Taiwan, who have replicated Japanese monozukuri processes, but at a much cheaper labor cost, thus pushing Japan out of mass industrial markets. However, we still see that many Japanese firms are leaders in niche, B2B fields. As a manufacturer of flexible hoses, pipes, what is your perspective on how Japanese firms have been able to maintain their lead despite the stiff price competition?
You mentioned the relative slowdown in the Japanese manufacturing sector over the past 25 to 30 years. I would like to point out some of the reasons for this. First, the Japanese market has a population of over 100 million and since it has achieved a certain degree of self-sufficiency through the domestic market alone, so our first priority had to be the domestic market. Second, as a result, Japanese companies exported or manufactured products with the same specifications that had been successful in Japan, and were slow to adapt them to the needs of overseas customer's requirements. Third, costs are generally higher in developed countries than in developing countries, and companies were unable to differentiate themselves from the competitors or to select and concentrate their efforts to overcome this problem. Fourth, we failed to prevent the outflow of advanced technologies, intellectual property and know-how to overseas countries.
On the other hand, since the domestic markets in countries such as Korea and Taiwan are small, they had to focus on overseas markets from the beginning in order to establish a business. Japan had many products that were globally competitive, but with the rise of Asian countries, Japan's share gradually declined. Another issue I'd like to mention is the "language problem," by which I mean understanding a culture through the language. Japanese is a minor language and many Japanese people are not good at English. Having information only in Japanese is like looking at the outside world through a keyhole instead of opening a door. The amount of information in Japanese is incomparably less than that in English and this is certainly a handicap when it comes to understanding foreign cultures and markets.
Japan's loss of market share is very clear when you look at electronic products, consumer products, and even certain types of industrial applications. Nevertheless, we find that Japanese companies are often characterized by high-mix-low-volume production, especially when it comes to niche B2B fields. That lead sometimes comes through market share, other times it is through a technological edge. How do you explain that despite the stiff price competition, Japanese firms have remained competitive?
For a company, maintaining and expanding its competitiveness in global markets is an important goal, and I think the emphasis on sustainability or long-term survival is also the corporate culture or management style of many Japanese companies.
There are about 80,000 companies in the world that have survived for more than a hundred years, and Japanese companies are said to account for about 40 percent of them. Moreover, of the companies that have lasted more than two hundred years, 65 percent are Japanese.
Many Japanese companies are striving to win in the global market. At the same time, a medium-size company like ours puts its energy into long-term survival rather than necessarily trying to win in the global market.
There are many companies that continue long-term development and thoroughly implement sound manufacturing in their fields of expertise, and then, by gradually expanding their scope, they make great strides in various niche fields. That's the kind of company TOTAKU Industries is. I think this is also why many companies in Europe have a long history.
With the rise of a country like China, price competition has become fierce. Frankly speaking, we are not trying to beat such countries in the price war, but rather to differentiate ourselves through new technologies and products and to maintain our commitment to sustainable business. This approach has brought us to the top in our niche areas.
You mentioned that one of the features that led Japan to be so sustainable was its large and wealthy population. Now in recent years, we're seeing that slowly start to change. Japan has the oldest population in the world, and has a negative demographic line, losing people every year. By no means is it the only country in the world to experience this; Germany is another example for instance. Nevertheless, in Japan, it is so pronounced and we are seeing certain companies face issues. On the one hand, for example, it is becoming harder to recruit staff. Additionally, fewer people mean fewer consumers to sell products thanks to the shrinking market. What are the challenges and opportunities that Japan's decreasing demography is creating for your company?
I'd like to give my personal opinion on the current demographic changes. I think the aging of society is a good thing, so I don't see it in a negative way. However, in general, I feel that people have a negative image of the aging population in Japan.
Looking back on history, Alexander the Great of Macedonia and Qin Shi Huang of China spent their lives seeking immortality. In those days, the average life expectancy was around 40 years, but today it is almost 80. Experts even predict that in 30 to 40 years' time, the average person will be able to live to over 100 years. I think it's amazing that we can live so long.
The problem is not an ageing population but a declining birth rate. When the birth rate declines, the population falls and the domestic market shrinks. The impact of this on TOTAKU is employment problems – it becomes more difficult for us to secure human resources. I think we can solve this problem by raising the retirement age and introducing robots.
Although we have a mandatory retirement system in Japan, in other countries employees can work as long as they like. Most Japanese companies have restrictions on the retirement age, but at TOTAKU we are considering extending the retirement age so that our employees can work beyond 65 if they have no objection. The introduction of robots and automation is another way to alleviate the problem. I think we have great opportunities in this area.
---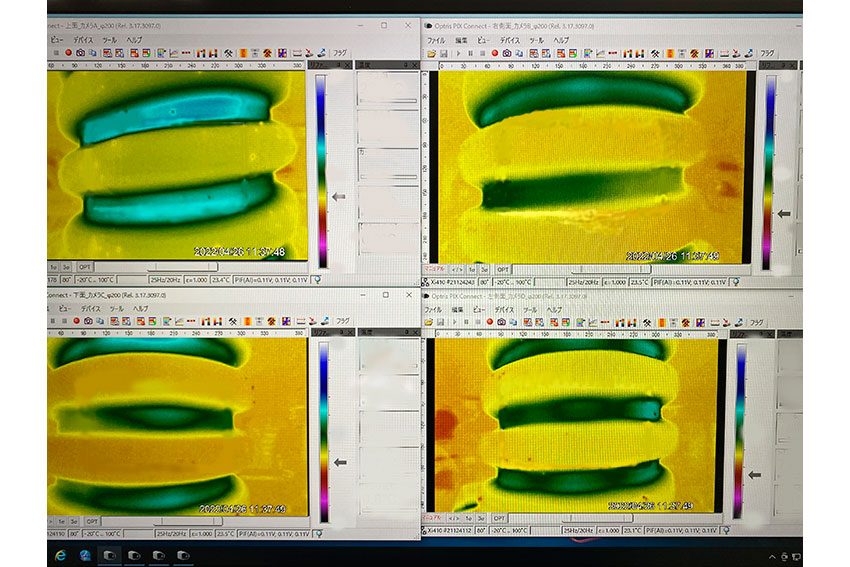 The prototype of the quality control system using AI image analyzing system.
---
If we include other measures to address Japan's domestic human resource problems, I think that we will eventually have to accept more immigrants. On the other hand, if we look at the situation in Europe, immigrants can cause various problems. So in Japan, the accepting of immigrant workers may not be a problematic solution.
Then we need measures to deal with the declining birth rate. Having two children is not enough – you need three children per family to increase the population. I think the government may have to provide generous subsidies for families with three children.
Regarding the shrinking of the domestic market, food products are an example of a market that will certainly shrink in the future. In areas where our company operates, such as bridges and tunnels construction, demand remains strong, especially for maintenance. Instead of building new bridges and tunnels, we are focusing more on maintaining of existing infrastructure. Even during the COVID-19 pandemic, we did not see the civil engineering market shrink. Over the next 50 years or so, I think the maintenance business of construction in Japan will have great opportunities.
The Japanese construction sector is very mature, with Japan's construction boom occurring all the way back in 1964, prior to the Tokyo Olympics. Today that infrastructure is aging, and the government estimates that by 2030 more than 300,000 bridges will be over the age of 50. This is a massive project; realistically too large to just scrap and rebuild new structures. There is a big need for maintenance. Can you tell us about any new technologies or products that you have developed and how they help contribute to the safe operation of Japanese bridges?
TOTAKU Industries was founded about 70 years ago as a pipe and hose manufacturing company, but at that time rubber and metal hoses and pipes were the norm. Our company was the first to develop these products using resins and plastics and we have expanded our business beyond Japan by leveraging these technologies. With a proven track record over several decades, the safety and reliability of our products have been demonstrated.
I think that's why we've been able to respond to Japan's maintenance needs. We offer a wide range of products that are essential for maintenance.
We currently have a line-up of more than 1,000 products in our portfolio. Including all the components used, we can offer our customers more than 2,500 different combinations according to market and application needs. The civil engineering sector is different from the industrial and semiconductor sectors, where we also offer products.
In the industrial and semiconductor fields, new technologies and products are favored, so TOTAKU offers new things. But the civil engineering sector is different – proven quality is extremely important in this field.
---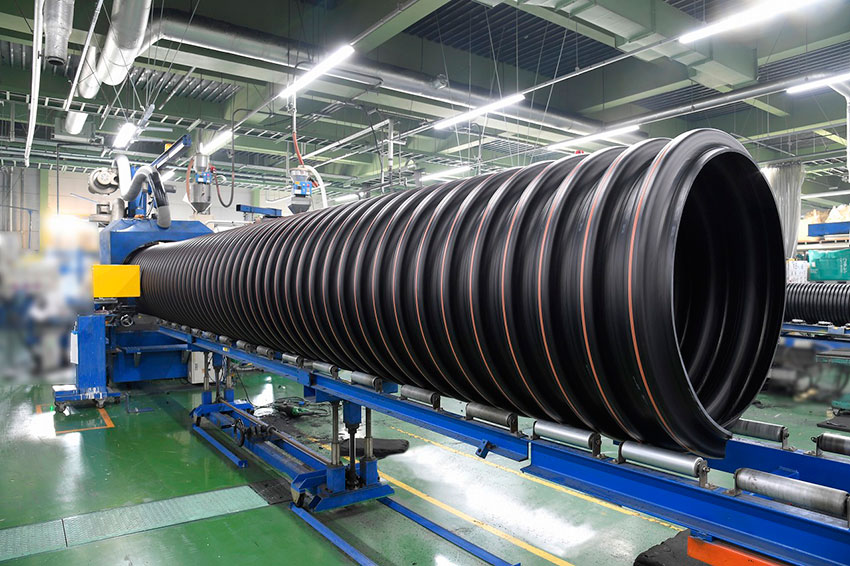 The production line of the pipe for civil engineering sector.
---
Something we found interesting about your company is the variety of industries you cater to. In addition to the civil engineering division you just spoke about, you also have your industrial division. In that division we found some very versatile products such as your TOTAKU ECO LINE-HO100℃, which can withstand temperatures of 100 degrees, making it very good for food facilities and beverage transportation. You also have parts that are used in the semiconductor fields, as well as oil and gas. Which particular industry do you think has the highest growth potential and what allows you the ability to understand the specific needs of each of these separate markets?
Our company's business activities are broadly divided into three main categories: civil engineering, electrical equipment, and industrial hoses. In these three sectors, we will focus on areas where we can expect growth.
In industrial hoses business, we have identified semiconductors as a growth area and are promoting the development of new products.
In the electrical equipment category, the growth area is clean energy. We are focusing on wind farms, offshore wind power, and solar power plants. In fact, there is a very active movement toward clean energy in Japan. In clean energy systems, cables are usually laid underground, and this is another opportunity for our company. As far civil engineering, as I mentioned earlier, maintenance is the most important business. TOTAKU is focusing on how to restore or improve the infrastructure currently installed in Japan.
---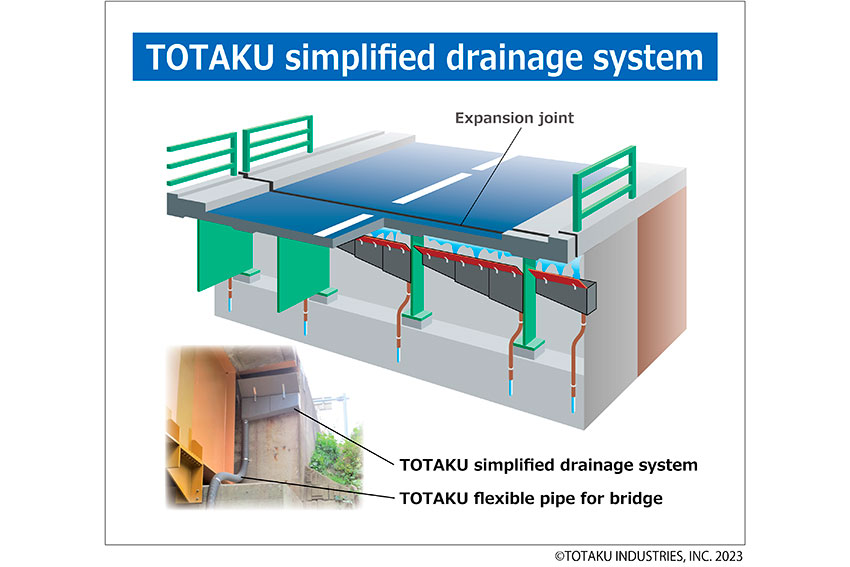 "TOTAKU simplified drainage system" that limits deterioration of bridge girder ends by collecting and draining leakage water from the bridge expansion joints.
---
In order to sell pipes and hoses to end users in the Japanese market, it is necessary to go through two or three agencies. As a result, we have not had much direct communication with end users. Recently, however, as part of our marketing activities, we have begun to make direct contact with the end users of our products.
This process allows us to listen directly to the needs and opinions of our customers.
Based on this feedback, we can develop new products, make changes to existing components, or add improvements according to their needs.
You've talked here about the feedback cycle allowing you to further develop products for all of these different industries. As you tackle these different industries are you looking for partners for either distribution or co-creation? If so, what type of partner is most interesting to your company?
We listen directly to our customer and try to develop new products based on that feedback.
When we sell these new products, we use existing distributor channels.
Since the scale of our pipe and hose sales is relatively small, we use a network of about 2,000 agencies nationwide.
I would like to express my thanks and appreciation to our current agents and distributors.
Through these networks, we are able to deliver our products to factories and construction sites throughout Japan.
In the industrial sector, we are increasingly using our connections with our parent company, Nagase & Co., Ltd., to reach out to end users.
NAGASE deals with, for example, chemical, resin, electronics, pharmaceutical, automobile and food companies throughout Japan.
We have not limited on our partnerships and, in the semiconductor field, we hope to strengthen our cooperation with processing equipment manufacturers and the like.
We have also received various requests for product development in the field of electrical equipment, and we are also considering various options in the field pf civil engineering.
We saw in our research that your company had a very wide international profile in the 1970s, and in the 1990s there was a steep decline in Totaku's international expansion. Could you run us through the rise and fall of Totaku's international business? Looking to the future will you be looking to revamp your international business by increasing exports or through technical alliances?
Yes, I would like to talk a little about TOTAKU's history.
TOTAKU was the first company in the world to develop and manufacture suction hoses. At that time this was still a completely new product, so we formed many partnerships around the world.
We had factories overseas that made industrial hoses used in vacuum cleaners, but now 60 years have passed since we developed the suction hose, and you don't see those kinds of industrial hoses anymore.
The patent has already expired and now any company can make them.
TOTAKU's factories were struggling to differentiate themselves from those of other companies, so we decided to close our overseas operations.
Other companies in the same industry continued to expand their overseas business, but we had difficulty differentiating our products based on local specifications and developing new local markets.
Therefore we decided to withdraw from the overseas market.
I believe that our current product lineup would be difficult to sell overseas.
However, I want to make it clear that we have not given up on overseas markets.
I would also like to say a few words about the strength of our company.
TOTAKU's strengths are that we can handle the entire production process, from raw material formulation to processing and that we can even manufacture the machinery needed for production.
Another major strength of our company is that we can make products by combining all kinds of materials, such as resins, plastics, rubber, fibers, iron, and wire.
We can combine them into composite materials and, develop new products based on those technologies.
If we can obtain the patents, we would like to take these products overseas and compete globally
Given the distribution requirements of pipes and hoses, it is physically impractical to export them.
Since they are as light as the air, local production overseas is much more rational.
In our next overseas challenge, we will decide whether to cooperate with local companies or build local production bases.
This judgement will depend on the conditions of the various markets.
Do you have any time frame on when you think might go ahead with this?
The NAGASE Group has formulated a medium-term management plan for the next five years. In fact this year is the second year of the plan, so we only have three years left to achieve the goals.
During these three years, we plan to complete our overseas expansion scenario.
You mentioned your ability to combine different materials to create patented products that would be favored by overseas markets. Do you have any of those products now that you wouldn't mind sharing with us?
We are interested in the semiconductor field for the development of new technologies.
In Japan we have many clean room manufacturers and also many production equipment manufacturers.
We are considering supplying new products to these manufacturers and then targeting the United States, Korea, Taiwan and eventually China.
In the area of infrastructure and civil engineering, we are targeting developing countries such as India.
India is aiming to build a high-speed rail system and TOTAKU's products have been included in the specifications.
We very much want to respond to this demand, but it will depend on our ability to supply products. We may need to cooperate with local companies or conglomerates.
Imagine that we come back again on the last day of your presidency and have this interview all over again. What are your goals and dreams that you hope to have achieved by then?
What I really want to accomplish during my presidency are two things.
First, we want to return to overseas markets.
And second, we want to have at least one fully automated production line.
We have accumulated a lot of technology over the 70 years of our existence.
However, many of the processes on our production lines are still analog technologies or manual operations.
I want to advance the automation of our production lines so that we can realize fully automated production lines within three years.
By the time I step down as president, I hope to have automated more of our production lines.