Over the last 25-30 years, Japan has seen the rise of regional manufacturing competitors who have replicated Japanese monozukuri processes by taking advantage of cheaper labor costs and pushing Japan out of mass industrial markets. However, Japan is still a leader when it comes to niche B2B fields. How have Japanese firms been able to maintain their leadership despite the stiff price competition?
I believe the strength of Japanese monozukuri lies in this core essence of Kaizen and high quality, and although it could be said that Japanese quality is lowering in a way, it is still considered high quality. This mindset of improving constantly has been an advantage in producing new types of products. At the same time, Japanese companies are being flexible in providing a different type of variety in their products by each region or industry. Competitive superiority that has maintained leadership from the origin of manufacturing based on the technology for matching each part, as typified by gasoline vehicles. Those companies who are still surviving and striving in Japan are the ones who are able to make their products adaptable and compatible by, for example, combining machinery.
Japan is the world's oldest society and has a rapidly shrinking population, which presents challenges such as a labor crisis or a shrinking domestic market. Could you tell us what are some of the challenges and opportunities that this demographic shift is presenting for your company?
It is true that with the aging population and the decline in birth rate, the Japanese market is shrinking, so securing good human resources is one of the challenges for our company.
However, the aging society also brings about new types of demand such as requirements for new noise testing in medical, welfare, robotics and also autonomous driving industries. By contributing to reproducing such noise and standardizing it, we aim for international standardizing of EMC testing.
---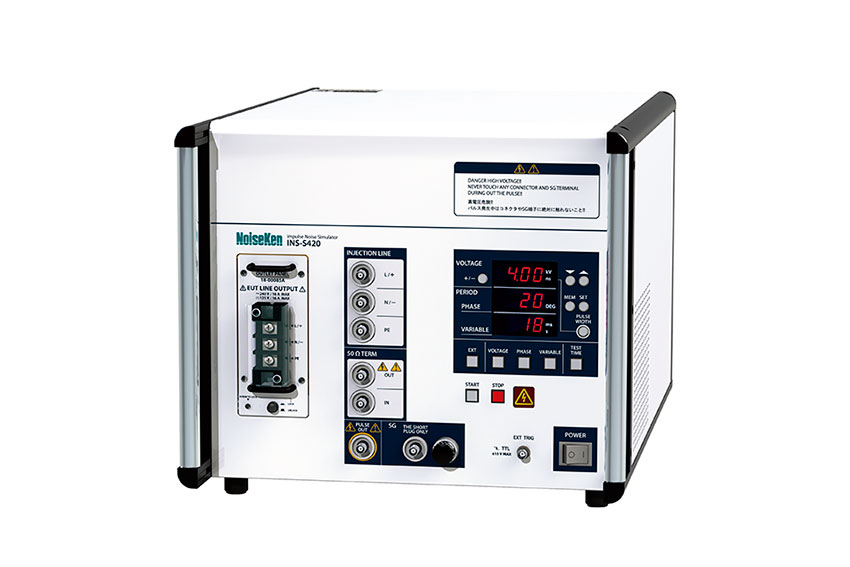 Impulse Noise Simulator
---
You are a specialist when it comes to impulse and surge simulation, and your products are designed for EMC testing of equipment or systems. This is to ensure they function satisfactorily in an electromagnetic environment without disturbance. Can you provide a brief overview of your expertise in EMC, and why over 5000 customers have adopted your brand, NoiseKen?
Back in the 1970s malfunctioning of electronic devices due to electric noise disturbances was a big issue. However, there were not any testing or measurement devices, so our first president founded this company in 1975 and developed the Impulse Noise Simulator to meet the needs of our customers, electronic device manufacturers, who needed to reproduce this electrical noise disturbance quantitatively.
As a result, malfunctions at the customer's site could be reproduced, and it is now incorporated into the customer's internal standards as a quality assurance standard. This spread to simulators that generate other electrical noise such as static electricity noise and others.
Another turning point was the establishment of an international standard (IEC) in 1996 due to the growing need for EMC and noise testing worldwide. As a result, testing needs increased, and sales channels expanded from Japan to the rest of the world.
We also issue EMC technical materials such as our "Noise Technical Reports" that has been issued since the founding of the company and conduct educational activities such as various free seminars.
Our employees participate in standardization process of various standards and guidelines such as IEC standards and participate in various international conferences. By doing so, we strive to raise the awareness and that is why our products are being used by more than 5,000 customers around the world.
We are seeing changes in the EMC testing field in relation to the automotive sector. Increasingly, we are seeing that cars are becoming connected and autonomous, and there is a multiplication of electronic and electrical devices inside vehicles. This is now creating certain dangers when it comes to electromagnetic fields, as there is more noise that could then create malfunctioning components, devices that are responsible for safety. How are you reacting to these trends in the automotive field? What are some of the opportunities and some of the challenges that you see?
One way in which our company is unique is that we can provide custom-made testing equipment based on different requirements of each component manufacturer. For example, each automobile manufacturer sets its own strict standards and conducts tests, and we individually create test simulators reproducing the electrical noise generated in internal combustion engine automobiles, such as the ignition and wiper motors noise.
In the future, by shifting from internal combustion engines to EV vehicles, the inverter noise generated by the vehicle itself will be reproduced, and vehicles that have been self-sufficient with battery drive will be connected to external power sources by connecting to chargers. As a result, we can expect growth in our existing general consumer and industrial equipment oriented lightning surge and impulse noise simulators, as well as in new fields with similar testing requirements.
Among the challenges of EMC testing in the automotive field, one of the big criticisms was that international regulations and standards were different depending on specific countries in the world, and secondly, there were a lot of changes in the industry, a lot of new electronic devices that could be wireless or plugged in that would come in the vehicle. It was hard to create a unified international standard, and that slowed down the safe rollout of electric vehicles. Do you agree with this? What do you think are some of the steps necessary to create a more unified standardization for EMC testing into the next generation?
The existence of multiple standards for each region, country, and manufacturer in the automobile market has been a plus for our company, but I think that the establishment of a unified global standard is essential to the creation of a stable supply chain around the world. However, the establishment of such unified standard would be very tough since it involves not only the interests of the European ISO, but also the interests of automakers in North America and Asia.
On the other hand, as we can see from the break down rate rankings of each auto manufacturer, the unified standards are inevitably the minimum quality standards that must be met, so each auto manufacturer maintains its own quality standards, pursuing high safety and low break down rates as important points of differentiation.
How do you ensure that your company is able to understand and create products that fit the different standards in the world, and that fit the new technologies that are constantly changing?
It is best to promote business centered on local distributors in each region in order to increase the sales and continue being chosen by customers.
However, in order to obtain the latest information such as the customer's testing status and testing standards and apply it for new business and innovation, it is still important for our sales staff to directly confirm the customer's site and listen to the customer.
We also have our personnel joining the international standards creation process, so we are able to learn about global trends at the earliest point.
In the world of quality control, customization is critical for each and every client. Can you highlight for us some of the tailored or customized technologies you have developed for your clients?
For example, a few decades ago, the maximum output voltage of a tester that simulates static electricity was 15 kilovolts. Our company was the first to develop and commercialize a tester that can output 30 kilovolts. As a result, 30 kilovolts output is now the worldwide standard.
---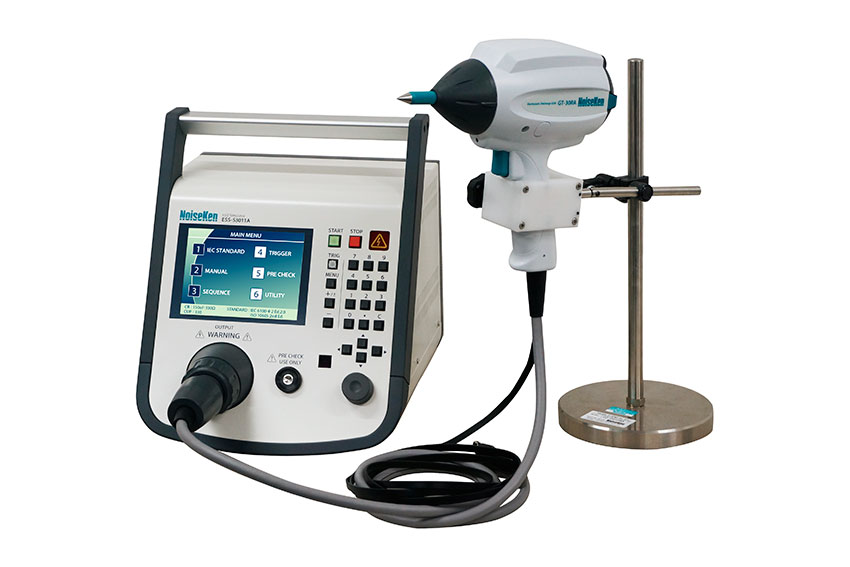 Electrostatic Discharge Simulator
---
Speaking of joint development with customers, we have commercialized a broadband antenna jointly developed with Toyota Motor Corporation.
In the past, EMC tests were conducted using multiple antennas with individual frequency characteristics, but we have succeeded in commercializing a single antenna that can cover a wide range of frequencies. In 2021, it has been adopted as an international standard (ISO). This development took a lot of time, but the joint development with a major company and the adoption to the International Standard gave us a lot of confidence as a small and medium-sized company.
---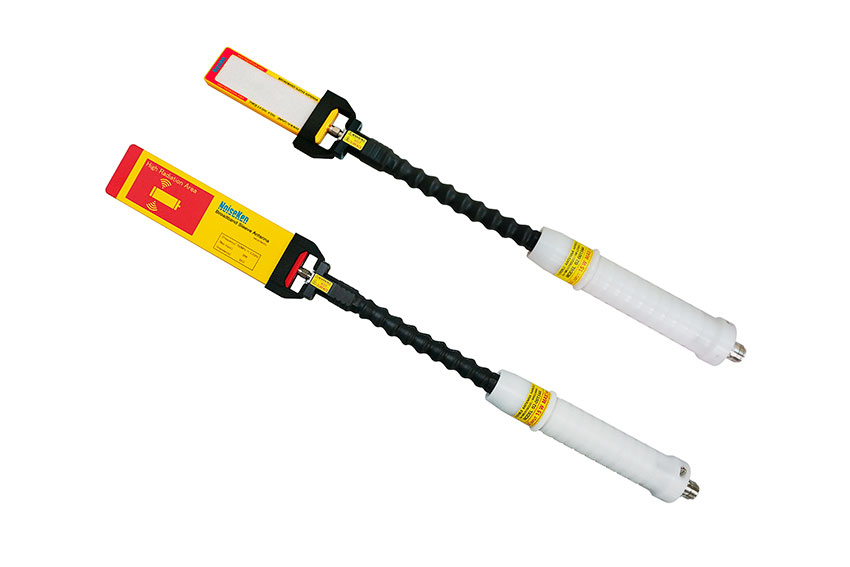 NKU Antenna
---
Based on your existing technologies, is there any other area related to your expertise that you will diversify into and develop?
We have no plans to diversify widely, but we would like to expand our product lineup in the field of EMC testing, centering on our core technology and the technology we have recently acquired.
Business alliances have become a critical component for both large scale and small-scale companies. We saw that you operated an EMC test contract service at the Funabashi Test Lab, which works closely with your customers. Could you tell us what are the benefits that this contract service has brought your firm in terms of credibility, and introducing your technology to new customers?
Twenty years have passed since Test Lab Funabashi took over the American RCA test site, which was the first EMC test site in Japan.
Our EMC test contract service aims to create a synergistic effect by adding the software of the test service as a peripheral business in addition to the conventional hardware of the tester. As a result, not only the direct benefit of increased sales, but also the demonstration function that allows customers to touch the actual machine, the research function that collects customer feedback and utilizes it in product development, and the joint development function that reproduces the noise requested by the customer.
Are you interested in developmental partnerships with foreign firms?
We don't have a specific plan, but since it is difficult to handle everything with our limited resources, we believe it is important to open up new possibilities through collaboration with other companies, including foreign companies.
Moving forward, which countries or regions have you identified for further expansion into, and what strategies will you employ to do so?
Rather than adopting an omnidirectional strategy, we would like to expand our business based in Japan mainly in neighboring countries in Asia and in East Asia such as India and ASEAN.
At the same time, we would like to launch new products that reflect the voices of our customers and carry out activities aimed at the adoption to international standards.
Imagine we come back to interview you again on the last day of your presidency. What would you like to have achieved by then?
Before I became president, I have listened to many people inside and outside the company when deciding on the long-term direction of the company.
What I realized was that customers did not want to do troublesome EMC testing.
Even if it is not realistic to actually eliminate the testing, we have established a vision of becoming a "Company making EMC testing Easier!" for our customers.
That goal is still far away, but on my last day of presidency I want to see a company where as many people as possible can say with pride and confidence that "I work at a company making EMC testing Easier for our customers".