Japan has long been a leader in paper making and recycling technologies with many of the world's global niche top companies in the paper making scheme coming from Japan. They are consistently in the top three or top five paper makers in the world. Critically, recovered paper accounts for two-thirds of all raw material in Japan. We would like to hear your analysis of Japan's paper recycling sector and why it is so competitive. Furthermore, what role can Maintech play in exporting that great recycling technology to the rest of the world?
This question relates to Japan's recycling sector in itself. Therefore, I can only give my own personal opinion in answering the question. As you have said, Japan is a global leader when it comes to paper recycling. I believe that Japan will continue to be a leader going forward. The paper recycling business was established here in Japan in the Edo era. Wholesalers back then purchased used paper in bulk and resold it. Paper makers use recovered paper as raw materials to make paper again. When I was a child in the Showa period more than 50 years ago, I vividly remember a small truck driving slowly around my town and collecting used newspapers and other paper from the households. The driver used a megaphone to inform the residents that he was there to collect used paper in exchange for free toilet tissue. My mother would tell me to take the old newspapers and exchange them for toilet tissue as it was a way to save money. Nowadays, the government performs the main part of the collecting process. It has become a daily practice for households to sort not only used paper, plastic bottles, cans and other garbage but also used paper by type like cardboard, newspaper and milk cartons. Therefore, the paper recycling culture has been historically rooted in the Japanese lifestyle for more than 300 years. I believe that the used paper utilization rate will stay at a high level going forward. The cultural background and Japanese mentality make a big difference to paper recycling as compared with other countries such as the US and China.


What would you consider to be the key milestones in your history?

Looking back on our history, there have been several major turning points. We have recently compiled our past experiences in the form of two "Core Value Books" so that they can be shared with our executives and employees in the future.

Maintech's management philosophy was established in 1999. I was summoned by an executive of one of Japan's major paper companies. At that time, we were selling equipment as equipment and chemicals as chemicals to our customers, and we were competing with several competitors in terms of performance and price. Under such circumstances, I thought it was a price reduction request, but it was not. We were told, "If you can cut the current defects in half in the next test, we will adopt Maintech for all of our equipment. If not, take all the equipment and leave." It was a great opportunity for our company at that time, when we had a weak financial base, but at the same time it was a big risk. However, we realized at that time that what the customer was looking for was superior equipment and equipment that could be used in a variety of ways.

What the customer was looking for was not superior equipment or chemicals, but rather improved quality and productivity. This event was the point that we stopped selling chemicals and equipment only to focus on profit margins, and shifted our focus to solution sales, taking responsibility for how much we could improve the quality and productivity of our customers as a result of their use of our technology. The test at that time was a great success and we are still doing business with them today.

The other event was also in the 1990s. It was our first overseas sales project, and we received an order in Taiwan. After receiving the order, the Taiwanese customer introduced us to Indonesia, which gave us confidence that our technology could be used overseas as well. We also became able to look at the world as a market. It was an event that triggered a small Japanese SME to seriously aim for the top global niche.
Can you talk to us about the background behind your DSP (Dryer Section Passivation) technology?
First of all, I would like to explain why the DSP was invented. I would like to show you some slides.
---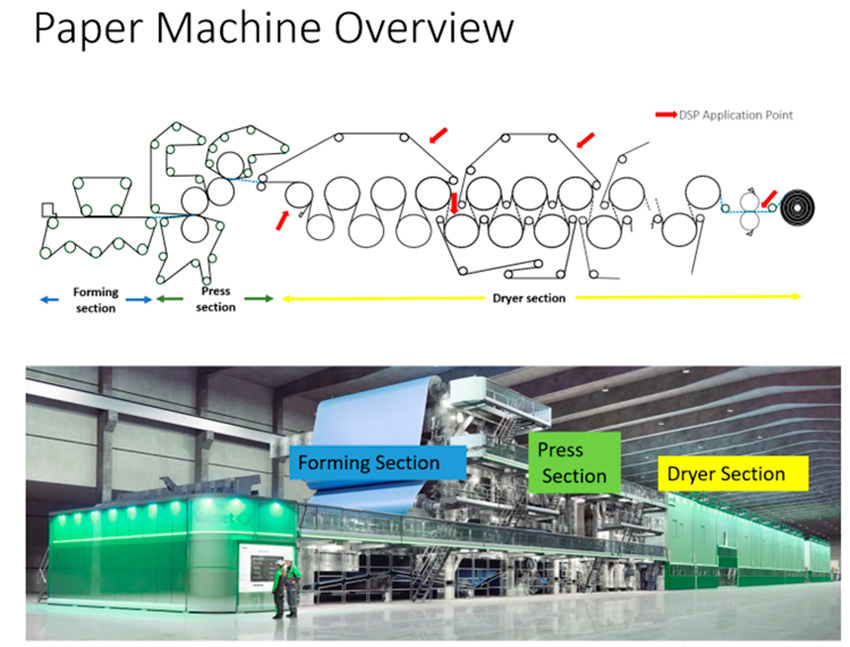 ---
The paper making machine basically consists of three sections. The first is the forming section where the pulp is first processed to drain some of the water, forming a large paper sheet. The second is the press section where the paper sheet is squeezed more water by the nip press rolls and felts. The third is the dryer section where the wet paper sheet is dried with steam-heated cylinders.
Our DSP is used in the dryer section. When it comes to recovered paper, the corrugated liner board or cardboard usually uses recovered cardboard or OCC (Old Corrugated Carton). However, OCC usually contains mixed used paper. Also, when you throw out cardboard for collection, you do not want to have to remove all the sticky tape or labels. This becomes deposited in the paper machine. When the paper sheet is wet and cold, these sticky substances do not cause any problems. However, when the paper sheet is heated, these sticky substances get sticky and transfer to the dryer section surface and accumulate there from deposits. Here is a dryer section deposition problem. Deposits grow up and fall onto the paper, and cause holes or defects. In the worst case, those deposits cause sheet break which reduces productivity. These are the most serious issues when you use recovered paper as a raw material..
---
DSP applyed to dryer cylinder
---
Usually, you put some oil into the frying pan before you fry some vegetables or rice. Our technology is similar.
Video presentation on DSP technology:
---
---
We have some competitors in the US and Europe who just copied our technology. However, their chemical performance is not so good. Right now, we have over 800 applications across the world. We plan to increase the figure in Asia, Europe and North America and expect to reach the 1,000 mark in a few years.
When it comes to exporting our DSP technology, first I would like to explain to you why our Japanese customers use our DSP technology. As you mentioned earlier, Japan is a global leader not only in the utilization of recovered paper but also in the high-quality requirements we have for recycled paper. Sometimes with recycled paper, the raw materials are not pure, and there may be some defects on the paper. That is not acceptable by Japanese standards.
Paperboard or cardboard is manufactured from almost 100% of recycled paper. Paper machines tend to get deposition due to the sticky substances in the furnish and the finished paper often has a few defects from this deposition. On the other hand, when it comes to the use of the paperboard at box making plants, paper with over 10mm size defects is never accepted, because it would ruin the appearance of the box. The end users do not want boxes with defects on the surfaces. Therefore, the paper mill must eliminate the defective paper itself in the mill. This defective paper often goes back to the pulping process as raw materials. Such a process deteriorates productivity and requires more energy to manufacture the same amount of paper.
In many other countries it is acceptable to have some defects in the surface of the paper board. However, in Japan, the market is very conscious of this. On the other hand, in Asia and Europe, they generally use package paper machines with high-speed running almost twice as fast as the Japanese ones. Therefore, even small deposits on the paper machine can cause sheet break problems down the line and reduce productivity. This is one of the reasons why our DSP sells so well outside of Japan. While the expected effect of the DSP is quite the same as in Japan, the benefits the customers are looking for are a little different between Japan and the rest of the world. With the expansion of the ecommerce business, the demand for corrugated packaging has been increasing worldwide and is expected to increase by 24.5% in the next 10 years. In the US, quite a few paper machines have converted from printing & writing grades to paperboard. I believe that this global trend will definitely give us many opportunities to expand our DSP business worldwide.
A very interesting companion to the DSP technology that you have is the Smart Papyrus system which uses sensing IoT and AI technologies for predictive maintenance, to make sure the machines are running smoothly and to predict when they may need more serious repair. We are interested in hearing some more about Smart Papyrus, but also the synergies that you foresee between digital transformation and the paper recycling sector.
---
---
Five years ago, I visited an old customer of ours. The summer that year was very hot. The production manager told me that a young operator had quit his job due to the heavy workload. When the number of defects increased, the operators had to jump into the dryer hood of running machines to see the deposition on the dryer section. The temperature inside the hood was over 100 degrees Celsius and the humidity was almost 100%. The operator could not stand these conditions and therefore could not do the work anymore. To solve this issue, I came up with the idea of using a surveillance camera to watch the surface of the dryer fabric for deposition. We also used some new image analysis technology, and based on that data, we can increase or decrease our dosage of DSP chemicals. This allows us to give guidance to the machine operator. That was the starting point of our Smart Papyrus.
Around three years ago, I dropped by a machine operator room. Then I saw a superintendent sorting out the defect samples the previous day based on the origin. That scene reminded me of when I started my job at Maintech, 25 years ago. They had a morning meeting where the superintendent had to report where the defects came from. Defects have different characteristics based on where they come from. They can come from the forming section, the press section or the dryer section. The operators had experience and the expertise to sort it out. However, I was shocked to know that this has been done manually for over a quarter century. Nowadays, there are many photo applications that use facial recognition for example. Therefore, I came up with the idea to sort out these defects automatically. Those tasks should be done by using a system, and do not need to be done manually anymore. Also, they can take action for the defects more timely.
You just spoke about younger people not wanting to get into those very hot environments. Is it not also an issue of knowledge transfer and skill transfer? Nowadays, perhaps the younger generation is not keen to do such difficult tasks. Was that another contributing factor to the development of Smart Papyrus? What are some of the challenges that Japan's demographic shift posed for your company and how have you reacted to those challenges?
Yes, that was also a contributing factor for the development of Smart Papyrus. When it comes to Japan's demographic shift to an aging society, the paper industry is facing challenges. The paper mills are a tough place to work. Young people today, especially Generation Z, avoid field work like that. Therefore, many paper mills have had difficulty in hiring paper machine operators. This issue makes it difficult to pass on the paper-making knowhow and techniques to the next generation. Currently, the skilled workers at the mills are in their early fifties. They are the children of the baby boomer generation. They have experienced much in machine operation over the years. We need to help in the transfer of these skilled worker's expertise and experience to the next generation. That was a key reason for the development of our Smart Papyrus. Otherwise, some paper mills that use our DSP may have been forced to close due to a labor shortage especially when it comes to skilled workers. Right now, we have a monopoly of the DSP market in Japan. The key is how to help those customers survive under the severe situation using DX technology.


We noticed you made a point of putting "Ver.1" on your Smart Papyrus showing that this is a product that will continue to evolve. We know that you have plans to release the 2.0 in the coming months. Can you tell us a little more about what kinds of new features we can expect from this new version of Smart Papyrus?
Our Smart Papyrus Ver.1 actually comes with a surveillance camera and a dosage management system. We recently started to sell our Smart Papyrus 1.0 which comes with the defect categorization system that we just spoke about.
---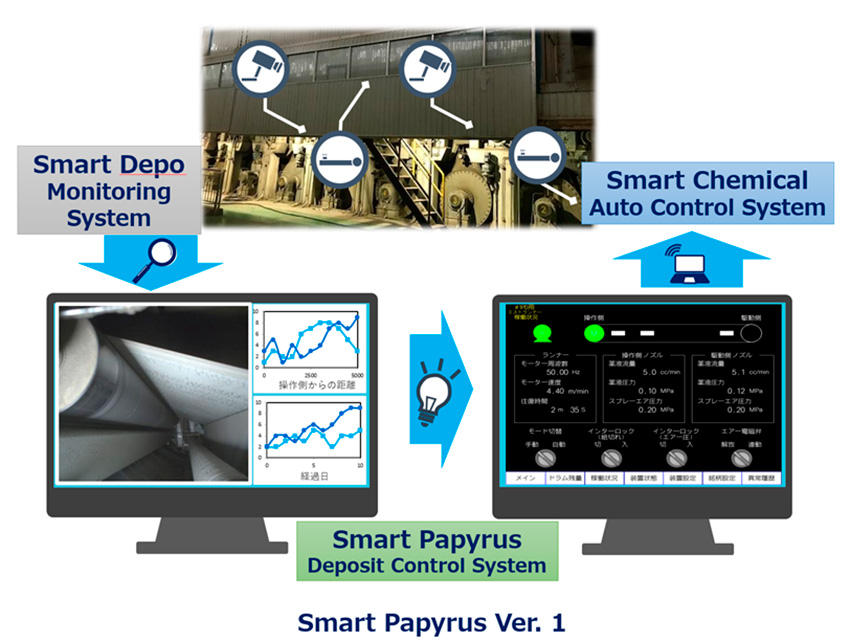 ---
Smart Papyrus 2.0 will come with a more sophisticated system to anticipate the defects by using Big Data analysis as well as IoT in the press and forming sections also in the wet-end in the furnish. Our Smart Papyrus Ver.1 focused on the dryer section, while Smart Papyrus 1.0 categorized the defects. When we saw the context of the defects, we came to know that the dryer section is perfect thanks to our DSP. Most of the defects came from other parts. That is why we expanded our field to the press section and the forming section as well as the wet-end section.
Has moving to these new sections been challenging? When we talk about overseas business, we see the importance of having partners to help you in new areas of expertise such as the pressing or the forming, or in new markets. You talked a little about Hercules being a partner in the past. Are you actively working with or looking for new partnership opportunities in the overseas market?
That is a good question. We need two technologies. The first is sensor technology to watch the furnish and the paper sheet. We are now working with an equipment vendor. We are also working on a chemical to cope with defects in the stock preparation. For this, we are working with a chemical supplier in Japan. We have a large network of companies to work with.
Our goal now is to monetize Smart Papyrus as quickly as possible. Ver.1 sales were very good, with almost ten machines having Ver.1 installed. However, when it comes to the defect categorization system or the Smart Papyrus 1.0, it has not been monetized enough. Smart Papyrus is a new operation management system. However, some Japanese companies lag behind when it comes to DX. I believe that they are slow and reluctant to adapt to DX. The first reason for this is that Japanese companies still have a unique monozukuri when it comes to their production process. The basic idea is that skilled craftsmen should manufacture excellent products and that Japanese companies should take time to nurture young people through inhouse training so that they can get the experience needed to become skilled workers and handle operational problems in the long run. This is how many Japanese companies operate. However, I believe that they rely too much on human resources and abilities.
Our Smart Papyrus has functions to identify the locations where defects occur. However, some managers will say that they have very skilled workers in the paper mills who can easily predict where the defects will occur based on their own experience, and they can then use a chemical to stop the defect. They believe that they do not need to pay for Smart Papyrus. This was actually the case with one of our customers. I can understand where that customer was coming from, as I have known many skilled workers who have taught us how to solve problems with DSP. Therefore, for now, it is possible for these companies to continue to operate like that. However, what will happen when those skilled operators retire in the future? Some of the paper mills are too short-sighted. I wish they had a more long-term view.
We would like to ask you more about your international business. You already have a 100% share of the domestic market, and you have very strong market shares of between 60 and 70% in China and Southeast Asia. You mentioned once before, and it was also referenced in the video that while the majority of your systems and business is in Asia, you are making concerted efforts to expand both in the EU and the US. Could you explain in more detail the specifics of your international expansion strategy?
Our first overseas project was in Taiwan in 1994. We initially had difficulties in starting up our equipment in foreign countries not only due to the language barrier, but also due the differences in industrial standards when it came to electricity and chemical approval. However, we were successful at the end of the day. Those Taiwanese engineers were then headhunted by paper mills in Indonesia and mainland China. They were able to spread the word of our DSP to those areas. In other Asian and Oceanian countries, Japanese companies such as Oji, Rengo and Nippon Paper entered the markets after 2010. Oji acquired the Malaysian paper mill GSPP, while Rengo did a joint venture with the Thai Siam Group in Vietnam and the Philippines. The experts from the Japanese mills introduced DSP to the local managers, and these local managers then decided to acquire DSP. The reputation of our DSP then spread to these other local paper making companies. The local distributor then expanded the DSP business. That was how we expanded our business in Asia and Oceania.
When it comes to Europe and the US, it is quite a different story. In Asian and Oceanian countries, we have some friends. It is like our home ground in terms of baseball, while Europe and the US is the away ground for us. When I traveled to those areas, Maintech was not well known. There were also no Japanese paper makers there. It has been difficult to expand our business in Europe and the US, due to there being almost no Japanese-affiliated mills in those areas. In 2017 however, we had an opportunity to visit customers in Europe through an introduction by European paper machine manufacturers. This allowed us to properly market ourselves to Germany, France, Spain and the US. I began to conduct sales activities by myself. However, they did not believe me when I explained our track record in the Asian paper mills. That was why I started looking for local distributors, and I was lucky enough to meet with an excellent agent in the EU. As a result, more than 40 units have been sold in Europe and our sales are also expanding in North America.
Here in Japan, we sell the equipment to the customer and we continue to sell our chemicals to them as a consumable product. We also provide free maintenance work to our customers. The reason for this is that while our customers used to do some small maintenance work on the equipment by themselves, due to the labor shortage, they are no longer able to do their own maintenance. Around 10 years ago, I visited a mill where the nozzle was clogged by some chemicals. I asked the machine operator to fix it. He told me he was too busy. That is an example of why we provide our maintenance services. This also allows our customers to use our chemical products stably.
We also provide maintenance services in China, in Europe and in the US. That is why we have a subsidiary company in Shanghai, which has expanded and now has five offices in China. As for the European market, we have our office in Dusseldorf. When it comes to the US, we are going to open our office in Atlanta by the end of this year.
As for Asia, there are many countries. Therefore, I asked our agent to do the maintenance work instead of hiring commission. I invited them to our technical center where they were trained to provide the maintenance services.
Are there a lot of competitors in those markets? Do you believe that in terms of your services and quality of product that nobody can match you?
Yes, I believe that our competitors cannot match us. I joined Maintech 25 years ago. There were many competitors in the chemical supply industry as well as in the equipment vendor sector. However, they were unable to match our technology or provide the maintenance services that we could. The equipment vendors just want to sell. The problem with the chemical suppliers on the other hand is that they do not want to take care of the equipment. It is outside of their business field. Therefore, we are aiming at this very niche market as our competitors in both industries are unable to do everything that we do.
---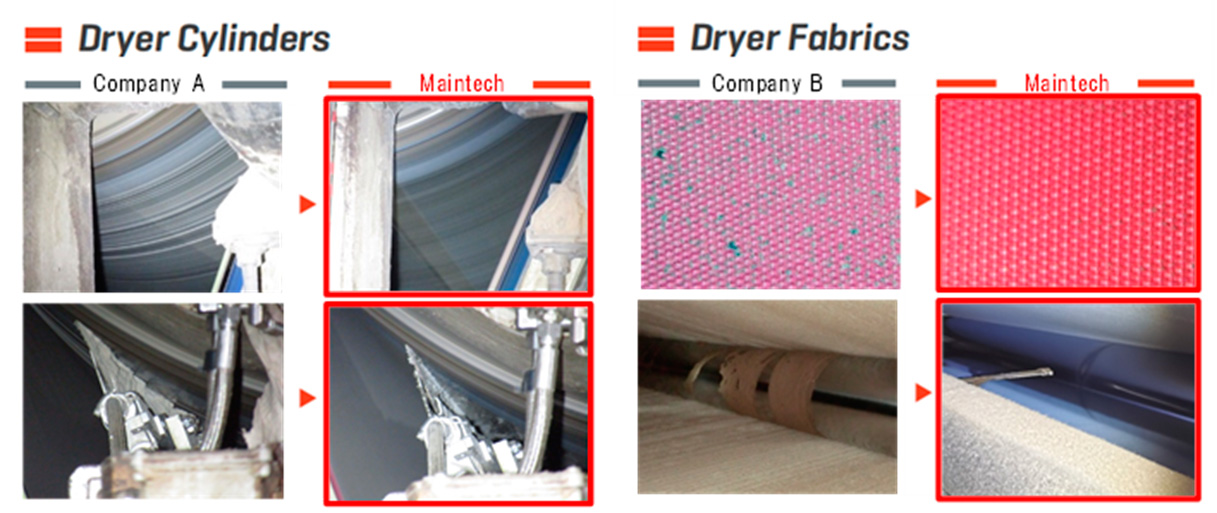 ---
Your company will celebrate its 60th year anniversary in 2027. If we were to come back and repeat this interview again on that anniversary, is there a personal goal or ambition that you would like to have achieved by then that you would like to share with us in that interview?
As part of our long-term strategy, I do have some goals that I would like to achieve by 2027. First, I would like to expand our DSP business worldwide and to make it the global standard for recycled paper manufacturing. Right now, our DSP is the Asian standard. However, I want to make it the global standard. My second goal is to develop our Smart Papyrus with our customers to create a platform for future eco paper making. Those are my two goals. These goals are quite different. However, we have good synergies as many of our customers are the same, and only the product is different. For us, DSP is exploitation, while on the other hand, Smart Papyrus is exploration. They are both quite difficult to achieve, but they are our goals for the future.